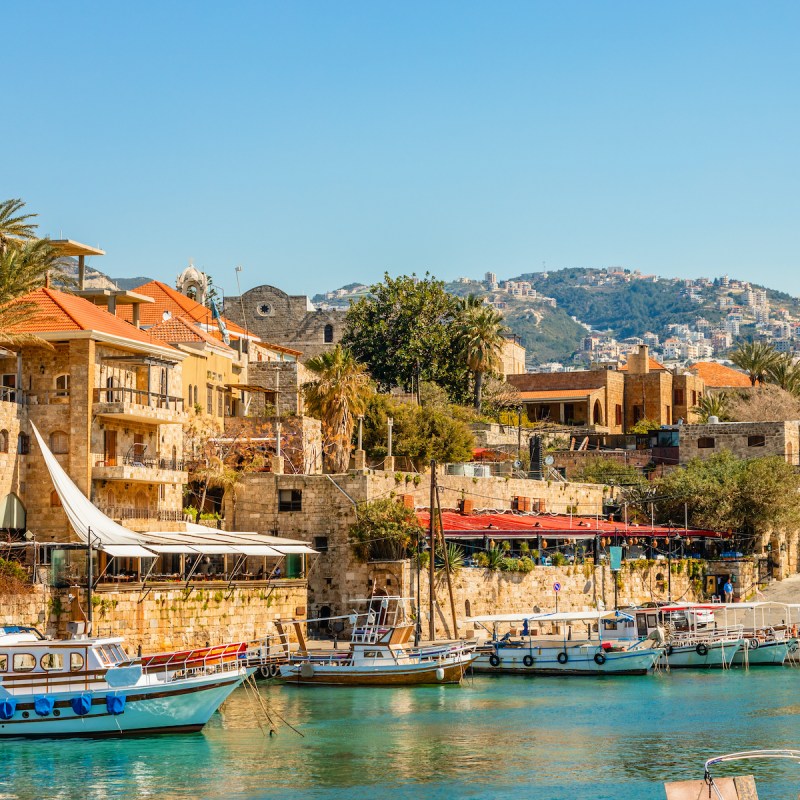 The first time I went to Lebanon was by pure chance. I was working for an airline and had booked a staff ticket to Syria. Getting to the airport, I was bumped off the flight to Syria, but the check-in staff put me on the next flight to Beirut, leaving at roughly the same time, instead. So, I found myself in Lebanon, without accommodation, no clue as to where to go, and had to work fast to make my long weekend worthwhile.
Although I am not one for surprises and still haven't managed to make it to Damascus, this turned out to be a great turn of events that allowed me to discover a country I fell in love with and visited again — on purpose.
Lebanon, in my mind, offers the perfect mix of Mediterranean culture, Arabian traditions, and French flair blended together with a dash of Ottoman and Roman history. Stretched along the Mediterranean coast, where beaches invite you to swim, mountains that call you to go skiing, and cities that lure you to fabulous restaurants and party venues, Lebanon is a wonderful place to experience.
1. Exploring Lebanon's Multi-Layered History
Beirut
Lebanon's capital is showing the ravages countless wars and conflicts have left behind, but a bit like a phoenix, Beirut keeps rising again and again, reworking old scars, fashioning them into new sights. Start at Place d' Etoile or Nijmeh Square and look around.
Within steps, you'll find the pretty Saint George Greek Orthodox Church, a Catholic cathedral, the impressive Roman Forum, the Lebanese Parliament, and a little further on, the grand Mohammed Al Amir Mosque, all connected by countless small restaurants and shops. This is the place to come after dark for dinner, as the entire neighborhood comes alive at night.
After a visit to the National Museum and maybe the Sursock Museum — located in a stunning, old villa — during the day, walk along the coastal road, the Corniche to the Pigeon Rocks, which is the symbol of Beirut. Head back through Hamra, along Rue Hamra, to marvel at the old, and sadly often utterly dilapidated, yet achingly beautiful villas.
Later, catch a walking tour that takes you through various neighborhoods, discussing the history, the current problems, and the prospects of change viewed from a local perspective. It can be a little disturbing, but very interesting, and you cannot separate the beautiful Beirut from the problematic Beirut.
Pro Tip: Check into Hotel Albergo, one of the many stunning houses dotted around Beirut, this one renovated into a beautiful, luxurious, and friendly hotel, with a superb roof terrace and (chilly) pool with views. Not cheap, but so worth it.
2. Finding Cats And A Lebanese Legend
Byblos
Byblos, also known as Jbeil, lies some 20 miles north of Beirut and is my favorite spot in Lebanon. It's home to a sturdy castle, a picture-perfect souk, and a charming fishing harbor where in the morning when the small fishing boats come in, the pier is alive with cats, all waiting for — and receiving — their share of the day's catch. There is an old town center, and one of my favorite houses ever, the Othman El-Houssami house; it's simple, but in a perfect location. I would move in tomorrow if only they'd let me.
Despite much history to see, the best thing to do in Byblos is to settle down at Pepe's Fishing Club with views across the little harbor. Pepe, originally from Mexico, was a legend in the swinging '60s, playing the party lothario and soon gaining a reputation as one of the most famous playboys in the Middle East. He played host to many celebrities, including heavyweights such as Marlon Brando, and was in his late '80s when I first met him. Alas, now only the legend and his quirky restaurant remain.
Pro Tip: Stay at the slightly retro Byblos sur Mer hotel, which has the best location: right by the sea.
3. Experiencing Music And History In Spectacular Settings
Baalbek
Baalbek, located in the northern Bekaa Valley close to the Syrian border, has not only the most impressive Roman ruins in Lebanon, but some which push other famous Roman sites right into second place. The most impressive sight is the Temple of Jupiter. Even though only six of the original 54 columns remain, it is an awe-inspiring example of Roman architecture. The scale is simply mind-blowing. And it does not stand alone, but sits on a site filled with ruins that are well worth the nearly 2-hour drive from Beirut. The locals put the ruins to spectacular use during the Baalbeck International Festival, when concerts are given at the very site.
Pro Tip: I stayed in the historic Palmyra Hotel, once a grand old hotel, now somewhat dilapidated. If it still stands, you will need to book yourself into it, for its history and old-world (faded) glamor alone. It is just opposite the temple.
4. Seeing The Cedars Of God
Qadisha Valley
On the way to Baalbek, you drive past the famous cedars of Lebanon, their national tree immortalized on the flag. A small, forested park remains of what must have once been an amazing sight when these gorgeous trees covered the entire region.
Today, only a couple of dozen trees still linger, fiercely protected and dedicated a UNESCO World Heritage Site, and the surroundings have been turned into a bit of a tourist hotspot with souvenir stands and restaurants lining the street, but a walk through the cedar forest is still a must, and very enjoyable.
Pro Tip: Should you find yourself here in winter, head to the nearby ski slopes for a rather unique experience.
5. Wandering The Traditional Souk
Tripoli
Tripoli is Lebanon's second city and is located roughly 50 miles north of Beirut. A small and eminently walkable city, there is history at every corner — from the gigantic Citadel of Raymond de Saint-Gilles, a crusader fortress dating to the 11th century, and the Madrasa Al Qarawiyyin attached to the Grand Mosque, dating to the 13th century, to leftovers from Phoenician, Ottoman, and Roman occupations. You stumble across something noteworthy at every turn.
My personal favorite bit is the rabbit warren that is the old medieval souk. There are countless alleyways, tiny lanes, and undercover passages that all link up and are filled with stores and stalls that sell you everything you can possibly imagine and then some. Most souks specialize in selling a certain something, such as the Perfumers' Souk, the Carpet Souk, and the Spice Souk. The clues are generally in the name.
But in between are all the other little stores that allow you to meander, get lost, get found, stop and shop, meander a little more, and repeat for hours, ending up carrying all sorts of new acquisitions.
Pro Tip: Lebanese food is one of my all-time favorite cuisines, and there are plenty of little cheap eateries across the city. For a rather spectacular setting on a large scale, head to Shater Hassan Palace by the sea, where you can eat until you pop.
6. Taking In Views From The Top
Harissa
As you drive from Beirut to Byblos with the Mediterranean on your left and the mountains on your right, you will soon see a rather large statue of the Virgin Mary standing on a mountain top looking out over Jounieh Bay. Our Lady of Lebanon is 28 feet tall, was built in 1904, and guards the Shrine to Our Lady of Lebanon, a Brutalist-style cathedral and holy pilgrimage site visited by both Christians and Muslims.
The mountainside below the shrine is busy with people walking through the park area up to the top, but — much easier — you can take the Teleferique, the cable car, to the top, which allows you stunning views of all sides en route. Once at the top, you can wind your way up higher along Our Lady's pedestal for even better views.
Pro Tip: Don't forget to have a little look around the seaside below. There is one good seafood restaurant after the next.
7. Marveling At The Jeita Grotto
Jeita
Jeita Grotto is the largest cave in the Middle East, and, together with the Baatara Waterfall, showcases Lebanon's natural wonder. In fact, here you get two for the price of one: There are two caves, an upper and a lower cave system connected by a tunnel system. You can reach the absolutely stunning upper cave system by cable car, and enter into a wonderland of stalactites, stalagmites, waterfalls, and grottos, and, in the lower system, which is flooded, a turquoise lagoon, explorable by boat.
While the upper part is truly, truly amazing, the lower part, where you travel around by miniature train — mostly because of the distances involved in this roughly 4-mile-long system — turns into a bit of a tourist circus, with train, boats, a zoo, and various other "attractions" mostly aimed at keeping kids happy. Still, the caves are a natural wonder that should not be missed.
Pro Tip: You can in fact catch the last two points on my list in one simple day trip from Beirut, with the lovely Baatara Waterfall thrown in as well, as they lie quite close to each other, just a few miles outside the capital.