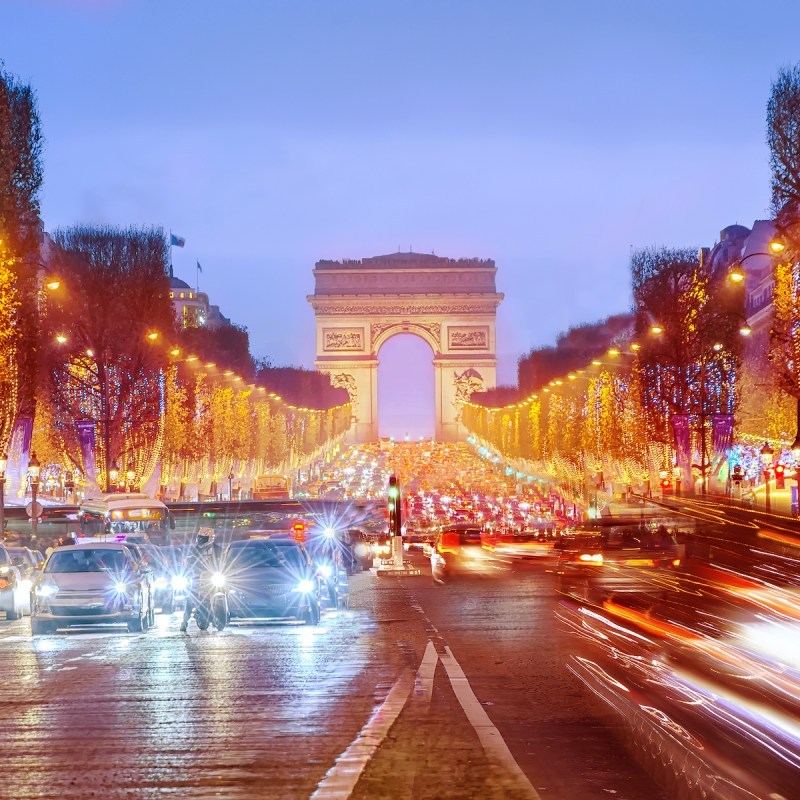 Paris may be the "City of Lights" but those lights will be turning off earlier than normal each evening this fall and winter.
First, the City of Paris announced that the lights at the Eiffel Tower, arguably Paris's most famous landmark, will be turned off a little over an hour earlier each evening to conserve energy. That announcement was quickly followed by news that the lighting on certain exterior facades and municipal monuments – including Hôtel de Ville (Paris's city hall) and the façade of the Palace of Versailles – would likewise be turned off an hour earlier each evening.
Now, the committee that governs the Avenue des Champs-Élysées in Paris has announced it too will soon follow suit and turn off exterior lights earlier than normal. The 1.2-mile-long Champs-Élysées, which stretches from the Place de la Concorde to the Arc de Triomphe, is known for its numerous high-end shops, restaurants, cafes, and theaters.
All of these measures are part of a plan to save electricity while the energy crisis continues in Europe as a result of Russia's war in Ukraine. Most of France's energy typically comes from its own nuclear reactors. However, nearly half of those reactors are currently offline, forcing France to seek electricity from Germany — which itself is in the midst of a gas shortage due to reduced supplies from Russia.
In response to that situation, France's President Emmanuel Macron has asked industry, households, and municipal authorities to reduce energy consumption by 10 percent in a move calculated to prevent the need for rationing electricity across France this winter.
Turning the lights off along the Champs-Élysées earlier each evening is hoped to result in an energy savings of around 44 percent. But, importantly, it "should not limit the cultural, tourist, commercial, or economic influence of the Champs-Élysées or the aesthetic and fun quality of walks on the avenue during festive periods [including Christmas]," Marc Antoine Jamet, chairman of the committee, said in a statement.
The Plan For Champs-Élysées
"The most beautiful avenue in the world is also intended to be supportive and exemplary," the board of directors on the Champs-Élysées Committee announced in a statement. "Because there can be no exception or privilege in the reduction of energy consumption, the board of directors of the Champs-Élysées Committee made the decision to reduce the hours of illuminations and signs of the avenue."
Here's how the new plan, which should be followed before October 15, will work:
All signs along the avenue should be turned off by no later than 10 p.m., instead of the current 1 a.m. shutoff. However, businesses such as restaurants and theaters that remain open past 10 p.m. will "naturally" have an exception, the board of directors explains. That said, the Champs-Élysées Committee does ask those businesses to turn off their lights as soon as patrons leave.
It's important to note that, while lights for businesses along the avenue will go dark, public streetlights will remain lit all night for public safety.
The Champs-Élysées is also famous for its colorful Christmas lights. While those lights will still be on display this year, the hours will be different.
In the past, from November 20–January 9, the Christmas lights along Champs-Élysées were on until 2:15 a.m. each morning. Instead, this year, the lights will be on until 11:45 p.m. each evening, from November 20–January 2.
Other Energy-Saving Measures
Parisian officials also plan to save energy by heating public buildings in mid-November instead of mid-October as they usually do.
What's more, when the heat is turned on in all city buildings, thermostats will be set at a temperature 1 degree lower than normal during the day — going from 19 to 18 degrees Celsius (66 to 64 degrees Fahrenheit) during the workday. After hours and on weekends when the buildings are unoccupied, the temperature will be set at 12 degrees Celsius (53 degrees Fahrenheit), the City of Paris explains.
While you're thinking about the City of Lights, be sure to visit all of our Paris content, including: