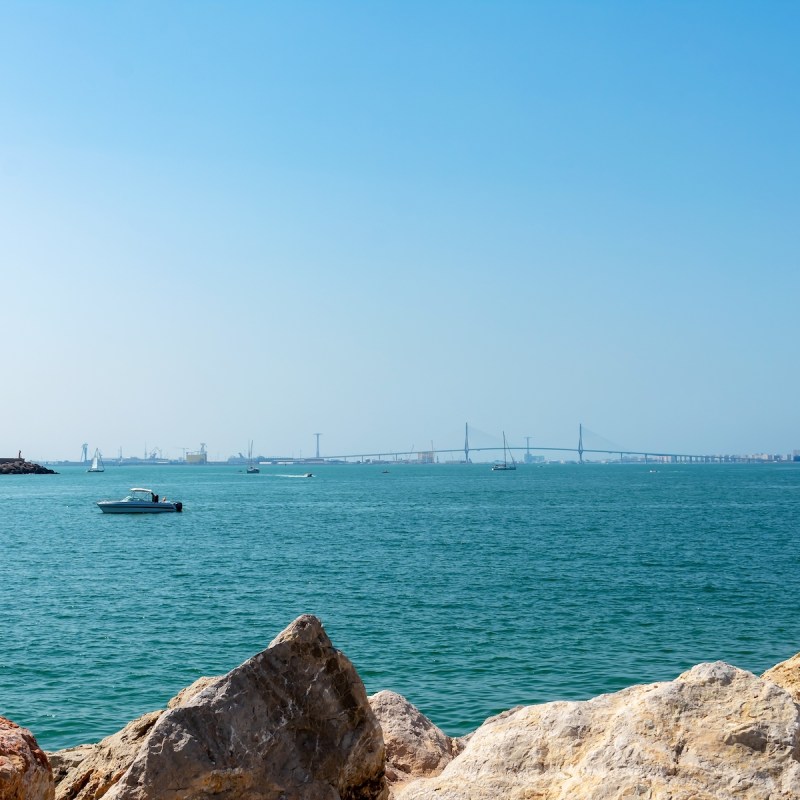 El Puerto de Santa María, a historic port city on the Bay of Cádiz, is one of the most popular cities for sun-loving Spaniards and visitors from around the world. The beaches are long and sandy, and the weather is mostly sunny and warm year round. Fishing is still an important industry — and eating fresh fish is a staple in El Puerto de Santa María.
Things To Do In El Puerto De Santa María
I traveled to El Puerto (as locals call it) to explore Andalusia and the Sherry Triangle. Though it's not known as one of the most exciting places in the Cádiz province, I found it a lovely place to spend a week, with plenty of culture, history, and amazing food. Here's a brief list of things to discover during a long weekend in El Puerto de Santa María.
1. Visit The Castillo De San Marcos
Located in the center of the old town, the Castle of San Marcos features layer upon layer of history and culture and was built upon the ruins of a Moorish mosque. The castle was built in 1264 by King Alfonso X, and the exterior is beautifully preserved. Today, the castle is privately owned. The current owners are in the wine business, and part of the fun of a tour is the wine tasting at the end. Fun fact: Christopher Columbus may have been a guest at the castle.
Be sure to check the hours of opening, and book a ticket for a tour in advance.
2. Sherry Tasting At Osborne Bodega
You cannot visit El Puerto without tasting the sherry wine produced here. The province of Cádiz is known for its famous Sherry Triangle, which includes El Puerto de Santa María, Jerez de la Frontera, and Sanlúcar Barrameda.
The British were very fond of sherry, and in 1772, a Brit named Thomas Osborne Mann founded the Osborne Bodega in El Puerto de Santa María. Seven generations later, it is still a family-owned business.
Take a tour to learn how sherry is produced –– it's not straightforward at all. Sherry wine is not produced anywhere else in the world, in part because the way it's made requires the special climate of the Sherry Triangle
Tours last about 1.5 hours and include a tasting of four sherries, plus a vermouth produced by Osborne. Afterward, you can browse the many interesting things for sale, including wine from around Spain, as well as sherry, brandy, and spirits such as vodka and gin.
Bodega Osborne is open every day, but the hours change depending on the season. The English language tours are always at 10 a.m. Even if you don't take a tour, do walk around outside; it is a beautiful property.
Pro Tip: Be sure you eat a decent breakfast if you plan to participate in the sherry tasting at the end of the tour. The best thing to eat is a nice big bowl of oatmeal to keep your blood sugar balanced. Sip slowly; do not shoot the wine in one gulp. Drink a lot of water, and have fun!
3. Basilica De Nuestra Señora De Los Milagros
The main church in El Puerto is the Basilica de Nuestra Señora de los Milagros, located in Plaza España, just a stone's throw from the old market. The church is architecturally interesting, with elements from both the Gothic and Baroque periods adorning its facade. The church dominates the square, which is also a good place for people-watching.
4. Go To A Bullfight
Bullfighting has a long and deep history in Spain. Most historians believe bullfighting was introduced to Spain, and other areas, by the Greeks.
The arena in El Puerto de Santa María hosts fights starting in the spring and running through the fall. If you just want to tour the arena and learn a little about its history, the tour costs approximately 10 euros. I did not tour the arena, but I did walk by; it is an impressive building that clearly has an important position in the city. This is the third largest arena in Spain after Madrid and Valencia.
5. Go To The Marina
El Puerto is a port city and has a beautiful marina –– Puerto Sherry. This is a lovely place to have a drink or a bite to eat while just relaxing and enjoying the waterfront. Puerto Sherry is also where you can catch the ferry to Cádiz. This area has a completely different atmosphere than the city center, as you might expect since it's on the beach, but it's also much more modern.
6. Take The Ferry To Cádiz
Cádiz is both the name of the province and a city located on the coast only 30 minutes by train from El Puerto. The historic area of the city is not too large, and you can easily walk everywhere. Cádiz looks like one of the white villages Spain is known for — but on the sea, with shimmering turquoise water.
There's a beautiful public beach called La Caleta that's good for swimming. A stone's throw from the beach is the old castle fortress, which is free to visit. Other fun things to do in Cádiz include visiting the oldest covered market in the country, climbing the Tavira Tower for a bird's eye view of the city and the sea, and strolling through Parque Genovés.
Pro Tip: If the weather permits, take the ferry to Cádiz. Arriving by sea gives you a different perspective of the city.
Best Restaurants In El Puerto De Santa María
One of the highlights of my time in El Puerto was the food. I can't list every place I ate, but I promise you, I did not have one bad meal. Seafood is abundant, as is Iberico ham. Pair it all with a glass of sherry wine. Yum.
7. Aponiente
If you consider fine dining a highlight of any travel experience, run, don't walk, to Aponiente.
The Spanish have nicknamed Ángel León, the chef and owner of Aponiente, the Chef del Mar. León's obsession with all things marine is evident in this three-Michelin-star restaurant. Of course, you must also love seafood, as you will not find any other meat served here. You should also be willing to eat things that you've probably never heard of.
Tucked in a neighborhood near the train station, it's a gorgeous space that was once a mill –– and part of your dining experience includes a tour. Be sure to make a reservation.
8. Bar Vicente
The interior of Bar Vicente looks like a period movie set. I suspect not much has changed since the place opened in the 1920s. The green and white tiles, marble table tops, and old posters advertising sherry and various liquors make this heaven for photography buffs. I went there several times for the jamón with eggs, or pan con tomate and a café con leche. The service was quick, and the waiters understood my minimal Spanish (and some English, too).
9. Toro Tapas
Toro Tapas is a fantastic restaurant owned by Osborne. Everything is perfectly prepared, and the service is attentive but not overwhelming.
Be sure to order some of the delicious Iberico ham. There is a station set up by the bar where you can watch the waiter expertly slice paper-thin pieces from the leg, then carefully place them on the plate with small silver tongs. Believe me, it's something to see.
Best Hotels In El Puerto De Santa María
10. Casa De Huéspedes
If you like a small, intimate experience that's more like staying in someone's private home, well, at Casa de Huéspedes, you actually are! Carlos is the third generation to share his family home with travelers from near and far. I also wanted to stay in the old city center, and Casa de Huéspedes is only a short walk from all the best tapas bars, restaurants, sherry bodegas, and all of the historic monuments, like the cathedral and the castle. Additionally, you're only a 15-minute walk from the train station and the beach.
The house is over 100 years old, and like most of the homes in El Puerto, there is an interior courtyard filled with plants, providing a relaxing place to have a cup of tea at the end of a long day of sightseeing.
There are a couple of rooms downstairs and several more upstairs. I recommend an upstairs room if you prefer more light. All of the rooms have ensuite bathrooms, and there is daily maid service. I thoroughly enjoyed my time at Casa de Huéspedes.
11. Hotel Puertobahia And Spa
If you prefer to stay on the beach and have more amenities, Hotel Puertobahia and Spa is a pretty hotel on Valdelagrana Beach. Choose a family room with a terrace and sea view or a double room for double or single occupancy. Activities at the hotel include a full-service spa, mini golf, bike trails, a gym, and a children's playground. You're only steps from miles of beautiful beach and only a 5-minute drive from the historic city center. Hotel Puertobahia and Spa also has rooms for those with mobility impairments.