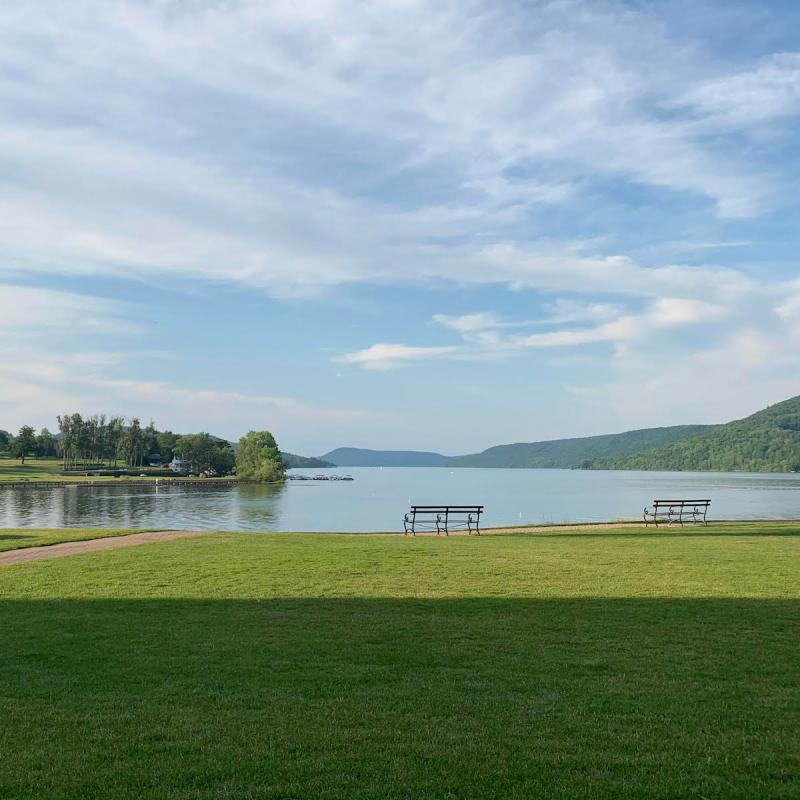 Cooperstown is known for its ties to the National Baseball Hall of Fame, James Fenimore Cooper, and Lake Otsego. When your attractions draw crowds of tourists, great restaurants spring up and the best ones stick around for a long time. I loved exploring Cooperstown restaurants on my recent visit and I've listed my favorites below in no particular order.
Fine dining with spectacular views and carefully curated menus share the foodie scene with beverage and cheese trail standouts. Thrown into the mix are delectable artisanal pastries and a classic New York pizza joint for a tasty bite.
Note: Some information in this piece was obtained during a sponsored press trip, but all recommendations are my own.
1. Origins Cafe
Cooperstown
Tables scattered between lush greenhouse plants transport diners to an outdoor oasis. Origins Cafe is an herbaceous dining adventure, you are immersed in the plant experience — it is all around you and also adorns your plate.
The bohemian vibe is not only represented in the casual decor, you feel it in your meal. Beautifully presented, healthy cuisine comes together for a multi-sensory, slow food dining experience.
What To Order At Origins Cafe
The menu changes seasonally and reservations are necessary for dinner. During the summer, dinner is served Wednesdays and Fridays, and the popular weekend brunch and lunch served on Wednesday through Friday round out the summer hours.
The menu changes daily and is crafted from seasonal ingredients. Several seatings offer a pre-fixed menu and others have several options to choose from. They offer a tempting selection of vegetarian options and meat-based cuisine.
Pro Tip: Unless you are very lucky, you will need to park along the road. Follow the signs and park so your vehicle is completely off the road.
2. Fly Creek Cider Mill And Orchard
Fly Creek
Known for its pressed cider, Fly Creek Cider Mill and Orchard has been a frequent destination for generations of families. Along with their hard cider, they produce interesting wines and offer a unique shopping experience, food stand, and ice cream service.
What To Order At Fly Creek Cider Mill And Orchard
Head upstairs to the tasting room for a sampler flight. If you have never tried a wine slush, now is the time — it is an adult beverage treat. In addition to hard cider and wines, they also offer Fly Creek distilled spirits.
In the fall, you can watch the cider press at work grinding up bushels of apples into a sweet/tart drink. The apple mill is the centerpiece of the store marketplace. Guests can watch the entire process from various windows throughout the store.
Pro Tip: The store marketplace is a great spot to pick up provisions for your stay in Cooperstown and offers lots of fun, interesting food items, and souvenirs.
3. Hawkeye Bar And Grill
Cooperstown
The Hawkeye Bar and Grill is located in the venerable Otesaga, a grand hotel steeped in the history of bygone days. Casually elegant, this classic hotel offers a variety of dining experiences.
What To Order At Hawkeye Bar And Grill
The goat cheese brulee is an interesting starter. Served with a slice of sourdough ale bread, you won't want to share. The roasted vegetable tart with lemon ricotta and peas or the baby back ribs and Guinness barbecue glazed Mexican street corn are fabulous options.
Pro Tip: Sip a summer cocktail at the Fire Bar while waiting for your patio table. You will love the view.
4. The Blue Mingo Grill
Cooperstown
When you are looking for a spot along the water that offers casual dining The Blue Mingo Grill is just the spot. I enjoy watching the boats navigate in and out of the boatyard while we dine. A waterfront restaurant ambiance adds a vacation vibe to lunch or dinner.
What To Order At Blue Mingo Grill
The menu offers a wide variety of options including small plates to share, sandwiches, and classic burgers. The Sleeping Lion burger is served with maple bacon bourbon jam and goat cheese is a great option.
Pro Tip: The Blue Mingo is located in Sam Smith's Boatyard — you can't get any more on the water than that.
5. New York Pizzeria
Cooperstown
When you need a quick slice for a snack or an entire pie, New York Pizzeria will transport you to an NYC pizzeria; they even have an upstairs dining area just like many NYC shops. A short walk from the downtown area, you will enjoy the relaxed pizza shop attitude.
What To Order At New York Pizzeria
Everything is good. You can order a slice or two for a mid-day meal and be on your way in a jiffy. Create your own pizza pie, chow down on their classic wings, or enjoy some of their other traditional Italian offerings.
Pro Tip: If you are staying in the area, walk to New York Pizzeria. You can avoid navigating the parking lot and work off a little of the pizza's cheesy goodness.
6. Schneider's Bakery
Cooperstown
A freshly baked pastry and a steaming cup of great coffee are a morning necessity when on a vacation getaway. Schneider's Bakery is perched on the edge of downtown, where the aroma of baking dough wafts to your nose as you pass by the corner shop.
What To Order At Schneider's Bakery
All I can say is — order anything and everything. Doughnuts, cream puffs, and all the other delectable assorted pastries decorate the display case — yes to all! Schneider's is the perfect place to order a decadent treat.
Pro Tip: They open at 6:30 a.m. every day except Sunday (7:30 a.m.) for all the early birds who want the just baked breakfast goodies.
7. Cooperstown Cheese Company
Milford
I love cheese, especially unique and interesting cheeses. At the Cooperstown Cheese Company, the wall lined with chilling cases is filled with a wild assortment of cheeses. It is almost impossible to choose. Almost.
What To Order At Cooperstown Cheese Company
In addition to all the fabulous cheeses — I am partial to anything with truffles — they offer local goods like jams, jellies, relishes, and a wonderful assortment of baked items.
Pro Tip: It is a lovely country road drive from Cooperstown center out to Cooperstown Cheese Company.
8. Honeypot Farms Meadery
Burlington Flats
Have you ever tasted Mead? It is a silky smooth adult beverage made with a honey base. At Honeypot Farms Meadery they custom blend all their meads and make them without sulfites or preservatives. If you have ever suffered a red wine headache, you will be delighted you discovered mead.
What To Order At Honeypot Farms Meadery
If you stop by the Meadery, the best option is to try a mead flight and decide which one works for your palette. The Honey Hooch, Puckered Peach, and Meant to Bee are a few of my favorites.
Pro Tip: Stock up when you go, you won't find this specialty beverage too far outside of the Cooperstown area.
9. Brewery Ommegang
Cooperstown
Brewery Ommegang is home to Cooperstown's Belgian-style brewing center. The large complex hosts concerts, firepit gatherings, pizza nights, and more.
What To Order At Brewery Ommegang
Grab a seat at the Cafe and pair your favorite Ommegang beer with an excellent selection of pub grub. Share some poutine, the brewer's charcuterie board, and chicken & waffles with your favorite brew hopping buddy. Great options include the Nirvana IPA, Rare Vos Amber Ale, and Rosetta Sour Ale.
Pro Tip: The parking lot can be very busy. Park in the overflow lot and take a short stroll over to the brewery.
10. Pail Shop Vineyards
Fly Creek
Pail Shop Vineyards is a charming, small-batch wine producer crafting delicious bottles with grapes grown in upstate New York. The picturesque bucolic setting creates a relaxing atmosphere where you can kick back and savor a delightful vintage.
What To Order At Pail Shop Vineyards
Wine and chocolate, what could be better? Maybe a picnic dinner by the pond with a bottle of local wine. Find your favorite bottle and pair it with some amazing cheese or a sampling of gourmet chocolate. Add in a peaceful setting and you have the makings of a lovely evening.
Pro Tip: Pail Shop Vineyards is one of the stops on the Cooperstown Beverage Trail along with Fly Creek Cider Mill and Orchard, Brewery Ommegang, and Honeypot Farms Meadery.
Great Food In Cooperstown Restaurants
When you are off to Cooperstown to explore the National Baseball Hall of Fame and Museum, there are lots of great options for dining. Enjoy views of picturesque Otsego Lake, the peaceful setting at Fly Creek, the Cooperstown Beverage Trail, or a slice of New York's best pie when you dine in the Cooperstown area.
For more information on traveling to New York, check out these articles: