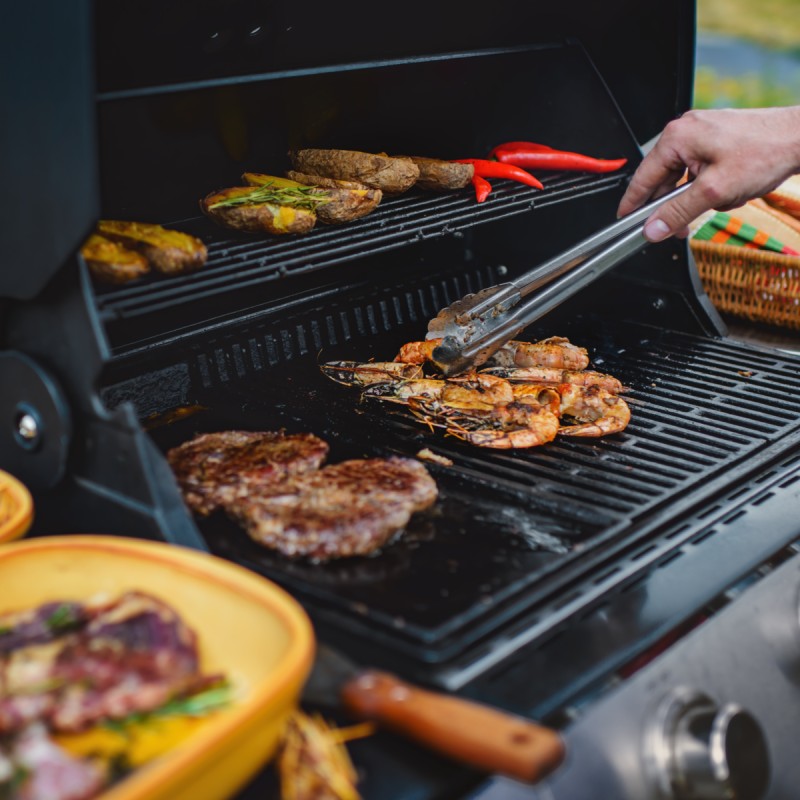 Do you love to grill, smoke, and barbecue meat? And more importantly, are you enthusiastic about sharing your passion with other people so they can learn from your experience?
If so, you could be GrillBabyGrill's new "Head of Grillovation." Here's how the deal gets even better: You could be paid $2,000 a month for it.
While it may seem easy, grilling, smoking, and barbecuing well takes a lot of experience. GrillBabyGrill, a website that gives readers information about grills and smokers as well as recipes and techniques, wants to change that situation by "finding a grill master who is passionate about all things backyard barbecue" so they can share that experience and enthusiasm to help "level up America's grill knowledge," GrillBabyGrill explains.
"We're so excited to announce our new job opening as Head of Grillovation," GrillBabyGrill's management continues. "It's an incredibly important role, and we're excited to welcome whoever the lucky candidate is. We're sure they will have an incredible time ensuring that America's barbecue is up to scratch for all the grill lovers out there."
Head Of Grillovation Candidates
"We are looking for someone passionate about BBQ, someone with strong opinions on the ancient art of grilling meat who can provide a fresh outlook on all things grilling," GrillBabyGrill explains. "This candidate is also willing and able to create short video walkthroughs and reviews of various grill gear."
It must be pointed out that while Head of Grillovation candidates don't need experience creating videos, it is a significant plus if they do have experience.
"You do need to be willing to use your phone to film and create videos that will be published to YouTube," GrillBabyGrill continues. "We are looking for a barbecue geek whose charisma will shine through all mediums."
The Ideal Candidate's Qualifications
OK, about now you're probably wondering what experience really sets candidates apart.
GrillBabyGrill explains that the ideal candidate either is or was a pitmaster. While amateur grillmasters are welcome to apply to be Head of Grillovation, GrillBabyGrill explains that management values "'skin in the game,' and there is no better way to demonstrate this than time spent at the grill."
Of course, the ideal candidate is also enthusiastic about "new grilling technology, is knowledgeable about the newest available machinery," and should be willing to "call it like they see it with no fluff."
The ideal candidate must also "have a way with words." GrillBabyGrill notes that it is a barbecue site, so "you don't need perfect grammar — but you should be willing and able to write and record engaging product reviews."
Finally, it only stands to reason that the ideal candidate will also have a backyard they can use. After all, they'll need space to store, photograph, and record grilling products.
What The Head Of Grillovation Will Do
"We're after someone who can bring a fresh set of ideas and opinions to the (dinner) table, someone who isn't afraid to experiment, and someone with the ability to bring their backyard barbecue expertise to life via the written word and video content," GrillBabyGrill explains. "You'll be smoking, eating, and reviewing products from the comfort of your own home."
Here's what that entails:
First, the Head of Grillovation will test barbecue equipment sent to them by GrillBabyGrill. This includes grills, smokers, and utensils. They'll even be able to keep some — but not all — of this equipment, which is why having their own yard is important.
They'll also need to test different cooking methods, experiment with types of charcoal, and even test ingredients.
After that, their next duty will be to write and create a set number of written and video reviews every month after a product has passed — or failed — the Head of Grillovation's test.
What's In It For You
The Head of Grillovation is a paid, part-time position; however, there is potential to grow into a full-time role. Furthermore, the Head of Grillovation will be paid $2,000 a month, and there's an incentive structure in place for more rewards if performance targets are met.
As was mentioned, they'll also receive smokers, grills, and accessories to experiment and review — and some may be kept.
Finally, as you may have guessed, being Head of Grillovation presents an opportunity for a grill master to build and grow their own personal brand as well.
You can learn more about GrillBabyGrill and apply to be Head of Grillovation here.
For more barbecue inspiration, be sure to also read: