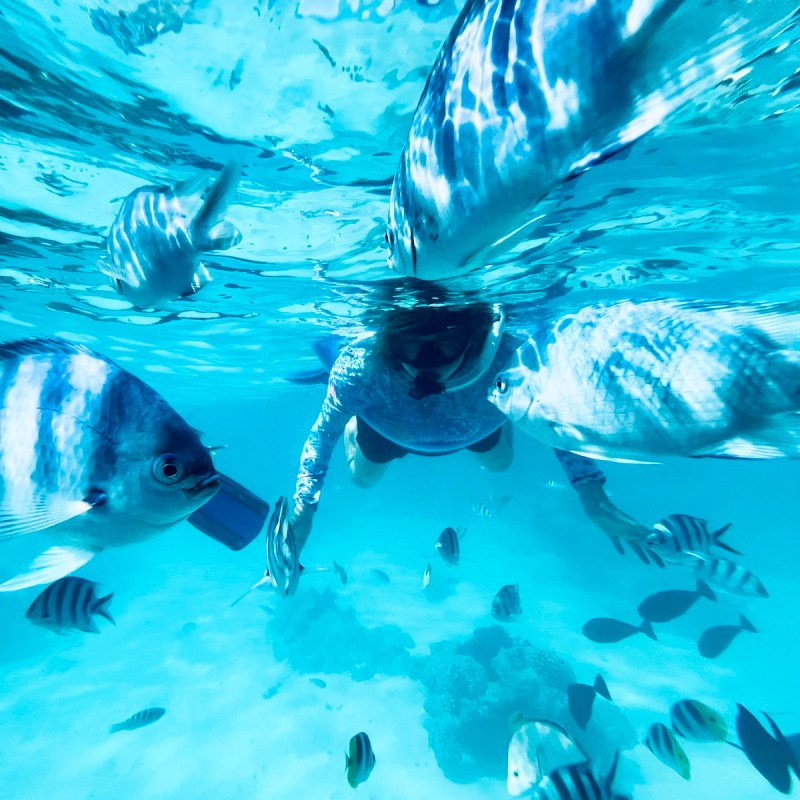 I always dreamt of being in Tahiti and sailing around the remote French Polynesian islands, and in May I turned my dreams into lifelong memories on a small sailing yacht with Windstar Cruises. It was love at first sight! I had goosebumps as I boarded the sparkling white 148-passenger Wind Spirit in Papeete, Tahiti, for an 11-day sailing adventure in Tahiti and the Tuamotu Islands.
While I could easily have just stayed on the ship for the entire cruise, I also wanted to explore the islands, motus and reefs famous for their clear turquoise waters, rich underwater reef life, and some of the best snorkeling and scuba diving in the world. I was able to find the perfect balance of incredible on-ship experiences and jaw-dropping off-ship experiences available at a reasonable price with Windstar.
Everything about my first Windstar cruise was dreamy, from my comfortable cabin and beautiful open spaces on-board, to the on-ship enrichment opportunities plus delicious food and beverages. These are my eight favorite experiences on Wind Spirit in Tahiti and the Tuamotu Islands:
1. Epic Sail Aways And Sun-Downers
Every time we sailed away from a port we gathered on the outside decks in flowy linen and gauze clothing with sun-downers in hand, my favorite being an Aperol Spritz. As the sun began to set, we watched in awe as the sky began to burst with ever-changing colors. Music would start to play and all eyes were focussed on the giant masts as the tall white sails began to unfurl one at a time. This was my first time witnessing epic romantic sail aways on a true sailing yacht, and I know it will not be my last.
2. Snorkeling On Fakarava, The Island of Dreams
Windstar offered many snorkeling excursions, but the one in Fakarava, the so-called Island of Dreams in the Tuamotu Islands, stood out from the rest.
Fakarava's lagoon is classified by UNESCO as a biosphere reserve. From a small dive boat, we entered the clear warm water with our fins and masks. (All snorkeling equipment is provided free of charge by Windstar for use throughout the cruise). While the depth of the water and current varied, we nonetheless had spectacular views of the magnificent corals, colorful tropical fish, and even black tipped reef sharks.
The Society Islands and Tuamotu Islands are arguably the best places in the world to snorkel, so if you too love snorkeling, you can take advantage of all the snorkel excursions in Rangiroa, Taha'a, and Bora Bora in addition to Fakarava.
3. The Spa
Sea days are ideal for splurging on spa treatments to relax and rejuvenate. Since the spa was quite small with one hair dresser, one masseuse, and one aesthetician, I booked a deep tissue massage, a BIOTEC Anti-aging Firm-a-lift facial, and a hair appointment for color and a blow dry immediately upon embarkation.
Unlike spas on some larger ships with saunas, steam rooms, elaborate changing rooms, treatment pools, and lounge areas pre and post treatments, the Wind Spirit Spa has just three treatment rooms and a small reception area; however, the massage, facial, and salon services were as good as or better than what I've experienced on some of the more elaborate ship spas. I flew directly to a family event in New York City following the cruise and thanks to the spa team, I looked like a million bucks even after traveling for 18 hours!
4. The Mamas And Papas Group On The Pool Deck
While we were anchored in Raiatea, the Sacred Island, Windstar's on-board enrichment program included an opportunity to meet the Mamas and Papas (not the American folk-rock band!), who came aboard and immersed us in Polynesian culture.
We were taught traditional dances, how to create flower crowns and leis, and how men and women wear the traditional pareo wraps. Dressed in our new Polynesian attire, the dance floor became crowded and festive. Having been in Tahiti for a few weeks before the cruise, I came to love the warmth and kindness of the Tahitian people. It was a treat to spend a few hours with these men and women as we learned about their culture and traditions.
5. Glorious Food And Restaurant Choices
I adored having the freedom to dine when, where, and with whomever I preferred, indoors or alfresco on the Wind Spirit. Reservations are required only at the romantic and intimate Candles Restaurant, which is outdoors on the Bridge Deck with starched white tablecloths and a steakhouse-style menu. I even dressed up a little for Candles, making dining under the stars even more special!
Windstar is the official cruise line of the James Beard Foundation. I tried many extraordinary chef-inspired dishes at the Amphora Restaurant and even ordered room service from the same menu one night when I chose to enjoy dinner alone in my cabin. Hands-down this was the best room service I have ever experienced on a ship!
For breakfast and lunch, the bright Veranda Restaurant offered panoramic views while we sailed and had a buffet with many varieties of yogurt, fruit, salad, bread and dessert. Meals could also be ordered from the menu including eggs benedict, hamburgers, and daily specials. The staff from day-one knew my name and greeted me personally without hesitating. With 118 guests on board for our sailing, I was so impressed that the staff were able to greet us by our names, not just at mealtime, but all the time as we moved around the ship. It made me wonder how they learn our names so quickly.
Pro Tip: There is so much more to Windstar's extraordinary food-centric attention. I found three exceptional experiences, unique to Windstar, that revolved around private barbecue parties on the Wind Spirit and on secluded islands and motus for Windstar-guests-only. All were weather-dependent and involved an enormous amount of effort by the staff. More on these below.
6. Deck Barbecue Under The Stars
The Galley team brought their finest cooking talents out to the pool deck where large barbecues were set up to prepare everything from paella to pork and beef. In the late afternoon long tables with salads, breads, vegetables, and other meal accompaniments were set up, and the deck was outfitted with dozens of perfectly set tables and chairs, enough for all 118 guests to enjoy dinner and the show that followed. Staff spontaneously burst into singing and finding strategic positions to lead guests in Line Dancing. Under clear skies with bright stars overhead, the party carried on for hours. We applauded the Windstar team's talent, creativity, effort, and spirit of hospitality and fun.
7. Windstar Private Island Experience
Another exceptional Windstar experience was in Motu Mahaea on Taha'a, known as The Vanilla Island. My day started with a short tour of a vanilla plantation followed by an exhilarating snorkel adventure with black tip sharks and rays circling around us. Our dive boat then took us to Windstar's private island surrounded by white sand beaches and corals for the complimentary Private Island experience.
Wearing only bathing suits and rashguard shirts, we fit right in with the other guests who were wearing beach gear. Staff had already set up a full bar with all sorts of tropical drinks, and a full lunch buffet, complete with a giant seafood paella pan, meat skewers, and an assortment of hot and cold salads and side dishes. I lounged comfortably on the beach after the delicious lunch and went into the shallow water to snorkel a little more.
No doubt transferring all of the food, drinks, towels, dishes and glasses, and the cooking and serving equipment to the private island was an enormous effort, yet the entire Windstar team was in great spirits throughout the day and into the early evening when we all returned to the ship. We all agreed that this was one of our best days on the cruise.
8. Bora Bora Destination Discovery Event
The third in a trio of outstanding experiences on this Windstar cruise in Tahiti was the Bora Bora Destination Discovery Event. Bora Bora was the most beautiful of the Society Islands. It is surrounded by tiny reef islets formed by broken coral and sand, called motu, in small pristine secluded areas.
Windstar took guests by catamaran to the motu where Windstar's executive chef arranged an extraordinary private feast on the beach. Traditional Polynesian fire dancers dressed in loin cloths performed after dinner to the delight of all the guests. I looked forward to this event; however, I had to fly home from Bora Bora for a family event just hours before the festivities began. I did hear from other guests by email about how they enjoyed the feast and fire dancing. This experience is also completely complimentary to Windstar guests!
Windstar Tahiti Pro Tips
There is a treasure box of intimate and immersive shore excursions; however, if your heart is set on particular excursions offering limited space, I recommend booking them early. You can change your mind and make adjustments on the ship daily.
Commencing in February 2024, the 312-passenger Star Breeze takes over as Windstar's year-round Tahiti ship doing the Dreams of Tahiti seven-night cruise offering the same experiences I so enjoyed.
Windstar will also sail a new exciting 14-day itinerary, Tahitian Treasures & Magnificent Marquesas, in 2024 and 2025 calling on the Tuamotu Islands of Fakarava and Rangiroa en route to and from the Marquesas, ending with the Society Islands of Tahaa, Bora Bora (an overnight), Moorea, and Papeete.
I have highlighted only my top eight experiences on the Windstar Tahiti and Tuamotu Islands cruise; however, I could easily have written about so many more magical moments and experiences while on board. If you dream of Tahiti as I did, this is a wonderful way to turn those dreams into memories.