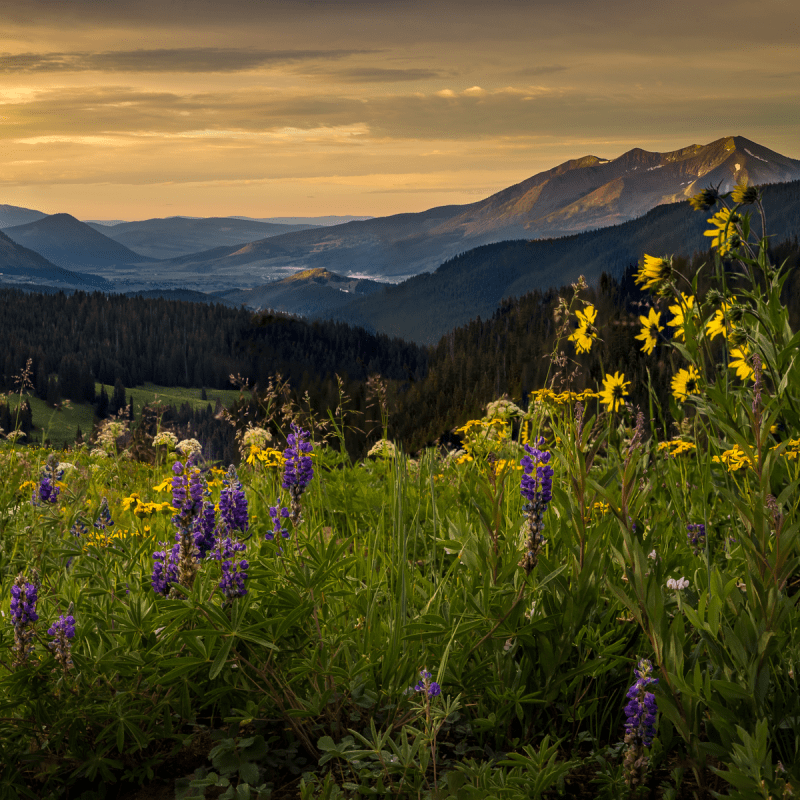 It may be well known for its rugged peaks and winter skiing, but visit Colorado in the summer, and you're in for a vibrant display of wildflowers. 
Crested Butte
Crested Butte earns its nickname of "wildflower capital of Colorado" because it is hands down the best place to see wildflowers in the state. Nestled in the Elk Mountains in western Colorado, Crested Butte is not easy to get to, but the visit is well worth the effort. Fertile soil combines with favorable weather to create a breeding ground for several wildflower varieties, all illuminating vibrant colors. Your most notable wildflower find here will be the columbine, which is the official state flower of Colorado. 
Flower enthusiasts report seeing some 1,500 different species of wildflowers in and around Crested Butte. The blooms start popping out around the end of June and into early July but can bloom earlier if the area happens to see a below-average snowfall in the winter.
Another reason Crested Butte is the mecca for wildflowers is due to the abundance of public land surrounding the city. Wildflowers are abundant along the vast array of trails in the area, both for hiking and mountain biking, and ranging from beginner to advanced.
"One of the trails that begin to see wildflowers earliest in the season is Lupine Trail, [which] runs along a south-facing slope just above town," said Andrew Sandstrom, marketing director of the Gunnison Crested Butte Tourism Association.
The town has a dedicated page on its website to track current wildflower viewing conditions. You can also find current trail conditions on various websites, including this one hosted by the Crested Butte Mountain Bike Association. 
Rocky Mountain National Park
For wildflower viewing that's a bit easier to get to, head to Rocky Mountain National Park, about an hour and a half northwest of Denver. Swing by the visitor's center on your way in for a wildflower guidebook to help you identify the hundreds of flower species in the park.
There are more than 50 hiking trails in the park, ranging in both difficulty and length. 
The moderately-rated Ouzel Falls trail is 5 miles out and back and is lined with colorful wildflowers. There's a much shorter hike near the Alpine Visitor Center featuring alpine wildflowers like moss campion and alpine forget-me-nots. But, beware of this trail! It may be less than a mile round trip, but it sits at nearly 12,000 feet, making it more difficult than you think!   
If you prefer not to hike, there are two scenic drives through the park that both offer gorgeous wildflower scenery. 
Alpine Loop Scenic Byway
This byway is not for the weary. Accessible only by four-wheel drive, the 63-mile Alpine Loop Scenic Byway is rugged, narrow, and tough. But, if you're brave enough (and have a high-clearance four-wheel-drive vehicle), you're rewarded with unspoiled nature and views. The road is only accessible for a short window of time, typically June through September. The rest of the year it is covered by snow and not maintained. 
Once used by miners, the Alpine Loop Scenic Byway connects the southwest Colorado towns of Silverton, Lake City, and Ouray deep in the rugged San Juan Mountains. One of its two 12,000-foot passes (Engineer Pass) is home to a vast wildflower field. Plan at least 7 hours to drive the byway; longer if you plan to hike for elusive wildflowers along the way.
After that thrilling ride, take time to relax in the small mountain town of Ouray. Or if you're wanting a tamer drive, check out our top scenic drives in Colorado.