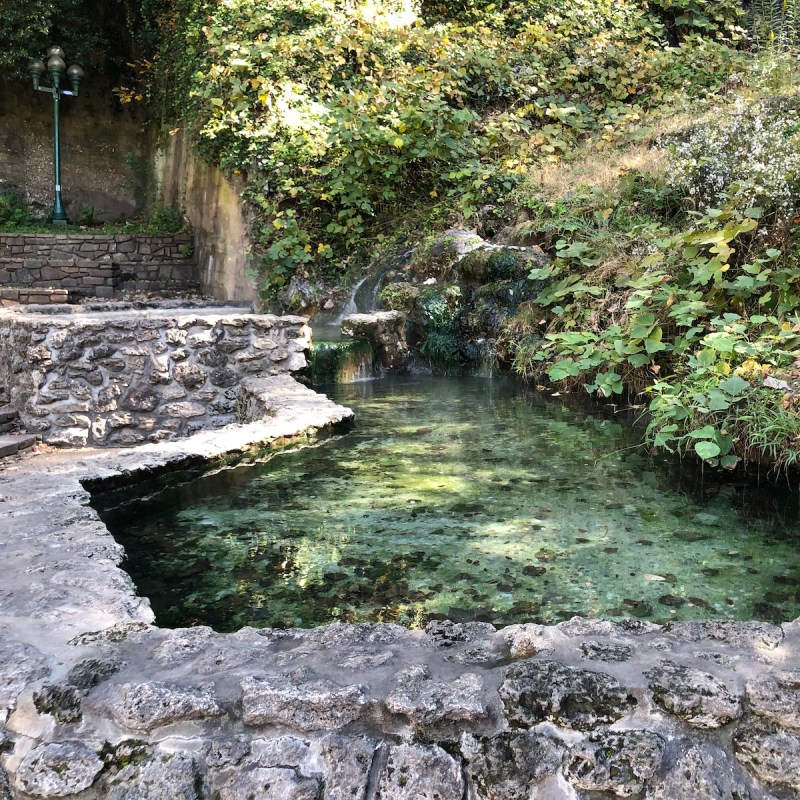 Which Arkansas town is the best? Hot Springs or Eureka Springs is a choice that often sparks heated debates, with each destination touting its unique virtues. Let's compare and contrast Eureka Springs and Hot Springs, Arkansas, to help you make an informed decision about which is right for you.
Hotel Hot Springs and the Crescent Hotel provided hosted stays. We were provided free admittance to some activities. All opinions are my own.
1. Springs
While both cities have springs offering therapeutic treatments for guests, one has hot springs, and the other has cold springs.
Hot Springs are naturally hot, and the hot water is used for various things throughout the town. The water comes out of the ground at 147 degrees Fahrenheit. It is cool enough to touch until it reaches most of the pools. There are over 47 hot springs in the city.
Eureka Springs, on the other hand, has 66 cold springs. Fifteen of the prominent cold springs are easily walkable. Here is a map of the springs (PDF) at Eureka Springs.
2. Cities
Hot Springs, Arkansas, was founded in 1832 when the first bathhouse opened. Hot Springs is larger and offers more diversity in terms of entertainment, dining, and lodging options. It is a city with modern amenities and attractions.
Half of Hot Springs is part of the national park. Walk on one side of the street, and you are in the Hot Springs National Park. Cross the street and walk on the opposite side, and you are in the city of Hot Springs. This modern city has rich historical roots, which includes being a prototype for America's national parks, a colorful and entertaining past that includes Al Capone, and more.
Eureka Springs is a quaint, historic town in the Ozark Mountains with many of its original buildings. It's a much smaller city than Hot Springs, with a quieter atmosphere. It's less crowded and feels homier.
It is a tourist destination that has been around for over 150 years. Eureka Springs has excellent scenery and lots of shops. Eureka Springs is perfect if you want a place to relax and get away from the city.
3. Streets
There is a vast difference in the streets. I know that sounds like a funny thing to notice, but it was striking. Hot Springs streets were paved and wide. When there were hills, they were paved. Downtown Eureka Springs is hilly, with winding streets made of cement. Most of the roads are very narrow.
Fun Fact: In Eureka Springs, none of the streets cross at right angles and there are zero stoplights.
4. History
Hot Springs is known as the "Spa City." Getting its name from the naturally thermal spring waters that flow out of the ground at an average temperature of 143 degrees Fahrenheit, the springs produce nearly one million gallons of water each day.
Native Americans referred to the area as the "Valley of the Vapors." The springs were such an amazing natural wonder that President Andrew Jackson designated Hot Springs as the first federal reservation in 1832.
The rugged frontier town became an elegant spa city within 10 years. America's first resort included a row of Victorian-style bathhouses known as Bathhouse Row. Hot Springs Reservation became a national park in 1921.
Historic Bathhouse Row still stands. Only two of the bathhouses are available for soaking in the thermal waters. Other bathhouses have been restored to serve different purposes.
The hot springs are pumped throughout downtown to other spas and hotels. Water is also available at public fountains. When I visited, a lady from Michigan filled a dozen 5-gallon jugs with the water to take home with her. She said she made the trip every couple of months to fill up her jars with the therapeutic water.
Fun Fact: Hot Springs has a colorful, organized crime history of gambling, bootlegging, and prostitution. It became a popular hangout for infamous mobsters like Al Capone, Bugs Moran, and others. A federal crackdown in the 1960s ended the gangster activity.
Eureka Springs was founded due to the cold springs. Many refer to it as the "city that water built."
Visitors first started coming to Eureka Springs in the late 1800s because the natural springs were thought to have healing powers. As people flocked to the area to revive health and a renewal of spirit, developers decided to build a resort community around the springs.
Tourists drank and soaked in the pure mountain water. Now the springs are beautifully landscaped, but they are not potable.
Eureka Springs is the only city in the nation whose entire historic downtown is listed on the National Register of Historic Places.
Fun Fact: The first neon sign installed west of the Mississippi River hangs over the Palace Bath House entrance.
5. Shopping
Hot Springs shops have a modern look with a sophisticated feel. There are big box stores and factory outlets nearby. You will find specialty shops along Bathhouse Row.
If shopping for unique items is your thing, you will love Eureka Springs. You will find unique and quirky shops lining the historic downtown's sloping streets. You can find entire stores dedicated to quilts, log furniture, hot sauce, soaps, socks, etc. I found the shopping in Eureka Springs to be exceptional. I purchased several gifts when I visited.
Fun Fact: Over 300 of the 2,000 Eureka Springs residents are working artists. Art galleries are plentiful.
6. Things To Do
Hot Springs has an abundance of things to do. From racing and gaming to climbing the Hot Springs Mountain Tower and visiting the Mid-America Science Museum. There is something for everyone.
Garvan Woodland Gardens showcases the beauty of nature, and The Gangster Museum of America provides remnants of the city's mob history.
Located in the Ouachita Mountains, Hot Springs is home to two world-class golf courses and is a natural haven for outdoor adventures and sporting events.
Eureka Springs showcases over a hundred festivals and events each year.
Some of the most popular activities include visiting the Thorncrown Chapel, considered the most beautiful chapel in the world; Christ of the Ozarks, a seven-story statue of Jesus; and The Great Passion Play, America's top attended outdoor drama.
The Crescent Hotel Ghost Tours are a big hit year-round. Considered the "most haunted hotel in America," you don't want to miss this tour. We did this tour 2 days before Halloween and had a hauntingly good time.
Eureka Springs is home to excellent mountain biking trails and hiking trails.
I recommend hopping on the Eureka Springs Tram Tours to learn about the town as you slowly ride up and down the hills of the charming downtown. It will help you know what you want to revisit and give you an idea of the terrain.
7. Hotels
Hot Springs had old hotels as well but also many new modern ones. I stayed at the Hotel Hot Springs when I visited, and it had all the modern amenities you would expect.
Eureka Springs has several places to stay nearby, including some unique caves, treehouses, etc. The 1886 Crescent Hotel and the 1905 Great Basin Hotel are both over 100 years old.
The Crescent is considered "America's Most Haunted Hotel" and sits high on a hill overlooking the historic downtown. (It has been featured on several ghost hunting shows.)
We stayed in this hotel when we visited.
The 1905 Great Basin Hotel is unique in that it was built on a slope and every floor of the seven-story hotel is on the ground level.
8. Spas
Both Hot Springs and Eureka Springs have spas.
Soaking in the thermal waters continues to be popular. There are two spas on Bathhouse Row available for bathing. Other spas are located throughout the city.
Quapaw Baths and Spa Pools is the newest bath and spa in the park. They offer various spa services, but they also offer guests a unique experience. They have four large thermal mineral water soaking pools to enjoy for a small fee. We loved soaking in these pools when we visited.
Buckstaff Bathhouse offers the traditional spa experience. It is the only remaining traditional hot spring bathing facility that has been continuously operational throughout the years on Bathhouse Row. When I say traditional, they are still using most of the equipment they used way back when.
A dozen spa facilities are situated in and around historic downtown Eureka Springs. While the therapeutic waters from the spring are cool, the spas heat the water for guests to enjoy.
During our stay in Eureka Springs, we visited the New Moon Spa. We enjoyed a sauna, soaking in the hot tub, and I had my nails done.
After a day of shopping or outdoor activities, there is nothing better than resting and relaxing in a therapeutic mineral bath.
9. Food
You can find great food all over both towns.
Hot Springs had modern chain restaurants and fast food readily available. They also have unique and fine dining.
One of the unique fine dining experiences we enjoyed was at The Rooftop. It sits atop the Waters Hotel and overlooks Bathhouse Row. You can enjoy a great meal, drinks, and a magnificent view.
Eureka Springs has an eclectic culinary scene with over 100 restaurants that suit any taste. Most eateries are chef-owned and operated. We enjoyed a magnificent meal and exquisite service at Rogue's Manor when we visited.
As you can see, both Hot Springs and Eureka Springs are excellent destinations to visit. While both offer the natural benefits of therapeutic water that make them popular tourist destinations, each has its own unique qualities.
The choice is yours. If you're looking to explore all that Arkansas has to offer, then head to both of these destinations!
If you want to learn more about Arkansas, check out all of our coverage: