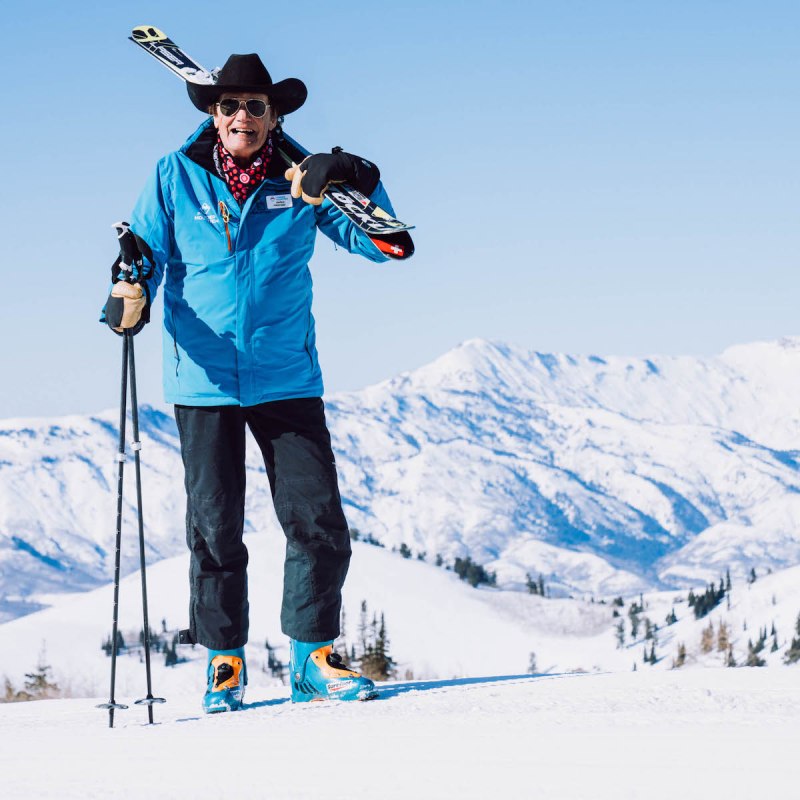 John Burrows doesn't just love to ski; he lives to ski. He started his love affair as a two-year-old on a Massachusetts golf course. The hill wasn't too steep, and the snow was powder soft. His gear included wooden skis with no steel edges and leather, square-toe boots inserted in non-release bindings. His brother taught him the ropes, including how to make specific turns. He eventually graduated from a beginner's "Snowplow" to "Pure Christianna," or parallel skiing, and was hooked.
Life Before Retirement
A passionate skier as a young adult, he moved to Franconia, New Hampshire, and made the challenging Cannon Mountain his playground. The mountain was friendly to ski racers, including Olympian Bode Miller. Having skied worldwide, he became a championship coach for Lisbon High School. By age 26, John became the marketing director at Loon Mountain in Lincoln, New Hampshire. During his tenure, he filled in as the interim general manager for a year and held the keys to the gondola, a dream come true. He spent 20 years in apartment ownership and made a life in New Hampshire, eventually having three children of his own. John's real estate business saw him managing 1,000 apartment units in Florida, Virginia, New Jersey, and Ohio. He was also a musician, cutting three critically acclaimed CDs with legions of fans. New England was his home, and while he always loved sailing in the ocean each summer, the mountains always pulled harder on his heart. That's why the opportunity to relocate to Utah made so much sense.
He Made His Way To Eden, Utah
He was 69 when his youngest daughter, Amanda, lured him to move to Eden, Utah, in 2014. She said, "Daddy, this place is you." He was nervous about leaving his friends and contacts in the music industry. He played après ski gigs all over the area and the world, and as a singer, songwriter, and guitarist, he had a lot of local fans. But his family all moved out West for their jobs in the medical field. Two of his children relocated to Denver, Colorado, for work, and his youngest, Amanda, moved to Salt Lake City, Utah. He was on his own in New Hampshire, but he was busy with music and skiing. When his children started families, he felt the pull to live closer to his four grandkids. He packed 72 boxes and shipped them via Greyhound Package Express. Then he took his guitar and a suitcase making the solo drive from New England to Eden. He settled in the Wolf Creek Condominiums at 5,200 feet elevation, 6 miles from Powder Mountain, his new "home" mountain.
An Offer For A Dream Job
That first winter, John was fully retired and skiing at Pow Mow every day. He met the new general manager, Mark Schroetel, who arrived around the same time. Both skiing enthusiasts, they would chat often and became friends. This led to a dream job offer. The new GM offered John the position of Powder Mountain ambassador. The job paid him a per diem and expenses to ski mountains out West and invite skiers to discover the hidden gem – Powder Mountain. "At 69 years old, I skied 1,250,000 vertical feet. My job was to meet other skiers and offer them passes to ski Pow Mow and get the word out about this incredible winter paradise." It was a job that fit John perfectly.
Aging As An Avid Skier
When his contacts came to ski, John would host his new friends at Pow Mow and tour them around his mountain. He bragged about it because he knew how great the skiing was there. John skied all over the world, and this mountain was like no other. Eventually, he struggled with facing his physical limitations and had to admit that aging takes its toll. He physically couldn't ski backcountry bowls any longer, ski the longest, or race down the slopes. He retired from his ambassador job and transitioned into a Powder Mountain ski host. At the current age of 77, he never looked back. John is happy to stay home, connect with all the friendly people who ski at Pow Mow, and play music locally, après ski.
A Day In The Life Of A Host
A day as a tour guide at Powder Mountain includes the following. "The job is a volunteer spot and usually starts at 8 a.m. I often shovel snow to ensure the paths are safe for the guests who arrive around 8:30 a.m. I meet the guests twice a week and ski with them until noon. Fortunately, Pow Mow is the perfect landing spot for ex-guides. You get to ski and help new skiers learn about this enormous, 8,400-acre Shangri-La." While his position is unpaid, he has excellent perks, making hosting worth his time. "Guides and their significant others are offered free yearly passes. You also receive discounts on food and equipment."
Guides are essential at Pow Mow because the mountain has unique features and trails which cannot be explained by looking at a paper map. Powder Mountain has the most extensive skiable acreage in North America, and their glade skiing is legendary. "The mountain staff grooms trees to ten feet above the bare ground so you can ski safely without body armor for protection." You also get to ski fresh powder, but you need to know how. John loves to ski on fresh powder with guests because some have never experienced this type of skiing. A Powder Day, according to hosts, is when you ski untracked, fresh snow.
Being A Host Is Surprising
John explains, "If you want to become a host, you need to learn the mountain, love the mountain, enjoy greeting guests, have patience and be a good communicator. Skiers are a happy bunch, and they have high expectations of themselves when they ski here. I try to help them meet those aspirations." John is so friendly that he often has repeat visitors who tell him they are returning. He loves to ski with old friends.
Life Off The Mountain
"I have a full life on and off the mountain. I still practice guitar and play shows in Utah. I watch my grandchildren's games online and ski with my significant other, Helene. She learned how to ski at 60, and four years later, she is well beyond the intermediate level. She says it's her instructor; I say it's her unwavering great attitude." John says his secret is to enjoy life's twists and turns with a positive mindset. According to the composer Ludwig von Beethoven, "To play a wrong note is insignificant, to play without passion is unforgivable."