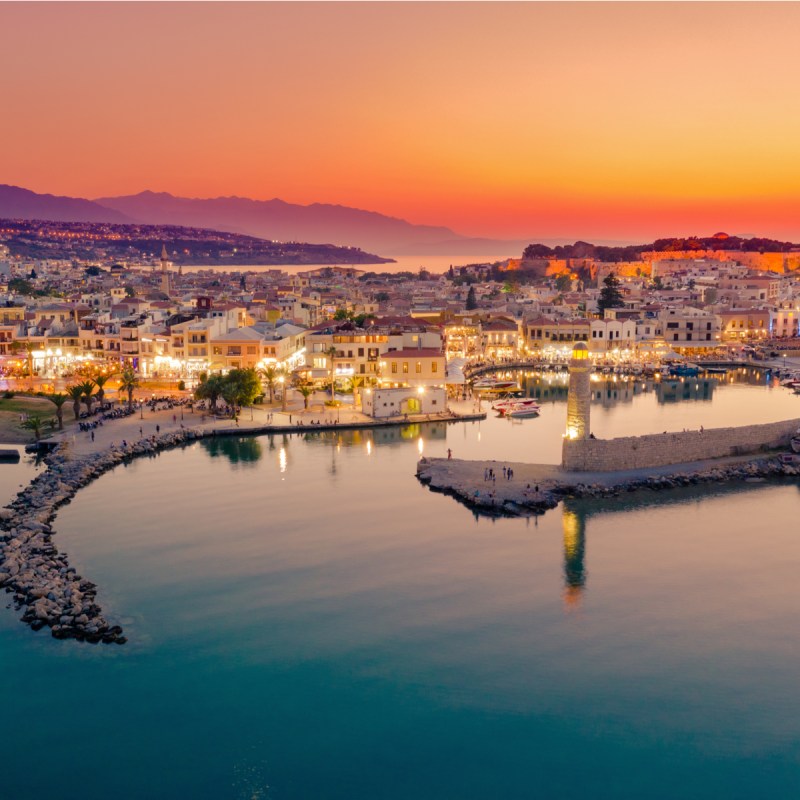 Greece is a fascinating country, and the Greek islands are popular with many who visit Europe. Travelers from far and wide will take the opportunity to experience the islands in the summer, swim in the blue seas, and lounge on the many beaches.
Yet Greece isn't just a summer destination, even on the islands. In fact, if staying on a packed beach in the height of tourist season is not for you, then I'd highly recommend visiting the Greek islands during the winter for an altogether different experience of Greece.
Here I share with you my favorite Greek island to visit during the winter and suggestions for activities.
Crete: A Perfect Winter Destination
The largest of Greece's islands and fifth largest in the Mediterranean, Crete is also the southernmost island in Europe. This means that summers are very hot and dry, and although winters can be cooler and cloudier from November to March, it's a welcome respite from the searing summers. Expect average daytime temperatures ranging from 66 degrees Fahrenheit in November down to 57 degrees in March, with a range in between.
The spine of mountains running east to west of the island contributes to these varying weather and temperature patterns, with the south and east offering more shelter and warmer weather.
The north of Crete is more developed for tourism, becoming busy in the summer months. With an all-year population of roughly 600,000, tourists can hugely increase this – in 2019, statistics revealed that Crete received over 4.4 million inbound air arrivals.
You can see, therefore, that Crete would be a favorite Greek island to visit during the winter months as it's quieter, yet still offers plenty to do, as we shall see.
Lighthouse And Venetian Harbor Of Chania
Crete's second-largest town after the capital, Heraklion, Chania has an enviable seaside location and is one of the oldest cities on the island. The Venetian port is guarded by the 17th-century Firkas Fortress which offers panoramic views down to the harbor and sea beyond.
The harbor itself has narrow, cobbled, bougainvillea-lined streets which, over the years have endured Venetian, Ottoman, and, briefly even Egyptian rule, making for fantastic building facades that are bound to get your camera clicking. Its beauty and popularity mean it's teeming with visitors in the summer months, hence fall and winter are the best times to take your time to soak up the atmosphere by stopping for a coffee at one of the many cafes along the promenade.
The entrance to the harbor boasts one of the oldest lighthouses in the world, built by the Venetians around 1595-1601 and restored by the Egyptians between 1830 and 1840. It's another popular photographic spot, especially as it frames sunset views that even locals admire.
Pro Tip: The promenade cafes that stay open all year are located near the Turkish mosque as they tend to be untouched by winter waves that can brew up over the quayside.
Chania Old Town
Equally photogenic and worth exploring in the winter is Chania Old Town. Labyrinthine alleyways give way to the Jewish Quarter, where you can visit the one remaining Jewish synagogue that was restored after World War II, Etz Hayyim. You can also explore the Maritime Museum of Crete or take time to explore the Municipal Market, opened in 1913 with over 76 shops and stalls ranging from butchers and fishmongers. It's the perfect place to come and browse, gaining a glimpse of daily life. Many of the Old Town's original houses have been converted into tavernas or coffee shops, so come and relax with a cooling frappe or raki, which you'll find has more than likely been distilled locally.
Rethymnon Venetian Harbor
Another harbor worth visiting is Rethymnon, lying in the west of Crete in between Heraklion and Chania. Unlike Chania, its Venetian harbor is somewhat bigger, allowing for cruise ships and commercial vessels to dock, yet this doesn't detract from its aesthetics. Bobbing alongside the harbor are colorful fishing boats, and the Venetian architecture will have you gazing in awe.
The town's fortress was built between 1540 and 1570 is still very much intact with an Orthodox chapel and mosque inside.
There are several Byzantine churches in the town of Rethymnon, plus the public gardens have several species of plant life.
Out of season (in the winter) Rethymnon is not busy at all, making for a perfect time to visit.
Hiking
If you want to spend some time in nature during your winter vacation in Crete, hiking isn't necessarily out of the question despite the winter weather. Plus those mountain views won't disappoint.
The most famous hike in Crete – indeed Europe – is the Samaria Gorge. Because it is a gorge, it remains closed in the winter months as the snow running off the mountains can flood its valleys.
Yet it is possible to find hiking in the winter – one of these being the Imbros Gorge, about an hour from Chania by car and a 5-mile hike from the town of Imbros to Komitades.
Along the way, you'll find local herbs and edible plants, plus the occasional goat or two. It has historical significance as well in that it was a route for people to travel from the south of the island to Chania.
Important Note: You will need a guide in the winter months to take you to ensure your safety. You can be collected from your hotel and learn much about the hike as you go, and more than likely you will be one of the few visitors as it gets much busier in season. Your local accommodation can book this – do not attempt a hike by yourself.
Palace Of Knossos
Lovers of Greek mythology will enjoy visiting the most important of Crete's archeological sites – the Palace of Knossos, 3 miles from Heraklion.
The palace dates back to the Minoan civilization, thought to be one of the earliest in Europe. The mid-Bronze age culture stood from 3560 to 1400 B.C., making it a civilization that existed even before Ancient Greece.
Discovered at the beginning of the 20th century by a British archaeologist, the Palace of Knossos is thought to be where the first King of Crete lived. Inside its foundations, he built a labyrinth to keep away the feared Minotaur – a creature that was half-man, half-bull.
Inside, you'll also find various frescoes depicting various scenes such as dolphins, the Greek Muses, and plant life.
Aside from its historical significance, the Palace is surrounded by gorgeous countryside, and the red columns stand out against this backdrop as you enter the compound.
It's open year-round, but the winter months are the best time to visit if you want to avoid the crowds. As the settlement is predominantly outside, this time of year means you're out of the searing heat and sun. Maybe take a raincoat in case of rainy days.
What To Wear In Crete During The Winter
As mentioned, Crete is the southernmost island of Greece, hence winter temperatures can feel comparable to fall temperatures on mainland Greece. It's worth mentioning here, though, that it can still be chilly at night in your accommodation, so pack pajamas or an extra layer for sleeping in.
Layering is your best option for daytime activities, especially if you're going hiking where you may work up a sweat. So bring long sleeve shirts and t-shirts, light pullovers, and two pairs of jeans. For women, leggings are a great asset as they can be pulled on under a knee-length top. Merino wool is a good choice; it is non-microbial and odor-resistant, meaning it can be worn all day.
A rollable fine down jacket is good for those chilly evenings when you don't want to decide between getting cold and not sitting outside — which means missing the views. You'll find several bars and tavernas have outside gas heaters, plus some provide lap blankets, too.
You'll want to skip the open-toed sandals, but there are some great brands of sandals that also offer sturdy boots and trainer-type shoes.
As a year-round island destination, Crete is blessed with daily flights from Athens in the winter, so consider combining it with a break to the Greek capital first, then catch a flight to this unique island to see another side of Greece.
For more ideas of what to do in Crete, take a look at some suggestions of 7 Best Day Trips From Crete.