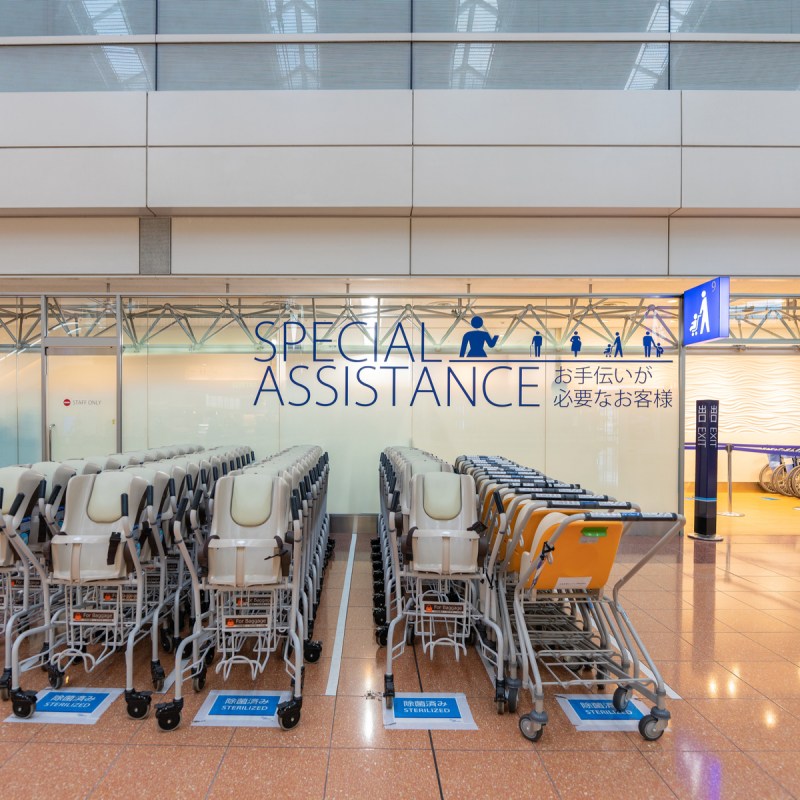 Due to travel restrictions, I hadn't seen my daughter for two years. We'd Zoomed, but headshots hid what was going on in our lives.
As Australia's restrictions eased, my daughter wanted me to visit her in Salt Lake City, Utah. I had to blurt out what I'd been successfully hiding.
"My knee is worse. I haven't been able to get medical help because of COVID. And the pool, my normal form of exercise, has been closed during Melbourne's lockdowns. Expect to see me hobbling."
My comment was to warn her of my reduced mobility. But her thoughts turned to airports. She'd recently walked her exhausted 4-year-old through the new SLC Airport, the 12th largest airport in the world – not something she could forget.
"Book special assistance," she warned.
Do Know Your Rights
I'd always thought of special assistance as a service for those unable to walk, not for those who might find airports difficult and miss connections due to their reduced mobility.
But this is a growing issue. Passengers with restricted mobility represent one of the fastest-growing demographics in aviation.
Whether you're a passenger with a disability or someone with reduced mobility, you are legally entitled to the support known as "Special Assistance." All American airlines and airlines flying in and out of the U.S. must offer such assistance.
Do Make Your Needs Known
Travel agents can book your flights with special assistance. If you make the booking, request special assistance at least 48 hours before your flight through your airline.
This move creates a red flag whenever an airport employee looks at your ticket or boarding pass.
Unfortunately, there's a one-size-fits-all approach. The system flags you as needing a wheelchair all the way, which isn't necessarily what you require. You may well be able to stand when going through security. You may also only need assistance getting to the gate and not going down the gangway onto the plane.
Let the staff know your needs. That way, you are more likely to get the individual support you require rather than being treated as a "generic disability."
Don't Judge
Airports have grown in size. The increasing wingspans of aircraft mean gates are spaced further apart, and concourses have grown exponentially to create additional gates. It is not uncommon to walk over a mile in larger airports. Examples include Atlanta Hartsfield, where the international terminal and domestic check-in distance is 1.67 miles. In Philadelphia, the distance is 1.5 miles.
Not everyone can trek that far.
The 1986 Air Carrier Access Act requires airlines to provide free wheelchair service to any traveler who requests it.
I saw lots of what I considered healthy people requiring airport assistance. Were they just avoiding a long walk? Then I realized people were probably looking at me the same way. They couldn't see the bone chip in my knee.
"Judge not lest ye be judged."
Many people have less visible conditions such as heart disease, arthritis, chronic pain, or are recovering after a fall or surgery. These are all valid reasons for using special assistance.
Do Use Airlines With A Good Track Record
Before using special assistance, I didn't realize that there is a marked difference between airlines. I had both a poor and a brilliant experience.
On my flight from SLC to LAX, the flight attendant muttered, "Let's know if you need any help," as she rushed past.
I didn't see her again, and there was no help on arrival. With 4 hours between flights, I decided I'd locate my international gate. How far could it possibly be?
An information desk attendant from the same airline barked directions. She was so gruff that I didn't ask twice. I did approach various people along the way. The gist was that there was a bus to the international airport, but if I went outside, I'd have to stand in endless queues to check in again. I should make my way inside the airport to the John Bradly International Terminal.
The route was a minotaur's maze of endless tunnels passageways. The signage was unclear, and boarded-up areas meant there was no way to see outside to gain my bearings. I was probably walking in circles.
When I reached my gate, I'd limped 2.5 miles. I was in severe pain and felt demoralized.
It was a different experience on the Qantas flight home. The flight attendant asked if I needed assistance when I reached Melbourne. "Yes, please!" I did not want to get caught out again.
On arrival, I was met by a slight woman in high heels and a Qantas uniform who pushed me seemingly effortlessly in a chair. She coordinated to meet a male colleague at the baggage carousel to retrieve my heavy case. Jointly, they escorted me through customs. I expected to be left at that point, but they left me near where I could access an Uber. They repeatedly asked me until the last second if they could help me further.
According to Mobility Deck, Qantas is the top airline for passengers with disabilities. Others with good reputations include American Airlines, Air Canada, Delta Airlines, Jet Blue, Virgin Atlantic, and Emirates. Research the airline you plan to travel on.
Do Find Out What Services Airports Offer
Larger airports contract with companies to help less-mobile passengers move around their vast terminals. Many of us would prefer electric carts, but busy airports are concerned about congestion. Wheelchairs take up less room.
I used the pushchair service in SLC, and it was a positive experience. There is a designated desk where you can wait for the next available attendant to escort you.
My lovely attendant steered me over a mile. He mentioned any documents I would need to pull out at the checkpoints. He knew where all the lifts were, and as we navigated past a throng of kids with dangerous-looking suitcases on wheels, I was glad he was the one navigating the tripping hazards.
There's officially no cost for such a service, although, in most U.S. airports, I gather the attendants are paid based on an assumption they'll be receiving tips. And trawling the internet, I found it is common to tip.
Do Speak Up
Stating your needs and abilities will help your wheelchair attendant offer the best possible service.
It is helpful to know if you can stand and walk through security. And whether you need help putting your carry-on items on the screening belt.
If you are under 75, you will need to take your shoes off to go through the checkpoint. If they know this in advance, they can help you juggle your belongings while you do so.
Do Request Stops If Needed
Your wheelchair attendant should offer you a restroom stop on the way to your gate, then wait outside the bathrooms.
I saw an attendant buying a woman water and snacks in an airport store in LAX. It dawned on me that some people request stops along the way in the U.S., where the expectation is to tip for service.
Don't Forget to Plan Ahead
However, your wheelchair attendant is not required to take you to a shop or fast food stand. And you may find your gate is a long way from food outlets. As you may have hours to wait for your plane, plan accordingly and bring food with you.
Do Factor In More Time
Some people feel that those seeking airport assistance are working the system. Having used the service and observed others using it, I don't feel this is often the case.
Sometimes there is a significant wait for an escort, so special assistance is not an automatic timesaver.
Nor does being pushed in a chair result in head-of-line privileges at the checkpoints. In Melbourne, I was the random number selected to go through the sniffer dog station to check for drugs. It was a novel experience for the busy Qantas team members pushing me. I felt like joking: I'd brought my own pushers. But jokes seldom go down well with airport security.
Yes, you get to board the plane earlier than other passengers. But this time saving is balanced out at your destination when the entire plane with hundreds of passengers disembark before you do.
You are last in the queue when you finally leave for processing, although sometimes you have waited so long on the plane that the crowds have dispersed.
Don't Be Shy About Asking For Assistance
Airport assistance is a free service the U.S. Department of Transportation requires airlines to provide – so don't be shy about asking for assistance.
Airport floors are shiny and generally level, perfect for the wheels on suitcases and wheelchairs. A child could push one of the specialized chairs. Waiting at SLC, my 4-year-old grandson thought it would be fun to take me for a spin. I was relieved when the attendant arrived and rescued me for a more sedate ride.
Many of us don't require wheelchairs in our day-to-day life, such as navigating supermarket aisles or strolling through a park.
The problem is the rise in walking required at the new mega-airports and the increased time spent in airline queues due to increased security measures and paperwork.
Some airports, such as Christchurch, Heathrow, Gatwick, Cincinnati/Northern Kentucky, and Tampa International Airport, have begun trialing self-driving vehicles for those with reduced mobility.
But for now, special assistance mostly means being pushed in a chair. Wheelchair services aren't quite what we need in totality, but they are the best services on offer for now. As the saying goes, use it or lose it. While the phrase relates to moving our bodies, some of our bodies are worn out. This is often due to travel. The issue with my knee began after extensively using the London Underground, one of the world's least accessible metro systems. It's great that airports offer special assistance services. They enable us to continue to travel.