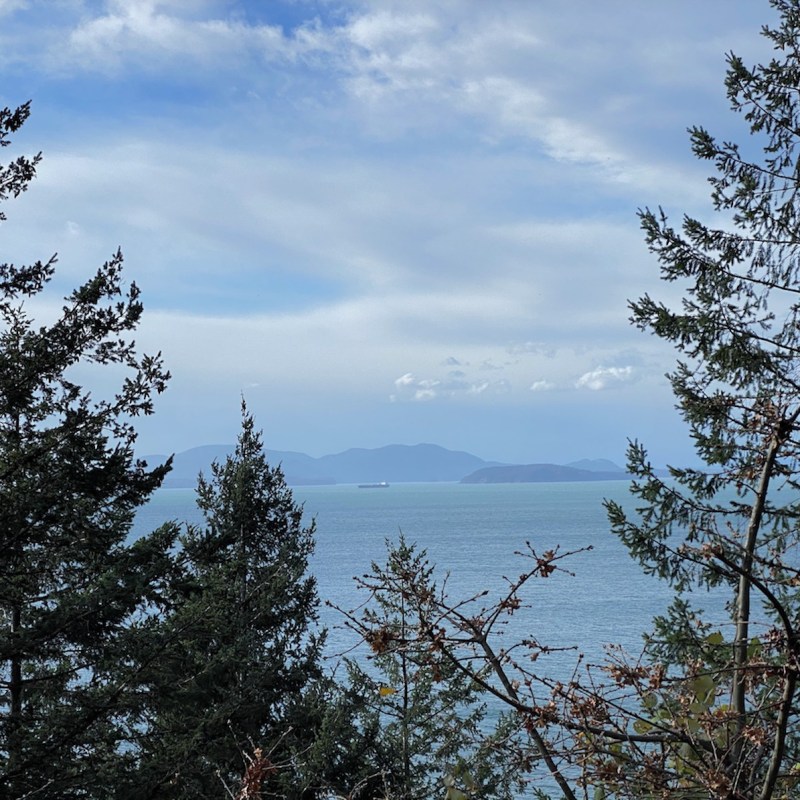 Bellingham, Washington is a coastal city about 90 miles north of Seattle and 20 miles from the Canadian Border. Outdoor enthusiasts are drawn to the city to enjoy the amenities while having access to a plethora of adventure activities. It is rapidly becoming one of the top mountain biking destinations in the country. A snow-covered volcano looms over the area. The downtown area is revitalized with shops, restaurants, and a vibrant craft beverage scene. It is very easy to explore on foot. Bellingham is a transportation hub with the Amtrak Cascades stopping at the train station and steps away, Alaska ferries make regular stops.
Thank you to Explore Bellingham for hosting me on press trips to this area.
Things To Do In Bellingham
There are so many things to see and do in the area. Plan to spend at least one day exploring downtown and one day getting outside and exploring the stunning natural area that surrounds the city.
1. Take The Bellingham – Whatcom County Culture Crawl
There is no cost to sign up for the Visit Bellingham/Whatcom Culture Crawl. This is a great way to explore the local art and culture without having to spend hours researching where to go. This outing includes galleries, museums, culturally significant places, and interactive experiences. The crawl is mobile-exclusive with no apps to download. It is instantly delivered via text and email and includes discounts or freebies at each stop. The 12 stops will take you through downtown Bellingham and you can walk to most.
Highlights include the Spark Museum which has one of the most complete collections of electric devices displayed in one location. Don't miss the MegaZapper, the museum's signature electric show. The Whatcom Museum is housed in three buildings including the Old City Hall and has exhibits on art, nature, and Northwest history. Also plan to take a Bellinghistory Good Time Girls tour that makes local history come alive with its interesting and unique strolls. For performing arts lovers, check out the Mount Baker Theatre which is on the register of National Historic Places. In addition to a variety of photography and art galleries make sure to visit Village Books and Paper Dreams. It is a little further afield in the Historic Fairhaven Village. It is a beloved community-based independent bookstore and gift shop.
2. Chuckanut Drive
This drive is a great way to explore the beautiful scenery surrounding Bellingham. Chuckanut Drive is Washington State's original scenic byway and is around 20 miles long. The road hugs the Chuckanut Mountains on one side with incredible views of the northern Puget Sound and its scenic bays on the other. From this drive, you can access beaches, tidepools, trails through ancient forests and scenic overlooks with interpretive exhibits. Birders will love the herons resting by the waterfront or eagles soaring overhead.
Larrabee State Park is a must stop. This scenic state park is Washington's first and it is easy to see why. With over 2,000 acres you can enjoy a short hike down to a scenic bay or head up the mountains into a lush forest. It is known for its great views of Samish Bay and the San Juan Islands. Just stunning. For an epic hike near mile marker 10, the Oyster Dome trails will challenge with strenuous hikes but worth the effort for spectacular views and interesting boulder fields. Stop at The Oyster Bar just off Chuckanut Drive which is perched among Douglas fir, madrona, and cedar trees clinging to a cliff overlooking Samish Bay. The menu highlights are fresh local seafood. Each day the restaurant offers six to 10 different varieties of oysters which rotate on a weekly basis. Raw oysters are served on the half shell with a pink grapefruit and spruce tip mignonette.
Best Restaurants In Bellingham
Bellingham is in Whatcom County and surrounded by farmlands, dairies, vineyards, and orchards providing a variety of fresh, local ingredients favored by many of the area's restaurants. Here are a few I tried and liked.
3. Bellingham Cider Company
A cider company may not be your first thought for dinner, but the Bellingham Cider Company will change that opinion. This is not bar food but well-crafted dishes using fresh, local ingredients. Try the Dungeness Spaghetti which takes the pasta and tosses with salt, pepper, oil, and brown butter then adds local Dungeness crab, organic arugula, mizithra cheese, and tops with toasted bread crumbs. You also find veggie dishes on the small plates menu with ingredients from local Spotted Owl Farms. The grilled baby carrots with hummus, romesco, hibiscus pickled veg seasoned with zaatar and served with sourdough crackers pairs well with the company's cider. I love Brussels sprouts and this is such a unique dish with butternut squash, farro, dried cherries, and molasses. Truly worth a stop and in nice weather sit outdoors and enjoy the view overlooking Bellingham's waterfront district.
4. B-Town Kitchen And Raw Bar
I really enjoyed my meal at B-Town Kitchen and Raw Bar. I love how the chef captures the spirit of the Pacific Northwest in a menu that is a perfect fusion of fresh seafood with Asian and Mediterranean influences. The seafood is sustainably sourced, and fresh caught from Washington, California, British Columbia, and Alaska. I love the pairing of seafood with noodles such as Yakisoba. The raw bar offers shucked oysters, clams, Crudo, shrimp, and ceviche.
5. La Fiamma
Wow! La Fiamma was such a great find just a short walk from my hotel. This is some seriously good wood-fired pizza with some very unique toppings but it also has traditional favorites. The heated outdoor dining area offers sunset views of the San Juan Islands. There is also plenty of seating inside where you can watch your pizza get popped in the wood-fired oven. The Herbed Ricotta Dip really stood out for me. Cheese dips can tend to be heavy but this was surprisingly light. Oven baked chive and garlic infused ricotta cheese is mixed with four more cheeses and pesto then served with focaccia crostini.
My friend and I couldn't decide on a pizza and were happy to find out we could do half and half. The potato gorgonzola and fennel sausage was a flavorful mix of melt in your mouth tender rosemary roasted red potatoes, caramelized onions, house made fennel Italian sausage smothered with gorgonzola, mozzarella cheese, and a drizzle of balsamic vinegar reduction. For the other half, the Sweet and Savory delivered an interesting mix of flavors with prosciutto, caramelized onions, and mozzarella then topped with a fresh arugula salad tossed with a fig balsamic vinaigrette. Yum!
Best Hotels In Bellingham
There are a variety of hotel options in the Bellingham area with plenty of major hotel chains represented. I have stayed in both the hotels listed below and love their vintage charm with modern conveniences as well as their great locations for walking and exploring the area.
6. The Hotel Leo
I am in love with the Hotel Leo which has been lovingly renovated into a chic, modern hotel but with all the beautiful vintage features incorporated into the new design. It is the site of the original Leopold Hotel that was built in 1883. The current hotel is the 1929 addition to the original building that was demolished in 1967. The Leopold was long the social center of Bellingham and Clark Gable stayed here when filming Call of the Wild. The lovely Crystal Ballroom has hosted tons of weddings, parties, and events over the years. The hotel is on the National and Local Historic Registry and is now a center of hospitality in the heart of downtown Bellingham.
The history of the hotel and its central location make it a perfect spot to stay when visiting the area. Downtown is very walkable, and the hotel is surrounded by restaurants. It is just a short stroll to the local museums, shops, and craft beverage makers. There is a vibrant nightlife as well, with no driving involved.
7. The Fairhaven Village Inn
The Fairhaven Village Inn is a charming hotel located in the historic Fairhaven District. It opened in 1999 and has 22 guestrooms which are decorated in a cute vintage style. Views are of the Historic Fairhaven Village Green or the waterfront. Great location within walking distance of shops, and restaurants. It is also close to the South Bay Trail which stretches along the waterfront for a great accessible walk on an asphalt, concrete, and crushed rock trail.
Pro Tip: Make sure to visit Galloways Cocktail Bar next door. Great eats and fabulous award-winning cocktails. These are really a step up. The bar has a vintage, speakeasy, Art Deco vibe.
Bellingham and Whatcom County are a fun weekend getaway. There is so much to see and do that I have taken multiple trips to the area and found something new each time. Well worth a trip.
Washington State is a fun place to explore, offering a variety of experiences: