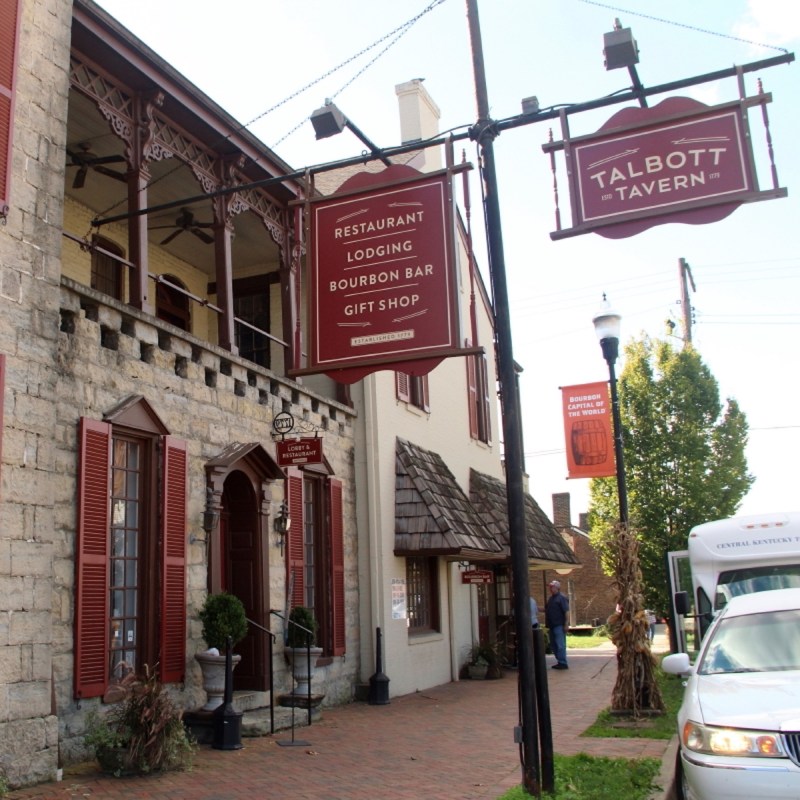 It has been a hobby of mine during my career of tracking down restaurants in small towns and urban areas in my travels throughout the South — places where the cooking smacks of tradition and long hours in the kitchen. Okay, maybe it's more obsession than hobby when it gets right down to it: This homage sits down at tables from city barbecue joints to hidden gems in small towns and rural byways — places funky, unfancy, sometimes historic, and usually colorful. Here are some of my favorites in no particular order. My criteria, however, is particular: home cooked in Southern tradition with a well-steeped sense of place, and so deliciously comforting, it's worth going out of the way for.
Note: Some information in this article was obtained during sponsored travel.
1. Talbott Tavern
Bardstown, Kentucky
In Kentucky, bourbon figures into most restaurant menus, and not only in its sippable form. Bourbon balls, bourbon barbecue, bourbon walnut chicken, and beer cheese with bourbon: Talbott Tavern, which bills itself as the world's oldest bourbon bar, serves all of the above in the setting of a stagecoach stop dating back to 1779. Situated in downtown Bardstown, the Bourbon Capital of the U.S, Talbott's menu also lists iconic Kentucky dishes such as home cooked favorite burgoo, a stew rarely found in restaurants; hot brown, and tavern pie, which the tavern invented.
2. 225° Urban Smoke
San Antonio, Texas
Barbecue is, of course, deeply seared into the Southern culinary tradition, and Texas has no shortage of top-notch spots that excel. Thanks to its cattle farming heritage, it specializes in barbecued brisket, the best you'll find anywhere. It took some GPSing after our hotel receptionist recommended it without pause, but 225° Urban Smoke merits ferreting out. Good news: It's close to the airport so you can work it in both coming and going. Like most fine barbecue joints, it ain't fancy. You order at the counter from a selection of irresistible starters, barbecue platters, and Cajun specialties. Get your brisket — tender and chin-dripping juicy — by the pound, in a sandwich such as The Big Easy (with sausage, pulled pork, cracklins, and barbecue sauce), or as part of a plate with one to three types of meat and two sides.
3. Buxton Hall BBQ
Asheville, North Carolina
While I'm on the topic of barbecue, Buxton Hall BBQ boasts a bit more celebrity but remains humble with its rustic, 1930s skating rink setting and faded murals that decorate brick walls. James Beard nominee Elliott Moss — known for his determined use of every part of the pig in his cooking — teams up with another Beard nominee, restaurateur Meherwan Irani, to stunning result. Moss' "whole hog" approach pays homage to Eastern North Carolina style, soused with vinegar-based sauce and crowned with creamy slaw. To sample the ultimate in Moss' style, order the BBQ Hash Plate, a simmer-down of pig's head, and more "offal" parts that taste incredibly wonderful. Not so brave? Try the Whole Hog Pulled Pork Plate, constructed with meat that has been smoked for 18 hours over hardwood coals.
4. The Swanson
Perry, Georgia
Some of my best Southern dining finds are just that — a restaurant I found purely by good fortune and sweet happenstance. The Swanson falls into that category. It had us at its biscuits. No, wait, it had us first with its beautiful, circa-1880 Victorian home downtown. (Not ALL my favorites are plain and funky.) But about those biscuits: They presaged the goodness to come, small but packed with sweetness and texture that crosses into cornbread territory. The Swanson unabashedly touts the Southern Classics section of its menu, especially its award-winning fried chicken and chicken fried chicken breast with country milk gravy. Choose two sides — anything from collard green soup to congealed salad or cornbread dressing.
5. Southern Restaurant
Elizabethton, Tennessee
Another serendipitous find, its name naturally caught my eye. And appetite. Off the major thoroughfares that converge in Elizabethton's urban sprawl of chain restaurants, Southern Restaurant is tucked into a charming downtown street. Paddle fans, a windowed storefront, oilcloth on the tables, Southern drawl servers, and a menu that spreads comfort makes it feel like a step back in time. It puts the South in your mouth starting with breakfast, including Granny's Fried Taters and scratch-made sausage and gravy. For lunch and dinner, there's pimento cheese or country fried steak sandwiches and meatloaf smothered in house sauce. Save room for cobbler or warm pecan pie a la mode.
6. Farmhouse Restaurant
Branson, Missouri
Think "Branson," and theme parks and country music halls inevitably strike a chord. But away from the tourism trappings, downtown Branson holds this gem, Farmhouse Restaurant, just down the street from Dick's 5 & 10 — both day trips to nostalgia. I know it is frowned upon to start with dessert, but that's what I'm doing right here because the blackberry cobbler is legendary. Farmhouse's breakfast and lunch-dinner menus read like a Who's Who of Southern cuisine: biscuits and country gravy, whole fried catfish (and why not some fried okra with that?), barbecued pulled pork, and pork tenderloin sandwich. Wash it down with jars of homemade lemonade or sweet tea. Go ahead, unbutton your pants if you need to. You'll feel just like you're at home here.
7. Olde House Cafe
Walterboro, South Carolina
The food truck sitting outside touting home cooked Southern food made us slam on the brakes and make a quick left into a parking lot full enough to stand as another testament. Buffet lunch is a Southern thing, and that's what had folks standing in line. Rocking chairs on the porch, a welcome greeting in the foyer/goodies shop, and plain wooden benches further ring the Southern bell. Load up at the hot buffet, salad, and dessert bar, which change specialties every day (the fried chicken is the most popular), or order a la carte. The menu wanders from liver and onions to smothered chicken breast and New Orleans seafood plate.
Pro Tip: Regulars rave about the banana pudding and bread pudding.
8. Brantley's Village Restaurant
Oriental, North Carolina
Removed from the coastal beaten path, but not far from New Bern or Atlantic Beach, here's another local place for a luncheon buffet headlining fried chicken and coconut cream pie. On the menu, Brantley's Village Restaurant seafood holds a place of honor in this harbor town — typically served Southern style, i.e., fried but also with other options such as sauteed and broiled. The oyster burger is signature, made with local mollusks. The Family Favorites and side dishes reflect the Southern culinary ethic with dishes such as fried okra, sweet potatoes, hush puppies, barbecue, and fried catfish sandwich — all served in a cafeteria-like setting with no frills, just friendly.
9. Guillory's Famous Foods
Lake Charles, Louisiana
One of the strongest influences on Southern cuisine, Louisiana is fat with restaurants serving Cajun and Creole styles of home cooking. Known for its barbecue and cracklins, Famous Foods occupies a plain dining room where locals flock for their fix of fresh-from-the-fryer cracklins, boudin, pulled pork, ribs, and sausage. Cracklins are similar to what trendy kitchens call fried pork belly and Latinos know as chicharrones. Here, Guillory's fry them up fresh and hot right on site. Boudin — a flavorful Louisiana sausage made with pork, rice, and seasonings — comes original, cornbread, or smoked style at Guillory's.
10. Café 615 Home Of Da Wabbitt
Gretna, Louisiana
Café 615 Home of da Wabbitt serves a mean shrimp etouffee and gumbo, but otherwise the home-cooking at this quirky spot in small-town Gretna — just across the river from New Orleans — takes a more familiar turn. Bring a big appetite when you order the ever-popular pork chop platter — pounded, breaded, and fried into mammoth slabs of delight. The house-smoked chicken is another favorite. If you doubt its Southern authenticity, go for the bread pudding with whiskey sauce. If like me, you're wondering about the name, you'll hear stories about how it started out as an illegal gambling operation. A sign advertising it as a drive-in for token food starred Bugs Bunny then (and still does). And, like me, you'll be left still wondering about its name, but not about its 70-plus-year commitment in the community.
11. Farmers Market Restaurant
Fort Myers, Florida
It began as a sidekick to a state farmers market in 1952, using the fresh produce that passed through in its deep South specialties. That market closed some years ago, but just recently the owners opened a smaller, more modern version. Through the eras, the Farmers Market Restaurant has stayed true to the tenets of Southern cuisine that has kept it popular, despite the big, dining-savvy city that has grown up around it. Fried chicken livers, anyone? Don't worry, you'll find more traditional dishes, too, such as country-fried pork chops, shrimp and grits, and chicken and dumplings. Fresh veggies still figure importantly, with a dozen side dishes ranging from okra with tomatoes to corn fritters.
Pro Tip: Its reputation for pies alone creates a sweet-toothed fan base. I personally favor the peanut butter.
TravelAwaits writers share information about the best food options during their travels: