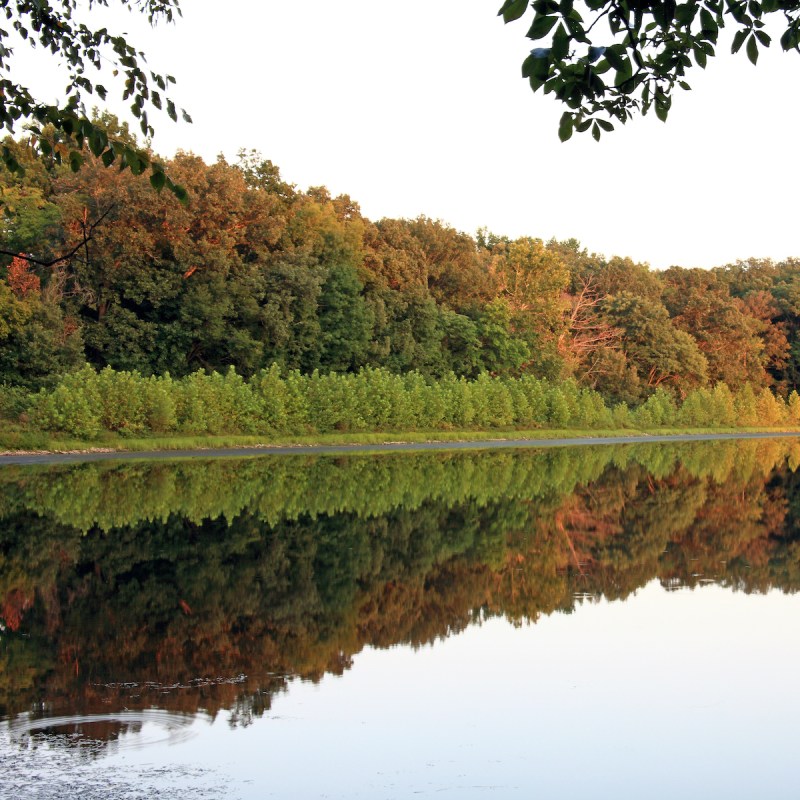 Land Between the Lakes is a unique part of Western Kentucky and Tennessee that covers 170,000 acres of pristine scenery, wildlife, and places to get lost in nature. The land tract is 40 miles long and 1–9 miles wide. There are 500 miles of trails and 300 miles of shoreline to explore. Land Between the Lakes is an area that not everyone knows about, so it's not as busy as national parks but delivers much of the same offerings. It sees 1.5 million visitors per year.
Expect to find forests, wetlands, and open land areas on this peninsula between Barkley and Kentucky lakes.
Things To Do At The Land Between The Lakes
Land Between the Lakes is a road trip destination. It can be enjoyed by anyone who appreciates the great outdoors and the quaint small towns that spur from its long stretch of land. The drive itself is enjoyable, or you can partake in the endless outdoor possibilities of this nature-rich wonderland.
When entering the LBL (as it is commonly known) region, there are two welcome stations, one in the north and one in the south. Fishing, boating, and watersports are prevalent due to its location between two major lakes. The property is also used for licensed deer, turkey, and squirrel hunting.
Golden Pond Planetarium And Observatory
I'm not sure most would expect to find a NASA-associated property in this remote location, but LBL's Golden Pond Planetarium is a NASA Educator Resource Center. How cool is that? Watch a 40-minute planetarium show in the 360-degree, 40-foot domed theater and learn about the solar system. The laser light shows are also a popular draw. The planetarium is open year-round with the exception of December 24th and 25th: Check their website for more details and scheduling for specific experiences.
Homeplace 1850s Working Farm
At Land Between the Lakes, this interpretive center and 170-year-old working farm was my favorite thing. Today, it glimpses two generations of pre-Civil War farms.
The pioneer homes and outbuildings are in great shape and well-stocked with period items. Costumed interpreters explain what life was like back in the Victorian Era and show you examples of tobacco curing, sewing, gardening, and sheep shearing. Other buildings scattered throughout the property include the blacksmith's shop, chicken house, tobacco barn, woodshed, and tool barn. The vegetable gardens, orchards, and field crops are not only photo worthy but grown from heritage seeds.
The Homeplace has excellent animal exhibits, including a heritage mule and pigpen, chicken coop, and Border Leicester British breed of sheep. Chickens roam freely, as well as a few ducks. Unfortunately, the last oxen passed away a few months back, so don't expect to see one at this time.
The Homeplace has dozens of events to further your visit and working farm experience. You can find them on this calendar.
Elk And Bison Prairie
A $5 admission fee gets you into this scenic driving area home to elk and several dozen bison. We made the drive around 3 p.m., obviously a little late in the day for much action, but we did see several bison and calves gathered for what looked like nap time in two areas at the beginning and end of the park. There were no elk on display, but rest assured, they were there amidst the lovely prairie grasses. The Elk And Bison Prairie is open from dawn to dusk. There is also a south bison range, free of charge, on the main road as you drive through LBL.
Pro Tip: Woodlands Nature Station is another scenic area to see with an 8,500-acre Nature Watch Area.
Scenic Drives
You can't get much more scenic than driving through the Land Between the Lakes region. Wildflowers, animals, and migratory birds are a few of the things that will catch your eye as you wander these beautiful country roads. There are 240 species of birds annually.
You'll find several pull-over spots to enjoy a nice picnic, so pick up the essentials on your way in or pack one from home.
Historic Iron Furnace
The Great Western Furnace made of limestone slab is a historical offering at the south end of LBL. From 1820 to 1927, this region was an active industrial iron producer, one of only 18 in the country. This furnace in particular only operated over half a year but produced 1,350 tons of quality iron. The process, as described on signs, is fascinating.
Day Trips
Dover, Tennessee, and Grand Rivers, Kentucky, are both 2-day trips I recommend while in the Land Between the Lakes region.
Grand Rivers is a picture-perfect town with hundreds of sailboats, and the raved about Patti's 1880's Settlement. Patti's is an old-fashioned megaplex, started long before Myrtle Beach's Broadway at the Beach and Pigeon Forge's The Island. Patti's has a restaurant known for one and two-inch pork chops, plus a dessert menu that will have you drooling. Then, there is the property with boutique shops, mini-golf, a koi pond, gold panning, landscaped gardens, and a charming lodge. You can stay busy for hours browsing the settlement and enjoying a delicious meal. Patti's has 11 unique dining rooms, each meticulously decorated.
Dover, in the south, is home to historic Fort Donelson, the first significant Union victory in the Civil War. General Simon Buckner formally surrendered to his long-time colleague, General Ulysses Grant, at the Dover Hotel. At the time, 130,000 Confederate soldiers gathered at this very spot, in freezing conditions (February 1862), waiting for rations and to go home. You can drive to the Civil War sites by following the Fort Donelson National Battlefield Tour markers and reading the informative plaques.
Land Between The Lakes Cabins And Camping
There are many camping choices at LBL, including cabins, RV parks, and tent camping. The camping season runs March 1st through November 30th at all of the following campgrounds, unless otherwise denoted:
Energy Lake Campground
This Kentucky-based campground offers 48 lake sites. Campers can buy drinks, snacks, firewood, and ice at the nearby gatehouse, while a separate washer and dryer area is present. Other amenities include a playground and beach with a swimming area exclusively for campers. There are four primitive cabins at Energy Lake Campground, and the rest are RV or tent ready.
Piney Campground
Piney Campground in Dover, Tennessee, offers 384 lakefront and wooded campsites. The majority of sites have full hookups, but 57 are primitive. There are multiple shower buildings and washer/dryer options. Piney Outpost offers perishable goods and camping supplies, plus ice, drinks, and firewood. Prices at Piney Campground range from $22 (community water) to $40 per night (water and sewage).
Piney also offers nine cabins that sleep four and 10 that sleeps eight. You will need to furnish your own linens, but AC and portable heaters are included.
Fun Fact: This campground connects to the Fort Henry Trail System, where Civil War soldiers previously protected nearby forts.
Hillman Ferry Campground
Another big campground is Hillman Ferry, in Grand Rivers, Kentucky. This one is similar to Piney; only it has 378 campsites.
Two trails run through Hillman Ferry — the Hillman Heritage Trail and mountain bike trails. Hillman Heritage is for both bikes and those on foot to be used during daylight hours. Unregistered guests can use this trail, too, but must check in at the Hillman gatehouse.
Pro Tip: You can rent bicycles at the outpost during operating hours.
Wranglers Campground
This beautiful campground is in Golden Pond, Kentucky, and features year-round horseback riding, wagon-driving (that's a new one on me), and 220 campsites. The property also boasts 12 cabins. For those traveling with their horses, you'll be glad to know that during the weekends, April through November, there are farrier and blacksmith services available, plus 100 great miles to ride your horse. Wranglers Campground is the only place to stay for those traveling with a horse.
Rocking U Riding Stables offers guided horseback trail rides for those who wish to do so but don't have a horse. Pony rides are available for those traveling with younger grandchildren.
Other Camping
Dispersed camping is a big draw at Land Between the Lakes. I met several people who were opting for this camping method while I was there. If you are not familiar, the term applies to camping anywhere in the national forest but outside a designated campground. Camping is not allowed where others are already camping or within 100 feet of any water source. Both the north and south welcome stations can help you find places to camp in this manner, should you be interested.
My husband and I camped a few miles outside Land Between the Lakes in Stewart, TN, at Cane Creek Marina and RV Campground. We loved it. Besides having a quiet campground with spacious lots and views of Kentucky Lake, we pretty much had it all to ourselves during the weekdays, and the price was right for full RV hookups.
For other outdoor opportunities in Kentucky and Tennessee, check out: