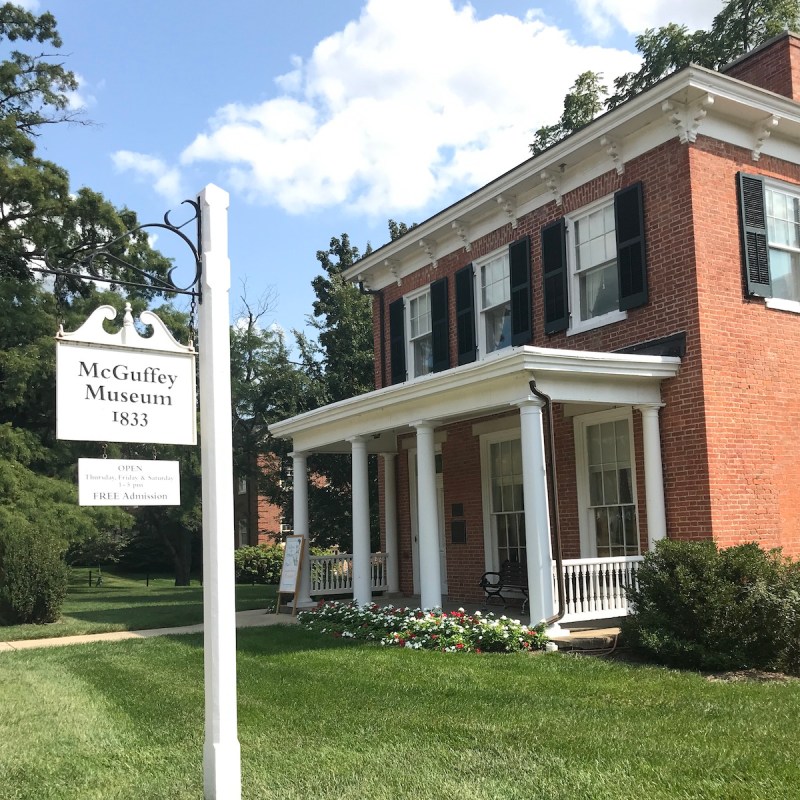 Oxford, Ohio, offers attractions that appeal to a wide range of interests — the arts, history, outdoor activities at nearby Hueston Woods State Park, and an abundance of sports. Located in the southwest corner of Ohio, in Butler County, Oxford is also home to Miami University, a major focal point in the community.
The university's yellow brick buildings trimmed with forest green shutters provide a uniform, delightful look to the campus. In summer, add to that the hanging baskets overflowing with various shades of purple petunias, and you have a campus and a town that oozes with charm.
Here are my recommendations for a perfect weekend in Oxford, Ohio.
Note: Visit Butler County hosted my visit. All opinions are my own.
Things To Do In Oxford
Building upon these pursuits, Miami University offers five museums on campus where you can dig deep into art and history.
Explore The Miami University Art Museum
The Miami University Art Museum features five galleries, three of which change twice a year. Its premise is that art is for everyone. It demonstrates its belief by making the museum free and accessible to everybody. Through its changing shows, it involves everyone, students and faculty, in creating art.
With over 17,000 works in its collection, only about 10 percent are on display at any one time. The Global Perspectives exhibit represents 20 cultures. Another exhibition, Art History at a Glance, contains artifacts from ancient Egypt, paintings from Picasso to Andy Warhol, and everything in between. Photographers will enjoy the Charles M. Messer Leica camera collection. Its media categories include paintings, ceramics, textiles, works on paper, and ancient world artifacts.
Be sure to explore the grounds, where you'll discover nine outdoor sculptures in the museum's year-round sculpture park.
Pro Tip: The museum is closed mid-December through the end of January and mid-June through August. Call before visiting to be sure it's open.
Visit The Karl E. Limper Geology Museum
You can't miss the Karl E. Limper Geology Museum. The large glass hallway window displays a variety of colorful rocks and minerals while providing a peek into the museum. Butler County is ripe with fossils, and the trilobite display offers excellent background information if you're planning on fossil hunting during your visit.
Pro Tip: It's important to note this museum is inside Shideler Hall. Once you know that, you won't have an issue finding it. Located on the first floor of Shideler Hall, don't let the flight of steps deter you. You'll find an access ramp in the rear of the building.
Discover The William H. McGuffey House And Museum
A Georgian Revival-style building, the William H. McGuffey House, was home to William McGuffey of the McGuffey Reader fame. When he created the McGuffey Eclectic Reader in 1836, he was a professor at Miami University.
Today, a National Historic Landmark, the home has essentially been unchanged since the 19th century. Visitors can see and appreciate the historical artifacts and the home associated with McGuffey's 19th-century domestic life and Miami University's history.
Pro Tip: While admission is free, the hours are limited to Thursday, Friday, and Saturday from 1–5 p.m. Everyone who visits receives a free house tour.
Learn At The Hefner Museum Of Natural History
Located in Upham Hall, the Hefner Museum of Natural History focuses on interactive exhibits that teach the importance of ecology, biodiversity, and conservation. The museum opened more than 60 years ago to display items from the zoology department. Today, it's home to more than 53,000 specimens, but it's also a place to experience interactive exhibits.
Pro Tip: The museum isn't open on Sundays and all university holidays.
Walk Across The Black Covered Bridge
Black Covered Bridge is composed of two truss types in one structure, both the Childs and Long types. Originally called Pugh's Mill Covered Bridge, it was built in 1868 by master builders Bandin, Butin, and Bowman. One of the longest covered bridges of its kind, it provided access to James B. Pugh's grist and sawmill. Black Covered Bridge is Butler County's only covered bridge still at its original site.
Over the years, the bridge's name evolved when, after two decades, Pugh's Mill closed. Another bridge in the area was referred to as the White Covered Bridge, so it's believed that Pugh's Mill became the Black Covered Bridge.
Pro Tip: You can walk across the bridge, but it isn't accessible to cars. The bridge crosses Four Mile Creek and connects to the Oxford Area Trail System. This is an excellent place to get outdoors and take a walk.
Discover Hueston Woods State Park
I happened upon Hueston Woods State Park by accident. I saw a sign and decided to take the time to investigate, and I'm so glad that I did. The 3,000-acre park is rich in a variety of natural resources. I love photographing birds and, judging from the number of people there on Friday afternoon doing the same, it's a popular place for birdwatching.
Fossil hunting is another fun activity that results from the early shallow sea that once covered Ohio. Fossils of ancient sea animals are found year-round.
With the 625-acre Acton Lake onsite, you'll find fishing and boating opportunities abound. Hiking and horseback riding are other featured activities. Also, be sure to investigate the Nature Center.
Pro Tip: Naturalists offer year-round public presentations at the Nature Center.
Best Restaurants In Oxford
While this is a college town and plenty of casual spots are around, you'll also find more upscale dining perfect for special times like when the parents are in town.
Oxford Donut Shoppe
Located near Miami University's campus, the most popular donut at Oxford Donut Shoppe is the blueberry cake donut. On the Butler County Donut Trail, this donut shop has been around for more than 50 years, so it has perfected making the old-fashioned, kettle-fried donut. Other specialties at this shop are the fried croissant, cream horns, and cinnamon rolls.
Kofenya
Kofenya, Russian for café, offers a variety of beverage options depending on your mood. You'll find everything from cappuccinos to smoothies. Even though the café is in the middle of a college town, you'll get a welcoming vibe no matter your occupation. You'll see parents and professors hanging out just as often as students. We were there for a late breakfast. I'd already had sweets following the Butler County Donut Trail, so muffins and pastries were out. Then, in the mood for something savory and more substantial, we settled on breakfast burritos and avocado toast.
Bagel & Deli
Located half a block from Miami University's campus, Bagel & Deli is a good place for a quick casual meal. We sat on the patio while people-watching and waited for our sandwich. Its menu includes breakfast, lunch, and dinner options in steamed bagels and sub sandwiches. With fun names like Sara's Secret, China Cat Sunflower, and the Hangover Helper, I decided on the Pizza Bagel, which had pepperoni, provolone, and pizza sauce on a plain bagel. Open from 8 a.m. until the bars close, you'll be able to get a bagel sandwich when you get the craving.
Gaslight Brewhouse
When visiting a combination of a brewery and restaurant, I like to try the foods made with its brews. At Gaslight Brewhouse, I had pretzels and beer cheese. The dip featured a combination of cheese, seasonings, and the Rhinegeist Truth IPA served with baked pretzels for dipping. In addition, it offers monthly specials on burgers, pizzas, drinks, and shakes, so you'll always find a new selection.
Best Hotels In Oxford
Oxford offers a variety of accommodations. If you prefer to be on campus, try the Elms Hotel or the Marcum Hotel & Conference Center. If you choose to be away from the town's hustle and bustle, check into the Hueston Woods Lodge & Conference Center. To rough it up a bit, the Hueston Woods State Park also offers a variety of camping options.
The Marcum Hotel & Conference Center
You can experience Miami University's history and tradition by staying at The Marcum Hotel & Conference Center. Situated next to the formal gardens, the hotel has 55 guestrooms that are elegantly appointed.
The Elms Hotel
The Elms Hotel is Oxford's only uptown hotel. Within walking distance of attractions, it is a full-service hotel with 60 guestrooms, including 34 specialty suites. While it adjoins two restaurants, it also offers room service.
Hueston Woods State Park
Hueston Woods State Park features two types of accommodations, Hueston Woods Lodge & Conference Center and Hueston Woods State Park Campground. The campground offers full hook-up campsites and a yurt in the family campground. In addition, it has group campsites and an equestrian camp that includes bridle trails. You must have reservations for any of the camping options.
Situated on a 200-acre forest with a nearby lake, the Hueston Woods Lodge & Conference Center has various room options. Inside the rustic lodge, you'll find all the modern amenities of home. It also has cabins in a variety of sizes to suit your family. Parents of university students often stay here.
While you're in Ohio, some other ideas for fun activities are: