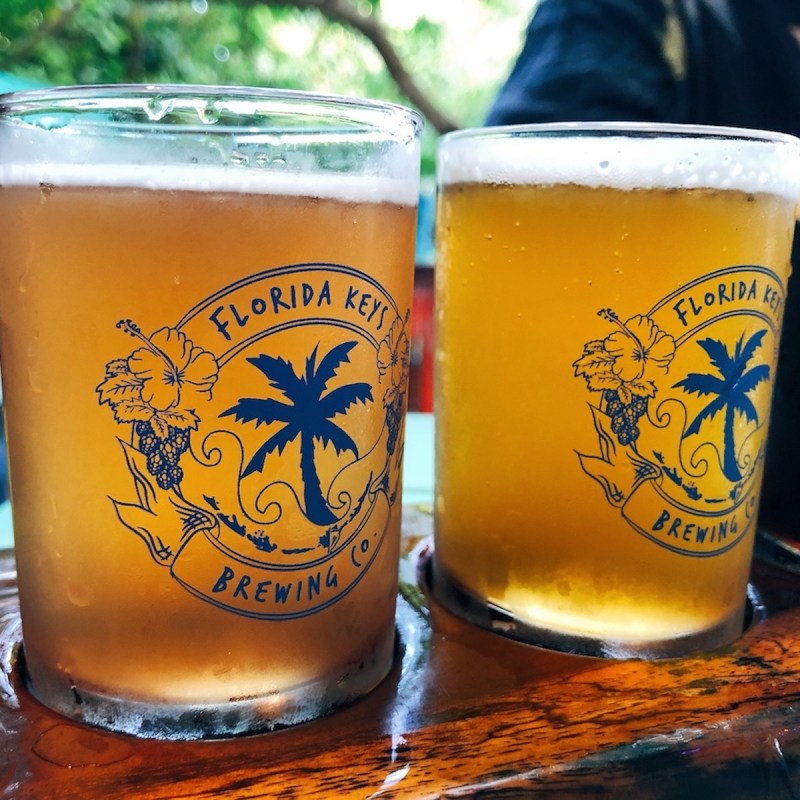 A trip to the Florida Keys has so much to offer that it can be challenging to decide where to stop and what to ignore. The usual featured attractions are a definite must, especially if you are a first-time visitor to this Florida destination. However, if you have time, try to take in some other sights while you are there.
Beaches, shopping, food, and wine are normally at the top of everyone's to-do list. However, there are some lesser-known activities that are popular with vacationers and sometimes deserve a closer look. For example, if you are into beer and craft brews, and interested in the brewing process, then you won't want to miss a stop at the Florida Keys Brewing Company to get an intimate introduction to this well-known beverage.
In fact, many people stop on their way to Key West and then again on their return to take some of the brewery's beer home with them. The brewery is located on Islamorada island in the Morada Way Arts and Cultural District. It fits in perfectly with the surrounding area since the entire facility is an art showcase.
I'm not a big beer drinker, but the bright colored paint on the building and the sign caught my eye, and it looked like a fun place to visit. I was especially interested in a brewery tour and learning how all the unique beer flavors were created. I was not disappointed. The tour was excellent, I learned a lot, and it certainly gave me a better appreciation for the brew.
While the emphasis is on the beer and its process, there is plenty for everyone to enjoy at the artsy facility. After the tour, sample flavors in the taproom, play games, enjoy the art, drink a flight of beers, listen to live music, soak up some sunshine in the beer garden or just chill. The options are all yours.
Note: The Florida Keys Brewing Company hosted our visit to tour the brewery. All opinions are my own.
It's The First Microbrewery In The Upper Florida Keys
Florida Keys is the first microbrewery in Islamorada and the Upper Keys, and the only brewery to brew and can 100 percent of its beer locally. The brewery has an excellent selection of beers year round and then rotates seasonal and barrel-aged beers on draft to meet the demand.
The company brews its own beer in various-sized fermentation tanks, with the smallest tanks used to brew some of the company's specialty beers. We enjoyed learning the process and seeing how the beer was canned and prepared for shipment to other islands in the Keys.
Its beer is distributed and sold throughout the Keys from Key Largo to Key West and in various mainland Florida locations. The brewing company plans to continue to expand due to demand for its unique and delicious beer.
The Beer Choices
There is usually one or two new, experimental beers on tap when you visit the brewery. But you can be sure you will enjoy a taste of local beer and a taste of island life during your time here.
One of the most popular brews is Iguana Bait. It starts with a traditional German-style Kolsch made with hops, yeast, water, and barley. Local Keys honey and hibiscus are used in this sweet yet slightly tart, light, refreshing beer. It was named Iguana Bait because iguanas' favorite food is the gorgeous hibiscus flowers.
In a nod to the quirkiness of Key West, Florida Keys brewers created Queen of the South beer in honor of the many talented and beautiful "queens" of Key West. It is a vanilla cream ale with a bit of sweetness and sassy mixed in.
Another favorite is the Honey Bottomed Blonde. The beer's uniqueness is derived from the flavor changes that occur from season to season due to the bees gathering pollen from different flowers throughout the year to make their honey, Wildflowers, Jamaican dogwood, and local mangrove are just a few of the bees' favorites. If you enjoy a light ale, this beer might be for you.
Something new on draft that provides a lot of pucker power is the Pineapple Mango Dry Hopped Sour.
Stoned Iguana is similar to Iguana Bait, but with a crisper taste. It is known as an Imperial Kolsch beer.
We enjoyed a tasting flight that included Iguana Bait, Honey Bottomed Blonde, Stoned Iguana, and two darker beers when we visited. The Stoned Iguana was my favorite.
The Tasting Room
On first impression, I loved the tasting room decor. Thousands of bottle caps from Europe and North America are used to decorate the walls. There is other artwork throughout the tasting room and even more artistic touches created by local artists who wanted visitors to enjoy their special gift to the brewery.
You can enjoy a tasting flight, pint, or a growler fill in the taproom. There is always a great selection on tap, including the year-round staples as well as the barrel-aged limited releases and the seasonal beers.
The taproom and gardens open at 11 a.m. every day.
The Beer Garden
The fun atmosphere extends out to the beautiful beer garden. You can kick back and enjoy your favorite beer during a game of cornhole, or try your hand (well, hips) with hula hoops, or simply grab a colorful chair, sit down, relax, and watch the world go by.
When we visited, I expected to see a lot of 20-somethings hanging out. Lucky for us, we fit right in with the crowd of mature adults just chillin' for the afternoon.
You can also access the pet and kid-friendly garden from the street without going through the taproom. There is a food truck on the premises so everyone can enjoy snacks or even a light meal.
You will find lots of plants, flowers, and lush green grass in the beer garden. You will most likely catch a glimpse of the brewery's toucan and maybe even a live iguana or two milling about. Colorful picnic tables and chairs are available, and bright-colored twinkling lights hang from the trees and are draped throughout the garden to illuminate the area during the evening hours.
Live Entertainment And Other Events
I found the beer garden to be its own fun destination. So much fun, in fact, we returned later in the evening when the twinkling lights were on to listen to the live music on stage.
Local musicians and visiting musical acts make the Florida Keys Brewing Co. one of the best places in town to listen to live music. A variety of events are scheduled, with live music happening most nights. Check out their online calendar of events to see what is happening when you visit. The calendar also includes happy hour information.
Dogs Are Welcome
I mentioned before about the garden being pet-friendly. Dogs are welcome to frolic in the laid-back, relaxed atmosphere.
You Can Take Some Beer Home
Brewery merchandise and growler fills and cans are available for purchase in the tasting room. You can always buy some cans to take with you to enjoy at your next destination.
The brewery also has kegs of fresh beer available for private parties and other events.
The Owners
You have heard stories about people who quit their jobs and begin a new adventure. The owners of the Florida Keys Brewing Co. did just that. Craig and Cheryl McBay both had full-time jobs, quit, and cashed in their retirements to fund the building and create a brewery business.
Craig hails from Canada and has always been a beer lover. He transplanted to Florida over 13 years ago and decided he loved island life enough to never go back. Craig started homebrewing several years ago, and friends loved his beer. Soon locals were requesting his brews, and he started an actual brewery and has continued to produce beer that keeps people talking about his brews and coming back for more.
His wife, Cheryl, is the creative powerhouse, strategist, and artist behind the brand. Her artwork is showcased throughout the brewery, taproom, and gardens.
Over the years, the business has grown, they have expanded its offerings, and they also purchased key lime trees. They now produce key limes for most of the restaurants and bars in the Keys.
If you are in the Keys, you won't want to miss making a stop at this unique Islamorada brewery. The Florida Keys Brewing Co. is sure to have a flavor you will enjoy.
There are a number of unique sights to take in when you visit the Florida Keys: