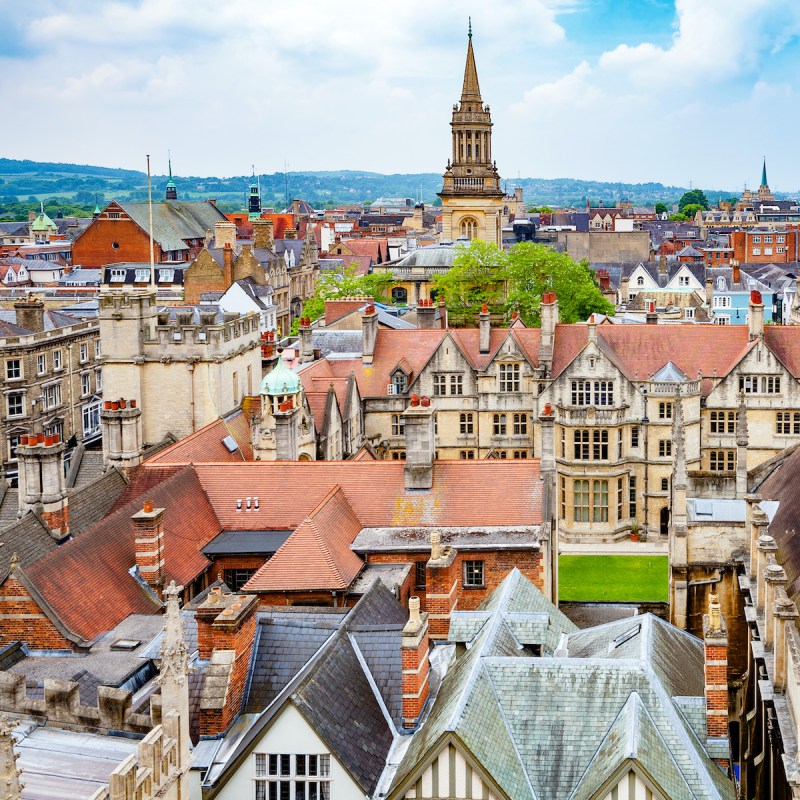 Oxford, less than 60 miles northwest of London, is an ancient city of learning. It is the site of the oldest university in the English-speaking world, with colleges dating back to the 1200s. In the old center of town, the street scenes, if it were not for cars and people wearing jeans, have not changed in centuries, and even to a European like me, the perfectly intact history all around is mind-blowing. Even more so when you think that the old buildings are not only there to be looked at, but they are still serving their original purpose, with incredibly lucky students walking those hallowed halls every day.
Oxford is nicknamed the "City of Dreaming Spires," after the countless towers and spires that form a unique skyline, and which inspired Victorian poet Matthew Arnold in 1865 in his poem Thyrsis. He wrote: "And that sweet city with her dreaming spires / She needs not June for beauty's heightening / Lovely all times she lies, lovely to-night!"
A perfect size destination for a weekend visit, Oxford is imminently walkable, and a perfect mix of history, art, architecture, and fun.
Things To Do In Oxford
Despite having been to Oxford many times, each time I visit, I always discover something new, and every discovery seems to be completely different than the last. As the saying goes, "there certainly is something for everybody."
Get Lost And Enjoy The Architecture
In the city center, it pays to "get lost." Just meander through the lanes, look at the various colleges, the beautiful Radcliffe Camera, climb the Carfax Tower for views, and marvel at the St. Michael at the North Gate church with its Saxon Tower, said to be the oldest building in Oxford dating from the 1100s. Walk under the Bridge of Sighs, and pop into the cavernous Blackwell's Bookstore. Make sure you peek through gates and step into the narrowest of spaces, because much of Oxford is only open to students and academia, so you have to get your glimpses when and where you can.
Marvel At The Bodleian Library
Without a doubt, this is one of the most magical places I have ever visited. As a book lover, this is one of the top spots to see and it can only be visited on a tour, and even then you only get limited access For more places book lovers would enjoy, visit 9 Incredible Destinations For Book Lovers. Oh to be a student here! Even if you only saw the magnificent Divinity School, this would be wonderful, but upstairs is the ancient library which holds not one, but two copies of the Gutenberg Bible, the first book ever printed and the most valuable in the world. Unsurprisingly, it is under lock and key. The history, age, and magnitude of the library collection simply take my breath away. Don't miss it.
Explore The Pitt Rivers Museum
The Pitt Rivers Museum specializes in archaeology and anthropology, so, in this cluttered and crammed-full museum, you will find collections covering musical instruments, animal artifacts, figurines, jewelry, shrunken heads, pottery, and absolutely everything else you never know you wanted to learn about, from every place in this world. The bonus with this museum is that you get two in one because the entrance to the Pitt River Museum is through the Oxford University Museum of Natural History, which welcomes you with a spectacle of whale skeletons, crocodiles, and the odd dinosaur bones suspended under a remarkable, typically grand Victorian museum roof.
Gasp At The Treasures In The Ashmolean Museum
For another museum holding an extensive and somewhat eclectic collection stretching between art and archaeology, head to the Ashmolean. Here you find everything from Egyptian treasures to medieval art, from the actual Guy Fawkes lantern to sketches by Michelangelo. Be prepared to spend some time here. Luckily, there is a rather lovely café on the rooftop, for a break in between gasping at the world's riches brought together under one roof.
Punt On The River
Whenever you see pictures of student life, you will see people "punting" on the river. Punts are the typically shallow wooden boats propelled by a long stick. How many students actually do this is debatable, but for a serene hour or two after all that learning, this is a perfect pastime. Hire a punt just toward the east of the city center and combine it with lunch.
Go To Oxford Castle And Prison
This large and partly ruined medieval castle is only a touch younger than the Saxon Tower, dating to 1071, but it has been added to and certain parts rebuilt over the centuries. In the 1800s, it was turned into a prison and functioned as one until as recently as 1996. Today, you can visit and see the exhibits, or you can go and watch reenactments, or even join a simulated prison break. I find it a bit gimmicky, but if you like old castles, it is certainly worth at least walking around. Or you can stay in the prison.
Take A Film And Literary Tour
The beautiful architecture of Oxford has starred in many famous movie or TV adaptations, and it is fun to search out some of the more inspiring locations. From the Divinity School which you saw on the library tour, and which doubled as the infirmary in the Harry Potter films, to Alice in Wonderland, which Lewis Carroll wrote here, to the TV sleuth series and spin-off Morse, and Lewis, there are plenty of interesting locations to discover on a guided tour.
Feel Royal At Blenheim Palace
Blenheim Palace is what a splendid country estate looks like. Blenheim is home to the Dukes of Marlborough. This rather huge palace is just outside Oxford in the small village of Woodstock, and is not only splendid and richly appointed inside, but surrounded by a vast beautiful garden, where you can easily spend a day strolling and picnicking. The palace puts on regular events, which are worth looking out for, featuring everything from classic car shows to art exhibitions.
Best Restaurants In Oxford
Oxford is a student city, and as such home to a cosmopolitan mix of influences, and many diverse and cheap cafes, restaurants, and bars. You will certainly be able to get a quick and easy affordable lunch, but you can also go all out and treat yourself to an expensive meal.
Covered Market: The old covered market is not only a place to shop but, more importantly, a place to eat. Dozens of small eateries offer anything from coffee and cupcakes to Vietnamese street food and hearty English pies.
Queens Lane Coffee House: Whether you visit for the historic value — this is, after all, the oldest continually working coffee house in Europe — or for the coffee and snack, a combination of both is perfect.
The Cherwell Boathouse: After a punt on the river, have lunch on the terrace of this boathouse. Good food and a superb setting make this a lovely place to earmark when you are here.
Le Manoir aux Quat' Saisons: This listing combines food and a stay, and both are superior but take a bit of saving up for. The restaurant has two Michelin stars with French chef Raymond Blanc at the helm. The hotel is not only an old country manor, but also a Belmond property, and a night's stay with dinner is a must-do treat if your budget allows it.
Best Hotels In Oxford
Just like the restaurants, in Oxford, there are plenty of choices of Airbnbs, B&Bs, boutique hotels, and luxury stays. From truly quirky to country manor house, here are some of my favorites:
Malmaison Oxford: Wherever I go, I look out for a Malmaison property, because they always take over some grand old buildings and reinvent them. Here, it is the former Oxford Prison (see above). But rather than in stark prison cells, you stay in modern, comfortable, and quite posh prison cells.
The Old Bank: Another repurposed old building, this time a bank turned luxury hotel in the city center. A stylish stay with lots of art and tasteful touches to admire.
Vanbrugh House Hotel: A beautiful old townhouse also right in the city center, was designed by the chap who "did" Blenheim Palace (see above). This is classy and small, with just 22 rooms.
Le Manoir aux Quat' Saisons: A Belmond property in an old country manor, complete with celebrity chef, 2-star Michelin restaurant. A true treat for special occasions.
Pro Tip: Oxford can at times feel like a closed, exclusive society, with the majority of the 38 university colleges closed to the public. But you can visit and get a look behind the scenes in most of them by booking guided tours or contacting a college beforehand. This way you get a fantastic insight into the century-old traditions, still adhered to today. Did you know, for example, that the Christ Church College bells chime 101 times at 9:05 p.m. each day? The number signifies calling in the 101 original students to lectures, and it is 5 minutes past the hour because Oxford lies 5 minutes west of Greenwich.
London is a favorite destination city for travelers worldwide: