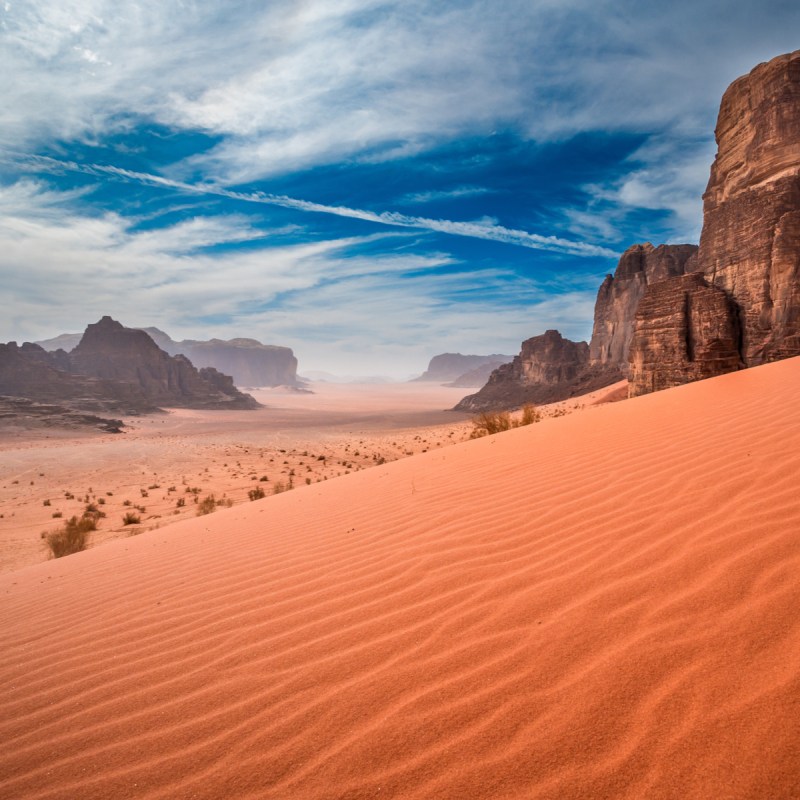 The Hashemite Kingdom of Jordan is a land of many wonders. From Roman ruins to the stunning remnants of the ancient Nabataean civilization, it's impossible not to become swept up in the splendor of this awe-inspiring and welcoming country.
Among the many must-sees in Jordan is Wadi Rum — Valley of the Moon — located in Jordan's southwestern corner. (A "wadi" is defined as a valley, river, or channel that is dry, except in the rainy season.) The drive to the wadi on main roads takes 3.5 hours from Jordan's capital of Amman, 1.5 hours from the marvels of Petra, and less than one hour from the coastal city of Aqaba. Some hotels arrange bus tours, or you can negotiate a taxi from Aqaba and Petra, but a rental car will give you the most flexibility.
My husband, guide dog, and I spent 24 unforgettable hours under the spell of Wadi Rum and the delightful Bedouin family who acted as our guides and hosts at Saleh's Safari Camp and Tours. There we discovered a world set apart from anything we had experienced before or since. Here are a few of the reasons we fell in love with Wadi Rum, and why you will, too.
1. The Inhospitable Yet Eerily Beautiful Desert Landscape
We first met Saleh upon our arrival in Wadi Rum Village. After securing our luggage and us in the bed of his 4×4, he headed into the desert. There are a number of ways to travel, including on camelback, but for us, bumping along in the back of the pickup was perfect.
The deeper we drove into the desert, the more alien it appeared. The sand was red in some places and yellow in others. Outcroppings of jagged rock formations, sand dunes of all sizes, scrub brush, and the occasional tree rolled by. As the sun climbed higher, the land took on a baron, lifeless appearance. But the desert was very much alive.
A woman herded goats, while other goats grazed on whatever was growing in craggy rock surfaces. Animals, reptiles, and even small birds were present but preferred the cold night to the heat of the scorching sun.
In 1998, the Jordanian government declared Wadi Rum a protected area. This act recognized the need to preserve its fragile environment, as well as its unique natural and cultural history while acknowledging the importance of tourism to the local economy.
The vast majority of people living in the Wadi Rum area are of Bedouin origin. They rely heavily on tourism to sustain themselves and their families. However, they have not lost the ability to be self-sufficient, thanks to the resourcefulness handed down through millennia from their ancestors.
Pro Tip: The visitor center is located opposite the mountain named after Lawrence of Arabia's book, Seven Pillars of Wisdom. This is the main gateway to Wadi Rum. There you will find a reception area, information, bathrooms, restaurants, and shops. If you are driving a rental car, you'll have to leave it behind before entering the protected area.
2. The Magnificent Rock Formations
Many of the rocks we saw on our drive through Wadi Rum were, well, rocks. However, some took on interesting shapes, while others held ancient secrets.
The Border Rock Bridge (Jebel Burdah), located in the southeast of the protected area, towered above us. It is considered one of the world's largest natural rock arches.
Khazali Canyon, a narrow fissure in a mountainside, required a bit of a scramble over rocks to reach the entrance, but it was definitely worth it. On one wall, 7th-century Arabic inscriptions praised Allah. On the other, Nabatean drawings from as far back as 2,500 B.C. depicted mountain goats and other desert animals, as well as human figures. 
Pro Tip: Bring a wide-brimmed hat, sunscreen, plenty of water, and sturdy comfortable walking shoes or boots for negotiating sand and rock
3. The Reminders Of Films Old And New
It didn't take long for us to understand why Wadi Rum's landscape has inspired Hollywood to choose this location to shoot unearthly films such as Martian and Red Planet. But perhaps the most enduring film shot at Wadi Rum was the 1962 classic, Lawrence of Arabia.
Lawrence is still revered to this day. That is why it came as no surprise when we found ourselves gazing at Lawrence's Spring, a tiny oasis sheltered by overhanging rock. According to legend, this was where the man himself washed during the Arab Revolt.
4. The Thrill Of A Glorious Desert Sunset
Saleh promised us an incredible sunset, and he was true to his word. He deposited us near a rock formation facing the distant mountains, and my husband climbed to the top of the rocks to get that perfect shot.
The surrounding landscape began to take on a deepening reddish tinge. The sky gradually lost its azure hue, turning to a softer blue and then to pink, as the sun slowly changed from flaming yellow to hazy orange. As soon as the sun disappeared, darkness descended almost immediately, allowing only a brief period of twilight.
Pro Tip: Early spring and late fall are the best times to visit Wadi Rum.
5. The Tantalizing Tastes Of Traditional Foods
Upon our arrival at the camp, we headed for the communal tent for dinner and conversation. Saleh's wife, Alia, had prepared a traditional feast for us.
A sumptuous spread of tantalizing salads lay along one side of the sitting area. Alia had assembled a large pot of upside-down chicken, a hardy dish popular throughout Jordan, as the centerpiece. She had layered chicken pieces, eggplant, cauliflower, spices, and rice in a large pot. When the dish was ready, a platter was placed on top of the pot, and the entire thing inverted. When the pot was lifted, the dish was as pleasing to the eye as it was a delight to consume. We washed everything down with copious amounts of a popular tea blend that had a mild, pleasant flavor.
6. The Silence And Solitude Of Night In The Desert
After dinner, we walked the short distance to our tent. It was spacious and clean. It also had electric lighting and outlets for charging our phones, courtesy of solar power.
Alia had piled our bed with warm blankets against the cold desert night. With the addition of our sweats, we were warm and comfortable.
We were fortunate to have the bathrooms only a few yards from our tent. They, too, were clean, and functional. No WiFi, but the complete silence, clear sky, full moon, and bright stars more than made up for it.
Pro Tip: Bring a flashlight, in case there's no moon.
7. The Warmth Of Bedouin Hospitality
Saleh's Safari Camp and Tours consistently garners a five-star rating on Tripadvisor and has earned the Tripadvisor Certificate of Excellence. The accolades are well deserved, as we can attest.
Jordan is a Muslim country, and the same laws relating to access with a certified service animal in other countries don't apply. I wrote in advance to ask if my guide dog would be allowed to accompany us and received an immediate affirmative response.
The next morning, following an excellent breakfast, we had the opportunity to spend a little time with Saleh, Alia, and some of their brood. Alia, who is as delightful as she is accomplished, tried to teach us a few Arabic words, all of which we have long forgotten.
When we reluctantly took our leave; it was with hugs and the sense we were leaving pieces of our hearts with these warm, hardworking, generous people of Wadi Rum.
Pro Tip: If you plan to be in Jordan for several days, consider purchasing a Jordan Pass online before you leave home. Your entry visa fees, admission to 40 attractions (including Wadi Rum), and downloadable brochures make it a true value.