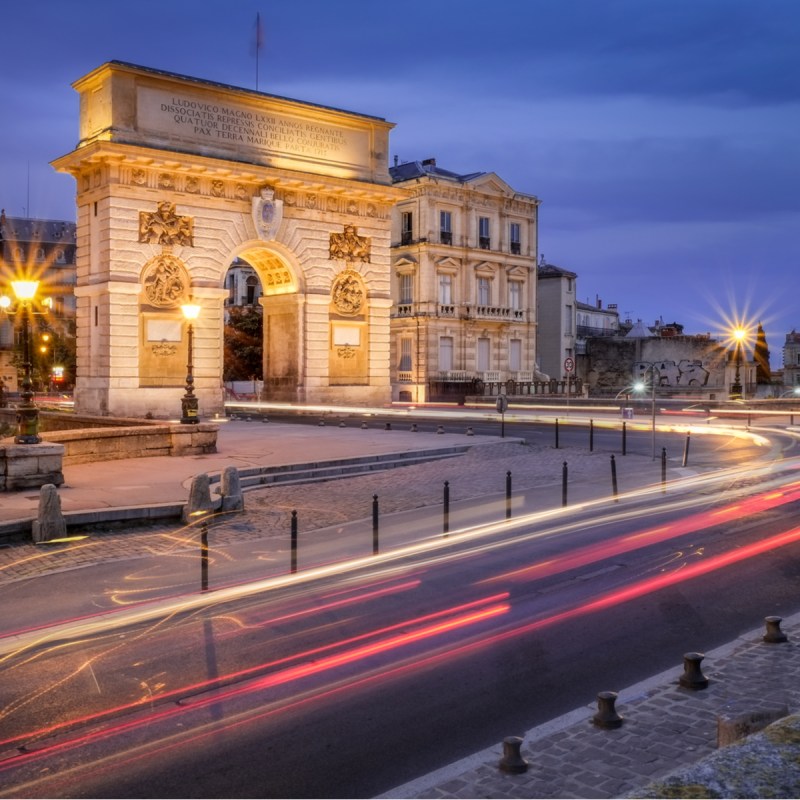 Montpellier, the second-largest city of France's Occitane region lies in the south of France, some 7 miles from the Mediterranean coast. Since the 10th century, it has been a trading location and acquired a charter in 1141. The city has repeatedly won titles, such as that of France's second happiest city, the second-best city to live in and retire to in France, the best place to live as an expat, and others.
Reasons behind the numerous accolades could be the sunny Mediterranean climate, which brings pleasant and warm weather without the stifling heat many other southern French cities suffer from. The reason could be Montpellier is not hemmed in by mountains, or it could be the superb mix of old and modern, the young student enthusiasm in ancient university settings, the many spots where to simply be and watch the world go by, or the proximity to the coast.
Most likely, it is all the above, making for an intriguing melange that appeals to residents as well as visitors, offering a city pause a few tram stops from the seaside, a historic setting with modern accents, an arty location with much joie de vivre, and all in a package that is easily explored on foot.
I love Montpellier for so many reasons: You can wander around all day, learning and seeing so much, but then, at a moment's notice, find a nice square to settle in, coffee or refreshing drink in hand, and simply relax and enjoy the surroundings. Even I, as a European used to history dating back many 100s of years, am in awe of the ancient universities here, but I am equally enthralled with the hyper-modern edifices popping up around the old center. And then, when you've had your fill of the city, or you wake up and it is a beautiful day, which it is nearly every day here, and you can grab your swimsuit and a towel and catch the local tram to a perfect sandy beach with the Mediterranean lapping at your feet — what's not to love?
Here are my top reasons for falling in love with Montpellier.
1. It Is An Ancient Center Of Learning
The faculty of the University of Medicine was established in 1220 and enjoyed the protection and indulgence of the counts of Toulouse, the kings of Aragon, various popes, and then the kings of France, and thrived over the centuries. In the 1700s, roughly half of all doctors practicing in France had qualified in Montpellier. Alas, the imposing building we see today "only" dates to the 14th century. As in the centuries before, students tended to learn in their teachers' private houses.
One of Montpellier's most famous students was Nostradamus, or as he was known in France, Michel de Nostradame. He came to Montpellier in 1529 to continue his on-and-off studies of medicine.
Today, Montpellier is still an important student city, and the young, studious but fun vibes reverberate throughout the city.
2. There Are Some Superb Landmarks
In the 1500s, Nostradamus predicted the following: "When the pines disappear, the city will perish," referring to the pines growing on top of the Tour des Pines, the Tower of Pines, a last remnant of the strong city walls that encased and protected Montpellier in the 1200s. As you will see, there are still trees peeking out from the top of the ancient tower, but they are not the same ones as in Nostradamus's time. It seems that the city's rulers have a superstitious streak and have not only been looking after the trees, but also replanting them every time one showed any sign of ailing. (Just in case Nostradamus turned out to be right.)
On the very Parisian Rue Foch, you'll even find a very Parisian Arc de Triomphe, here called the Porte du Peyrou. Built in 1693, it is older than its Paris cousin by more than 100 years.
3. You Can Walk Everywhere
A simple reason, but a good one: The city center is the perfect size for meandering, slowly sauntering through the many lanes, getting lost, but never really lost. Plenty to see within an easy radius, much to discover, but never too much for the summer heat to get overwhelming. And, even better, you can book a walking tour guided by locals, and designed to your individual interests, so you can not only learn as you walk, but can also find out what it is like living in Montpellier.
4. There Are Countless Squares To Stop For A Rest
Should it ever get a little too much, Montpellier offers a scenic square around every corner, where you can stop for a coffee, a water, a spritz, or a wine, depending on time of day and mood. Be it the large Place Jean Jaurès, or the Place du Marché aux Fleurs, Place Sainte-Anne, or Place de la Canourgue, each one is lined with small cafes and bistros, perfect for a break, a drink, and some soaking up of the local atmosphere.
5. One Of The Most Scenic Markets In France
There are a lot of great markets in France, but there are markets and then there are markets. The Marché des Arceaux is an organic farmers' market offering anything from fresh flowers to enormous bulbs of garlic to fresh fish and vegetables, with many food stalls in between. But that is not that unusual. What makes this market special is the setting. The clue is in the name: market of arches, or hoops. This market is located below the two-story St. Clement, or Arceaux Aqueduct which, although not Roman — there are no Roman sights in Montpellier — dates to the 1700s and brought water from Saint-Clement to Montpellier. Open every Tuesday and Saturday between 7 a.m. and 1.30 p.m., you can reach the market from the city center on tram lines 6 and 16, getting off at Arceaux, and heading down the hill.
6. You'll Love The Mix Of Architecture
On Place de la Comédie, you could be forgiven for thinking you are in Paris, with its grand art nouveau buildings, but only steps away, you are in the rabbit warren of the Middle Ages, mixed with buildings dating to the 1500s and 1600s. Head just outside the old town, again, within easy walking distance, or a brief tram ride, and Montpellier displays a heady array of hyper-modern architecture. Explore sites such as the L'Arbre blanc, the white tree, a building with balconies sticking out like a prickly white cactus, or the Philippe Starck Cloud, the Port Marianne City Hall by Jean Nouvel, or the Pierres Vives building by Zaha Hadid. Montpellier has a blend that works well and that architecture lovers will appreciate.
7. It's Close To The Beach
Montpellier is the perfect compromise for those couples or traveling partners who have different tastes: one likes sightseeing in cities and the other wants to laze by the beach. In Montpellier, you can soak up art and history in the morning, then hop on the tram and 40 minutes later you are on the beach. The beaches near Montpellier are set behind lovely sand dunes, are endless and white, and have stretches where there is no one, and stretches where you find beach bars offering sun lounges and umbrellas in the sand as well as in the cocktails.
8. You Can Enjoy Truly Unique Shopping
The pedestrian lanes of Montpellier have not changed much since the Middle Ages, many nestled into arched vaults, tiny, individual, and studded with medieval leftovers. Just investigate the optician Vue d'Ici at 7, Rue de l'ancien courrier, where there is a perfect example of a medieval horse trough used as a display table. Around the corner, on the steps of Rue du Bras de Fer, Le Bookshop, the English bookstore, has not only a good selection of English books, but also an ancient well in the basement. For a superb selection of toys and board games, do not miss the delightful shop Pommes de Reinette at 33, rue de l'Aiguillerie. They offer beautiful craftsmanship in a traditional shop.
9. There Are World Class Museums
There are plenty of museums to keep art and history enthusiasts busy, but I love in particular the Musée de vieux Montpellier, the museum of old Montpellier, which has examples of medieval architecture and history collected from across the city and also hosts regular art exhibitions set under the ancient arches of the building. It also is home to a rather nice restaurant set in the historic surroundings, perfect for a welcome respite. Then there is the Musée Fabre, which holds one of the most extensive collections of European art in the world, while also specializing in regional artists.