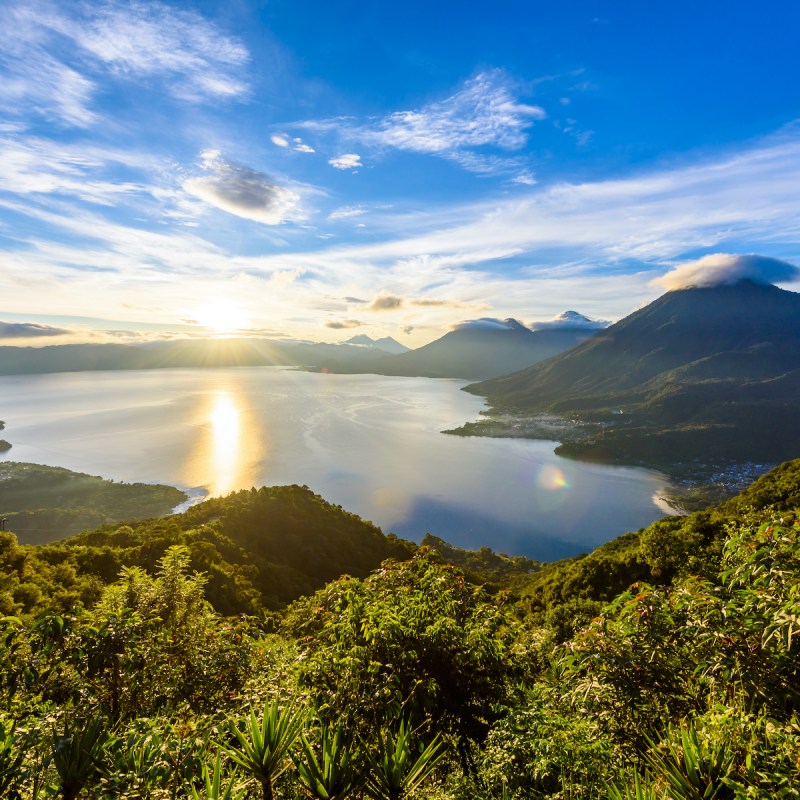 Want to see one of the most beautiful lakes in the world?
Lake Atitlán, which noted German explorer and naturalist Alexander von Humboldt called the most beautiful lake in the world, is located in Guatemala. The lake, known for its water that varies from deep blue to green, is around 1,115 feet deep — making it the deepest lake in Central America.
A Unique Formation
Lake Atitlán is flanked by three volcanoes: Atitlán, Tolimán, and San Pedro — known as the Three Giants. Given that proximity, it isn't surprising that the lake was formed after a volcanic eruption.
Here's how it happened: About 84,000 years ago, there was an enormous volcanic eruption, known as the Los Chocoyos eruption, Atlas Obscura explains. During a volcanic eruption, magma in the volcano's magma chamber is expelled — sometimes forcefully. Once the magma chamber empties, the sides and top of the volcano can collapse inward, creating what's known as a caldera, or crater. Over time, water filled this caldera and created Lake Atitlán.
Impressive Surroundings
Lake Atitlán is about three hours away from Guatemala City. In addition to the volcanoes on its shores, the lake is also flanked by a number of villages, including Santiago Atitlán, San Lucas Tolimán, Panajachel, and San Pedro La Laguna.
"The villages offer different environments to tourists, from the peaceful Santa Cruz la Laguna and San Pedro — popular places among tourists — to the festive atmosphere of Panajachel, the most popular spot in Sololá," Visit Centro America explains. "You can get to San Pedro, Santa Clara la Laguna and the rest of the villages by land. However, due to the number of lodging options in Panajachel, it is usually more convenient to get there, and from there, take a boat to the surrounding towns."
Other Activities
In addition to seeing the lake and visiting local villages, there are a number of other activities that shouldn't be missed, explains Culture Trip. You can take an evening cruise from Panajachel to see beautiful sunsets over the lake. If you're feeling adventurous, you can even hike up the volcanoes. San Pedro Volcano, for instance, can be climbed in less than five hours.
"If you're a fan of sunrises, hiking Indian's Nose is a must. The name Indian's Nose is because the profile of the mountain looks like a man's face, and the peak — the 'nose' was considered sacred by the Mayans," Culture Trip explains. "You'll start early — around 3:45 a.m. — but the trek is totally worth it. After a short bus ride to Santa Clara, you'll walk up the mountain and be rewarded with achingly beautiful views of the sun rising over the misty lake."
Know Before You Go
Guatemala is open to travelers from the U.S. It must be pointed out, however, that the Centers for Disease Control and Prevention currently issues a "Level 4: Very High Level of COVID-19" warning for Guatemala, stating that "even fully vaccinated travelers may be at risk for getting and spreading COVID-19 variants and should avoid all travel to Guatemala."
Related Reading: