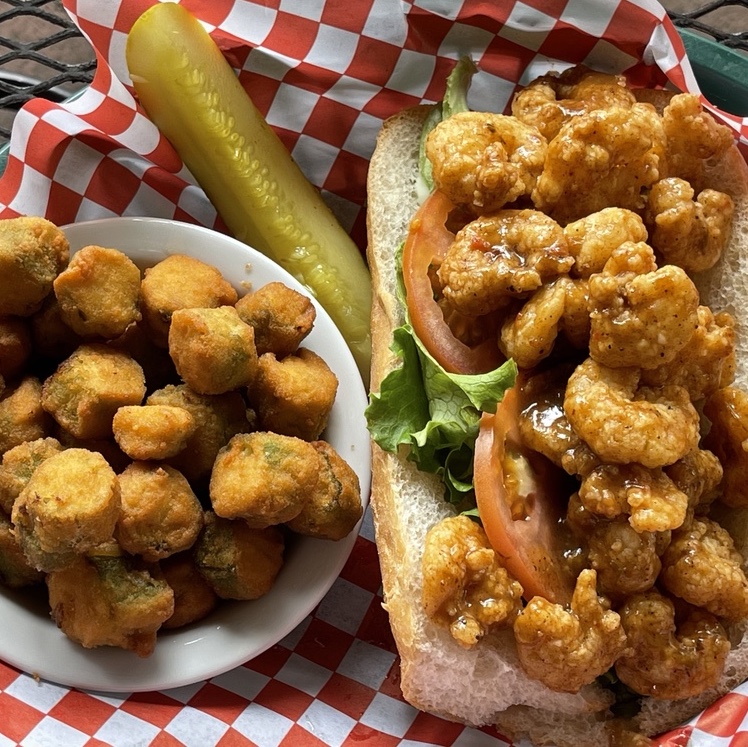 The po' boy originated in New Orleans sometime around 1929. The legend starts with the Martin boys, two brothers who moved from Raceland, Louisiana, in 1910 to work as streetcar conductors. When they could, they left their day jobs and opened up a coffee stand and restaurant in the French Market. The stand became popular with their fellow streetcar workers. When the workers went on strike in 1929, Bennie and Clovis Martin pledged to give their friends free meals until the strike was over. They came up with a filling sandwich for the "poor boys." Crisp French bread stuffed with meat or fried seafood to keep them full. A New Orleans classic was born.
A po' boy (or poor boy) is usually on every menu in New Orleans and around the area. The influence of the culture and traditions of New Orleans is seen everywhere on the Mississippi coast. You can find a po' boy on menus in most towns along the 62-mile stretch from beginning to end. But with culinary influence from around the globe on the coast, you will discover a few twists to the tradition. I traveled through five Mississippi coastal towns and tasted the Martin brothers' iconic invention in Bay St. Louis, Pass Christian, Biloxi, Pascagoula, and Ocean Springs. This road trip was delicious and one that everyone should experience.
Note: I was a guest of Coastal Mississippi for portions of this trip and was hosted for some meals. All opinions are my own.
1. Bay St. Louis
At 200 North Beach Restaurant and Bar, the emphasis is on fresh seafood and a great atmosphere. Chef Bernard Carmouche, a New Orleans native, started his career at 17, washing dishes at Commander's Palace. He then spent many years working with Chef Emeril Lagasse. The Echo Building, built in 1903 to house the Sea Coast Echo newspaper, is a beautiful example of early 20th-century architecture in Bay St. Louis. Luckily, it was still standing after Hurricane Katrina, which wreaked havoc on the coast as a Category 3 storm in 2005. Ann Tidwell and her family restored the building. Today, it's a gorgeous restaurant with stunning bay views from the wrought-iron terrace.
The menu offers three types of fried po' boys: shrimp, oyster, or catfish. I chose the shrimp, and it came "dressed" (with lettuce, tomato, pickles, and mayonnaise) on a foot-long baguette-style roll. The packed sandwich was overflowing with a hearty portion of crispy fried shrimp on the roll, plus all the fixings. A basket of golden fries was on the side. This sandwich was incredible. The shrimp were fresh, not greasy, and combined with all the toppings was a savory combination. I needed to cut it in half to eat it, but it was worth the indulgence. In an area with shrimp caught in the waters outside the doors, you must order a shrimp po' boy at 200 North Beach.
2. Pass Christian
The tiny waterfront town of Pass Christian has a stunning harbor on the Mississippi Sound studded with shrimping and pleasure boats docked in the marina. It looks like a movie set. Right on the waterfront is the original Shaggy's restaurant, which opened in 2007. Shaggy's took shape after Hurricane Katrina destroyed the area in 2005. Ron Ladner, a summer homeowner and businessman was approached in 2005 and asked to buy the old bait shop. He decided to pursue the project, but two months later, everything was gone. Once the Ladners recovered, they rebuilt the building where the bait shop was, painted it red, and named it Shaggy's after a 1940's tavern with a colorful reputation in the Pass.
The bright red restaurant gave everyone hope and is a favorite among locals and visitors. The inside has vibrant colored walls and an island vibe. Photos of fishermen with their catches decorate the space, and island music plays inside and out. On the deck, fabulous water views invite you to sip their specialty cocktails. The po' boy of the day when I went was local fried redfish. Two substantial portions of fried fish fillets dressed with lettuce and tomato. The tartar sauce was on the side, along with a generous amount of french fries. The redfish was fresh. It was crisp, white, and flaky, with a delicate flavor. Once you add the cool toppings and creamy tartar sauce, it's a total treat. I took half home because it's too big for one sitting. You can easily split this with a partner and have an appetizer to make a complete meal.
3. Biloxi
Once known as the seafood capital of the world, Biloxi, Mississippi saw a rise in the Vietnamese population in 1975. Refugees left Vietnam to escape the Fall of Saigon, and many relocated to coastal Mississippi. As fishermen, they could earn a living in Biloxi. When Katrina hit, much of that industry was devastated.
Sue Nguyen-Torjusen's father came to Biloxi to shrimp but went into the baking business and never looked back. Sue and her family own and operate Le Bakery in Biloxi. The following for this popular spot is legendary. If you ask anyone where to get a po' boy in Biloxi, they will steer you to Le Bakery for the Bánh Mì, a French Vietnamese po' boy. Sandwiches made-to-order come on eight-inch house-made baguettes dressed with garlic mayonnaise, julienned carrots, marinated daikon, onions, cilantro, and a slice of hot jalapeño. I chose the coconut curry chicken with chicken marinated in a slightly spicy coconut curry sauce. Topped with all the flavorful additions, it was a feast for all the senses. A French Vietnamese bakery in the heart of Biloxi, Mississippi, selling Vietnamese po' boys? Yes, and it was the most delicious sandwich for a low price.
4. Pascagoula
Pascagoula, Mississippi, is home to Jimmy Buffet and Bozo's Seafood Market po' boys. They were ranked in the Top 20 Seafood Dives in America by Coastal Living Magazine. Bozo's opened in 1956 and is a third-generation family business that serves food in their seafood market. There are communal tables with condiments and napkins in a bucket on the tables. You stand in line and order from the counter, and when ready, it comes wrapped in paper in a white paper bag. Po' boys come in half or large with seafood or meat options.
Since this is a seafood market, I should've ordered shrimp, oyster, or soft shell crab, but po' boys are also traditional as meat or meat and cheese sandwiches. The woman at the counter assured me that after the shrimp, the roast beef is the best. I ordered a half roast beef dressed and waited. When I unwrapped it, it was a messy po' boy. The brown gravy oozed from the sides, and the tomato slid sideways. When I got it all together, I was in sandwich heaven. Bozo's was po' boy nirvana.
5. Ocean Springs
Ocean Springs, Mississippi, is home to many great live music venues that have incredible food. The Government Street Grocery is one of those places. The special, a jerk fried shrimp po' boy, was spicy. It's fried shrimp in a spicy jerk sauce dressed in lettuce and tomato with a pickle spear on the side. I ordered a side of fried okra. Cut in rounds; it was golden, crunchy, and yummy to munch. I loved the outdoor seating and funky vibe at this restaurant. Even though they aren't a po' boy place, they know how to make a fantastic sandwich. I loved the kick of the jerk spice and the pile of shrimp on the crisp baguette.
Pro Tips
Po' boys are usually made with fried seafood. If you don't like fried seafood, ask for sautéed. Restaurants can do this, but local shacks might not.
Roast beef or ham and cheese po' boys are tasty and traditional. Many stands offer them too.
If you like spice, Vietnamese po' boys are fantastic, as are jerk versions. Go for it.
Get your po' boy "dressed" with all the fixings for an authentic experience.
Po' boys are usually a foot long. If you don't have a big appetite, order a half portion, split it with a friend, or save some later.
What makes a po' boy? The bread. It's always served on a French baguette.