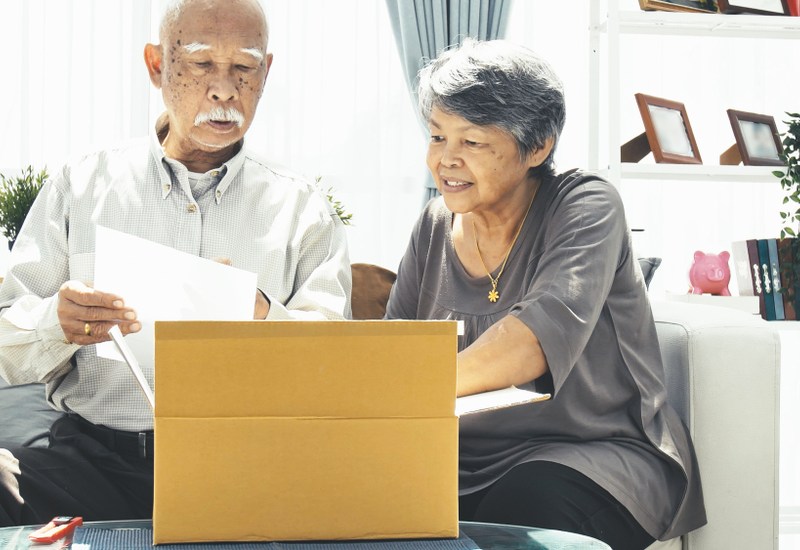 Surviving through a year of a pandemic and stay-at-home orders was tough on all of us. Instead of special days spent with family and friends, many of us have been confined to our homes and can only see loved ones through video chat services like FaceTime and Zoom. Arguably, this past year was most trying for senior citizens, many of whom spent a year isolated from their closest people.
When you can't see your loved ones due to a pandemic, what better time to spark joy and surprise them with a thoughtfully curated subscription gift box? That's where Silver Swag Box comes in. Silver Swag Box is a monthly subscription service specifically designed to pamper the senior (or seniors!) in your life. That could be your grandparent, parent, in-law, relative, friend, or maybe you just want to treat yourself, too! You can set up a one-time gift or send a new box every month.
When your loved one opens their swag box, its contents will be a surprise. Each box has about five to seven unique items, and boxes change every month with a new theme to keep things fresh and fun.
For National Stress Awareness Month, Silver Swag Box offered a Relax, Refresh, and Recharge box with an eye mask, soap sponge, lip balm, coloring card with pencil and pencil sharpener, a package of dry ingredients for delicious cookies, and an SSB Original Stress Relief Guide.
That's just one themed box of many. Others include Game On, which focused on games of all kinds, like a hand-crafted tic-tac-toe board, a scrambled letters game with a timer, a Great Games notebook, plus potato chips and Hershey kisses to amp up the gaming experience. How Tweet It Is was a box for the birder-enthusiast in your life. You're The Bees Knees included hand cream, dried apricots, a small travel-sized manicure set, and marigolds in a bag that your loved one can plant, to name a few.
Sarah Payne, the Business Development Manager of TravelAwaits's parent company, sent her grandmother the You're The Bees Knees box and she absolutely loved it.
"I'm in awe of this beautiful box of all kinds of goodies. What a happy surprise; I don't know what to look at first [because] there are so many things in there. I've never seen anything like it; it's truly a happy box," her grandmother said.
Though the box contents vary from month to month, boxes will include at least one of the following categories. Each box has a gift item, an item inspiring an activity that will keep the mind engaged and sharp, a helpful item, a snack or sweet treat, and a conversation card. The conversation card is a beloved component of the box. Each month, boxes will contain a conversation starter you and your loved one can chat about to connect on a deeper level. The month's card topic will also be emailed so you can discuss the topic virtually, too.
Silver Swag Box is great for men, women, and folks of all ages, interests, and hobbies, so you can't go wrong with whom you send the box. Really, it's the perfect gift for folks who say they don't want anything for special occasions. With Silver Swag Box, you can cut out the guesswork and stress of figuring out what they want. They do the work for you because boxes are catered to what seniors actually want! It's a creative yet awesome gift they will cherish for months to come.
Boxes ship the first week of the month, so giftees have something to look forward to at the beginning of every month, and they can enjoy the box's goodies all month long. You can set up a one-time gift, set your account up so it auto-renews each month, and even set up the box for two, three, or four-month increments of time. The box frequency varies to work with you! Subscriptions are what they call commitment-free, so you can sign up at any time and also cancel at any time.
Since boxes include snacks, you can specialize boxes with dietary constrictions in mind, so your boxes can be sugar-free, gluten-free, caffeine-free, lactose-free, low sodium, or kosher. Another perk is that you can include a note so the senior knows who the gift is from and the card is even hand-written to add a more personalized touch. The card will be placed right on top so it's the first thing the box-opener sees!
With the beautiful box design, thoughtfully curated items, and personalized touches like the conversation card and hand-written letter, it's an understatement to say that the subscription service is a home run. It's truly a fantastic gift for senior citizens you want to surprise or treat to something special.