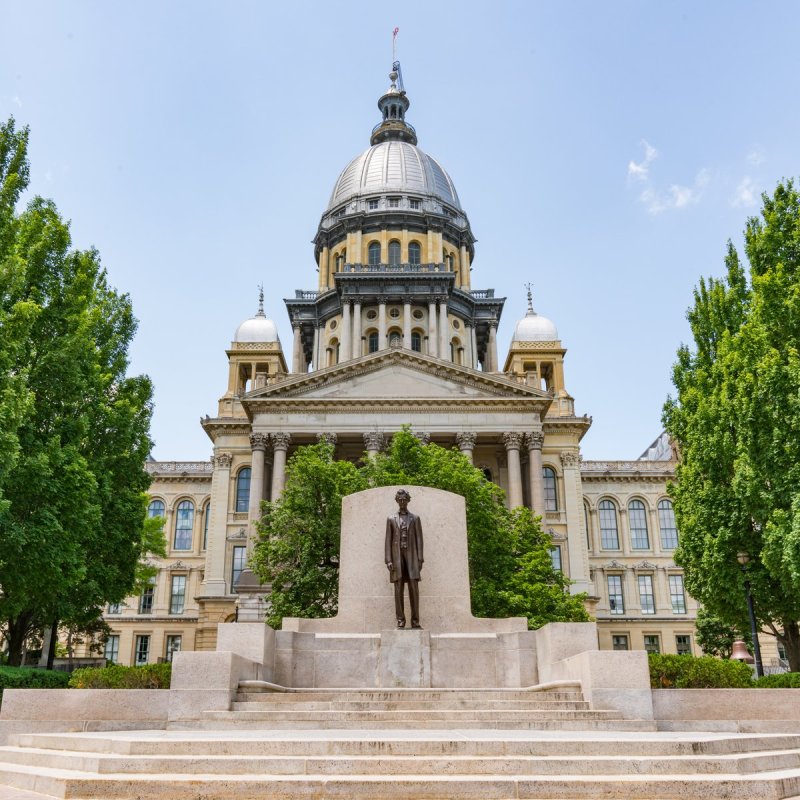 While Illinois is called the Land of Lincoln, the truth is that Abraham Lincoln, our 16th president, was born February 12, 1809, in a cabin 3 miles south of Hodgenville, Kentucky to Nancy Hanks and Thomas Lincoln. Nancy died during Lincoln's childhood, and Thomas remarried Sarah Bush Johnston, a widow with two girls and a boy. The Lincoln family moved to Southwestern Indiana in 1816 and Illinois in 1830.
Until he went to Washington D.C., for the presidency, so from 1830 on, Honest Abe's life was carved out in the state of Illinois. If you are a Lincoln buff, there are many trails and spots to see and learn about his life.
We recommend breaking your Illinois road trip up to see sites in different sections of the state. As you plan, note that Central Illinois probably has the most Lincoln sites, and they are close together.
1. Lincoln Heritage Museum, Lincoln
With over 100 Lincoln artifacts, the Lincoln Heritage Museum gives a wonderful overview of Abraham Lincoln's life. Located at Lincoln College, this museum is special to me because I visited it with my late father.
Also in Lincoln, on the town square, is a plaque marking the 1876 headquarters of a gang of conspirators who planned to steal Abraham Lincoln's body and holdit for ransom!
Pro Tip: If you enjoy the fun and quirky, be sure to see the Railsplitter Covered Wagon that is recognized as the world's largest covered wagon! Old Abe is driving, and the wagon stands 24 feet tall!
2. Lincoln's New Salem, Petersburg
Lincon's New Salem is a reconstructed village where Lincoln's life in Illinois really began. This is where he first struck out on his own. Here he spent six years clerking and operating the Barry Lincoln store. In New Salem, Abraham Lincoln enlisted in the Black Hawk War and supposedly fell in love with Ann Rutledge, then later with Mary Todd. He split rails and began his political career, winning a seat in the Illinois General Assembly. This is a great place to see history and is a kid-friendly environment.
3. Lincoln's Tomb, Springfield
Lincoln left Springfield for the last time in 1860 for the Presidency. The next time he returned was in his funeral train in April of 1865. Lincoln's Tomb is his final resting place and that of the Lincoln family (except Robert). The tomb is a fitting memorial with a bit of history. Besides the solemn burial site, there is also a bit of fun to be had with Lincoln's bronze statue; the tradition is to rub his nose for luck.
Be sure to look down the hill to check out the temporary receiving vault that held the bodies of the president and his sons Edward and William.
4. The Abraham Lincoln Presidential Museum, Springfield
The Abraham Lincoln Presidential Museum is an interactive museum where you can learn about Lincoln's life and the politics surrounding it. The museum is an in-depth review and offers wonderful theaters that bring Lincoln to life in a way that no other places do. The gift shop is a great place to find books and other Lincoln gifts, too!
5. Carlinville Square And More, Carlinville
Moving south, there are some great Lincoln stops as well! The town of Carlinville has a couple neat Lincoln stops. Head to the Carlinville square to see two Lincoln murals, one of Lincoln as a lawyer, and one of Lincoln as a rail-splitter. Also, in Carlinville outside the United Methodist Church at the corner of South Broad and East First Street is a boulder signifying where Lincoln gave a speech while running against Stephen Douglas for the Illinois Senate Seat.
Pro Tip: Carlinville has the only square where Route 66 goes all the way around. If you're interested in Route 66, check out my picks for 8 Best Stops On Route 66 In Central Illinois, too!
6. Abraham Lincoln Statue, Bunker Hill
This Lincoln statue is right between the two main streets! It is a bronze statue that was a gift from Captain Charles Clinton as a token of appreciation to the Illinois men under his command.
7. Mt. Vernon Appellate Courthouse, Mt. Vernon
In 1859 Abraham Lincoln successfully argued a famous tax case at the beautiful Mt. Vernon Courthouse. He had been part of the Eighth Judicial Circuit since 1839.
Pro Tip: In 1888 Clara Barton used this courthouse as a hospital. Tours are available.
8. Old Lincoln Courthouse And Museum, Beardstown
In Beardstown, you'll find the Old Lincoln Courthouse and Museum, where Abraham Lincoln defended Duff Armstrong. This is the only courtroom where Lincoln practiced that's still used as a courtroom today.
9. John Shastid's Home, Pittsfield
Built in 1838, the Shastid family moved to Pittsfield from New Salem. Abraham Lincoln would dine with them when he was a circuit rider on legal business. While there is a lot of historic information here, the story I love most goes like this: After one meal, Lincoln, lost in thought, ate the last quail, leaving none for the Shastids' son Thomas, who hollered out, "Abe Lincoln, you're an old hog!"
Pro Tip: Pittsfield is full of history, from the amazing Civil War flag in the Menard County Courthouse to the cool East School Museum and the Pike County All Wars Museum.
10. Sesquicentennial Square, Quincy
Western Illinois also offers up Lincoln history, and the site of the sixth debate between Abraham Lincoln and Stephen Douglas is located on the square in the center of Quincy. There is a lovely bronze relief of the Debate Memorial created by artist Lorado Taft. Details of their speeches are on tablets alongside the huge bronze relief.
On another side of the square is a Looking for Lincoln site that mentions his friendship with Quincy newspaper editor Andrew Johnston. He published some of Lincoln's poetry anonymously.
Pro Tip: There is a great Italian restaurant on the square in Quincy called Tiramisu.
11. The Kibbe Museum, Carthage
The Kibbe Museum has an entire Lincoln room! There are several photographs along with an original reward poster for John Wilkes Booth! The museum also recently came into a rather morbid but fascinating memento: a lock of hair from William J. Fraim, a gentleman Lincoln defended unsuccessfully in Carthage. He was hanged and the lock of hair was saved. The Lincoln room goes through Lincoln's life and death. My favorite piece is a hand-sewn flag that was made for Lincoln's visit to town. There is also information on the Wide Awakes that helped campaign for Lincoln.
Outside of town is St. Simon Cemetery where some relatives of the Lincoln family are buried.
The Hancock County Courthouse is also a wonderful stop. With a rotunda of stained glass, the courthouse is stunningly beautiful. Abraham Lincoln spoke outside the Hancock County Courthouse on October 22, 1858.
12. Batavia Historical Society Museum, Batavia
Batavia is the first of two stops I recommend in northern Illinois. After President Lincoln died, Robert Lincoln did not believe his mother sane, and in 1875, a Chicago court agreed. Robert brought Mary to Bellevue Place. Located in Batavia, Mrs. Lincoln stayed at Bellevue Place from May 20 to September 11, 1875. Due to public outcry, she was soon released and returned to Springfield where she stayed with her sister Elizabeth at Edwards Place. The bed and dresser that Mary used while staying at Bellevue Place are on display in the Lincoln Room at the Batavia Historical Society Museum.
13. Tinker Swiss Cottage Museum And Gardens, Rockford
Robert Tinker built the widow Mary Manny the beautiful Tinker Swiss Cottage after they married. Mary had been wed to John Manny who created the Manny Reaper. Cyrus McCormick sued John Manny for patent infringement. John Manny hired Edwin M. Stanton to defend him, and Abraham Lincoln had a part in the defense. The case was won, but John Manny died from tuberculosis before learning of the verdict. The couch that Abraham Lincoln sat on in the Manny Mansion is now in the Tinker Cottage!
Take time to tour the state and stop by these amazing Lincoln sites and soak up a bit of Lincoln history!