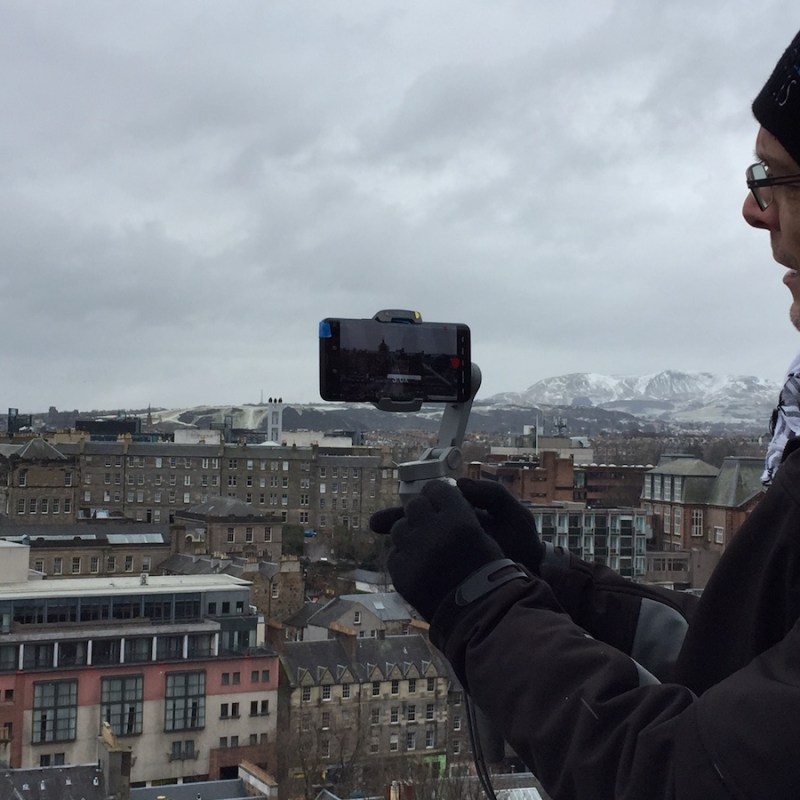 As an intrepid traveler who's visited more than 70 countries and has been traveling full-time for the past decade, I've had to get creative during lockdown to satiate my wanderlust. Thank goodness I found Heygo.com!
Heygo's free virtual tours are live, never recorded, and led by enthusiastic English-speaking local guides who engage in real-time with participants from throughout the world. Participants are encouraged to ask questions and make comments through a chat feature that pops up on guides' camera screens, allowing for real-time conversations between the virtual tourists and the guides.
I recently took a Mary, Queen of Scots tour of Edinburgh with Paul, a formerly homeless man trained as a guide by a non-profit organization called Invisible Cities. Paul was more than knowledgeable: He's an entertaining storyteller with a great instinct for making history both relevant and irreverent. His tour is a mash-up of anecdotes, folklore, culture, geology, current events, travel tips, and myth debunking.
Pro Tip: Heygo tours are generally 45 minutes, but sometimes guides pop on early or stay late to chat. That's the best time to build a rapport with a guide in a destination you'll be visiting. Leaving reviews is another great rapport-builder, as the guides generally read each review.
During another experience, I "joined" Meteja, a professional tour manager with 30 years of experience in the travel industry, as she navigated Ljubljana's farmers market. I learned about Slovenian culinary culture, picked up some travel tips, and attempted to learn a few Slovenian phrases.
Pro Tip: While tours are free, tips are encouraged. The guides work hard, keeping a clipped pace to cover a lot of ground. Additionally, tips help support the site, as there is no membership cost to join Heygo. I like supporting local entrepreneurial guides, especially following the pandemic when they were hit hard.
Tours happen around the clock 24/7, so at any random time, it's possible to pick from half a dozen or so tours. While checking the site for a future tour, I was intrigued by an offering called Funerals in Ghana: The Fantasy Coffin Crave and joined on the spot. It was a look around a workshop where coffins are carved into everything from cars to bugs to books — anything that reflects the deceased's hobbies and interests. Got me reflecting: I think I'd like to be buried in a giant wooden passport!
Pro Tip: Heygo caps the number of virtual tourists on a specific tour to keep the experience more interactive and personal, so it's best to book a tour beforehand on the site's calendar.
In less than a year, Heygo has grown to offer thousands of free virtual tours in hundreds of countries. Here's how I plan to use Heygo to inspire my future non-virtual trips:
1. Get Excited About An Upcoming Trip
There's nothing like hearing other people's travel stories about a destination I'm planning to visit to ignite my enthusiasm! Sometimes, I get bogged down by the travel logistics; it's a joy to step back and experience the place I'll be visiting.
2. Research Your New Destination
My next overseas trip will be to Portugal, so I've been enjoying Igor's Discover Lisbon's Hidden Secrets tours to find unusual things to experience. Since all tours are live, no two tours are alike and I've learned new information — both from the guide and from the other virtual tourists — even when I'm taking the same tour again.
3. Decide Which Neighborhood To Stay In
To continue researching my upcoming trip, I look forward to a virtual exploration of Lisbon's iconic Alfama neighborhood with guide Ines.
4. Hone Your Itinerary
Researching what to add to — and what to leave off — my itinerary of any upcoming adventure is one of my favorite aspects of trip planning. Heygo makes it easier by actually taking me into museums and other attractions. Mateja's visit to Ljubljana's National Museum of Slovenia will help me decide whether the museum makes the cut.
5. Assess Accessibility
The guides' cameras are attached to a gimbal — a special 360-degree portable tripod. Since I'm walking along with the guide, I'm getting a firsthand look at the condition of sidewalks, stairs, bridges, and doorways.
6. Map Your Itinerary
A Google map in the corner of the screen shows the real-time route the guide is taking, so I can see how long it takes to walk from one location to another.
7. Plan With A Travel Buddy In Real-Time
Even if you and your travel partner are in different time zones, you can share the same experience by taking the same tour at the same time. Once you book a tour, click the Share Now button to email the link. This is a great planning tool!
8. Get Insider Tips
Nearly every virtual tour guide has offered some juicy insider tips: How to pronounce certain words. When to visit an attraction. What local foods to sample.
9. Make A Local Friend
After joining a few tours by the same guide, I'm developing a rapport and making a new friend to have coffee with once I land!
10. Get Inspired To Visit Places You'd Never Considered
Ghana hadn't been on my radar, but after the coffin-maker tour, it is now!
11. Whet Your Appetite For A Future Trip
Ah, so many tours, so little time. In the meantime, I can take a "postcard" of my bucket-list destination and upload it to my vision board.
Pro Tip: There is no special software needed or special app to download. Simply click on the emailed link. But note that Heygo tours work best on Google Chrome, Safari and Microsoft Edge browsers. Firefox isn't compatible. I like watching on my laptop, as the screen is bigger, but you can join these tours from your smartphone while you're on the go. What a way to breeze through time while waiting in line!
More On Heygo Virtual Tours
Heygo was a reaction to lockdown, but it's here to stay! It was founded as VirtualTrips.io in May 2020 by intrepid travelers Liam Garrison and John Tertan, who met nearly a decade ago at Oxford University.
"Both Liam and I love exploring new places and meeting people from different backgrounds," Tertan wrote in an email. "When we lost the ability to do that last year, we realized how important [these experiences] had been and how lucky we'd been. We started the platform to create an online space where anyone could connect with and discover the world in a fun and social way."
On April 6 of this year, the new name and logo launched. "The first reaction people have when they join a tour is to smile," the founders wrote on the new site. See that smile in the logo?
How Heygo Virtual Tours Work
Visit Heygo.com and create a free account. Find tours by clicking on Tour Locations in the upper right corner and scrolling through the continents to find the country and city you'd like to virtually visit.
The next page lists several choices with the date of the tour noted in the blue box superimposed on the photograph. The tour's rating and number of reviews appear under the photograph.
Scroll down to read the bios of the various local guides. Or click on a specific tour to be directed to the guide's description of his or her tour. Scroll down to read reviews from past virtual tourists.
Tour dates and times (listed in your local time zone — a great feature!) are in a box in the upper right. Click Book and voila! An email is sent instantly with the link to the tour. On the day of the tour, you'll receive a reminder email with the same link. You may forward the email to up to three friends who can join using the same link.
Or, if your feet are really itchy, you can click on Tour Calendar and be directed to a page that lists tours by chronology. Book a tour happening now, or for a specific day and time in the future.
To find past trips you've booked, click on the circled initials in the upper right corner, toggle to My Trips, and be directed to a page that shows all the tours — past and upcoming — you've booked. Click on the tour to be directed to a page to leave the guide a review.
Once "on" the tour, you'll see a map of the tour's geographic area in the upper left. Expand the map to show the guide's actual route. In the lower right corner are four icons. The bottom opens the chat box with the number of people on the tour. (At this moment, I'm "touring" Paris with 522 other people!) Click Chat to join the conversation or ask a question.
To take a "postcard," exit chat and click on the Postcard camera icon. The platform will take a real-time photo and upload it to their site for free. Access your postcards by toggling to Postcards from your circled initial icon.
The Tip button is in the lower left and will take you to a box asking which currency you want to use (another great feature — use your own to avoid conversion charges) and the amount. Then you'll be prompted to pay via your credit card or PayPal. The guides don't see the amount of your tip.
The site is still evolving and plans to offer private tours in the future. It's also working on a feature to allow virtual tourists to contact guides individually. I'd love to see each guide have his/her own page with a list of all his/her tours. The site is growing so quickly, it's hard to find new tours offered by my favorite guides.
The guides are so personable and their tours are so inspiring, I'm starting to fantasize about creating my own tour to share with the world!
For more virtual tour inspiration, consider