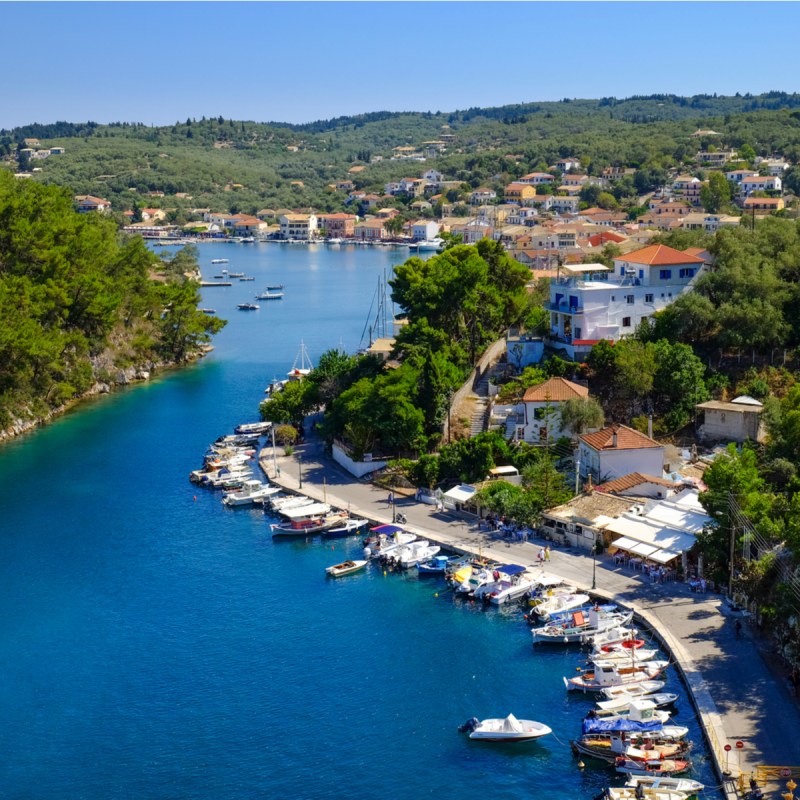 It's imperative to feel comfortable and safe while traveling. Medjet provides premier air medical transport, travel security, and crisis response memberships, providing peace of mind for an affordable price.
Greece is famous for its idyllic islands with small villages full of gleaming white houses, pebble and sand beaches with crystal clear water, ancient churches, friendly natives, and delicious Greek cuisine.
The most popular Greek islands are Santorini, Mykonos, Corfu, Crete, and Rhodes, which are also some of the largest of the islands and ports for cruise ships. If you want to experience less crowded and more off-the-beaten-path Greek islands, here's our list.
All of these destinations are reachable by ferry from either the mainland of Greece or from the bigger islands, and depending on the distance, travel can take up to eight hours.
1. Paxos
The big advantage of Paxos is that it's only a 90-minute boat ride from Corfu, which has a major airport. Paxos is too small to receive cruise ships but has a good selection of home and apartment rentals, restaurants, cafes, and hotels to fit almost any budget.
Paxos is comprised of three main villages on the sea: Gaios, which is the largest and the main entry port, Lakka, and Longos. The towns all have pebble beaches. and there's also lots of nature and hiking trails surrounded by hills, forests, and trees. You will discover some primitive, centuries-old churches and chapels along the way.
The most beautiful beach in Paxos is on the tiny island of Antipaxos, just a 15-minute boat road from Gaios. Spend the day there and have lunch at the outdoor restaurant which serves fresh-caught, grilled seafood.
The lively center of Gaios is where the bulk of restaurants, cafes, and bars are, along with shops stocking local crafts and merchandise.
For some culture, the Paxos Music Festival is the big summer event, taking place all summer. Performances and activities include concerts, art exhibitions and lectures, video projections, and music workshops.
Where To Eat
The long waterfront has a varied selection of cafes and restaurants facing the scenic harbor dotted with boats.
Mambo puts a twist on traditional Greek food with dishes such as chicken marinated in lemon and cooked in a clay pot. If you make your reservation one day in advance, make sure to special order the catch of the day.
Where To Stay
Paxos Club Resort is a four-star hotel with reasonable rates. The hotel has spacious rooms with air conditioning, a spa and gym, an outdoor pool, an expansive outdoor deck with lounge chairs, and a complimentary breakfast buffet. A free shuttle service to Gaios is offered in the morning and the evenings, plus free transfers to and from the dock where the boats from Corfu land.
2. Evia
Although it's the second largest island in Greece, Evia is mostly unknown to foreign visitors. Just two hours by car from Athens or one hour by boat from the port of Rafina, Evia has a much-varied landscape, from sandy beaches with calm aqua blue waters to mountains with dense pine forests and simple villages.
Edipsos
Edipsos, a town on Evia, is the site of natural thermal baths. Temperatures in the baths range from 82 to 186 degrees Fahrenheit and purportedly have the ability to cure many common ailments and illnesses. The baths, which have attracted celebrities such as Winston Churchill, Greta Garbo, Maria Callas, Aristotle Onassis, and Omar Sharif, are accessible through a number of spa resorts throughout the town.
Where To Stay
A local institution dating back from the 1820s, the Thermae Sylla Spa is a luxury hotel and wellness center with a broad range of treatments and facilities, including thermal baths, a swimming pool, a jacuzzi, an olive farm, detox treatments, thermal mud baths, massages, body sculpting and toning, and facials.
Eretria
Eretria is a historic seaside village on Evia. Some of the most noted attractions are a mosaic house built in 4 B.C., the West Gate (which is the ancient central entranceway to Eretria), The Museum of Modern Art of Peace and Chalkidismos (which is filled with works from Greek artists and painters), and the 19th-century neo-classical villa formerly owned by Konstantinos Kanaris, a ship captain.
Where To Eat
Cuban owned but serving Greek fare, La Cubana is a waterfront restaurant known for its quality seafood at fair prices.
Where To Stay
Just in front of a sandy beach, the Eviana Beach Hotel has clean and well-kept rooms with flat-screen TVs, mini-fridges, and in-room coffee and tea. The hotel provides chaise lounges, chairs, and umbrellas on the beach.
3. Leros
Closer to the Turkish coast on the Aegean Sea, Leros has steep hills with lots of greenery. Steeped in mythology, it was where Artemis, the Greek goddess of hunting, would hunt for deer.
One of the prettiest sites in Leros is the old windmills of white stones with red roofs and doors. Atop a rocky hill is a medieval castle constructed by the Byzantines on the base of an old temple. The History and Folklore Museum is in the Bellenis Tower, a former villa built in the 1920s. Take a Greek treasure home from Keramika Lerou, which has artisanal ceramics and pottery.
Leros has nine small beaches with either pebbles or sand and calm, clear waters. Alinda, which is a sand beach, is the most popular and has water sports, including scuba diving and fish stands.
Where To Eat
Leros mostly has casual cafes and tavernas with outdoor seating in the summer.
Mylos has a spectacular view of the Agia Marina, just in front of an authentic windmill. Family owned, Mylos offers traditional-style Greek dishes and also has a cocktail bar. It is open for lunch and dinner.
Where To Stay
Fancy staying in a windmill? Anemos Apartments rents four studios directly on top of a windmill. Apartments have full modern amenities, including a king-size bed, air conditioning, a kitchen, and Wi-Fi.
4. Alonissos
Alonissos is best known for the National Marine Park of Alonissos and Northern Sporades, the largest park of its kind in Europe, measuring 875 square miles. Pods of dolphins, an endangered species of a Mediterranean monk seal, turtles, whales, and rare seabirds populate the park.
The island has dramatic wildlife with pine-covered forests, rugged cliffs, and small inlets, some with old chapels on them. Eighteen beaches stretch over Alonissos, and if you are looking for something remote and private, Vrisitsa Beach is pretty remote, only reachable on foot. Chrisi Milia is a sand beach and has chaise lounges, umbrellas, and watersport rentals.
Where To Eat
Seaside tavernas line the coast of Alonissos, serving the best of Mediterranean and Greek food along with excellent local wines.
Mavros Gatos is a tiny restaurant serving mostly small plates and mezze, but it also has heartier fare, such as burgers and club sandwiches.
Lithos is a popular, modern bar and cafe on a hilltop, spread out on three tiers and overlooking Patitiri harbor. They serve light food and have a big cocktail menu.
Where To Stay
Alonissos Beach Bungalows and Suites Hotel is a luxurious, contemporary resort with upscale bungalows and rooms on the beach. It has an outdoor pool, beach bar, fitness room, spa with a steam room, pool bar, restaurant, and deck chairs and umbrellas by the pool and on the beach.
5. Meganisi
If you are seeking a romantic getaway for two, Meganisi, one of the Ionian Islands, is super quiet and relaxing. The rugged island has mostly dirt roads, and many beaches are only reachable by small boats.
There's not much to do in Meganisi except luxuriate on peaceful, sandy beaches, swim in the gentle, immaculate waters, and have a long lazy lunch at a taverna on the sea, but that's the whole point. Hiking on the island is an alternative if you are feeling more vigorous.
Pro Tip: Meganisi is close to Skorpios, the private island once owned by Aristotle Onassis.
Where To Eat
Gimlet Wine Bar has an extensive menu of wines and creative cocktails in an upscale setting. They have a raw bar with oysters and clams and serve a sushi-inspired menu of shrimp, lobster, crab meat, and crayfish.
Where To Stay
Keromoussi Seaside Boutique hotel is the ultimate in luxury and privacy for adults only. Set on five beautifully landscaped acres with the beach below, there are only four suites, all with terraces, one with a private pool. There's also an infinity pool, two private beaches, and an organic restaurant.
Pro Tips
Most of these islands are hilly and sometimes require ascending some serious inclines. Best to wear rubber-soled shoes or sneakers when not on the beach.
All of the destinations above can be reached by boat or ferry, and a few have small airports with flights from Athens.
Related Reading: