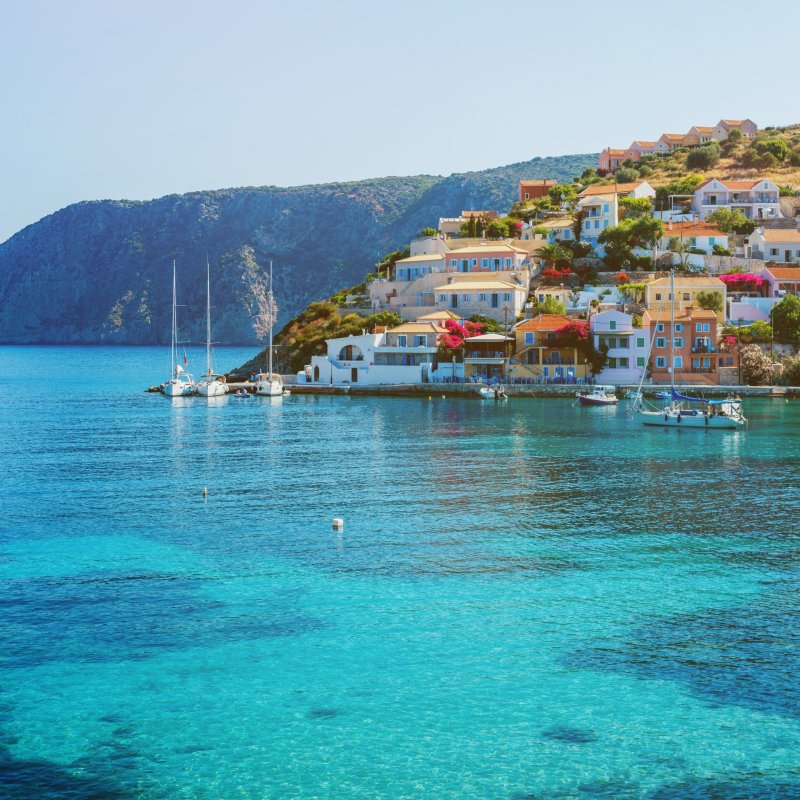 One of the seven Ionian Islands lying off the west coast of Greece in the Ionian Sea, Lefkada, also known less frequently as Lefkos, is the third-largest after the popular all-inclusive resort islands of Corfu and Zakynthos. Luckily — due to the fact Lefkada sports no airport, it is a less touristic destination, but by no means should be overlooked as a vacation spot. If anything, this adds to its appeal.
Lefkada's turquoise waters have led to its nickname — the Caribbean of Greece — and images will speak for themselves.
I always find a new cove or activity when visiting Lefkada and love visiting either in the spring or autumn as, even though it doesn't get terribly crowded in the summer months, many Europeans have bought second homes here, so it can get a little packed. Many visitors are surprised at how green Lefkada, and indeed the Ionians in general, are. This is due to heavy rainfall in the winter months that sometimes carry on into spring. Be aware of this when planning your trip, and let's explore some of the fantastic experiences on beautiful Lefkada island.
1. Porto Katsiki Beach
Because of the landscape and vividly colored waters, the seas and beaches around Lefkada are considered to be the best in the Mediterranean. One of the most famous beaches on the island is Porto Katsiki. Located at the south of the island about an hour from the capital, the views of the rugged, wild white cliffs tumbling into the sea make for a magnificent backdrop and contrasts significantly with the lush green vegetation atop the cliffs and the turquoise waters.
Its picture-postcard quality hence makes Porto Katsiki a very popular destination for sunbathers, sun worshipers, and photographers alike, worth a visit for those stunning views.
Forty-five minutes from this famous beach lies Sappho Boutique Suites in the seaside village of Vasiliki. There are eight suites with either balconies or plunge pools, and the establishment has a 22-meter infinity pool with sweeping views of the bay — great for relaxing in the evening after a day out. Sappho Boutique is a good base for exploring the south of the island, although at just 129 square miles, nowhere on the island is too far.
2. The Lighthouse Of Lefkas
Built in 1913, the lighthouse is perfectly located atop Cape Ducato, offering stunning views across the Ionian Sea and, on a clear day, out as far as the Kefalonia and Ithaca islands. The waters around the lighthouse offer excellent scuba diving as visibility reaches 98 feet in some places.
Cape Ducato is reputed to be the place where Sappho, the Greek poet born on the island of Lesvos in 630 B.C., leaped to her death because of her unrequited love for Phaon, the ferryman of Lesvos. Little is known how she ended up on Lefkada, but whether you believe this myth or not, looking at the cliffs below this beautiful spot will send a shudder down your spine.
To reach the lighthouse means a 10-mile drive down a track of unpaved road, but it is worth putting up with the rocks and bumps. No facilities are here; you're purely in nature, so pack water and maybe a bite to eat.
3. The Waterfalls Of Nydri
Lefkada is surrounded by high mountains, and as a result, has an abundance of underground water — another attributable reason for its lush and fecund landscape. These mountain waters culminate to make several waterfalls, from small springs to drink from up in mountain village squares to the large waterfall found on the outskirts of the town of Nydri, hence its name, that ends up in the large Dimossari gorge, gauged out of white rocks, where it makes a beautiful swimming lake. Fun fact: Dimossari comes from the name Dimos, the ancient state in Greece where many watermills were developed.
Nydri is a seaside village about 10 miles south of Lefkada Town, the capital, that has a bustling port that services other Ionian Island destinations such as Ithaca and Kefalonia. Its attraction is the waterfall and gorge combined with its sandy beach with views across to Skorpios, the private island once owned by Aristotelis Onasis.
Many people enjoy coming to walk along the seafront, view the colorful fishing boats and the statue of Aristotle Onasis, and enjoy a fish lunch or dinner at Basilico, popular in the area due to its simple yet delicious meat and fish dishes with good-sized portions at very reasonable prices.
One mile from Nydri along the coast you'll find the luxurious Villa Veneziano — five suites that can be rented individually or as a whole villa. With a swimming pool and pool house and views out to the Mediterranean, treat yourself to a stay. Perfect for couples, honeymooners, or a large group of friends.
4. Lefkas Earth Winery
Four miles from Nydri and its waterfalls, toward the harbor town of Sivota, lies Lefkas Earth Winery — a must-visit for wine aficionados. A free tour takes you through the local winemaking process using two varieties of grapes cultivated only here: Vardea and Vertzami. The result is dry or sweet white, red, or rose wines. You'll also get to see ancient winemaking and farm tools as well as an olive oil press and walk through the vineyards. Even if you're not a wine fan, just being amongst nature is a pleasurable experience.
Call ahead to check opening times, especially out of season.
If you choose Sivota as your base, you'll notice many tavernas along the waterfront. Head for Taverna Stavros as this is one of the better ones offering a selection of fresh fish of the day, meat dishes, and vegetarian options.
Note that Sivota itself is a place where yachts can tender for several days at a time, hence it gets very busy in the high season.
5. Monastery Of Saint Nicolas
Reputed to have been constructed after the Crusaders visited the island with the body of Saint Nicolas in 1087 A.D., what started out as a small church on a hill about seven miles from Porto Katsiki beach near the hamlet of Niras in the far southwest of the island developed into an important agricultural and religious place, playing an important role in the spiritual and national awareness of the people of the region.
After several renovations due to seismic activity, since 2013 it has been used as a convent housing three nuns and is open for daily visits for all. You don't need to be religious to appreciate the tranquillity of the place, and the two youngest nuns speak good English with a surprising sense of humor. Sit and drink a glass of homemade lemonade with them in their courtyard, buy products made from their beehives or preserves grown on their grounds, and take a look around the monastery. Services are held every Sunday from 7 to 10 a.m.
It's one of my favorite places to visit on the island, and the nuns really make you feel at home.
6. Lefkada Sea Lakes
As you drive into Lefkada Town, it's hard to miss the various lagoons that surround the area. They are home to many various species of migratory birds depending on the season, plus owls, hares, foxes, ferrets, and weasels to name but a few wildlife species they sustain.
The Sea Lakes are a protected area, but it's easy to wander around the outskirts to spot wildlife — a perfect morning trip for nature lovers that can be combined with exploring Lefkada Town's delights, too.
7. Church Of Agios Ioannis Antzoussis
Another church worth paying a visit, purely for aesthetic reasons, is that of Agios Ioannis — Saint John — built into a rock above the beach of the same name. It's a small whitewashed chapel, the oldest on the island, dating back to the 16th century. It's distinguishable due to its stone roof and bell tower.
Inside, you'll find rare, painted Byzantine icons of Orthodox saints on the walls, and it's also said that Apostle Paul preached in the church's yard in the first century A.D. during his mission to spread Christianity, making it an important place for the church.
Services are no longer held here, but due to its surroundings and history, it makes for a peaceful place to frequent.
Know Before You Go
Lefkada is actually linked to the mainland of Greece by a pontoon bridge.
Driving from Athens on a well-serviced national road takes four and a half hours, Alternatively, take an internal flight to Preveza on the mainland, then a half-hour taxi ride, or hire a car at the small airport. In the summer season, there are direct flights to Preveza from several European destinations.
Being linked to the mainland allows you to explore two Greek destinations in one during your vacation.
Want more Greek island inspiration? Read up on seven gorgeous Greek islands you must visit and the Diapontia Islands: Greece's best-kept secret.