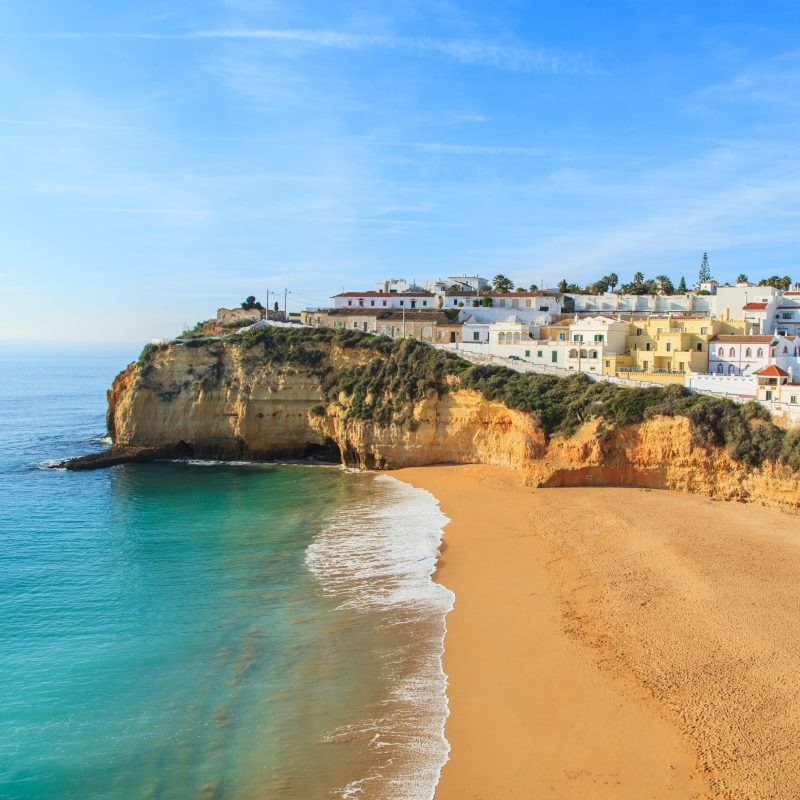 Southern Portugal is the perfect fun-in-the-sun European holiday. Year-round sunshine, white sandy beaches, open and friendly people, a kick-back lifestyle, great food, amazing wine, unique history, and views that go on for miles. With its Mediterranean-like climate and far-flung location, there are fewer tourists. This is particularly true on the southwestern coast, but things heat up as you approach the Algarve region.
Portuguese history is an amalgam of Celtic (900 B.C.), Roman (212 B.C.) Germanic (5th and 6th centuries), and Moorish (8th century) influence. When it finally became an independent kingdom in 1140, the people were a melting pot of local and far-flung heritages. You can still see many Moorish-inspired architectural designs across the region which give the countryside a distinct character.
Portugal, from Porto south to Lisbon, on to Sagres, and across to the Algarve region, offers a changing landscape and glorious weather. This small country is big on flavorful foods, enticing history, intoxicating wines, and colorful people.
1. Enjoy The Gracious People
Warm, friendly, and gracious, the people of southern Portugal live in the moment, take every minute slowly, and enjoy what their land has to offer. Whether they are making wine, tending their land, cooking a meal, or strolling along the beach, they are present in the task at hand.
There is no hurried, city rush happening in the countryside. Viva a boa vida ("Live the good life") and enjoy what you have.
2. Soak Up The Warm Sunshine
Faro, on the southern coast, boasts an average of 3,036 hours of sunshine per year. When you divide that by 365 days, it equals 8.3 hours of sunshine per day! If you love hot, languid days relaxing with a beautiful beverage paired with an expertly prepared local culinary specialty, this is the perfect place for your next getaway.
3. Sample Amazing Food
Of course, seafood is high on the list of local cuisine. Copious amounts of codfish and sardines find their way into every menu. Pasteis de Bacalhau, a fritter made from salt cod (Bacalhau), mixed with potato, onion, and garlic then fried can be found on almost every menu. They are a delicious local staple and certainly worth a taste test. Salty, fishy, and soft, you will always remember your first visit to Portugal when you eat one.
Portuguese sweet rolls are eaten at every meal. These tasty little gems are addictive and not very low in calories. You may find you are seeking out your new favorite Portuguese bakery when you return home. For dessert, try the traditional pastel de nata, an egg custard tart that will have you begging the chef for the recipe.
The cheeses of the southern region are wonderfully unique. Most notable is Nisa, a hard cheese with an earthy flavor. Another mouthwatering option is Serpa, a sheep's milk cheese punctuated with spicy notes. You will surely unearth some excellent local finds as you wind your way south.
4. Sip Spectacular Wine
The Alentejo region of southern Portugal where the climate is hot and dry produces some of the country's most distinctive wines. Small, family-owned vineyards dot the landscape with rows of trained vines and small herds of livestock. While long known as a "table" wine region and second to the country's renowned Porto regional wines, the Alentejo region is becoming recognized as an excellent wine producer in its own right.
Well-loved and flavorful grapes like Cabernet Sauvignon and Syrah along with less-known varietals like Alfrocheiro and Aragonez grace the landscape and provide the profiles for the Alentejo region's red blends. The scorching summer heat forces these hearty vines to produce robust grapes which, in turn, produce glorious full-bodied reds. For wine lovers, southern Portugal is the main focus of their trip taking them away from the hustle and bustle of Lisbon.
5. Take In Beautiful Beaches
Drive south from Lisbon along the country's western coastline past Setubal and Sines and down to Sagres where you turn east and skirt Portugal's southern border. The beaches and ocean vistas with the hot sun dancing off the water and sparkling white sand will put you in a relaxing state of mind.
When you think about the beaches in southern Portugal, the Algarve comes to mind. Camilo Beach is supremely popular and for good reason, it is gorgeous. But the western coastline offers some beautiful options too. In Setubal, just south of Lisbon, is Praia de Galapinhos, a long narrow beach with azure waters. In Sagres, the beaches are better for surfing, as the strong waves can make swimming extremely challenging. Visit Praia de Mareta to watch the agile surfers hit the swells and hang ten while you work on your tan.
6. It's All About Cork
Portugal produces more cork than any other country. Cork oak tree-studded highways in the Alentejo fill the landscape with their sturdy trunks and spreading canopy. Of utmost importance for the wine industry, cork has become an ecological go-to flooring among other novel uses.
The process of harvesting cork requires stripping the bark from the tree. The wonderfully resilient cork tree is not harmed and replenishes the bark to be harvested again and again.
7. Explore A Dark Sky Alqueva Reserve
Dark sky reserves are increasing in popularity. A reduced light area that is preserved for ultimate star gazing. Seeking out these dark sky reserves will reward you with the most spectacular night sky you have ever experienced. The International Dark-Sky Association is working to protect the sky from light pollution and certifies areas around the globe as dark sky reserves.
The Alqueva Reserve is one such place that is working in harmony with nature. Every night groups will gather, some with large telescopes and dark sky-approved lighting like low-pressure sodium (LPS) lights. With millions of twinkling lights visible even without a telescope, it is difficult to tear away from the spectacular light show. You may find yourself staying and staring until sunrise.
8. Embrace Authentic Accommodations
Pousadas Of Portugal offers luxurious hotels and authentic stays across the Iberian Peninsula.
When traveling through the Alentejo region, stay in a 15th-century castle at the Hotel De Alvito. It's an architectural mash-up of Islamic, Gothic, Manueline, and Portuguese styles that makes for a unique and interesting accommodation. Another castle option, the Pousada Castelo de Alcacer Do Sal is a classic Moorish Castle overlooking the Sado River. Ancient buildings with modern upgrades, these authentic stays bring you to the heart of Portugal.
As you navigate toward the Algarve region, options take on a luxury resort feel. The Pousada Convento De Tavira Hotel Convento Da Graca is a beautiful 16th-century convent in the town of Tavira. Relaxing in the massive courtyard, you can almost see habit-clad nuns busily performing their daily devotions. Or you could try the Pousada De Sagres Hotel Infante perched on a cliff top on the southern tip of the country. The panoramic ocean views and classic Portuguese style are enchanting.
9. Leave The Tourist Traps Behind
While you are exploring southern Portugal, you may notice a lack of touristy attractions, that is, until you hit the Algarve. Embrace the country, the people, the slow pace. It is good for your spirit, there will be plenty of time to party the night away.