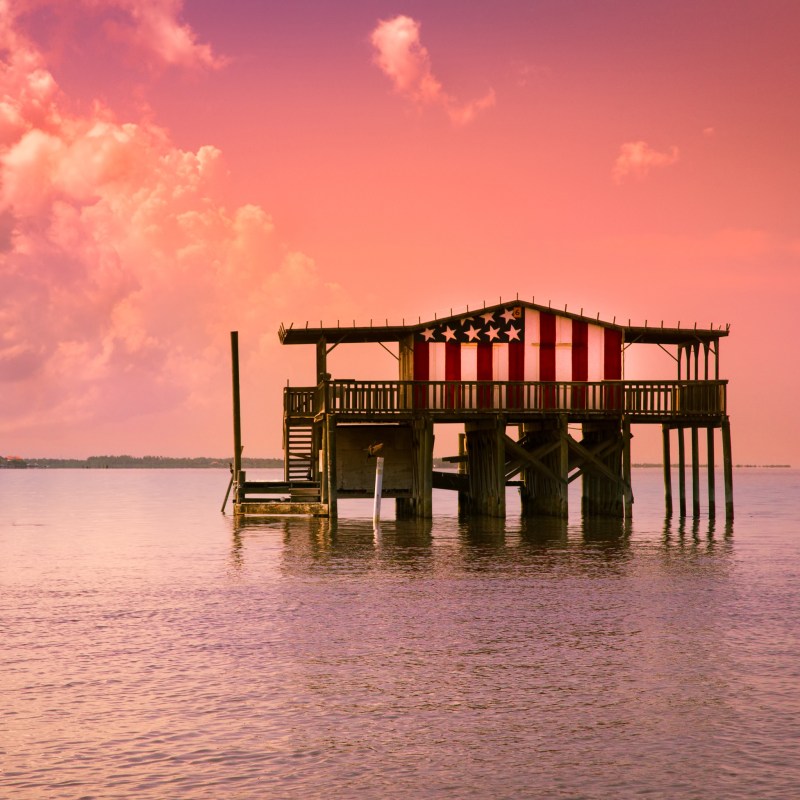 As you head for the open water surrounding Port Richey, Florida, approximately 30 miles northwest of Tampa, you'll see something amazing. There are eight houses on stilts jutting up out of the water.
These stilt houses — or "shacks" — are built on tall pilings and stand four to six feet above the water. At low tide, the water under the houses is just a few feet deep. At high tide, however, the water is roughly 10 feet deep. Seeing the houses raises a number of questions.
Who Built The Houses?
As is often the case, some of the exact details have been lost over time. What is known though, is that the first stilt houses were built sometime between 1916 and 1918, the History of Pasco County notes.
At that time, there weren't motorboats, so fishermen used long poles to push their boats out to Pasco County's fishing flats — about a mile offshore — to catch mullet and other types of fish. They then built the houses as camps above the fishing area so they could store the fish they caught, take shelter from storms, and generally have a place to rest — including overnight, a Sarasota Magazine article reports. When they found a place they liked, they simply built a stilt house and assumed "squatters' rights."
Why Aren't There More?
At one time, there were as many as 24 of these houses. But, in October 1968, Hurricane Gladys destroyed many of the houses.
The Florida state legislature then took steps to prohibit stilt houses from being rebuilt. After Pasco County residents fought back, the houses were "grandfathered in," allowing homeowners to rebuild — with some important stipulations.
"Those of us who lost our camps in the 1968 storm were allowed to rebuild, but our locations were pinpointed and now we rent an acre of underwater land," Maxine Swartsel Gause said in an article in the Tampa Tribune. "The state controls the resources and we pay $100 per year on a five-year contract."
Since then, other houses have been destroyed by storms or accidents. Damaged stilt houses — under state law — can only be rebuilt as long as the damages total less than half of the home's value. What's more, new houses can no longer be built. Considering all of these factors, it's easy to see why the number of stilt houses is dwindling.
What Are The Houses Like?
As you may expect of fishing houses, or shacks, they are much like they were over 100 years ago. The houses, which have long decks, don't have electricity, though some may have a generator or propane tank. There also is no plumbing, so freshwater must be hauled in. Each house has an outhouse, and the State of Florida requires that the outhouses have chemical toilets, Visit Florida explains.
Although they are rustic, the houses can be an ideal place for a getaway retreat. Indeed, many of the homes have been used by families for generations as weekend places and summer vacations.
That type of reprieve appeals to many people. Legendary country music star Johnny Cash, for example, enjoyed going to a stilt house owned by family friend Des Little to relax and enjoy fishing. In return for use of the stilt house, Cash bought Little a Toyota truck, an article in the Tampa Bay Times reports.
Can I Visit The Stilt Houses?
Can you visit the houses? The answer is both "Yes" and "No." All of the homes are private property, and the general public is not allowed onto them.
On the other hand, you can easily appreciate them from afar. For example, you can rent kayaks, stand-up paddleboards, and even pontoon boats at Port Richey's marina and get out on the water near the stilt houses. You can also book charters that pass the stilt houses. For more inspiration, consider: