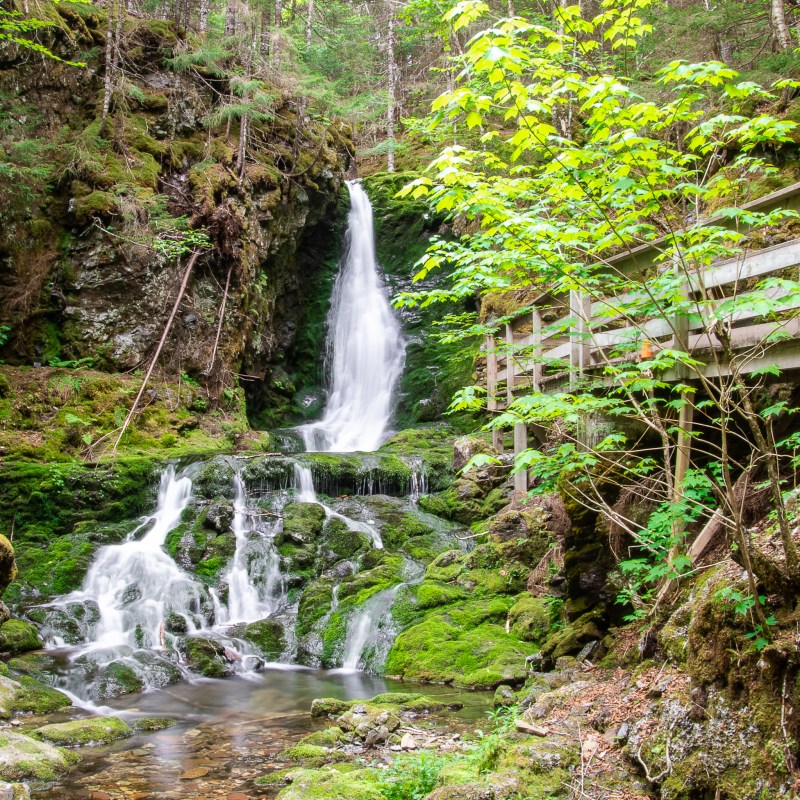 There's something magical about New Brunswick's Fundy National Park — and I don't just say that because it holds a special place in my heart. This was my honeymoon destination, and while I questioned the wisdom of starting a marriage with a battered tent, I never regretted spending time at this remarkable destination.
For starters, the Bay of Fundy has bragging rights that no other destination in Canada (or even the world!) can touch. It's home to the highest tides on earth. The water level can rise or fall anywhere from 11 feet to 53 feet, depending on location. Fishing boats bobbing on the water in the morning find themselves resting on the rusty red ocean floor a few hours later. At Fundy National Park, you can see the changing tide from a number of beaches, go kayaking on the rising waters, and experience camping with one heck of a water view.
Fundy National Park is located in southeast New Brunswick. Fredericton is 2 hours away, Saint John is 1.5 hours away, and Moncton is just a 1-hour drive. While all these cities have airports and Moncton has a train station, you'll need your own transportation to visit the Park with ease.
With plenty of winter camping and accommodation options, you can visit Fundy National Park year-round. However, many programs and amenities are seasonal in nature. Visitors will notice a climate difference between different sections of the park. For instance, there is frequent fog along the coast. As such, you'll want to bring along a sweater or light jacket for summer adventures.
When planning your trip, you'll want to consider putting some of these outdoor adventures on your bucket list.
1. Explore The Ocean Floor
It's just about impossible to visit Fundy National Park and resist the temptation of exploring the ocean floor. When the Bay of Fundy's huge tides recede, they leave behind an entire playground waiting to be explored.
As you explore the mudflats exposed by the departing waters, you'll notice barnacles, rock crabs, dog whelk sea snails, limpets, periwinkles, and other crustaceans. Birds notice them too, and you'll spy a number of species who stop by to snack on the tiny sea creatures left behind by the water.
You can explore on your own (see tide times here) or join one of the many free beach walks led by park staff. Regardless of how you set out, prepare to get muddy. This is the last place you want to wear your bright new running shoes.
2. Go On A Most Unusual Foodie Tour
The birds aren't the only ones enjoying the delicious ocean treats at Fundy National Park. With park staff leading the way, you can experience one of Canada's most unusual foodie adventures as you go foraging for wild ocean edibles. Some bites will likely be quite familiar, while others are rather unusual, to say the least. The excursion covers the salt marsh, the wharf, and the beach. You can see a short video on what to expect here.
3. Drive Back In Time
Speaking of exploring, the ocean floor isn't the only unique feature of the area. Fundy National Park is the only park in Canada that has covered bridges. Covered bridges are a bit of an unofficial symbol of the province (the local snack company is even called Covered Bridge potato chips!). As such, it seems fitting that New Brunswick's most famous park is also home to one of its most famous emblems. Fundy National Park's bridges are the Forty Five River No 1 (which dates to 1914 — check with staff about road conditions before you explore) and the Pointe Wolfe (which was built in 1916, damaged in 1990, and rebuilt in 1992).
4. Enjoy Canada's Best Golf Bargain
If you had to assign just one golf course to take the title of Canada's best golf bargain, surely Fundy National Park's golf course would win handily. This 9-hole, par 70 course was designed by Stanley Thompson, considered one of Canada's finest golf architects and the father of all National Parks courses. Locals love this golf course (and Thompson's legacy), and there's a Facebook page dedicated to sharing photos, course news, and golf memories. It's a great place to pick up a few tips before you head out with your clubs.
Playing here rings in at just $19 from July 1st to Labor Day (and just $16 in shoulder season) or $34 for a day pass ($28 in shoulder season). That's not too bad for what golf writer Anthony Pioppi calls the country's best 9-hole course.
5. Party Like Molly Kool
With a name like Molly Kool, you just know their life story will be, well, cool. Molly Kool was born in Alma, the small town next to Fundy National Park, and she became North America's first female sea captain in 1939 and held her own in a standoff with a Norwegian freighter. The park honors her pioneering life by hosting a 1930s-style kitchen party in the very home where Molly grew up. Skits, music, square dancing, and sing-alongs are all part of the fun. It's the perfect place to absorb good old-fashioned Maritime fun. (By the way, despite the spelling, Molly's last name is pronounced "Cole" — a fact even some locals don't know.)
6. Snorkel With The Salmon, If You're Lucky
If the travel stars align in your favor and your trip to Fundy National Park will take place in early September, you may just be in for a treat. Every year, 12 lucky people are selected to join Parks Canada biologists and Indigenous elders on a snorkeling expedition unlike any other. The Bay of Fundy Atlantic salmon is one of North America's most endangered animals. This one-day-only experience teaches participants about salmon's struggle as you snorkel alongside them before enjoying a picnic lunch and warm drinks.
To participate, you must submit an application by the first of July, then wait and see if you're one of the lucky people selected. For an experience this unique, it's well worth putting your name in the hat.
7. Get Lost In The World Of Geocaching
Like many National Parks, Fundy has ample hiking trails, biking routes, and outdoor attractions. You could easily explore them in a logical fashion, exploring one trail at a time. But if you're up for something different, geocaching might be the perfect way to explore the area. Geocaching combines hiking and treasure-seeking as participants aim to find hidden containers known as caches using their GPS coordinates. With 15 official geocaches within the park, there are plenty of challenges to keep explorers busy. Every year, staff create five new caches and retire the five oldest ones, so there's always something new to discover.
8. Camp On Or Off The Grid
Fundy National Park has four traditional campgrounds and an additional eight backcountry campsites. The traditional sites offer amenities such as washrooms, showers, electrical, sewer, and water hookups.
The Cannontown site, in particular, is well worth checking out. Created with camper-style travelers in mind, all sites are fully serviced and have firepits. The playground, golf course, outdoor amphitheater, and many other amenities are nearby, and, best of all, some of the sites have views of the Bay of Fundy itself.
Pro Tip: Sleep In Something Other Than A Tent
If you'd like something a bit more luxurious than camping, Fundy National Park has you covered.
One option is an oTENTik. These structures are like a blend of a glamping tent and a rustic cabin and come complete with beds and basic furniture. Fundy has 30 oTENTiks, and some are pet friendly.
Another option is a yurt. With insulated walls and roof and a propane stove, yurts are warm and toasty on chilly nights but still offer great ventilation in summer. Fundy has five yurts in total, and one is pet friendly.
The most unusual option of all is the teardrop-shaped Oasis, which offers a convertible table and double bed combination on the main level. There's also a suspended hammock loft reachable by a small ladder that can comfortably fit two kids.
Last but not least are the park's rustic cabins. These basic yet warm cabins (there are three in total) are especially popular with winter visitors who enjoy their comforts after a day of snowshoeing or cross country skiing.
Regardless of which you chose, in the summer months, overnight guests can enjoy a swim at the park's heated saltwater pool, which has lifeguards on staff.
Related articles: