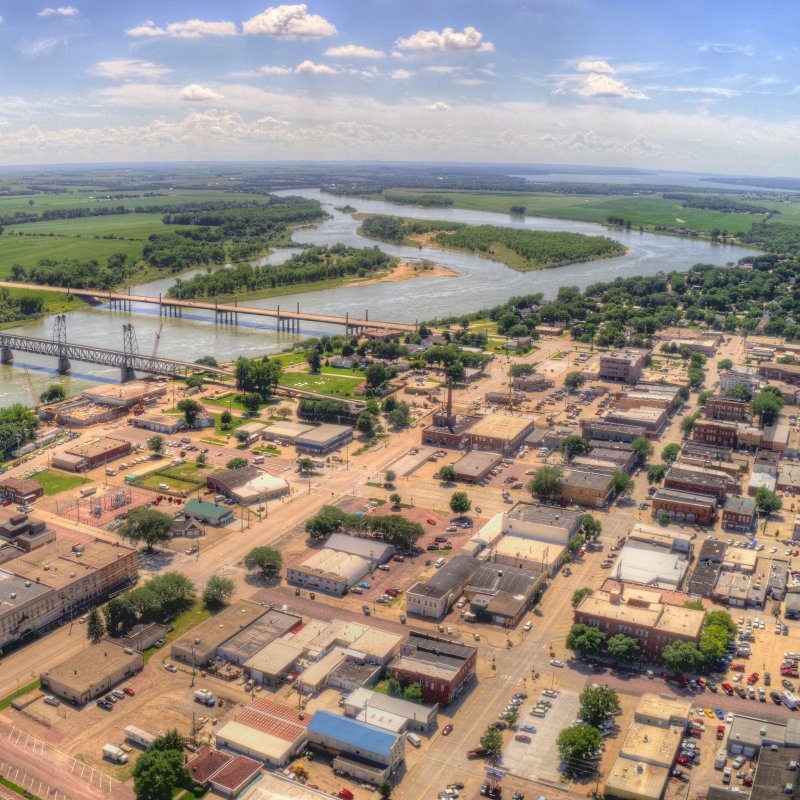 Once a hub for steamboat passengers and later a railroad center, Yankton has always been a major spot for travelers through South Dakota. The city even served as the territorial capital. Today, Yankton continues to be a popular place to visit, with outdoor adventures, historical attractions, and unique shopping excursions awaiting visitors. Here are 11 interesting ways to explore Yankton.
1. Cross The Missouri River On The Meridian Bridge
At one time, vehicles crossing the Missouri River at Yankton would drive across the double-decker Meridian Bridge. Each lane was one-way, so driving into town from Nebraska, vehicles would cross on the top bridge. The lower level was used to cross into Nebraska. Anyone who has driven across it recalls the iron-wrought lanes that would grip the tires and pull the car, so it always seemed like the vehicle would zig zag.
Eventually, the Meridian Bridge was replaced with a new four-lane bridge. Today, the Meridian Bridge is a pedestrian walkway connecting South Dakota and Nebraska. Placards along the lower level provide information about the bridge's history. Once on the Nebraska side, you can hike trails in the woods along the river's shoreline. During the summer, consider relaxing on the small beach or taking a dip in the Missouri River.
The walk across the upper level offers great views of the scenic Missouri River. You may see motorboats zipping along the water or kayakers exploring the waterway like Native Americans and fur traders once did.
On the Yankton side of the bridge, enjoy some of the city's public art, with murals celebrating the city's culture and sculptures highlighting the region's interests, such as Native Americans and deer.
2. View Yankton's Downtown Public Art
From the art at Meridian Bridge Plaza to murals and sculptures located along buildings in downtown's Meridian District, you'll want to pose for a picture with a set of angel wings or view a mural documenting the city's history, from the days of steamboats on the river to bison running wild. Local artists have added their take on the city's story with creative pop art along alleyways. You may even find a statue of Elvis Presley hanging out on the side of a store.
3. Tour Historical Architecture
While downtown, marvel at the late 19th-century architecture of storefronts along historic Third Street. Home to South Dakota's territorial courthouse, you'll appreciate the red stone art deco design. You'll find bits of history included in the walk, such as a marker sharing the story of "Crooked Nose" Jack McCall, the man convicted of killing "Wild Bill" Hickock in a poker game at a Deadwood, South Dakota, saloon. His trial was conducted in the courthouse.
You can view a replica of the territorial capitol in Riverside Park. The original building stood for four years, having been built in 1862. As you tour the open space, check out the quilt showcasing the area's history. You'll also find historical photos of Yankton.
Built in 1902 for $12,000, the Carnegie Library building is a great place to visit for a look into early 20th-century design. The building served as the city's library for 70 years.
4. Enjoy The Great Outdoors At Lewis And Clark Lake
While managed by Nebraska's game and wildlife department, Lewis and Clark Recreational Area is just minutes from downtown Yankton. With Gavins Point Dam managing water flow, the Missouri River includes the Lewis and Clark State Recreation Area. Stretching 25 miles long and nearly two miles wide, Lewis and Clark Lake is a popular destination for boating, water skiing, swimming, and fishing. With Nebraska's tall bluffs as a backdrop, Lewis and Clark Lake offers a postcard-quality view. Visitors to the lake often see eagles soaring above or perched in trees scouring for prey. The area is also known for wild turkeys, coyotes, deer, and waterfowl, including ducks and geese.
Gavins Point Dam, opened in 1957, is operated by the US Army Corps of Engineers to manage water flow downriver. With vehicle pull-off spots, the dam is an excellent spot for panoramic views of Lewis and Clark Lake. The dam's visitors center includes a gift shop as well as an observation deck offering a different look at the lake.
Since opening more than 60 years ago, the Gavins Point National Fish Hatchery and Aquarium has released more than 5 billion fish into the Missouri River and Lewis and Clark Lake. If you tour the aquarium during its summer months, you'll find different species of fish and turtles that call the Missouri River home. The aquarium also features exhibits that share the story of life on the river.
5. View Art At The G.A.R. Hall Gallery
Veterans of the Civil War built Yankton's Grand Army of the Republic Hall near downtown in 1887, and Union army veterans met there through 1924. Today, the G.A.R. Hall Art Gallery hosts rotating art exhibits featuring world-renowned artists as well as local and regional artists. The art gallery also features a collection of antique furniture related to the area's history, including a table used during the Jack McCall trial at the territorial courthouse.
Outside the mid-Victorian Italianate-style building stands a cannon that was used by the Union army at Fort Pitt in 1862.
6. Visit Old Yankton At The Living History Town And Museum
Relocated to the historic Mead Building in 2018, the Dakota Territorial Museum shares the region's history through a series of exhibits that explore the lives of Native Americans, Lewis and Clark's expedition, pioneer life, and more.
With plans to eventually relocate historical buildings from Westside Park to the new Heritage Park at the museum, visitors can currently tour the living history town at the city park. With buildings such as an old schoolhouse, railroad depot, and blacksmith, the outdoor museum offers a walk through the early days of Yankton.
7. Tour Yankton's Historic Homes
With houses built in the early 1870s, you can experience some of Yankton's best-preserved historic homes on either a walking or driving tour. The interactive tour takes you along neighborhoods featuring houses of all styles, including Italianate, cottage, and Queen Anne. With homes built by military generals, bankers, and railroad tycoons, Yankton's home tour is an interesting walk through its past.
8. Shop Local In Yankton
If you're a fan of shopping local, then you'll love checking out Yankton's downtown shops and boutiques. Home decor and personal accessories are the names of the game at LilyCrest. With unique framing options that make your photos or shadowboxes pop, as well as soybean wax candles in vintage glass jars and accessories, such as earrings made of copper, you're sure to find something to take home as a remembrance of your Yankton visit.
Don't let the name confuse you, as The Lemonade Stand doesn't sell lemonade. Instead, the designers create home furnishings and accessories from reclaimed and repurposed barn wood from around the Midwest. You may find kitchen benches, TV stands, and more, along with accessories, such as coasters, utensils, cups, and dishware. You'll want to include a stop at Crazy Daisy's Popcorn for locally produced popcorn, with flavors such as caramel, chocolate, and cheddar cheese, plus cotton candy and nuts.
Where To Eat In Yankton
9. JoDean's Famous Steak And Buffet
Famous for its 50-foot-long buffet, JoDean's Famous Steak and Buffet is the place to dine when visiting Yankton. Its salad bar has enough side salads, soups, and tacos to make it a meal by itself. Toss in the potatoes, mac and cheese, and other sides, along with meats such as tender roast beef and succulent ham, and it's easy to see why JoDean's is considered South Dakota's best buffet. But, if you prefer a more traditional meal, JoDean's fried chicken, steaks, and burgers also rate among the state's best.
10. Charlie's Pizza House
Voted the best pizza in South Dakota, it's challenging to find a better pie than you will at Charlie's Pizza House. Opened in 1959, Charlie's is the state's oldest pizzeria and names its specialty pizzas after movie stars, including James Dean (chicken, tomato, and garlic), Marilyn's Mermaid Heaven (shrimp, crab, green olive, and black olive), and Humphrey Bogart (pepperoni, jalapeno, and pineapple). The Charlino — Charlie's version of a calzone — is popular with diners and features meatballs or chicken. The chicken wings and garlic bread are excellent starters.
Where To Stay In Yankton
11. Riverfront Event Center And Hotel
With 16 suites, the Riverfront Event Center and Hotel is Yankton's downtown boutique hotel. Consisting of four vintage buildings, the hotel offers a unique experience. Centrally located in the main business district, you're only minutes from attractions and restaurants.
12. Historic Argo Hotel
Located in Crofton, Nebraska, the Historic Argo Hotel — a former railroad hotel — features nine rooms with private baths featuring hot tubs. Some of the suites have balconies. Each suite is uniquely designed to create individual experiences. Mornings start with a three-course gourmet breakfast in the formal dining room. With freshly ground coffee, guests are invited to attend the coffee service about 30 minutes before breakfast. Following breakfast, the owners conduct a tour of the bed and breakfast, which includes a library and bar. Want to learn more about the Historic Hotel Argo? Read up on how I became a bed and breakfast convert, plus my seven favorites.