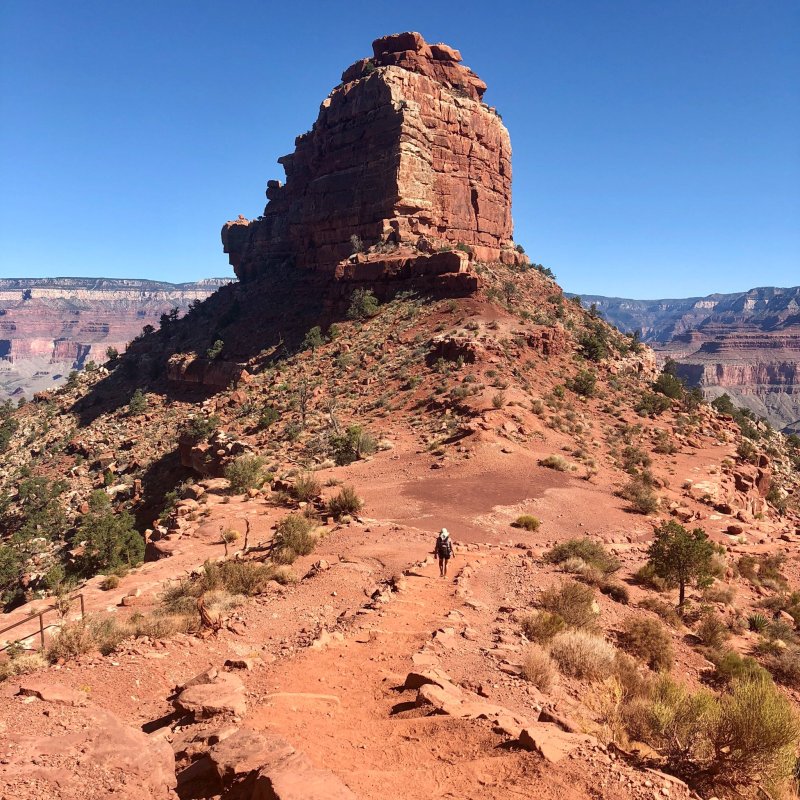 Sandstone buttes glowing in the early morning light; waterfalls cascading over mossy rock walls; blue-green waters of the mighty Colorado River snaking through the canyon: These are among the magnificent scenes you can expect on a Rim-to-Rim hike through the Grand Canyon.
At the same time, however, you might also experience cramping leg muscles, burning lungs, aching feet, and feelings of discouragement. The Rim-to-Rim hike is considered an extreme bucket-list adventure for a reason. Not only does it feature scenes of astonishing beauty, but it is also extraordinarily difficult — both physically and mentally.
Living just two hours from the Grand Canyon National Park, I have hiked below the South Rim numerous times — sometimes on fairly brief jaunts to scenic spots, like Cedar Ridge on the South Kaibab Trail or Indian Garden on the Bright Angel Trail, but also on the adventure considered the "big one" in the Canyon, the Rim-to-Rim hike.
Although many people choose to backpack and camp the Rim-to-Rim route over two or three days (the recommended way to do it), a day hike has a number of advantages. For one thing, there is no need to carry a large pack with camping essentials, and for another, there is no need for a permit.
Note that the Grand Canyon National Park advises against doing the Rim-to-Rim hike, or indeed any hike to the Colorado River and back, in a single day. But the legendary challenge, along with the ability to travel light and fast, has made the Rim-to-Rim in a day an increasingly popular bucket-list adventure. On a busy fall day, you're likely to encounter scores of other hikers all on the same quest.
Spring and fall are the best seasons to do a Rim-to-Rim hike. With warm sunny days and cool nights, late September/early October and late May are optimal.
Remember that the Rim-to-Rim hike should be attempted only by fit and experienced hikers with a well-thought-out plan. Here are 11 things to know before you set out on a Rim-to-Rim hike in the Grand Canyon.
1. It Could Be The Toughest Day Hike You Ever Do
Any hike below the rim of the Grand Canyon is considered strenuous — a point that the national park's website stresses. "Warning: There are no easy trails into or out of the Grand Canyon!" it says.
But the Rim-to-Rim hike is in a league of its own. Consider that you will be on your feet for 12 hours or more traversing 21 to 24 miles of rocky terrain. Along the way, you're likely to experience extreme temperature changes, ranging from as low as 30 to 40 degrees when you start out before sunrise, to the 90s or 100s when you reach Phantom Ranch in the bottom of the Canyon.
Then, there is the climb. Depending on where you begin, you will be descending more than 4,500 feet in elevation change, and then facing a daunting climb out of upwards of 5,000 feet.
Combine that with altitude that is higher than most places in the United States (6,800 feet at the South Rim, and 8,300 feet at the North Rim), and you have conditions that make for one of the most difficult day hikes anywhere.
And don't discount the mental battle. Like in a marathon, Rim-to-Rim hikers are known to hit a "wall" about halfway up the climb. I've found that a rest in the shade, a drink of cool water, a salty snack, and a pep talk from fellow hikers — sometimes even from strangers — can do wonders for that feeling of discouragement.
2. Advance Training Is Key
Considering all of the extreme factors, physical conditioning is crucial. For weekend hikers who are used to mostly moderate hikes, it is important to gradually increase the distance and intensity.
For several months before your hike, plan to get to trails that feature steep stretches of 10 percent incline or more, and try to get in some distances of 10 miles or more. Or, if there are no steep trails available in your area, substitute intense workouts on a treadmill or elliptical machine.
Then, as your hike day approaches, ratchet up the training even more. I usually try to hike at least three times a week during the month or two before a Rim-to-Rim hike, and then cap off the training with one or two hikes of up to 20 miles long — all tapering off with a few days of rest before the big hike. Other tips are available in this article.
3. Age Is A Factor, But Not The Most Important One
The group I've hiked with in the Grand Canyon is made up mostly of intrepid adventurers in their 50s and 60s — many of whom have done the hike annually for years.
My take is that although the hike can feel a bit more intense as you get older, the principles remain the same. The more you train, the better you will do on the hike.
While it's true that young hikers seem to have the easiest time on the steep sections of the trail, my group has also come across plenty of younger, seemingly fit hikers having extreme difficulty climbing the North Rim. Hikers of all ages appear to feel the effects of the heat, the high elevation, and the steep climb.
4. Planning Ahead Is Essential
Even though day hikes do not require permits, some advance planning is necessary.
The recommended Rim-to-Rim hike begins at the North Rim, traverses down the North Kaibab Trail for 14 miles or so to Phantom Ranch, and then proceeds nearly 10 miles up the Bright Angel Trail, for a total of about 24 miles.
If that is your chosen route, you will need to spend the night before your hike at or near the remote North Rim. Rooms are very limited, so early reservations are recommended. Some choices include the Grand Canyon Lodge North Rim (two miles from the trailhead) or the Kaibab Lodge (18 miles from the trailhead).
If possible, enlist a friend to drop you off at the North Kaibab Trailhead and then drive the more than four-hour route to the South Rim, where they can pick you up post-hike. After the long hike, I recommend also having a room reserved at the South Rim, where hotel choices are more plentiful. Choices include a variety of South Rim hotels or a range of options in nearby Tusayan.
Another Rim-to-Rim route option is to hike from the South Rim to the North Rim, starting at the South Kaibab Trail, down to Phantom Ranch, and up the North Kaibab Trail. This is the route I have taken for my Rim-to-Rim hikes. Although it is shorter at 21 miles, the hike up the North Rim is more extreme, gaining nearly 6,000 feet in elevation.
When it comes to lodging for the south-to-north option, plan to spend the night before your hike at the South Rim and have lodging and transportation set up for the North Rim. For a unique experience, check out the Grand Canyon Lodge/North Rim's rustic cabins.
Pro Tip: Most years, a Trans-Canyon Shuttle is available to transport hikers between the north and south rims. Because of the COVID-19 pandemic, be sure to check on availability before setting out.
5. Footwear Is Make Or Break
It should go without saying that you should set out on the Rim-to-Rim hike with a broken-in pair of good hiking shoes. Specifications differ depending on your feet and hiking style, so it's best to do some research well in advance of our hike.
A quick internet search on Rim-to-Rim hiking gear will turn up a wealth of information and recommendations.
Pro Tip: If you can spare the space and weight, I like to have a pair of hiking sandals along as well to allow for wading in Bright Angel Creek or beneath Ribbon Falls, one of Arizona's most beautiful waterfalls.
6. Proper Gear Can Save The Day
Along with proper footwear, hikers should be equipped with a comfortable day pack. I like a waist pack with side pouches for large water bottles and a pocket large enough to hold my camera. Other hikers prefer a streamlined pack with a water bladder inside.
Other things to be sure to have on hand: sunscreen; layers of clothing to deal with the changing temperatures; a first-aid kit; plenty of salty snacks; a hearty lunch; a cell phone; a headlamp or flashlight with extra batteries; a hat to shield from the sun; extra socks to allow for a change along the trail; and a bandana or cooling neck wrap.
7. A Super Early Start Is Recommended
On October 1, the sun rises over the Grand Canyon at 6:24 a.m. and sets at 6:11 p.m., according to the park's website. That gives autumn Rim-to-Rim-ers less than 12 hours of daylight. Because the hike can take anywhere from 12 to 15 hours (some can do it faster, some slower), you likely will be hiking in the dark at some point.
For me, a before-sunrise start is preferable to an after-sunset hike. It will be cold out there in the morning, but I recommend a 4 or 5 a.m. start.
Pro Tip: Take along hiking gloves to protect your hands from the chilly morning temperatures.
8. The Downhill Section Can Be Grueling
Even though the uphill stretch rightfully gets most of the attention, remember that the downhill section can be difficult as well.
Regardless of which route you choose, you will have at least seven miles of steep descent to start out your hike. After a few miles, the rocky surface and downward steps will take their toll or your knees and toes. Here is where a well-fitted pair of hiking shoes is critical. Many hikers end up with bruised and blackened toenails from the constant bumping of their toes against the front of their boots.
9. Muscle Cramps Are Common (Try To Avoid Them)
For me and many other hikers, the hot temperatures and grueling pace often result in sharp leg cramps, which can be debilitating.
The muscle cramps are said to be caused by an imbalance of electrolytes, dehydration, and fatigue. Among the ways to avoid leg cramps is to stay on top of your electrolytes (levels of sodium, potassium, calcium, and magnesium) by adding supplement tablets to your water and eating salty snacks. The National Park Service recommends drinking some plain water and some with electrolyte supplements. I also like to have packets of energy gel and salt tablets on hand in case of emergencies.
10. Plan For Water Fill-Ups
Although no one wants to carry water they don't need, it's important to fill up when you can so you never run short.
Under normal conditions, water is available at a number of stops on the Bright Angel Trail and the North Kaibab Trail. On the North Kaibab Trail, you typically will find water at the Supai Tunnel, 1.7 miles from the North Rim; Manzanita Rest Area, 5.4 miles from the North Rim; Cottonwood Campground, 6.8 miles from the North Rim; and Phantom Ranch, 14.2 miles from the North Rim. On Bright Angel, water stops are available at Indian Garden, 4.8 miles from the top of the South Rim; 3 Mile House, 3 miles from the top of the South Rim; and 1.5 Mile House, 1.5 miles from the top of the South Rim.
There are no water sources along the seven miles of the South Kaibab Trail, so carrying water there is especially crucial.
11. It Might Be Your Most Beautiful Hike Ever; Enjoy It
You've done the training, made the complex arrangements, and you're in one of the most beautiful places in the world — a true natural wonder. Be sure to embrace it all!
Despite time constraints and physical challenges, Rim-to-Rim is a one-of-a-kind hike and a highly enjoyable experience. And the feeling of accomplishment at the end? Hard to beat.
Pro Tip: The North Rim closes for the winter, so lodging there is typically available only from May 15 to October 15.