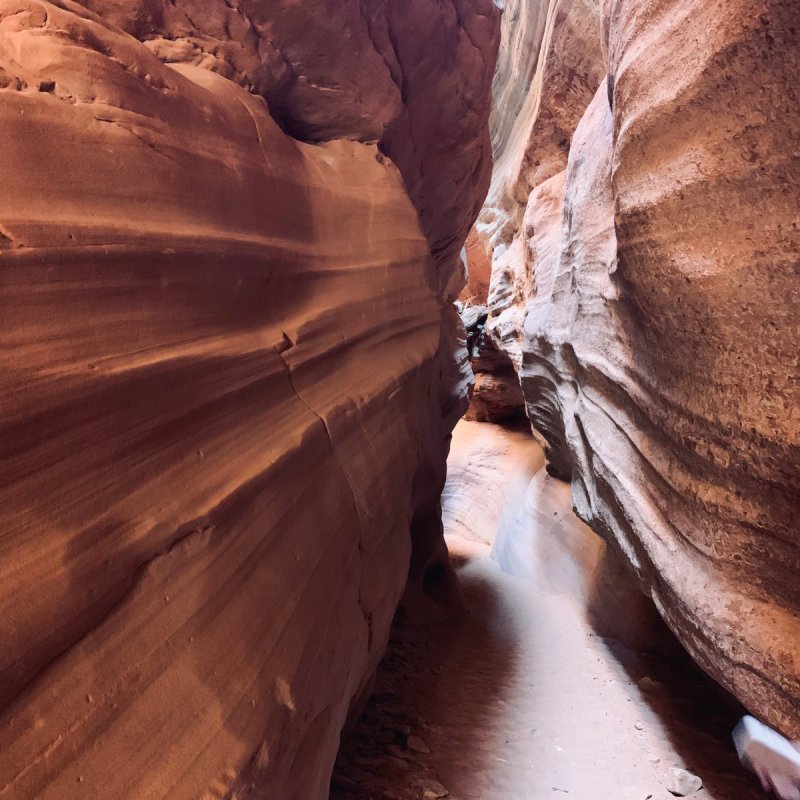 Pink twilight skies on the heels of bright blue, cloudless days, punctuated by enormous rugged outcrops; the scenery is so beautiful between Zion National Park and Moab, Utah, that it's almost impossible to take a bad photo. As you travel across the area, the scenery subtly changes, and every bend in the road offers new and exciting vistas.
Your road trip offers you many incredible drives, including Utah's Scenic Byway, Highway 12. Connecting U.S. 89 in Panguitch to SR 24 in Torrey and hitting heights of 9,000 feet, this epic 122-mile drive makes you believe we are lucky visitors of this enchanted landscape.
The most popular seasons for a Zion to Moab road trip are spring and fall. The temperatures are warm and sunny, averaging between 60 and 90 degrees (though water tables may be higher in spring and can adversely affect hiking plans). Summer is very hot, which can limit outdoor activities. Winter tends to be cold. However, whatever time of year you visit, you will be enchanted by the beauty of the desert.
Some of Mother Nature's best scenic designs are on display in Utah and Arizona. Many areas are operated by the Bureau of Land Management (BLM). As caretaker of this special land, the BLM manages these lands specifically for your enjoyment and pleasure.
1. Zion National Park, Springdale, Utah
Zion National Park is one of the most spectacular national parks in the country. As you wind your way through the park via the Zion-Mount Carmel Highway, the massive rock formations tower above you. Small parking lots and trailheads dot the road where switchbacks and hairpin turns reveal ever more beautiful, unparalleled views.
The visitors center is located at the Springdale entrance. Here, you can hop the shuttle to enjoy a tour of the park or set out on any number of trails. The infamous Narrows Trail, accessible by the shuttle, is an in-and-out hike through the canyon walls, traversing the North Fork of the Virgin River. The hike is 16 miles long from start to finish, but if you hike from the Temple of Sinawava (the last stop on the shuttle), you can create your own experience with an out-and-back hike. The hike requires closed-toe shoes that are waterproof and have a good grip. You will traverse slippery, unseen rocks. When the water level is higher, sometimes waist-deep, it can be tricky going.
TravelAwaits' own Cindy Barks provides a helpful list of things to know before hiking The Narrows in Zion National Park.
2. Bryce Canyon National Park, Utah
Bryce Canyon is just under two hours northeast of Zion. The drive along the Mt. Carmel Scenic Byway is breathtaking. Bryce is known for its unique rock formations called hoodoos. These towering, bright red formations are fascinating and seem to change color as the sun shifts across the canyon.
Soak up the views on the paved path from Sunset Point to Sunrise Point — an easy walk and memorable vistas.
For a more adventurous experience, get out and hike in Bryce Canyon National Park. You can spend several days exploring the canyons. For the very brave, sign up for a horseback ride along the canyon ridges. Canyon Trail Rides offers up-close guided tours through the thousands-of-years-old rock sculptures. Their two- and three-hour tours offer a one-of-a-kind, immersive, 360-degree view of the park.
3. Peek-A-Boo Slot Canyon, Kanab, Utah
You can loop this canyon, but you will need to squeeze sideways and scale a wall. With the ever-changing canyon topography, it can be different every time. However, you can take a very gentle in-and-out hike that goes for a mile or so and experience the amazing slot canyon. Pay attention to the weather — flash flooding can be dangerous.
The very best way to experience Peek-a-boo Slot Canyon is with Dreamland Safari Tours. Their experienced safari guides will navigate the tricky, deep sand "road" to the trailhead, where you can spend your time leisurely exploring the canyon. The light shifts and plays off the canyon walls, creating a magical experience. Due to the changing topography, you may have to scale a rock or two, but generally, it is an easy, mostly flat hike. Dreamland's three-hour tour will be an experience you won't soon forget.
4. Grand Staircase-Escalante National Monument, Kanab, Utah
Utah's Grand Staircase-Escalante National Monument is composed of three different regions that run across Utah, and it covers nearly one million acres of gorgeously rugged land. The Escalante Canyons section is a hiker's paradise with waterfalls, slot canyons, and spectacular backcountry views. The Kaiparowits Plateau region is a historic record of fossils preserved in the sedimentary rock. The Grand Staircase is the region's remote and wild area.
Ready for a crazy ride, try Hole-in-the-Rock Road, a 62-mile dirt road through the Grand Staircase. The main and side roads are friendly to four-wheel-drive vehicles — just make sure you pack a shovel.
Cindy Barks has you covered with the best experiences in Grand Staircase-Escalante National Monument.
5. The White Wave, Kanab, Utah
Reaching this behemoth on a 4×4 required vehicle is a challenge, however, once you have arrived, you can climb and explore until your heart's content. The White Wave does not require a permit from the BLM.
The tour offered by Dreamland Safari Tours is unique to the area and delivers an incredible view. As you traipse up the sandy trail, you will be awestruck by the sweeping vistas. You may need your trekking poles to get you up the slippery rock formations, and a place to store them when you slide down the sandy path.
Enjoying an alternative route on the way down you will discover ancient petroglyphs, remnants of ancient pottery, and spot a desert animal or two.
6. The Wave, Utah-Arizona Border
Pictures of The Wave are gorgeous, but nothing is like being there in person. The show-stopping view requires a six-mile out-and-back hike and a highly coveted permit for the Coyote Buttes North area.
The beauty of this windswept phenomenon is highly protected by the BLM, and only the very lucky receive one of the 20 daily permits issued. Located in the Coyote Buttes North area, it is a must-do for professional and amateur photographers who have solid hiking skills.
TravelAwaits' Jordan Palmer has more on visiting The Wave in all its difficulty and splendor.
7. Horseshoe Bend, Page, Arizona
Carved by the Colorado River, Horseshoe Bend is part of the Glen Canyon National Recreation Area and just south of the Utah border. There is ample parking at the trailhead, and the walk to the viewing area is about 1.5 miles round-trip — it's downhill to the canyon, and up you go on the way back. Although not terribly steep, it can get hot in the blazing Arizona sun hiking back up the paved path.
Once you reach the viewing area, you will be awestruck at the seemingly endless horizon and mammoth vertical drop. Not for the faint of heart, peering over the lookout is breathtaking. Much of the canyon has no barricade, so watch your step.
A famed social media photoshoot area, you will see many visitors perched on the edge of the canyon seeking the ultimate death-defying selfie. If you want to snap a selfie, be sure of your footing and proceed with major caution. A fall from here isn't survivable.
Our very own Vanessa Chiasson has more on visiting Arizona's beautiful Horseshoe Bend.
8. Rainbow Bridge National Monument, Lake Powell, Utah
The Rainbow Bridge National Monument is a sacred place for the local Native American tribes. You may hike the short trail from the boat dock or embark on the two-day hike along the Navajo Mountain Trail after securing a permit from Navajo Nation Parks and Recreation
An adventure like no other, Lake Powell Resorts and Marinas' Rainbow Bridge Tour takes you out to beautiful Padre Bay on Lake Powell. You can disembark and walk the in-and-out, one-plus-mile hike to view Rainbow Bridge National Monument, a wind- and water-formed natural wonder. Their individual audio tour highlights the spectacular landscape that juxtaposes vibrant blue waters with barren desert rock.
9. Arches National Park, Moab, Utah
Arches National Park is a wonderland of sandstone molded and shaped over millions of years by rain, snowmelt, wind, and the Colorada River. These forces still cause the landscape to change and evolve. The beautiful Delicate Arch stands today. The equally lovely Wall Arch toppled in 2008.
If you'd like to spend a day at Arches National Park, here's a handy guide.
Arches National Park is a popular tourist destination. If you plan to visit, head out very early in the day to avoid the mid-morning traffic and lines.
Pro Tips
When driving through Utah, or any region that has limited cell service and miles between towns, there are two general road trip rules: Keep your gas tank full and have a paper map in the car. You certainly don't want to be stranded without gas or drive miles and miles off your desired path.
Additionally, in Utah, check with the BLM to see if you need a permit for your desired adventure. Permits are required in many locations and need to be obtained in advance.
One last tip: You will more than get your money's worth on your National Parks Senior Lifetime Pass with all the fabulous parks in Utah and Arizona. The pass is good for all passengers in your vehicle is extremely cost-effective.