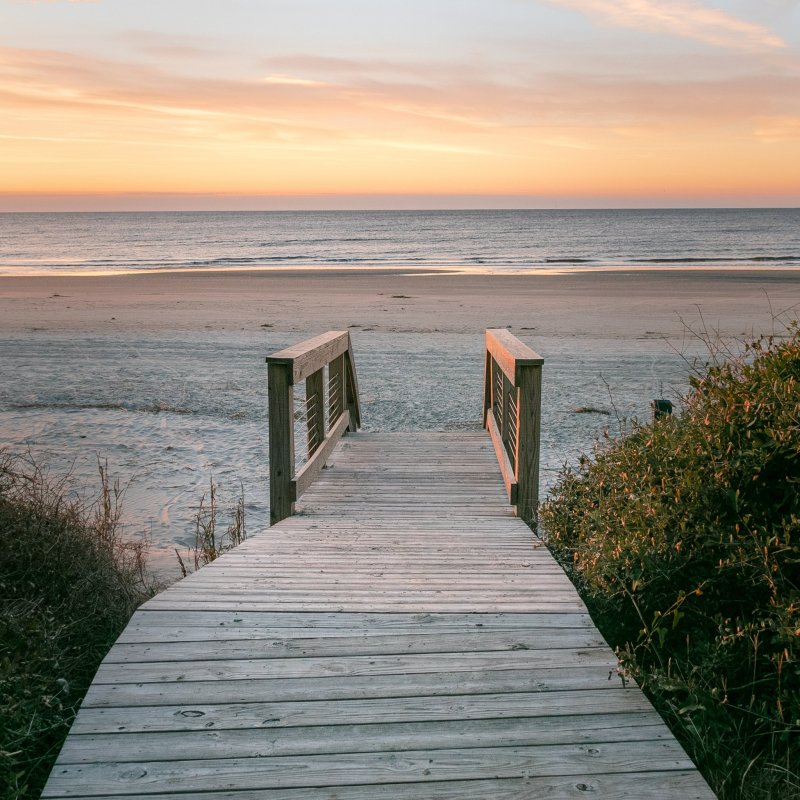 Seabrook is a barrier island located off the coast of South Carolina. It is 28 miles from downtown Charleston and takes about 45 minutes to drive from the Holy City to the serene, secluded beaches of the private community. Seabrook is a comfortable flight from the East Coast into Charleston airport and a golfers' paradise with two championship courses on-site. Golf is a great reason to travel here, but there is so much more to this incredible destination. Once on the island, visitors enjoy 2,200 acres of a semi-tropical maritime paradise that is a dream for nature lovers. It is populated with gorgeous flora and fauna especially live oaks, marsh areas, sea birds of all kinds, alligators, deer, and nesting sea turtles.
Additionally, Seabrook Island has a nationally recognized tennis center, an equestrian facility, and 3.5 miles of pristine shoreline for lazy days soaking up the sun. To enter the gates of the community, you must be a member, a guest, or rent one of the villas or homes on the property. Rental firms like Seabrook Exclusives and Coastal Getaways of South Carolina are two management companies with years of experience renting Seabrook Island properties. Several online outlets also offer rentals. There are no hotels on Seabrook, and access is not available if you don't possess a gate pass, which comes with a rental property for the duration of your stay. The amenities are the best reason to take a vacation on Seabrook Island, but the relaxed and laid-back vibe make the choice entirely yours. This is a list of some of the best things to explore on Seabrook in no particular order if you ever decide to leave the beach.
1. Lie On The Beach
Voted "Best Restored Beach" by The American Shore and Beach Preservation Association, Seabrook has one of the broadest and longest shorelines in the Carolinas. You can access the beaches from nine different boardwalks, either by walking, biking, or driving. There are parking spots nearby. If you love to catch a sunrise, head over to North Beach on the Eastern Shore. It is the first place to see the early morning light, and it has that natural beauty Seabrook is known for. As you stroll down the boardwalk, you will pass through the rolling dunes covered with sea oats and wax myrtles on your way to the soft sand. At the end of the day, head to Pelican Beach for a spectacular sunset that will put the ahhh in amazing at the end of your perfect day.
2. Hit The Links
There are two championship golf courses on Seabrook Island, Crooked Oaks designed by Robert Trent Jones Sr. and Ocean Winds designed by William Byrd (recently reopened after a Rees Jones renovation). Any golfer would be challenged and inspired by 36 spectacular holes. The courses wind through ocean, marsh surroundings, and maritime forests and are ranked among the Top 30 "Best You Can Play" in South Carolina. If you travel without your clubs, there are Callaway rentals available. The golf carts offer iPar7 GPS technology to identify target yardages, which helps golfers plan their perfect shot. The locker rooms for men and women provide showers and towels, lounges, and full bar service with refreshments. The Golf Pro Shop is available to answer any questions about fees, tee times, and lessons from its staff of PGA golf professionals.
3. Play Tennis Or Pickleball
With 15 Har-Tru clay courts and pickleball courts, you can enjoy playing a game or two at one of the "Top 25 Tennis Resorts" by Tennis Resorts Online in the country. If you would rather spend your day doing something else, they have lights on the courts for evening play and offer lessons and clinics to improve your game. If you forget your tennis shoes or attire, they have a full-service pro shop that sells anything you need, from shoes to clothing to equipment. Would you like to learn how to play Pickleball? The Racquet Club offers lessons and rental equipment for that, too.
4. Ride A Horse In The Gentle Waves
Did you know that Seabrook Island has an Equestrian Center? It's the only private island community near Charleston that offers a facility like this. If you are an advanced rider, you can tour the North Beach area on horseback, which is a lovely way to explore the barrier island. The center also offers walking beach rides for beginners and scenic trail rides through woods, marshes, and tidal creeks. If you want a lesson, they provide private lessons at their 22-acre facility that is visible as you pass through the entrance gates into the community. The Equestrian Center is a popular attraction, so if you are interested, make a reservation as soon as possible.
5. Observe Dolphins In Their Natural Habitat
At the northernmost tip of North Beach is Cap'n Sam's Inlet. At low tide, either in the morning or the afternoon, dolphins swim into the inlet to strand feed. Strand feeding is when dolphins push fish onto the banks to eat. This is more common in the spring and fall and peaks within 3 hours after low tide every day. It is impressive to witness this event, especially the beautiful pods swimming in the shallow waters surfacing and diving for food. You must remember to stand at least 15 yards away and observe them quietly. Swimming is prohibited when the dolphins swim into the inlet. Seabrook is a nature sanctuary for many creatures, including Sea Turtles, who nest in the dunes from May to October. Alligators are also common, so it is best to read and follow all posted signs and directives.
6. Visit Freshfields Village
Just a short drive outside of the gates of Seabrook Island is Freshfields Village. Freshfields has 30 shops, a boutique hotel, and a supermarket where you can stock up on groceries for your rental home. It also has several restaurants for take-out or sit-down meals when you don't feel like cooking. The center green at Freshfields is also a wonderful place to gather for live music and events throughout the year. The boutique stores range from men and women's clothing to home decor and books if you need a new beach read. FortyEight Wine Bar is a terrific place to pick up a bottle or sample a few different vintages by purchasing a wine card. The wine card allows you to pour small amounts of a few varieties to create your own flights. They also have nibbles to go along with your selections. Seacoast Sports and Outfitters has footwear and apparel for men, women, and children for the beach, the golf course, or the tennis court. They also have SUP, kayak, and bike rentals by the day or by the week.
7. Rent A Bike And Ride
Head over to Seacoast Sports and Outfitters to rent bikes (also kayaks and stand-up paddleboards) for a day, three days, or for the week, depending on how long you stay on the island. There are maps you can refer to online for reference under Seabrook Island Bike Routes. You can ride your bikes all over Seabrook as bike riders have the right of way around the traffic islands (cars are not supposed to pass you). Bike riders need to ride on the right side of the road and remain in a single line. Cars must observe a 25-miles-per-hour speed limit. Some trails end and you need to share the road with vehicles, but since bikes are so standard, everyone is very aware and supportive of this healthy activity. It is a fun way to see the island, and you can ride back and forth from Freshfields on paved paths. There are no bicycles allowed on the boardwalks to the beach, but there are bike racks, and all rentals come equipped with locks if you are leaving your bikes for an extended period.
You can also explore neighboring Kiawah Island by bicycle. Kiawah has over 30 miles of paved bike trails, but they don't permit riding on the roads. Remember that it can get sweltering during the day, so bring water and plan to take breaks. Get off your bike to take a look around and enjoy the stunning scenery. Plan your bike trip accordingly based on your fitness level. If you prefer to walk, use the walking trail map (offered at the visitor center) and just walk in and around Seabrook's paved trails explicitly created for walkers; no bicycles are allowed.
The best time to visit Seabrook Island is during the fall when the temperatures are warm but not so hot that you can't enjoy a round of golf or a tennis match. The resort has a community building called The Lake House with an outdoor pool and The Beach Club with two pools that require an amenity card for entry. The amenity card comes with your rental unit or needs to be purchased for an additional daily fee. There are also restaurants on property, open (seasonally) based on your visit, and Bohicket Marina, which is just a half-mile past the security gate. At Bohicket, there are two casual restaurants with stunning water views, nightly live music, and one of the best sunsets over the marsh you can enjoy in the Carolinas.
South Carolina is a dream come true for all sorts of travelers. Below are a few of our other SC recommendations.
For golfers: 7 Incredible Golf Courses For The Money In South Carolina
For mature travelers: 10 Fabulous Things To Do In Myrtle Beach For Mature Travelers
For city-dwellers: Fantastic Places To Stay In Charleston, South Carolina