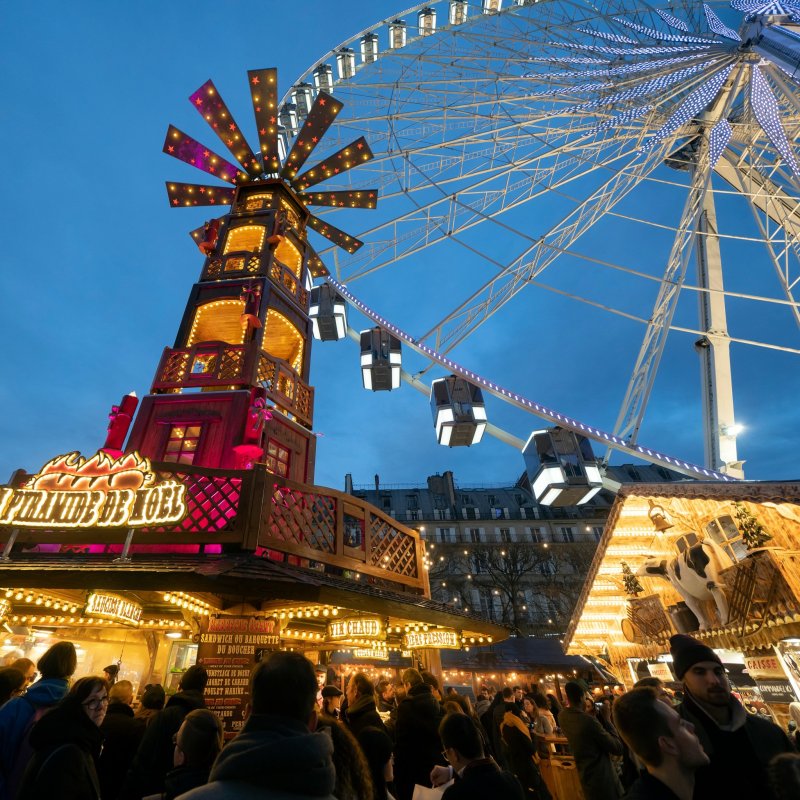 November is an ideal time for travel in Europe because it's off-season, so that means the plane fares and hotels are less expensive, by about 30 percent, and there are fewer tourists.
There are many cultural events that happen in November, especially in London, Paris, Vienna, and Rome — all of which are definitely worth making the trip.
Since Thanksgiving is a four-day weekend for most people in the U.S., it's a good time to visit these cities, which will have their Christmas events, lights, and markets set up. Note, though, that some of the recommended events take place earlier in the month.
It's recommended you purchase tickets to events online before you arrive. Note that many 2020 events have been canceled or postponed.
Paris
Paris Photo
Paris Photo is one of the top photo fairs in the world, with photographers and galleries from around the world presenting their latest and vintage photos. Seminars, films, workshops, and panel discussions are also part of Paris Photo, as are separate galleries with photos from up-and-coming photographers, and photo galleries sponsored by camera companies. The fair is scheduled for the second weekend in November and will last four days: Friday to Monday.
Beaujolais Nouveau
The French anxiously wait for the latest vintage of Beaujolais nouveau wine to arrive on the third Thursday of November. Wine bars, wine shops, restaurants, and cafes all over Paris proudly hang big signs and display balloons on the outside of their establishments. Beaujolais nouveau is a red wine made with Gamay grapes and is best enjoyed slightly chilled — at about 55 degrees Fahrenheit. There are over 100 festivals around the Beaujolais region to celebrate the big event.
Rolex Paris Tennis Masters
One of the final major tennis tournaments of the year happens in Paris — the Rolex Paris Tennis Masters. The top-ranked players compete in a round-robin style, indoor tournament at the AccorHotels Arena. Roger Federer, Rafael Nadal, Serena Williams, Novak Djokovic, and Naomi Osaka are just a few of the names that usually play.
Salon Du Chocolat
Five days of wall-to-wall chocolate heaven await you at Salon Du Chocolat. Over 200 chocolate makers, pastry chefs, and chocolate artisans present their latest lines of chocolates and treats, plus there are demonstrations, cooking classes, workshops, and even a fashion show where models wear clothes and accessories made of chocolate.
London
Hogwarts Snow Tour
Harry Potter fans will get a real treat when they go on the Warner Bros. Studio Making of Harry Potter Hogwarts in the Snow tour in London. The Great Hall is decorated with glittering Christmas trees and a giant yule ball with snow and musical orchestra. Fires are ablaze in the fireplaces, and the Gryffindor Common Room and the Boys' dormitory have festive holiday decorations. There are also props, costumes, and models you can see up close along with some of the movie sets.
The Lord Mayor's Show
An 800-year tradition is demonstrated in The Lord Mayor's Show every November. The Lord Mayor's State Coach follows a 3-mile procession with over 500,000 people participating on the sidelines. A combination of a parade and a pageant, it has marching bands, plus two age-old figures made of wicker, Gog and Magog, and other floats and attractions. The Lord Mayor's Show starts at 11 a.m. and finishes at about 3:30 p.m. Weather permitting, there's a fireworks show at night.
Bonfire Night
Originally named Guy Fawkes Day (or Night) when Fawkes tried to destroy the Houses of Parliament in 1605, Bonfire Night is an annual event held every November 5. Locals gather around bonfires and eat and drink, and there are musical acts and fairs. Bonfire Night fireworks are some of the biggest and best in London.
EFG Jazz Festival
The top jazz musicians and singers gather in London to perform at the EFG Jazz Festival at various venues throughout the city. Wayne Shorter, Jools Holland's Rhythm and Blues Orchestra, the Gipsy Kings, Robert Glasper, and Joe Pass are just a few of the big names that have appeared at the festival. Jazz composers including Gerald Wilson, Carla Bley, and Randy Weston have premiered pieces that they composed just for the festival.
Vienna
Voice Mania Balcanto
Vienna is the city of music, and not just classical music. Voice Mania Balcanto kicks off a three-week music festival that celebrates pop, rock, jazz, swing, and world music on November 8. Choirs from around the world perform acapella from balconies in the first district of Vienna and after they sing in churches around the city.
Adolf Loos Private Homes
One of the foremost architects of the late 19th century, Adolf Loos changed how the conservative society of Austria addressed architecture with his futurist and functional style in homes across the city. The Museum of Applied Arts is devoting an exhibit dedicated to the private homes, luxury villas, country estates, and social housing Loos designed to coincide with his 150th birthday.
Carnival Season
November marks the beginning of the carnival season of Vienna with the biggest ballroom dancing event in Europe. The quadrille is a dance that was popular in the 18th and 19th centuries throughout Europe and is revived for the ball. After the quadrille portion of the event, traditional waltzes are danced to the music of Johann Strauss.
Vienna Chamber Orchestra Classical Concerts
An obscure Vivaldi piece, Il Cimento dell'Armonia e dell'Inventione, is just one of the many pieces the Vienna Chamber Orchestra will perform in a series of classical concerts throughout the month of November to celebrate the music of Vivaldi, Bach, Mozart, and Beethoven. Concerts in November include Vivaldi's Four Seasons and Mozart's Requiem. Concerts are performed at the historical Minoriten Catholic Church, built in 1350, which was the first gothic church in eastern Austria.
Christmas Markets
The 20 magical Christmas markets in Vienna open in mid-November, so you can get your holiday shopping done early and before Black Friday. Below is a list of the top three Christmas markets.
Dream Market (Rathausplatz Market)
The formidable Gothic-style City Hall is the background for Rathausplatz Market, with over 150 stalls selling handmade Christmas ornaments, blown glass decorations, handicrafts, and hand-knitted gloves, scarves, and hats. There are cookie- and candle-making workshops for children plus a small amusement park and an outdoor ice-skating rink.
Spanish Riding School
A Renaissance-style market located in a famous horse facility, the Spanish Riding School is nestled in between two baroque palaces. Merchandise produced in the southern part of Austria is the specialty of the market along with gourmet food. Another fun part of the market is seeing the Lipizzaner horses perform.
Spittelberg Market
The Spittelberg Market is a more contemporary spin on the usual traditional markets in Vienna. The stands sell handicrafts, artisanal arts and crafts including glassware, artworks, and sculptures. The market's cultural events include a children's puppet show, contemporary dance performances, classical music, and choirs singing.
Rome
Rome Film Fest
The last week of October kicks off the Rome Film Fest, which lasts until the first week of November. Screenings, panel discussions, classes, and other film events promote film locally and internationally. Big-name directors who have attended the festival include Martin Scorsese, Jonathan Demme, and Wes Anderson.
Romaeuropa Festival
The Romaeuropa Festival is a prestigious multicultural festival featuring music, dance, theater, and visual art. The extensive program of events spans three months, from September to November. Last year, the festival featured 377 artists from 27 countries in 126 events.
Feast Of Saint Cecilia
November 22 is the Feast Of Saint Cecilia, who was the patron saint of music and who was believed to live in third-century Rome. The festival takes place in the church of Santa Cecilia in the Trastevere area of Rome, and you can also visit the Catacombs of San Callisto, where she was buried.
Pro Tips
Below are temperatures and weather conditions for each city for November.
Paris: The average temperature range is 43 to 52 degrees Fahrenheit with an average of nine days with rain.
London: The average temperature range is 45 to 53 degrees Fahrenheit with an average of 10 days with rain.
Vienna: The average temperature range is 40 to 48 degrees Fahrenheit with an average of nine days with rain and/or snow.
Rome: The average temperature range is 45 to 62 degrees Fahrenheit with an average of nine days with rain.