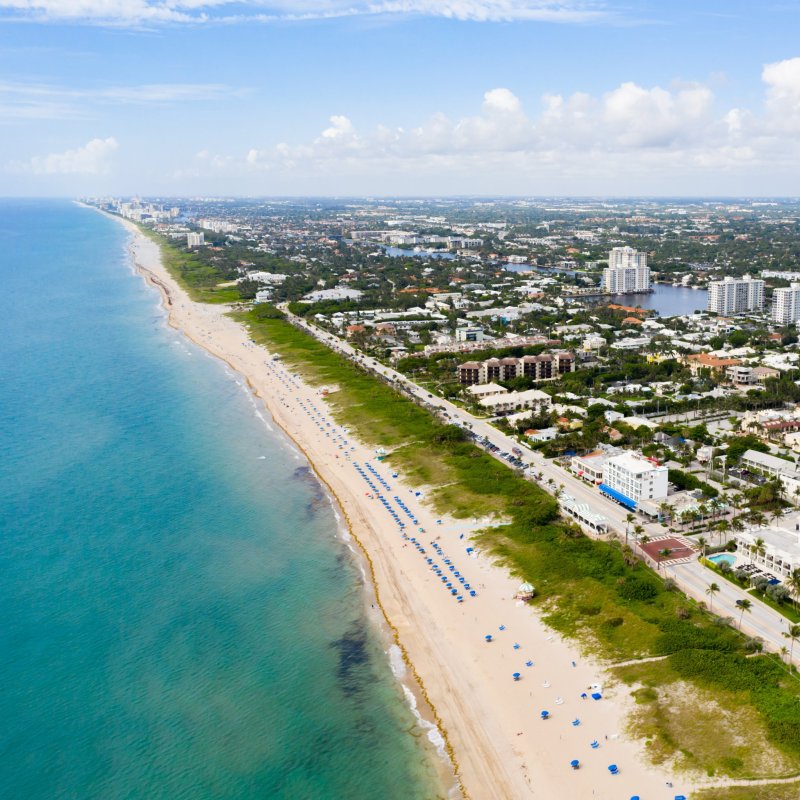 Living in Vero Beach, I am surrounded by incredibly interesting and beautiful towns running up and down the coast that are so close in mileage yet so far away otherwise. I am continually taking road trips to visit and discover as many as I can. From world-class beaches to one of the most historical cities in America, the pride of the space program to hidden gems, here are nine beautiful towns you must visit on Florida's East Coast.
My list runs north to south, so you could easily get in your car, make St. Augustine your starting point and Miami your final destination, and see them all in one fell swoop.
Disclaimer: I participated in a few of these stays/meals/activities on hosted press trips over the years. All opinions are my own.
1. St. Augustine
Explore Florida's Historic Coast, home to St. Augustine, one of the favorite and most visited Florida cities. The Fountain of Youth Archeological Park has beautiful grounds to see, costumed interpreters in action, and, of course, the waters from the Fountain of Youth. You can even watch the cannons being fired into the Matanzas River daily. Keep the history lesson going with a visit to Castillo de San Marcos National Monument, the oldest masonry fort in the continental United States.
Dining in St. Augustine is phenomenal, with Cuban cuisine at the Columbia Restaurant, great Southern appetizers from The Floridian, amazing seafood creations at Catch 27, and gourmet burgers at Michael's Tasting Room. Save room for incredible ice cream sandwiches from Peace Pie.
Stay at the St. Francis Inn bed and breakfast, the oldest inn in Florida, where you'll enjoy cozy, comfy rooms, an afternoon social, and free breakfast (that's delicious, I might add). They have a fabulous pool and are within walking distance (or use one of the guest bikes) of most St. Augustine attractions.
2. Titusville
Titusville is an underrated Florida East Coast Town that is often overshadowed by the cities on its north and south sides. There is a cute downtown in Titusville, a fantastic brewery (Playalinda), pristine parks, and many reasons to stop for a visit.
Titusville is also home to the iconic Kennedy Space Center (KSC) Visitor Complex, the best place in the world for learning about the space program, astronauts, and rockets. You can dine with an astronaut, my favorite offering at KSC. You'll learn firsthand about his/her career, space missions, and personal life. The food is good, too. Be sure to schedule several hours for your visit to the center; the exhibits are numerous, and you'll get sucked in looking at everything and learning.
Aside from dining at the Space Center, you can eat at one of two iconic places in Titusville: Dixie Crossroads Restaurant, known for fresh seafood, corn fritters, and themed dining rooms, or Loyd Have Mercy Restaurant, delicious soul food in a cute space with the best fried chicken and collard greens outside of Mississippi.
3. Sebastian
Sebastian is a small town on Florida's East Coast that is gaining popularity — and fast. Stay in unique and stylish waterfront cottages at Island View Cottages. These gorgeous units have a historic backstory with a modern-day facelift, free use of bicycles and kayaks, and are the perfect get-away-from-everything place to stay. Sebastian is also a great place to drop a line and catch snook, flounder, snapper, and Spanish mackerel.
Enjoy sweet and savory crepes for breakfast at Hen House Eatery and Florida's best hot peel-and-eat shrimp from Blackfins at Captain Hirams for lunch or dinner.
A fun and free (donations accepted) attraction in Sebastian is LaPorte Farms, a private animal encounter with tropical birds, llama, zebra, and tortoises. You can also choose a free book from the massive Little Free Library on the property.
4. Fort Pierce
Just south of where I live, Fort Pierce is my new stomping grounds. Here, you'll find a laid-back Old Florida town with modern-day amenities and fantastic restaurants. For the best seafood choices, 12A Buoy and Cobb's Landing are both excellent.
I recommend visiting the A. E. Backus Museum and Gallery (named after and dedicated to the works of the Florida landscape painter) and then crossing the street for the $1-admission Manatee Observation and Education Center, which focuses on manatee education and coastal awareness and has a cute gift shop. Then, step outside to see the manatees, weather permitting, as they are temperamental if the weather is cold. Sip a tasty craft beer at Sailfish Brewing Company, only a few blocks away.
If you are visiting on a Saturday, enjoy one of Florida's biggest farmers markets at Marina Square on the waterfront from 8 a.m. until noon. Also in Fort Pierce: one of our picks for the nine best hikes in beautiful Florida.
5. Jensen Beach
Jensen Beach is a lesser-known treasure on Florida's East Coast. Go out on the water by pontoon, airboat, sailboat, or kayak for an ecotourism jaunt around the Indian River Lagoon to learn about the unique landscape (the most bio-diverse lagoon ecosystem in North America). Rental and tour companies are plentiful.
Jensen Beach was the biggest pineapple supplier in the world at one time, so naturally, there is a Pineapple Festival to honor that heritage. You can enjoy live music, great food, carnival-style rides, and crafts for sale the next time this fun-filled event is hosted.
A great place to stay is the Jensen Beach Inn, situated in the cool downtown area. Eat breakfast at Jan's Place, go to Crawdaddy's for Cajun and creole cuisine, and try Sauder's Landing for fine-dining and dinner classics. Jensen has a dynamic downtown with lots to see, including an arts enclave with working artists and fantastic gifts.
6. Palm Beach
Palm Beach is a small area on Florida's East Coast with one of its wealthiest zip codes. You'll find shopping comparable to Rodeo Drive or Worth Avenue. This is the place for upscale boutiques, dining, and extraordinary art galleries.
My favorite attraction in Palm Beach is the Henry Morrison Flagler Museum. Called Whitehall, this Gilded Age winter estate of the railroad baron has room after room (75 in total) of beautiful antiques, art, and treasures. Stay for a proper afternoon tea at Cafe des Beaux-Arts (currently closed for the season) with panoramic views of Lake Worth and the West Palm Beach skyline.
Escape to paradise at the fantastic Marriott Singer Island Beach Resort and Spa on nearby Singer Island. Rooms are stylishly decorated and have everything you could want, while the outside patio has inviting fire pits that invite you to sit and relax.
7. Delray Beach
Delray Beach — one of seven magical U.S. towns to visit during the holidays — is one of Florida's most talked about artsy towns. Atlantic Avenue is the main thoroughfare lined with swaying palms, high-brow art galleries, unique boutiques, and fantastic restaurants. For lunch or dinner, try Vic and Angelo's orecchiette with Italian sausage or Rocco's Tacos yummy Austin Queso and guacamole. Order a hibiscus-flavored margarita if you've never tried one.
Delray Beach is home to a historic treasure, the Colony Hotel. Stay at the downtown location, which is brimming with Old Florida charm. It has private beach access, cabanas, and a saltwater pool at the Colony Cabana Club just 2 miles from the hotel, plus, it's pet-friendly.
While in Delray Beach, consider taking a Taste History food tour to learn the area's history and sample four to five local eateries. You can also play your favorite games and old-school pinball machines at Silverball Museum Retro Arcade.
8. Hollywood
In Hollywood, my top-rated attraction is the Broadwalk, a 2.2-mile pedestrian boardwalk along the Atlantic Ocean and Hollywood Beach with ice cream and souvenir shops and impeccable views. You can rent low-riders, adult tricycles, surreys, bikes, and special needs equipment at Sun and Fun Cycles to explore the Broadwalk differently.
The Downtown Hollywood Mural Project is incredible. I think Hollywood has the best murals in all of Florida, with jaw-dropping artwork all through the town. Art-lovers will also appreciate Hollywood's Art and Culture Center.
Stay at the mammoth Margaritaville Beach Resort with eight dining options and the FlowRider surfing simulator in the front of the Broadwalk. You'll have access to great pools with excellent sunbathing and tropical cocktails to enhance your vacation.
9. Miami
Miami is home to all walks of life, visitors from all over the world, the best Cuban offerings outside of Cuba, and second-to-none people-watching opportunities. Start your Miami experience at the Lincoln Road Mall, South Florida's premier open-air shopping, dining, and entertainment complex. It features pedestrian-only streets with sidewalk cafes down the center. Have a coffee and pastry at Paul Bakery Cafe or enjoy shopping at 80+ stores.
My favorite thing to do in Miami is to take a Bike and Roll Miami Segway ride around South Beach. If you've never tried it, riding a Segway is easy and great fun. Learn how during a 10- to 15-minute crash course (don't worry, you won't tip over), then zip along Collins Avenue and Ocean Drive amid the priceless antique and import cars. Take in the art deco capital of the world's stunning architecture, waterfront, parks, and local neighborhoods.
Conclude your Miami visit with a stop in Little Havana, the Miami neighborhood that is as Cuban as it gets. Feast on a Media Noche sandwich and cortadito (a Cuban coffee with a little milk) at Versailles Restaurant, an authentic eatery. While you're there, make time for Maximo Gomez Park on historic Calle Ocho, where you can see the dozens of domino players, then browse the shops for Little Havana souvenirs and apparel.