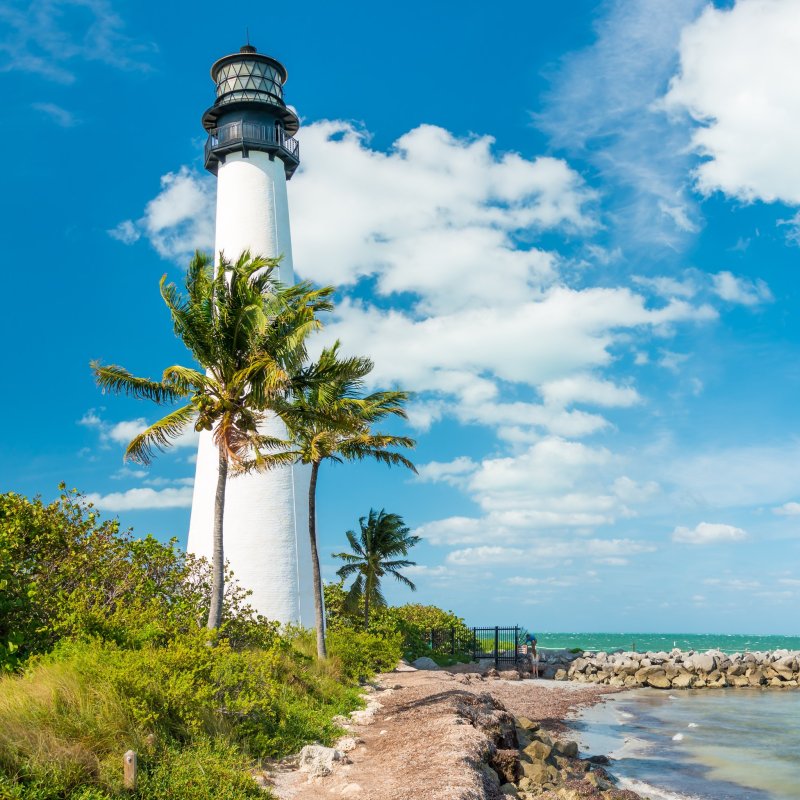 So, you are in glamorous Miami for a vacation. You have visited all the hot spots, admired the cool people on South Beach and the famous art deco buildings, tasted a bit of Cuba in Little Havana, and are keen to go a little farther afield on a fantastic day trip. You can't do much better than spending a day in Key Biscayne.
Key Biscayne is an island south of Miami Beach, with the Atlantic Ocean to the east and Biscayne Bay to the west. It's connected to Miami by the Rickenbacker Causeway, which opened in 1947. Until the mid-20th century, two-thirds of Key Biscayne was taken up by the largest coconut plantations in the United States. The causeway changed all that, and Key Biscayne is now a very upscale residential area. But apart from chic condos and resorts like the Ritz-Carlton, Key Biscayne features state parks, hiking trails, an iconic lighthouse, and plenty of different things to do and see that make it a great day trip. In addition, Key Biscayne is known as the place where Nixon and Kennedy met for the first time after the 1960 presidential election. It's an island full of history, which you can experience up close in many different places.
1. Climb The Cape Florida Lighthouse
Key Biscayne is blessed with two marvelous state parks: Crandon Park in the north and Bill Baggs Cape Florida State Park in the south. Within the latter, you will find a historical landmark that will take your breath away. The Cape Florida Lighthouse stands proud at the end of Bill Baggs. Originally built as a 65-foot lighthouse with wooden stairs in 1825, it's the oldest standing structure in Miami-Dade County, although it has been rebuilt and reinforced many times. The lighthouse's history includes being burned down by Seminole Native Americans, rebuilt, damaged by hurricanes, and again rebuilt; it has withstood a long list of adversities.
To get the most of it, climb the 109 steps to the top for an unparalleled view over the ocean and Miami. There is only one window in the staircase, and it's a long climb, so you may well get a little out of breath or even claustrophobic, but the views from the top are well worth the effort. It's such a romantic setting that quite a few people get married in the surrounding area, some after proposing at the top. Make sure you wear good shoes so you don't slip.
2. Explore Bill Baggs Cape Florida State Park
On the southern end of Key Biscayne, you are on historical ground. We already told you about the lighthouse, and you can easily spend hours in the surrounding state park. Beaches, fishing, hiking, and biking trails invite exploration in Bill Baggs Cape Florida State Park. Named Cape of Florida by the Spanish explorer Ponce de Leon in 1513, this island has long served as a haven and gathering place for escaped slaves and Black Seminoles waiting for boats to take them to safety in the Bahamas. The guided tours tell you all about the park's darker past and enticing natural beauty. Because of this past, Cape Florida has been designated as a National Underground Railroad Network to Freedom Site. If you are curious, Bill Baggs was the editor of a local newspaper who was very concerned about overdevelopment and was committed to preserving nature.
3. Kick Back At Crandon Park
Key Biscayne's other state park, located in the north of the island, is Crandon Park. Here, you'll find an abundance of palm trees while you lounge on a pristine beach, which is a far cry from Miami's South Beach. The water is shallow, but the greatest advantage is that it's not overcrowded. It's a paradise for swimmers and snorkelers. Sunsets are particularly amazing to watch here.
4. Find More History At The Park Zoo Ruins
Hidden within Crandon Park is what once was Miami's first zoo. Legend has it that a traveling circus broke down in Miami in 1948. The city had just acquired land in Key Biscayne and decided to establish a small zoo with the animals they purchased from the travelers. They seemed to thrive even in captivity and on the shore of an ocean, but Hurricane Betsy put an end to it. More than 200 animals died. Animal welfare concerns did the rest, so today, it's a rather wild botanical garden with abandoned cages, water features, coral walls, and free-roaming peacocks and iguanas. Join them for a stroll through idyllic nature. The present garden was mostly created by volunteers. Fun for the entire family is to be had at the amusement center of the garden, where kids and their families can ride in an authentic 1950s Allan Herschel carousel.
5. Hike Or Bike In The Bear Cut Preserve
Key Biscayne offers a lot for hikers and cyclists. Within Crandon Park and along the oceanfront, you'll find the intertwining hiking system and biking paths of the Bear Cut Preserve. In the shade of tropical trees, choose your path. All of them end at an impressive fossil reef, yet another aspect of the many different sceneries of the island. It is Key Biscayne's very own underwater petrified forest. All trails start at the Marjory Stoneman Douglas Biscayne Nature Center, where you'll find additional information about the reef.
6. Get Nostalgic At The Miami Marine Stadium
Like the zoo, the Miami Marine Stadium is another one of Key Biscayne's failed ventures. The stadium opened in 1963 as a venue to watch motorboat races. Despite the bad omen of a fatal accident on opening day, it thrived and packed the 6,000 wooden seats with spectators of boxing events, concerts, and much else. However, in 1992, it was declared unsafe and simply abandoned. Today you can get nostalgic contemplating the decayed cement steps and half-crumbled walls, which have created great canvases for graffiti.
7. Dive To An Underwater Cemetery
For the divers among you, Key Biscayne has a very unusual attraction: the Neptune Memorial Reef. Yes, believe it or not, it's an underwater cemetery that also serves as an artificial reef.
At approximately 3.25 miles offshore and at a depth of 40 feet below the ocean, stone lions guard the entrance to a resting place for those who prefer cremation. The ashes are encased in cement with adornments in steel and bronze and are then placed in the cemetery. The design of the entire venue is by artist Kim Brandell. Everybody can visit; you just need to decide for yourself if you find this creepy or enticing. In any event, it's an amazing experience unique to Key Biscayne.
8. Kayak Through Stiltsville
Just a few miles offshore, you can experience another eerie adventure: a tour of Stiltsville. In the 1930s, Crawfish Eddie Walker built a shack on the shallow seabed of Biscayne Bay. Many more followed, and the village became quite fashionable as a stopover to the Miami Beach resorts and a secret place for contraband and alcohol. Exposure to the elements, and finally Hurricane Andrew in 1992, took their toll until only seven structures were left standing, none inhabited today. A visit is like a trip to the abandoned gold rush towns in California, only on the water and in Florida. Naturally, Stiltsville can only be reached on water, and a permit is necessary. The website of Stiltsville Trust has all the details.
9. Stop At Virginia Key
Halfway along the Rickenbacker Causeway from or to Miami lies Virginia Key. You absolutely must stop to visit two great sites. The first is the Miami Seaquarium, deemed Miami's best aquarium, where you and your family can enjoy shows with dolphins and sea lions and admire the cute manatees (my favorites), sea turtles, and everything else that lives in the waters around Miami. In addition, it was home to the original Flipper.
The second remarkable place on Virginia Key is Beach Park. There is always a lot going on at Beach Park, from barbecues and hiking to swimming. Enjoy the colorful beach huts, which are quite unusual in their shapes and hues. The historic significance of the beach lies in the fact that this was the only beach in Miami where people of color and white people could mingle during segregation.
Pro Tip
As you can see, there is a lot to see and do on Key Biscayne, primarily outdoor activities. To enjoy it all properly, you might want to spend a night and make it a two-day trip. A great place to do so is the luxurious Ritz-Carlton. It doesn't come cheap, but then, nothing in Miami does. If you don't want to stay overnight, have at least a meal at one of the resort's great restaurants. They use Miami's best and freshest ingredients, and the cocktails are to die for.
Key Biscayne is one of many beautiful destinations in Florida. Here are a few other beachy getaway ideas: