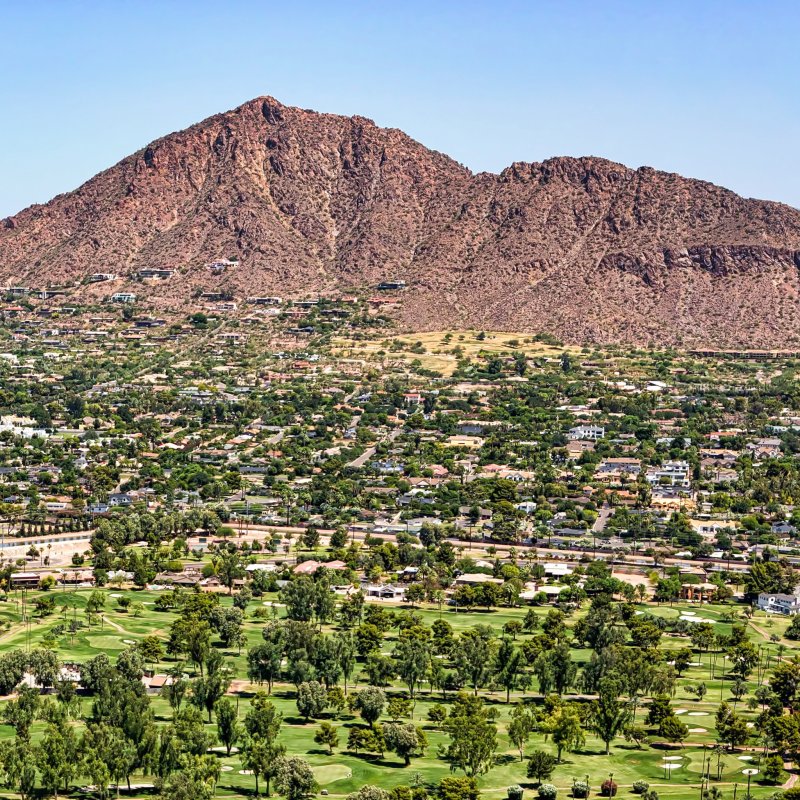 Sprawling between the high-end community of Paradise Valley and the charming Phoenix neighborhood of Arcadia is Arizona's version of a desert camel — at least, a camel's back.
Among the numerous rugged mountain ridges that dominate the Phoenix landscape, Camelback Mountain is arguably the most distinctive, resembling the back of a kneeling camel. Drive the freeways and thoroughfares of the Phoenix/Scottsdale/Paradise Valley area of the Valley of the Sun, and you're sure to spot the large reddish hump of a rock and its accompanying elongated peak that undeniably resembles a camel's head.
The unique rock formation regularly draws throngs of hikers who are intent on climbing Camelback Mountain. Indeed, hiking to the top of Camelback is a worthy goal on a visit to Phoenix. The hike is rated as extremely difficult, though, and it is not for everyone.
Here's the good news: Whether you accomplish the hike and are looking for a post-trek reward, or if you just want to gaze at the mountain from the comfort of a restaurant patio, the Camelback area offers countless spots that offer breakfast, lunch, or dinner with a view.
While some of the best places to take in Camelback Mountain are within the deluxe resorts that the area is known for, great views are also available at neighborhood cafes that just happen to sit at the foot of the camel along the busy Phoenix streets of Camelback Road and Indian School Road.
Here are eight spots that offer stunning views of Camelback Mountain, listed in no particular order.
1. Rita's Cantina & Bar, JW Marriott Scottsdale
For a dining choice that puts the mountainside virtually at your fingertips, head to the restaurant and bar at Scottsdale's luxurious JW Marriott. There, Rita's Cantina & Bar offers both a cozy indoor setting and a patio complete with fountains, flowers, string lights, and an enormous view.
Named for Rita's signature margarita drink, the restaurant offers authentic local and regional cuisine, such as a beet and goat cheese salad with Arizona pecans and chicken red chile enchiladas with cotija cheese.
The interior of Rita's is lovely, but for me, nothing beats sitting on the patio, taking in the sounds of the trickling fountains while gazing into the rugged face of the mountain.
Pro Tip: Arrive between 4 and 5 p.m., and you can get in on Rita's excellent happy hour menu that includes a variety of beverages — yes, including Rita's margarita — and Mexican-style appetizers.
2. The Henry
The Henry takes full advantage of its front-and-center location right along Camelback Road. The neighborhood restaurant faces toward the mountain, and its two-level patio offers plenty of spots for taking in the sight.
Great views are available through the large windows in the bistro-style interior. But, especially in the cooler seasons of late fall, winter, and early spring, why not opt for an open-air seat? When I visited in late September, the Phoenix heat was beautifully offset by the patio's shady location and cooling misters.
The Henry offers a huge menu of everything from coffee and pastries to sandwiches and appetizers to seasonal wine spritzers. For a light lunch, I recommend the spicy tuna and crispy rice appetizer alongside a grapefruit wine spritzer. Or, for dinner, try the Baja roasted chicken with charred jalapeno, guacamole, and flour tortillas.
3. Elements, Sanctuary Camelback Mountain Resort & Spa
With its terraced setting directly on Camelback Mountain, the Sanctuary Resort features some of the area's most stellar views of its namesake mountain. Among the resort's dining-with-a-view options is Elements, a venue that boasts extraordinary views of the surrounding Paradise Valley.
The upscale restaurant offers farm-fresh American cuisine with Asian accents. For lunch, check out the miso salmon bento box served with brown rice, steamed vegetables, and pickled cucumber salad. And for dinner, Elements features specialties such as Asian oysters Rockefeller appetizers served with Chinese sausage, and a tofu vegetable steam pot served with crispy tofu, forbidden rice, Thai basil, and a fiery coconut broth.
For a splurge, try the lobster bucatini served with sweet peas, pancetta bacon, and basil carbonara.
4. El Chorro
For a fancy brunch or dinner in a knockout setting, Paradise Valley's El Chorro is a local favorite. Known as an iconic fine-dining destination, El Chorro offers breathtaking views of Camelback Mountain from virtually any angle.
Still, the most coveted spot during the milder fall, winter, and spring months is the outdoor patio, where glowing firepits, wicker chairs, and shade umbrellas set the desert-dining atmosphere.
El Chorro is known for its Arizona flavors. During Sunday brunch, try the roasted pear and endive salad with burrata cheese, hazelnuts, pomegranates, and grilled red onions. Or, for something heartier, check out the classic huevos rancheros served with tri-colored tortillas, beans, chorizo, cotija cheese, and eggs. Dinner specialties include braised beef short ribs with garlic potato puree, and trout amandine with lemon brown butter, almonds and green beans, and lemon-oil-poached potatoes.
Pro Tip: Don't miss El Chorro's famous sticky buns — they've been featured on the Food Network's The Best Thing I Ever Ate. The restaurant's website notes that a basket of the sweet and sticky treats is served with every order of an entree before your meal arrives. "A mixture of cinnamon and butter gives them irresistible appeal," says the website.
5. O.H.S.O. Eatery & Nano-Brewery
The Phoenix location of the Valley's O.H.S.O. (Outrageous Homebrewer's Social Outpost) Eatery & Nano-Brewery offers a cool spot along the Arizona Canal with Camelback Mountain as a backdrop.
The brewery, distillery, and restaurant venue caters to users of the Arizona Canal Path, a nearly 50-mile trail that runs alongside the canal, and the back patio features a fun bike motif.
For a refreshing local brew, check out the Popcycle Blonde, a raspberry and lemon ale that is said to evoke the sound of the ice cream truck approaching, or the O.H.S.O. Brite, a pilsner-inspired ale with hints of herbal and floral aromas.
The menu features a range of sandwiches, burgers, salads, and entrees. Specialties include the beer-braised short ribs with garlic mashed potatoes and the green chili pulled-pork tortillas. For lovers of unique burger combinations, O.H.S.O. offers a PBJ burger featuring a beef patty, peanut-butter-and-bacon jam, and crispy onion strings.
Pro Tip: The brewery is a popular stopping spot for cyclists and walkers out for an excursion on the Arizona Canal Path. The flat, easy Canal Path bisects much of the Phoenix metro area and offers access to numerous neighborhoods and parks.
6. Chelsea's Kitchen
Views of the Arizona Canal vie with glimpses of Camelback Mountain at Chelsea's Kitchen, a mainstay in Phoenix's Arcadia neighborhood.
The roadhouse-style restaurant is located along the canal, and a patio offers canalside open-air dining. The restaurant, located in a rustic adobe brick building, features a wood-burning rotisserie and grill as well as a smokeyard.
Chelsea's bills itself as a celebration of the cuisine of the great Southwest, and its menu offers a combination of Southwestern and American comfort food. Don't miss the short-rib tacos, deviled eggs, and green chile cornbread.
7. Thirsty Camel, The Phoenician
The name of The Thirsty Camel alone should be enough to entice lovers of Camelback Mountain to the sumptuous setting at The Phoenician in Scottsdale.
Featuring panoramic views of the resort and valley beyond, the slick lounge offers a range of bourbons, whiskeys, and handcrafted cocktails. Try the signature Thirsty Camel, a refreshing mix of tequila, cucumber, jalapeno, lemon juice, prickly pear syrup, and egg white, and pair it with a bite of Sonoran crudite of smoked chile hummus, charred citrus, and cotija cheese.
8. Wally's American Pub 'N Grille
For a more casual vibe, but still with great views, Wally's American Pub 'n Grille is located in the Camelback Village Center shopping center along Camelback Road and North 44th Street in Phoenix.
Ask to be seated on the patio to soak up views of Camelback Mountain. Wally's specializes in comfort foods such as meatloaf, pot roast, and steak sandwiches, as well as pub fare like chicken wings and pub pretzels.
In the same shopping center as Wally's are a number of other casual dining options with views. Among them is the airy Flower Child and the chain pizza restaurant Streets of New York.
Pro Tip: If a picnic with a view is more your style, the G.R. Herberger Park offers some of the best views around. The Camelback Mountain peaks are often reflected in the surface of the Arizona Canal that runs alongside the park. The park is the site of Arizona Falls, a restored hydroelectric plant that features a historic waterfall created by a natural 20-foot drop along the Arizona Canal; a shaded viewing room; and a footbridge.
What To Know Before You Go
Springtime rules in Phoenix, with average high temperatures in the 75-to-80-degree range. Late fall is also a great time to visit the Valley of Sun. Highs in November average 80 degrees, and Christmastime comes in at 65 to 70 degrees. Summer brings extreme heat, but also bargain prices at high-end hotels and resorts.