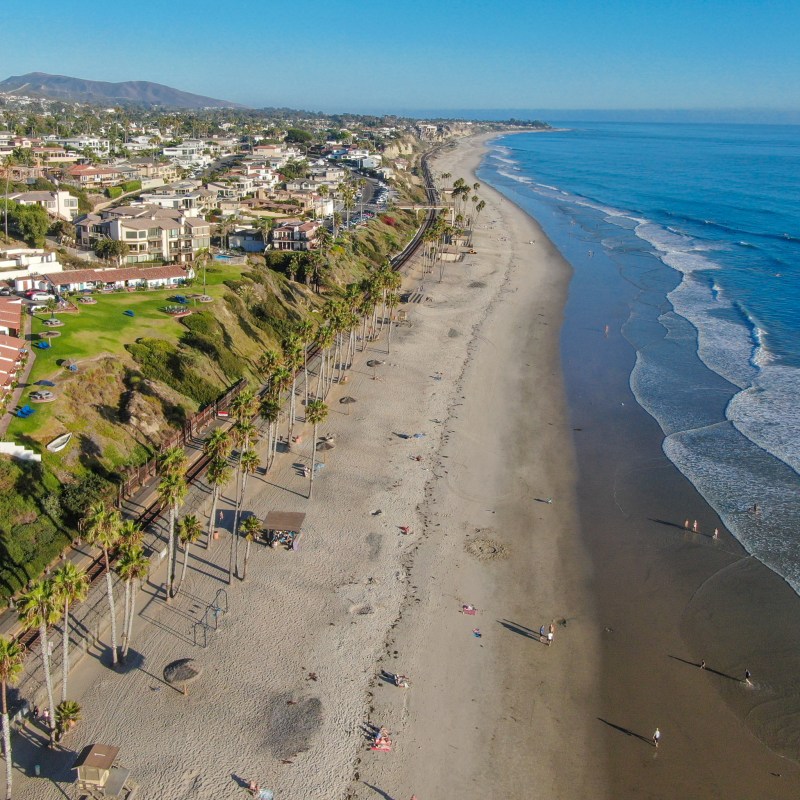 San Clemente is well known to locals as a beautiful seaside destination, and for good reason. Whether you're looking for a great surf spot, terrific restaurants, charming boutiques, or miles of sandy beaches, San Clemente has all of that and more. While it might be small, this city packs a punch when it comes to weekend entertainment.
San Clemente is located about an hour south of Los Angeles and an hour north of San Diego. The weather is temperate year-round, making this is a great destination for outdoor lovers. If your time is limited, a day trip is possible, but a weekend getaway would be even better.
Things To Do In San Clemente
Come to San Clemente prepared to enjoy the great outdoors, whether on land or on the water. Mornings can be chilly and damp due to coastal fog, but the sun usually comes out by the early afternoon. Be prepared by dressing in light layers.
Start At The Pier
Start your visit to San Clemente at the pier. Stroll along this 1,296-foot wooden structure while appreciating the ocean views. Along the way, you'll likely see surfers bobbing on their boards waiting for the next wave or fishermen dropping their lines deep into the water hoping for a big catch. Seagulls hover nearby, hoping to snatch a fish.
The San Clemente Pier was originally built in 1928, but it was significantly damaged twice due to severe storms. It was rebuilt in 1985 and today serves as one of the city's top attractions.
When you get hungry, head to The Fisherman's Restaurant & Oyster Bar at the base of the pier for fresh seafood and al fresco dining. Or cross the street for a selection of small cafes and restaurants serving a variety of food. Large public parking lots are available nearby.
Explore A Historic Home And Its Gardens
Close to the pier, you'll find the Casa Romantica Cultural Center and Gardens. Housed in the former home of Ole Hanson, the founder of San Clemente, this historic landmark now hosts a wide range of cultural activities including music, art, dance, and theater. Free arts education programs are offered for children throughout the year.
Surrounding the home are 2.5 acres of gardens featuring native plants. Meander through the butterfly garden, cactus and succulent garden, and Native American garden. Self-guided cell-phone audio tours of the home and gardens are available in English and Spanish, and a brochure with directions is available online or at the front desk. Before leaving, don't miss the panoramic view of the San Clemente Pier from the gardens.
Stroll The Streets Of Downtown
While San Clemente does have a great outlet mall, it also offers boutique shopping along Avenida Del Mar. This tree-lined boulevard is home to dozens of surfing, clothing, and home decor shops. Tucked in between the shops are small cafes, bakeries, and restaurants waiting to feed the hungry shopper. Even if you don't plan to buy anything, this is a fun street to explore for a few hours.
If you're celebrating a special occasion and need a colorful bouquet of flowers, pop in to Downtown Flowers, a local family-owned florist. Swirl Boutique caters to the California lifestyle with women's casual clothing, swimwear, and accessories. For those in need of relaxation or respite, don't miss Art Of Inner Peace, a store selling incense, candles, crystals, and meditation aids. And when your sweet tooth kicks in, head to Sugar Blossom Bake Shop for a cupcake. Popular flavors include German chocolate and pina colada.
If you happen to be on Avenida Del Mar on a Saturday morning, check out the farmers market. You'll find a nice selection of fresh fruits, vegetables, plants, and flowers. Then grab lunch at Cafe Mimosa or Beachfire.
Hit The Beach
It would be a shame to visit San Clemente and not enjoy some time relaxing on the sand. Fortunately, there are several beaches to choose from.
If you're eager to be in the middle of the action, the San Clemente Pier City Beach is perfect. Here you'll find plenty of snack bars and restaurants within walking distance as well as restrooms and showers. Take a break and walk along the pier, or just soak up the sun while watching the surfers in the water.
For something a bit more secluded, head to San Clemente State Beach at the south end of the city. This 1-mile beach is located at the base of a steep bluff offering visitors dramatic views. Restrooms and showers are available, but there are no other services. If you enjoy camping, a campground adjoins the state beach and is a local favorite.
If you enjoy surfing — or just watching surfers — San Clemente has several beaches to offer. Trestles Beach is considered a world-class surf spot and has long been popular with locals. Getting to this beach involves a mile-long walk, so come prepared with proper shoes. Other great surf beaches include T-Street Beach, North Beach, and the nearby San Onofre State Beach. And if you've always dreamed of learning to surf, get in touch with the San Clemente Surf School for private lessons.
Go On A Hike With Ocean Views
Another way to enjoy ocean views in San Clemente is along the seaside trails. If you prefer a flat hike, opt for the 2.3-mile Beach Trail starting at North Beach and ending at Calafia Beach. Along the way, you'll pass the pier. This trail is also great for biking and is dog-friendly.
For something more challenging, try the 4-mile Sea Summit Trail. Here you'll weave back and forth and up and down along the cliffs while enjoying views of the beach and ocean below. This is considered a moderate-to-difficult trail, so come prepared with proper footwear and plenty of water.
There are eight other trails of varying lengths and difficulty levels in San Clemente, making this a great destination for hikers.
Catch A Sunset
End your day by watching a sunset over the Pacific Ocean. Grab a seat on the sand or a spot on the pier and enjoy the sun as it slowly sinks into the water.
For an extra-special way to watch a sunset, get a fire going in one of the pits available along the city beaches. These are first come, first served, so grab one early in the day. You will need to bring your own wood, which you can purchase at one of the local grocery stores. Roast some marshmallows or make s'mores. This is the quintessential Southern California experience.
Best Restaurants In San Clemente
San Clemente has many options when you're ready to eat — this town takes its food seriously.
For a hearty breakfast, head to Antoine's Cafe. Fuel up for the day's activities with biscuits and gravy or steak and eggs. If you have a sweet tooth, order the fresh strawberry pancakes or French toast.
Those who love the combination of pizza and beer should head to Pizza Port, a small chain in Southern California well known for both their pies and brews. This place is an ideal destination if you're with a larger group or traveling with the grandkids.
When you're celebrating a special occasion or need a romantic dinner destination, Nick's San Clemente and Vine are two great options. Both offer a nice selection of salads, seafood, and steaks. Reservations are recommended.
Best Places To Stay In San Clemente
Make your weekend in San Clemente memorable by staying at one of the city's best hotels, preferably one close to the ocean. But do make your reservations far in advance, since all of these highly rated hotels are popular with visitors.
For the absolute best ocean views in town, plan to stay at the Beachcomber Inn, located just steps from the pier. Each villa features an ocean view from the bedroom and patio. Take advantage of the on-site barbecue grill and firepit.
San Clemente Cove offers oceanfront condos with private balconies, many of which have partial ocean views. Also located steps from the beach, this hotel offers on-site barbecue grills and a selection of daily activities for guests.
The dog-friendly Sea Horse Resort offers studio, one-bedroom, and two-bedroom suites, all just steps from the beach. Grab a full oceanview room and enjoy watching the sun set every evening. Or spend time relaxing on the garden terrace, which also offers great views.
What To Know Before You Go
San Clemente is a great destination at any time of the year. Summer can be a particularly busy time, so if you're coming during June, July, or August, be sure to make reservations far in advance.
If you're planning to spend your weekend near the pier, consider taking the train to San Clemente. There's an Amtrak stop directly across from the pier. Several hotels, restaurants, and beaches are within walking distance. However, if you're staying farther from the pier or expect to explore farther afield, plan to travel by car.
San Clemente is small enough to fall below the radar for many visitors, but big enough to offer plenty to do. This combination makes it one of Southern California's seaside gems. After your weekend here, you won't want to go home.