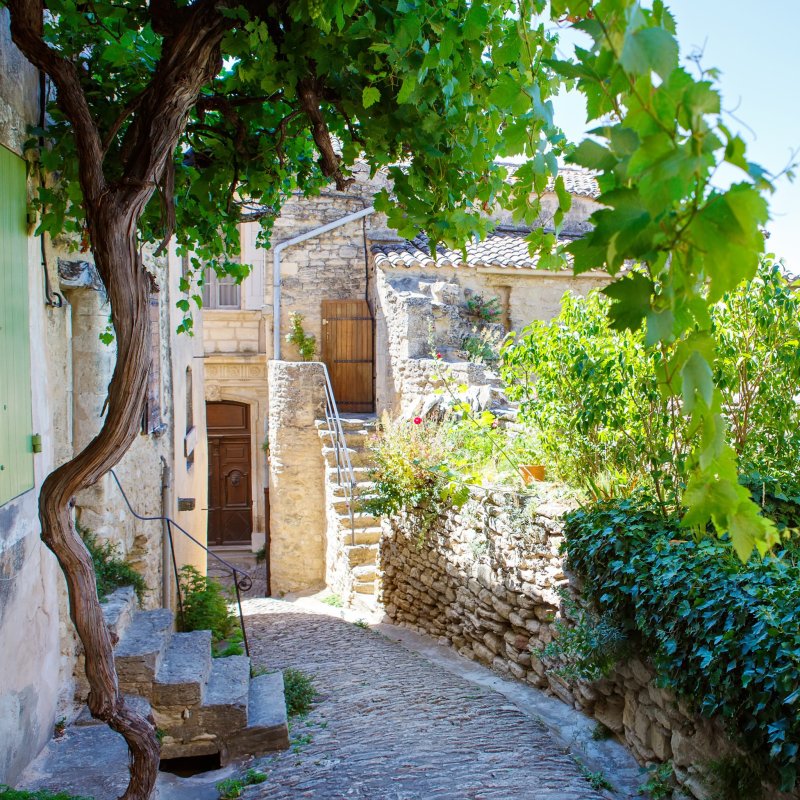 The Luberon, part of the Vaucluse region of Provence in the south of France, is known for its historic and even ancient villages. Many are located on mountaintops with expansive views of the forests, fields, vineyards, and farms of the Luberon, and nearby are the famous lavender fields. The quaint villages usually consist of cafes, small town squares, medieval churches, art galleries, boutiques selling locally made products, and restaurants in addition to residents' homes. Small hotels and bed and breakfasts are also available in each village. Here, we share the best villages to visit, plus recommended restaurants and hotels.
1. Cucuron
The town center of the village of Cucuron has a vast, rectangular pond with spring-fed water and 200-year-old plane trees towering over it. Cafes, restaurants, and a small hotel dot the square. Every Tuesday morning there's a food and flea market at the pond, where locals get their produce and necessities. At the end of July is a flea market with antiques, tapestries, rugs, china, bric-a-brac, and artworks.
The entrance of the village is marked with an ancient stone archway and is mainly made up of medieval structures and buildings including ramparts, the Eglise Notre-Dame de Beaulieu church dating back to 1292, and the old City Hall from approximately 1400. The Marc Deydier Museum, a former private mansion, is dedicated to Marc Deydier, who was a pre-historian and photographer from the late 20th century. Several rooms of the museum have ethnography of Cucuron from the early 20th century.
Cucuron Restaurant Recommendation
Peter Mayle, author of bestselling books about Provence, mentions the one-star Michelin restaurant La Petite Maison and star chef Eric Sapet in A Year in Provence. The restaurant also appeared in the film A Good Year, based on Mayle's book, starring Russell Crowe and French actress Marion Cotillard.
Cucuron Hotel Recommendation
On the Cucuron town square is the charming Hotel de l'Etang with just six rooms, some with terraces overlooking the square.
Pro Tip: Parts of Cucuron have steep, cobblestone streets.
2. Roussillon
Discover the intensely colored ocher deposits against the green forest on the high cliffs of Roussillon by hiking on its official trail, Le Sentier des Ocres. The easily walkable trail is along a former ocher quarry surrounded by woods. Ocher is used to make paint pigment, and many of the local shops sell jars of the pigments in a variety of colors.
After your hike, meander through the village, take in the 17th- and 18th-century ocher-shaded buildings. Have a coffee or drink at an outdoor cafe and shop for local art and souvenirs in the art galleries and small boutiques.
Historical Note: Playwright and author Samuel Beckett, who was in the Resistance, left the dangers of Paris during WWII and fled to Roussillon to hide. He refers frequently to Roussillon and the surrounding area in his iconic play Waiting for Godot.
Roussillon Restaurant Recommendation
Le David serves Provencal-style cuisine and has an outdoor terrace with panoramic views of the ocher trail.
Roussillon Hotel Recommendation
Hotel la Cle des Champs has three rooms, all tastefully decorated with beamed ceilings, plus an outdoor swimming pool and garden with views of the area.
3. Lourmarin
Named one of the most beautiful villages in France, Lourmarin is the quintessential Provencal village.
One of the main attractions is Chateau de Lourmarin, built in the 15th century for a royal family who owned land in the area. The chateau survived the French Revolution and in 1920, it was purchased by industrialist and historian Robert Laurent-Vibert, who saved it from demolition. He and a group of like-minded friends along with workmen restored the house and furnished it. Today, the chateau is filled with the furniture, libraries, and art collection left by Vibert and is open to the public to visit. It also sponsors cultural events including outdoor summer concerts and art exhibitions. Make sure to visit the formal garden.
The Friday market is one of the largest in the Luberon, taking over a big portion of the village. Local products sold include bouquets of lavender, pressed virgin olive oil, milled, scented soaps, olives and olive tapenade, garlic, baskets, and table linens. In summer, irresistible fruits — fragrant melons, plump peaches, juicy strawberries, and figs — overflow the stalls. Spices and burlap mini-sacks of Herbs de Provence are also sold.
French writer Albert Camus, the author of The Stranger, lived in Lourmarin for a period of time and is buried there.
Lourmarin Restaurant Recommendations
Pizzeria Nonni makes the best pizza in the village in authentic, woodburning ovens.
The specialty at the rustic La Louche a Beurre is the meat and poultry, which is roasted in a hearth.
Lourmarin Bed And Breakfast Recommendation
La Luberonne is a four-room bed and breakfast in a converted 17th-century cottage. Located just outside the village proper, it also has an outdoor pool and garden area.
4. Lauris
Perched on a high mountain, in Lauris, you are constantly distracted by the magnificent views of the Durance Valley and the Luberon mountain range.
A former chateau has its formal garden, a serene oasis with a straight row of manicured plane trees and circular pond with cool, refreshing water, open to the public.
Stroll through the quiet village and notice the fronts of the houses decorated with beautiful vines and potted plants, and wood shutters painted in sky blue, periwinkle, and deep red.
From afar, the unique ironwork of the steeple of Saint Roch is eye-catching, and inside are the typical architectural details of a French country church.
A five-minute drive from Lauris is the Silvacane Abbey, a former Cistercian monastery with origins dating back to the 11th and 12th centuries. Romanesque and Gothic are the two contrasting styles of architecture dominating the monastery. There are no longer religious services held in the church; instead, today the abbey is used as a cultural center that hosts art exhibits and concerts.
Lauris Hotel And Restaurant Recommendations
Le Domaine de Fontenille is a compound encompassing a luxury hotel, winery, wellness center, two restaurants, a vegetable garden, and a spa.
Nineteen hotel rooms and suites are all individually designed with soothing tones and handsome furniture. Most rooms face the cedar trees of the Luberon National Forest, and some have private terraces. There's also an outdoor pool, a sauna, and a workout room. Le Champ des Lunes is a Michelin star, haute cuisine restaurant, and La Cuisine d'Amelie serves casual fare in a relaxed setting. Both restaurants use locally sourced products.
5. Gordes
Flanked with ancient buildings of white stone, Gordes is another well-loved mountain-topped village. Wander the narrow, cobblestone pathways, known as calades, to experience the beauty of Gordes.
Andre Lhote, Marc Chagall, and Victor Vasarely are just a few artists who were inspired to live in Gordes.
An 11th-century castle redesigned during the Renaissance is now the Pol Mara Museum. Mara was a 20th-century contemporary Flemish painter who lived and painted in Gordes.
Historically, Gordes was a Celtic village ruled by the Romans, and in WWII, it was an important center for the Resistance movement. Twelve houses were destroyed in a Nazi bombing retaliation after resistance fighters killed a German soldier.
An ancient olive mill from the 16th century, which was moved by donkeys, today houses the Glass and Stained-Glass Museum on a nine-acre property.
6. Apt
In between a village and a small city with a population of 11,500 people, Apt is known as the glazed or crystalized fruit capital of France.
La Maison du Fruit Confit has been producing glazed fruit since 1962 and sells directly to the public. It also has a museum and offers classes in making glazed fruit.
Apt is equally as famous for its artisanal ceramics and pottery, with makers using local materials such as ocher. Artist Christine Jouval manufactures and stocks some of the finest china in Apt, and you can also commission her to make custom pieces.
The Sainte-Anne Cathedral, with a bell and nave from the 12th century, was visited by Queen Anne of Austria after the birth of her son, the future King Louis XIV, to pray and to acknowledge her patron saint.
The crypts of the church have a collection of relics, including a fifth-century altar, manuscripts, and ornaments of worship.
Apt (and its environs) is also one of the largest lavender producers of the area, accounting for 20 percent of the early crop.
Apt Restaurant Recommendations
L'Intramuros is a quirky bistro with bric-a-brac on the ceilings and walls collected by the owners. The hearty menu includes duck, rabbit, lamb, and pasta.
World cuisine is the theme at Thym te Voila, which has an eclectic menu with dishes from Morocco, India, and, of course, France.
Apt Bed And Breakfast Recommendation
Hidden behind a wall is a former convent from the 1600s, now Le Couvent, an upscale bed and breakfast. Rooms have high ceilings with floor-to-ceiling windows, and some have wood beams. There's also an outdoor swimming pool with a garden terrace.
Pro Tips
Many of these villages have steep, cobblestone streets, so make sure to wear rubber-bottom shoes or sneakers.
The visit time for the villages is a few hours or a half day, and you could easily visit two or more in a day.
If you are coming by train to visit the above villages, the main train stations are either Avignon or Aix-en-Provence, which are three hours or less by high-speed train from Paris. Alternatively, Marseille Provence Airport is 45-minutes by car.
A car is necessary to visit these villages, and the train stations have rental kiosks with all the major car rental companies. Automatic transmission cars are more expensive to rent than standard (manual) transmissions.
The best times to visit are May and June or September and October. In July and August, the temperatures easily reach into the mid-90s Fahrenheit.
Outdoor activities in the region include hiking, horseback riding, biking, climbing, and mountain biking.