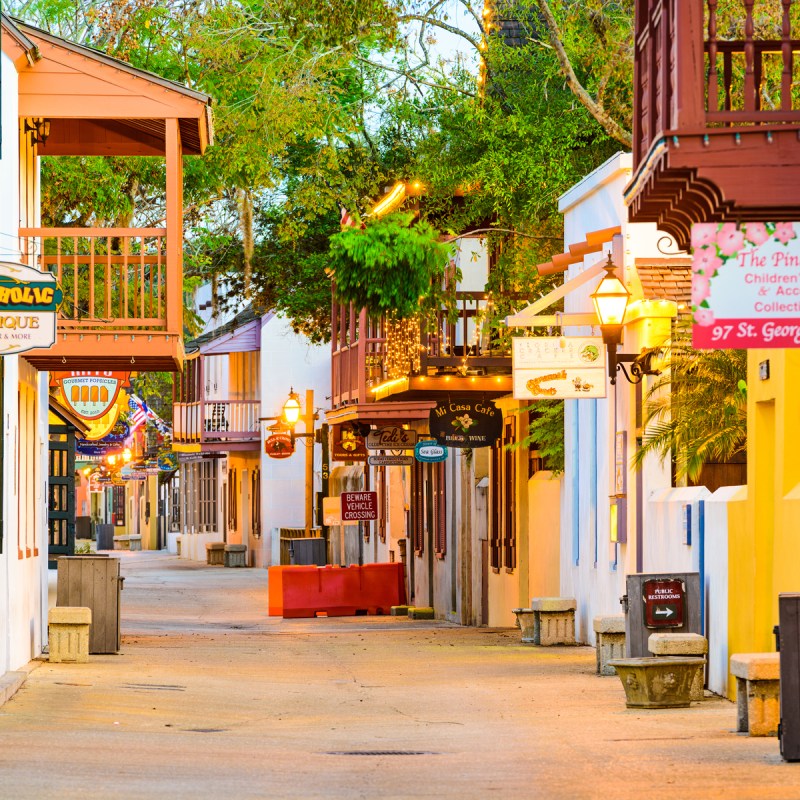 People love to travel to Florida, the Sunshine State and the 27th state of the union. Our beaches and theme parks are world-renowned, but there is so much more to experience. If you are like me, your travels might somewhat (or — who am I kidding? — entirely) revolve around food. Florida has incredibly unique restaurants with international flavors that will knock your socks off. I know because I've eaten my way around the state for the better part of 10 years. Here are 11 unique Florida restaurants you must try.
1. Marsh Landing Restaurant
Fellsmere
Fellsmere is a small central-eastern Old Florida town known for the citrus industry and Marsh Landing. With a taxidermied decor and homey feel, this popular comfort food eatery has a delectable menu, including grilled pimento cheese biscuits with bacon jam. I am pretty sure I let out a squeal of delight when I read the description and tasted one. Marsh Landing has a big selection of vegetables and even a three or four vegetable plate. What could be better than a plate filled with fried okra, green beans, mac and cheese, and sliced, fresh tomatoes?
Pro Tip: Marsh Landing has swamp cabbage (which you may know as hearts of palm, actually Florida wild sabal palmetto), a famous dish that is like a stew. It is delicious, and something you should try here.
2. Satchel's Pizza
Gainesville
Gainesville has a unique offering for pizza, salad, and craft soda flights, just to name a few. Satchel's Pizza is a funky little joint with kitschy decor, both inside and out, and a treasure to browse around. Satchel's serves fantastic pizza, always made to order, but take it from me: The Satchel Salad is the item you must try.
The heaping salad has lettuce, tomatoes, Parmesan cheese, sunflower seeds, apples, and almonds, and is tossed with Satchel's signature dressing. It can easily make a salad lover out of the most discriminating eater. Satchel's pizza is spectacular, too, so don't skip ordering the whole pie.
Fun Fact: You can dine in a vintage van at Satchel's, depending on availability.
3. Old Spanish Sugar Mill
De Leon Springs
This unique Florida eatery has been in De Leon Springs State Park since 1961. For $6 per car, you not only get to enjoy the beautiful state park and 67-degree-year-round springs but also a cook-your-own all-you-can-eat pancake breakfast. The tables at the Old Spanish Sugar Mill have griddle inserts in them. Your server brings drinks, side items, and accompaniments, but you are the star of this tasty breakfast.
Old Spanish Sugar Mill's pancake batter contains unbleached white flour with a mix of five stone-ground flours, or you can select gluten-free or vegan options. Spruce up your pancakes or French toast with additions like blueberries, bananas, pecans, or chocolate chips. Everyone at the table can have fun flipping, pouring, and creating delicious creations along with some help from your server.
Pro Tip: You cook your eggs, too, so if you aren't experienced, choose scrambled for the easiest method.
4. El Rey De Las Fritas
Little Havana, Miami
Aside from Cuban food in Cuba, the closest and best you'll get is arguably in Miami. Situated in Little Havana, an adorable part of town you should explore whether you are eating or not, is El Rey De Las Fritas, one of the most famous Cuban restaurants since 1976.
Start with a cortadito, a tiny espresso shot with steamed milk. If you've never tried one, Cuban coffee is delicious, and I'm not even a real coffee drinker. For your meal, try a classic Cuban sandwich (roast pork, ham, mustard, Swiss, sweet pickles) or my favorite, the Midnight Sandwich (medianoche). The two sandwiches have the same ingredients, but the medianoche bun is a soft, sweet egg bread instead of crusty Cuban bread.
5. Hellas Greek
Tarpon Springs
The world's second-largest Greek population happens to be in Tarpon Springs, on Florida's West Coast in the sponge market district. Hellas Greek Restaurant is one of the best Greek establishments there, with every dish you can think of done incredibly well to satisfy your Greek tooth, as I call it. The Assorted Spreads appetizer (tzatziki, hummus, and feta spread with pita bread) can be shared, though you may not want to because they are all three so darned yummy. My favorite meals at Hellas are the moussaka and pastitsio. You can enjoy a taste of both, plus gyro, dolmades, and tzatziki sauce with the Combination Platter.
Pro Tip: Take home pastries or fresh bread from the bakery next door. At New Year's, pick up a vasilopita cake, which is the Greek's lucky New Year cake (with a hidden coin or trinket inside).
6. Yellow Dog Cafe
Malabar
Yellow Dog Cafe in Malabar is an incredible waterfront restaurant with several dining rooms that scratch makes everything. My go-to Yellow Dog Cafe dishes are the pecan-crusted mahi-mahi with vanilla praline sauce (yes, it's sweet) or a rich bowl of creamy crab bisque, adorned with a yummy dog-shaped cracker. Yellow Dog Cafe serves Himalayan red rice (and a vegetable-of-the-day) with entrees. It's loaded with flavor and is an original rice dish. Save room for one of the desserts because they, too, are all homemade.
One meal at Yellow Dog Cafe, and you'll see why this is my favorite restaurant in all of Florida.
7. Hollerbach's Willow Tree Cafe
Sanford
Now that you've seen your Cuban and Greek options, we can't forget about the best one yet… German cuisine. Sanford, just minutes from Orlando, has the best German, most likely in the whole state. Hollerbach's Willow Tree Cafe is enormous, and it offers indoor and outdoor seating, live music, and wonderful German food. There are no wrong choices on the menu, but a few items I recommend are the schnitzel, the gourmet potato pancakes, and the Sauerbraten.
While the food is superb, the festive atmosphere and excellent beer menu make Hollerbach's one of the coolest places to eat in Florida.
8. The Veranda
Fort Myers
An elegant gem in Fort Myers is The Veranda, an award-winning restaurant in operation since 1978. The historic house, with room after room of tastefully decorated dining space, including a garden courtyard and piano bar, is a place to celebrate a special occasion, dine with an old friend, or bring the whole family. It's that versatile. The Veranda has appetizers to die for, such as Southern grit cakes and pan-seared sea scallops. For lunch, I go for the Fried Green Tomato Salad, and prices are lower at The Veranda during lunch. At dinner, step it up a notch and go with the Chateaubriand, which serves two.
I love the ambiance and delicious food at this classy restaurant and wish there were more establishments like it around these days.
9. Captain Hirams Blackfin Restaurant
Sebastian
Captain Hiram's is a three-fold business on Florida's Treasure Coast. It is an 86-room hotel with access to the Intracoastal Waterway, a boat, kayak, eco-tour, and chartered fishing excursion outfitter, and a great restaurant with delicious fresh-caught seafood and a choice of dining options (plus four bars). You can eat at the Sand Bar or Blackfins. Blackfins (my preference) offers riverfront dining and the best steamed peel-and-eat shrimp anywhere. Sandbar, strictly outside, where you can eat with your toes in the sand, features live music, great cold beer, and cocktails.
10. Better Than Sex
Key West
Leave it to Key West to welcome the Better Than Sex dessert restaurant to its dining scene. This tasty little number also has specialty drink options with enticing and provocative names and descriptions. For dessert, try the Italian Stallion or Between My Red Velvet Sheets Cheesecake. Or, skip eating altogether and have a drink flight with a Blow Job, Money Shot, and Super Soaker. It's playful and fun, but this may not be the place for you if you get easily offended. I visited Better Than Sex with my 23-year-old daughter, and we had a blast. If you don't like cocktails, there are rimmed wines, beer, coffee, virgin drinks, and sodas.
Pro Tip: Better Than Sex has only 15 tables, so reservations are a must.
11. Columbia Restaurant
St. Augustine
Columbia Restaurant, known as the gem of Spanish restaurants, is one of Florida's favorite and most unique dining options. Columbia serves incredible Cuban and Spanish food in a festive setting. Dishes I love are the empanadas, croquettes, and queso fundido with a Riejo tomato sauce and toasted Cuban bread points. Savor both of Columbia's best dishes: a Cuban sandwich and the Original 1905 Salad (julienned ham, Swiss, tomatoes, olives, and garlic dressing) by ordering the Half and Half Combo from 11 to 4 daily. I strongly advise you to reserve a table; this is a super popular place to visit.
Pro Tip: Did you like Columbia's sangria? Take home a three or six pack of mix from the gift shop to enjoy at home.