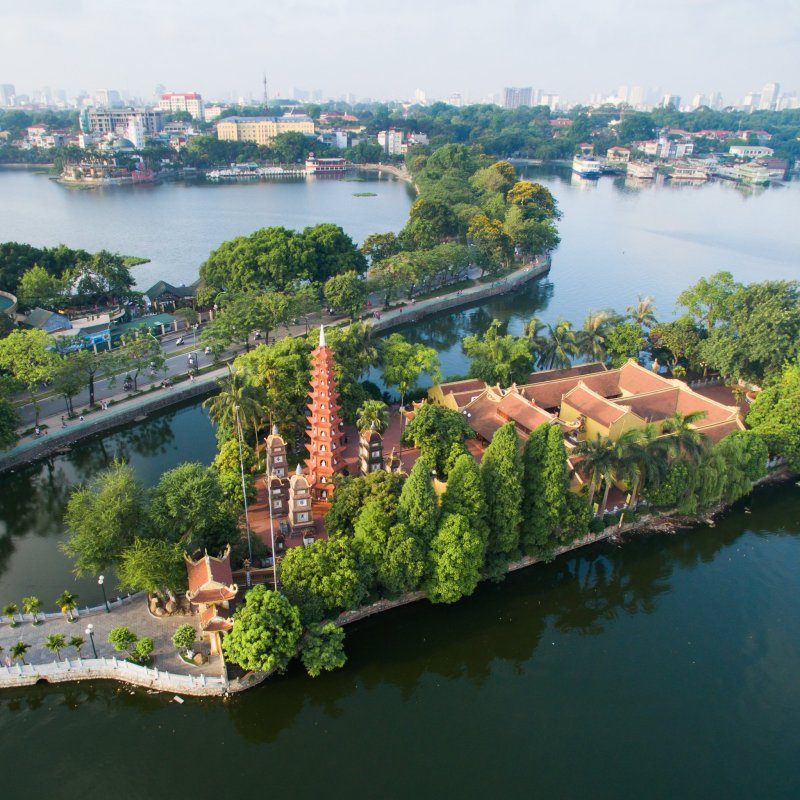 Hanoi, Vietnam, is a fascinating blend of old and new, European and Asian, and chaos and order. I thought that after six trips to Asia, I would be ready for Hanoi, but I was wrong. It was completely different from Japan, Korea, China, and Hong Kong. At first, those differences were unsettling, but after a while, I grew to appreciate the unique features of this city.
Hanoi is home to eight million people, so visitors can expect crowds at every turn. Every street, shop, restaurant, and park is busy. If you're visiting from a large city, this won't feel unusual, but if, like me, you live in a quieter, suburban town, it will take time to get used to Hanoi.
The layers of history and merging of cultures are what make Hanoi so exciting to visit. The French Quarter's elegant pastel-colored buildings contrast sharply with the plain, gray Communist-era institutions. In between are the bustling streets of the Old Quarter filled with motorcycles and lined with tiny restaurants and shops.
It could take years to fully explore the city, but if you have just a few days, here are 10 experiences you don't want to miss.
1. Walk Around Hoan Kiem Lake
Hoan Kiem Lake is more like an outdoor community center than a body of water. If possible, select a hotel within walking distance of this lake so that you can get up early and walk around it. You'll see women of all ages participating in fitness classes while older men and women practice tai chi. There are people walking their dogs and old men gathering on benches. Along the way are outdoor cafes, snack stands, and artists selling paintings.
But Hoan Kiem is more than just a gathering space — it's also a place of legends. In 1428, it is believed that the Emperor Le Loi obtained a magical sword from the Dragon King to fight against Chinese oppressors. The sword came from Hoan Kiem Lake. After the successful battle against the Chinese invaders, Loi visited the lake. As he was boating through the water, an enormous golden turtle surfaced. The turtle explained that he was sent by his master, the Dragon King, to retrieve the sword from Loi. Loi returned the sword to the turtle, who swam back beneath the jade waters. Loi then named the area Hoan Kiem Lake, or "Lake of the Returned Sword," to commemorate the spectacular event.
2. Explore The Museum Of Ethnology
To learn about the rich history of Vietnam and its indigenous people, set aside a few hours to explore the Vietnam Museum of Ethnology, which focuses on the 54 officially recognized ethnic groups of Vietnam.
I did not have the opportunity to explore the inside exhibits, but instead focused on the large outdoor section of the museum, which displays reconstructions of homes occupied by several ethnic groups. Most of these homes are made of wood and bamboo, and many are on stilts. The upstairs portions of the homes allowed space for the human residents, while the downstairs areas were for the animals and livestock. If you're feeling brave, climb the ladders and walk through these homes to experience what living in them would have been like.
This is a particularly good museum to go to if you're traveling with the grandkids, since they are encouraged to touch and climb on everything outdoors.
3. Sip Egg Coffee At Giang Cafe
You simply can't leave Hanoi without sipping an egg coffee, and the best place to do so is Giang Cafe. It's not a fancy place, and it's not easy to find in the crowded Old Quarter, but the hunt will pay off. The founder of the cafe won't reveal the exact recipe, but the ingredients include egg yolks, Vietnamese coffee, sweetened condensed milk, butter, and cheese. It's believed that this coffee was created during the 1940s, when fresh milk was scarce.
My only regret about visiting Hanoi was not having more egg coffees — I only found time for one. As a lover of eggnog and eggnog lattes, this type of coffee beverage was right up my alley. You can order egg coffee cold, but I definitely recommend the hot version.
After you've sampled egg coffee, don't stop there. Hanoi is full of great little cafes serving a variety of delicious coffee drinks. The most common is a strong, black coffee served with a small filter fitted on top of the cup. You can try this strong coffee served with sweetened condensed milk. And if you like coconut, be sure to seek out a cafe serving coconut coffee.
4. Shop And Eat In The Old Quarter
The best way to explore the Old Quarter is simply to walk through its streets and alleyways. For the last five centuries, this has been the home of artisans and tradesmen. In fact, the streets are named for 34 local guilds and the items they produced, like tin goods, baskets, wooden chests, and pipes. And in some cases, those are still the items you'll find sold on these streets — along with a smattering of T-shirt shops and tour offices.
Mixed in with the shops are cafes, restaurants, spas, and hotels. This is clearly a popular place for tourists. But don't let that deter you from spending time exploring the Old Quarter. I opted to stay in this area and enjoyed every minute of it. As with Hoan Kiem Lake, I recommend getting out early to experience the area before the sidewalks are jammed with parked motorbikes.
A quick tip about crossing the streets in the Old Quarter: There are few stoplights here, and drivers don't automatically stop for pedestrians like they do in some parts of the world. So when you need to cross a street, do so by walking confidently at a steady pace. Believe it or not, drivers will adjust their speed so as not to hit pedestrians, but they won't necessarily stop. Whatever you do, don't panic and run — this really confuses drivers.
5. Stroll Through The French Quarter
The French Quarter is quite different from the Old Quarter in its size and composition. This was where the French ran the government when they occupied Vietnam. Instead of the narrow and cramped streets of the Old Quarter, there are grand boulevards lined with mature trees.
If you prefer luxury accommodations, this is where you'll find them, along with internationally recognized shops and fancier restaurants. There's more of a European feel in the French Quarter, which also includes the Hanoi Opera House and the National Museum of Vietnamese History.
6. Visit The Temple Of Literature
The Temple Of Literature was originally built in 1070 to honor Confucius, but soon afterward it became Vietnam's Imperial Academy. Today it honors Vietnam's finest scholars and symbolizes the culture's respect for education and learning.
Allow at least an hour to wander through the different shrines and gardens. While I was visiting, there were several groups of recent university graduates gathering for professional photos. My guide explained that this is a longstanding tradition in Hanoi. Be sure to look for the bronze statue of a crane standing on a turtle. During finals week, students come to this shrine to rub the crane for good luck.
7. Enjoy Pho With The Locals
One of my favorite memories of visiting Hanoi was sitting on the sidewalk on a tiny plastic stool while eating a large bowl of pho. Don't pass up this experience while visiting Hanoi! This is how the locals eat, and you'll want to join in.
And don't worry if the pho vendor doesn't have a storefront. It's not unusual for food vendors in Hanoi to set up a small outdoor kitchen on the sidewalk along with some plastic tables and stools.
If you're not sure where to eat, ask the staff at your hotel or a tour guide for their recommendations. There's no need to run all over the city chasing highly reviewed restaurants. There will definitely be a good place for pho — or other classic Vietnamese dishes — within walking distance of where you're staying.
8. Cook Some Vietnamese Food
If you love Vietnamese food as much as I do, then set aside a few hours for a cooking class. It's a great way to learn more about the food and the culture. Instead of just learning the name of a dish, you'll learn about the local ingredients and cooking styles.
I was able to arrange for a class where I stayed, at the Hanoi Marvellous Hotel. I had the chance to make spring rolls and bun cha, a traditional Vietnamese soup. Or combine a market tour and cooking class with the highly rated Apron Up.
9. Learn About Ho Chi Minh
Ho Chi Minh, the revolutionary leader and former president of Vietnam, is a great hero in Hanoi, and his mausoleum is a very popular attraction. However, it is also closed for several months each year, and as a result I did not have the chance to see it.
Inspired by Lenin's Mausoleum in Moscow, the large, gray edifice sits in the center of Ba Dinh Square. Visitors are allowed just a brief glimpse of Ho's preserved body. If you are able to visit, be sure to dress respectfully.
After the mausoleum, most visitors take the opportunity to visit both the Presidential Palace and Ho's house on stilts, since they are located in the same area. The Presidential Palace was originally built to house the French governor-general of Indochina. When Ho became president, he refused to live in the palace, and instead had a humble house on stilts built on the property.
10. Encounter The Dark Side Of Vietnamese History
Hoa Lo Prison first housed enemies of the French colonial government. Later, during the Vietnam War, it held United States prisoners of war. This was the place American prisoners of war called the "Hanoi Hilton." Needless to say, it can be a difficult experience for some visitors from the States.
The museum exhibits focus mostly on the prisoners during the French colonial period and their horrific treatment. It was no accident that the agitators were imprisoned in a building in the middle of the city, since the government hoped to make examples of them.
The descriptions of American POWs at the museum differ quite a bit from the stories told by survivors like former Senator John McCain. It's important to remember that Vietnam is still a Communist country, and it has a particular viewpoint to promote in places like Hoa Lo. But this is an important part of the country's history, so if you have time, it's worth a visit.
What To Know Before You Go
If your time in Hanoi is limited, consider hiring a private driver and guide. This is a very affordable option in Vietnam and can save you the difficulty of getting to the different sights on your own. I was fortunate to have a delightful English-speaking guide who not only showed us the sights, but also provided information about the country and its history and culture.
Vietnam is a country steeped in history and layered with the traditions and cultures of many ethnic groups. I highly recommend visiting and allowing plenty of time to explore.