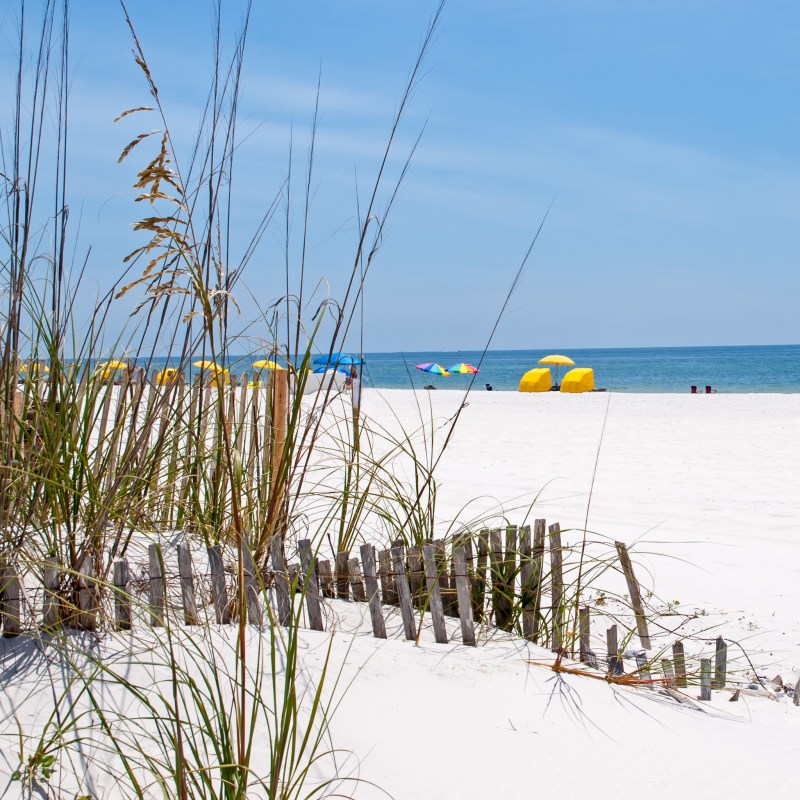 Gulf Shores, Alabama, is home to 32 miles of pristine beaches that run parallel to Alabama's Coastal Connection. It is home to fantastic outdoor experiences that include the beach, encounters with wildlife, and much more. I fell in love with this area of the country several years ago. I hope you find enjoyment in all of these outdoor experiences as I have.
1. Board A Gyroplane And Soar Above Gulf Shores
Beach Flight Aviation offers an out-of-this-world experience in a gyrocopter. You will fly high above the shoreline and experience Gulf Shores from a bird's=eye view. All of the necessary safety information will be reviewed with you before you take to the skies. You will take off at the local airport, a short two miles from the beach, and begin your outdoor adventure. A little while into your flight, you will have the opportunity to take over the controls and fly the plane. On my flight over Gulf Shores, I flew over Fort Morgan and took it all in. This is one of the most epic outdoor experiences that you can have in the Southern part of the United States.
2. Bike Through Gulf State Park
You can hop on your bike or rent a bike and take a leisurely ride on the Backcountry Trail in Gulf State Park. There are seven trails that wind through this area, which includes swamps, sand dunes, marshes, and an opportunity to explore the beach. At one point you will have the opportunity to stop at the botanical butterfly garden and picnic pavilion. Shaded areas are in abundance, as are wide-open spaces. Keep your eyes open, as you may see the alligator that frequents this trail. Beach Bike Rentals offers top-notch customer service with their bike rentals as well as great bikes.
3. Spend A Day On The Beach
Gulf Shores is home to numerous miles of beaches that include fine, sugar sand that you can sink your toes into. Bring a bucket if you like to gather shells as well as a fishing pole if you like to fish. These beaches offer an opportunity to relax or be adventurous. It's not uncommon to see people fishing and running along the beach. My perfect day on the beach includes a beach chair with a view that I never tire of. It's important to note that Gulf Shores has a policy that all items must be removed from the beach at the end of each day.
4. Zip Through The Trees On A Zip Line
Zip-lining at The Wharf on the Hummingbird Zipline Course offers a zip line adventure through a canopy of trees. You will fly more than 115 feet above and zip along at 30 miles per hour, high above the trees. It will take you a little more than two hours to complete the course. The actual time it takes will be dependent on the number of people in your group. Each time I have been on this course, there have been people of all ages in my group. It's always fun to listen to the excitement that the first-time participants show as they fly over the wooded area.
5. Hike The Jeff Friend Loop Trail
The Jeff Friend Loop Trail is a 0.9-mile lightly trafficked loop trail that is ideal for all skill levels. Prepare yourself for this short hike by applying sunscreen and bug spray, and pack your binoculars. The trail is primarily used for hiking, walking, and nature trips. It is accessible year-round. It is a level trail that is wheelchair friendly and a perfect trail for relaxation. It is quiet and depending on the time of year you hike this trail, different species of birds can be seen. The belted kingfisher, bobolink, and brown-headed nuthatch can be spotted.
6. Dine At The Pink Pony Pub
The Pink Pony Pub offers a meal with a view of the beautiful beach in Gulf Shores. You cannot miss it, as it's a pub that is painted in bright bubblegum pink with a memorable outdoor dining experience. The building has been a staple in Gulf Shores since the 1950s. It has a historic look and feel that you will appreciate. Pub favorites include a shrimp basket, a fresh crab claw basket, and New Orleans barbeque shrimp. If you want a traditional burger, you can order one of those, as well. A visit to The Pink Pony Pub will not disappoint, as you'll get to experience some of the nostalgia of Gulf Shores.
7. Kayaking With The Dolphins
Kayaking with WildNative Tours offers a memorable kayaking tour with the dolphins. I enjoyed every moment of this tour as we explored the waterways. I realized at one point on this kayaking tour that I was experiencing something that many people will not ever experience. It was the moment that a dolphin went under my kayak that I realized I was in the home of the dolphins. These three hours were a fantastic way to connect with nature along the coastal waterway. Whether you are a beginner or an experienced kayaker, the trained staff will offer great guidance as you navigate the waters.
8. Kayak Fishing
If you want to take your kayak adventure to a new level, book an experience with Whistlin' Waters. This is a great way for the "lazy kayaker" to experience kayaking, as you use your legs to move the kayak. I loved this adventure for this reason, as my legs are stronger than my arms. There are several different types of adventures to choose from. Choose one that fits into your schedule and interests you. This area of Gulf Shores also offers fantastic birding experiences. Another option: kayak fishing. While kayak fishing, you have the chance to catch a fish, view birds, and kayak through the beautiful waters. A tip that I would give you is to take your camera and view an epic sunrise while out on the water.
9. Build A Sandcastle
Sandcastle building is something for kids of all ages, adults included. For a fun way to experience the beach and the great outdoors in Gulf Shores, book a sandcastle-building class through Sand Castle University. These folks bring all of the necessary equipment to your location on the beach. If you have always wanted to build a sandcastle on the beach and were not quite sure how to do it, this is your opportunity.
10. Fish Off The Gulf State Park Pier
The Gulf State Park Pier is the perfect place to toss your line in to catch your find of the day. There is a small fee to visit the pier and you will need to have an Alabama fishing license. You can purchase each of these things on-site at the pier. There is a place to purchase your fishing supplies on the pier as well. The day I fished off of this pier, I learned from a local how to use shrimp for bait.
I live in the North, and I quickly learned that a fisherman does not use a whole shrimp, but portions of it for bait. I was used to baiting the whole worm on the hook, and I was grateful that a local fisherman was willing to educate me. That being said, I did not catch a big fish on that day, but I sure had a memorable fishing experience.
Gulf Shores will keep you busy in the outdoors for hours on end. If rain pops into the forecast on your visit, check out these 10 things to do in Gulf Shores on a rainy day. When the weather is nice, don't be afraid to explore the miles of trails and the beaches. Sunrise and sunset are two beautiful parts of the day to visit the beaches. And don't forget to drive and enjoy the best Gulf Shores experiences along Alabama's Coastal Connection Scenic Byway while in this area of Alabama.
Pro Tip: A fun way to end your day is to stop into Matt's Homemade Ice Cream. With 40 flavors to choose from, you will find something that entices you. Old-fashioned sodas and traditional banana splits will make for the perfect ending to a perfect day in Gulf Shores. Find a place to sit near the beach and reflect on the fun day you had exploring. I can guarantee that your ice cream will taste even better with a view of the best beaches in the United States.