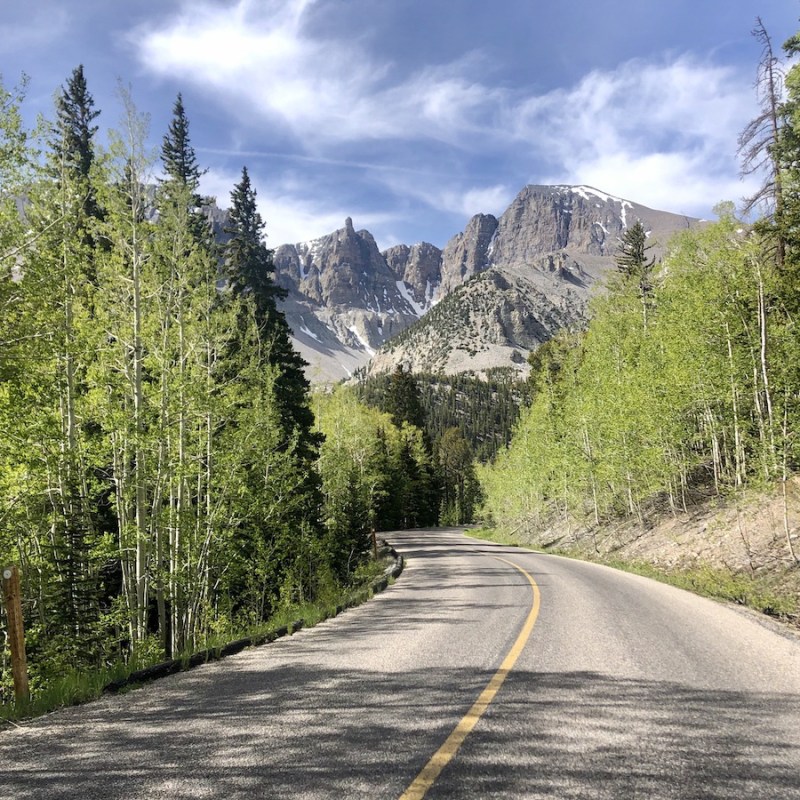 Get ready for some extraordinary extremes when you set out on a road trip from Las Vegas to Great Basin National Park.
In 300 stunning miles, you will transition from the glow of the Neon Capital of the World to a national park known internationally for its dark skies; from the Las Vegas Valley's triple-digit summertime temperatures to Great Basin's summer days in the 70s and nights in the 50s; and from the 2,000-foot altitude of Las Vegas to a lofty 10,000 feet on Great Basin's Wheeler Peak Scenic Drive.
It makes for one wild ride — in the best possible way.
Much of the road trip takes place on Nevada's Highway 93, also known as the Great Basin Highway. Be prepared for a lot of road on this road trip. For long stretches, I could have sworn I was the only person on the planet. In other areas, the beauty of the passing scenery took my breath away.
My advice is to take time to savor the route that, along with Vegas and Great Basin, takes in a handful of scenic state parks and a string of quirky towns packed with history.
While the 5.5-hour drive is certainly doable in a day, spending a night or two on the road will give you time to enjoy southeastern Nevada's cool ambience.
Here are some great stops along the way.
Las Vegas
With its world-class entertainment and sumptuous casino hotels, Las Vegas hardly needs an introduction. Still, it pays to do a little research before your arrival to decide which of the attractions fit your lifestyle.
I suggest staying at a hotel on or near the Las Vegas Strip to get a feel for the city and to be close to the action. On a recent visit, I chose to stay at the Vdara Hotel because of its location slightly off the Strip. It turned out to be a great choice because the hotel is smoke-free and does not have a casino of its own. But it's still within easy walking distance of the Bellagio and the ARIA Resort & Casino.
To get oriented, a stroll down the Las Vegas Strip is hard to beat. If you're visiting during hot weather, it's best to make it an evening walk, combined with a dinner stop at one of the countless restaurants and buffets. The Las Vegas Monorail is also available to help navigate the long stretches between casinos.
I liked the atmosphere and the cuisine choices at New York New York, as well as the French cuisine and sidewalk view of the Strip at Mon Ami Gabi at Paris Las Vegas. Or for something more upscale, a number of renowned chefs offer stellar cuisine at venues such as Bobby Flay's Mesa Grill, Emeril Lagasse's Delmonico Steakhouse, and Wolfgang Puck's Spago.
With Las Vegas's virtually endless variety of entertainment, everyone is sure to have their favorites. Mine were the Titanic: The Artifact Exhibition at the Luxor and the Neon Museum in downtown Las Vegas. Both offer an opportunity to travel back in time — the Titanic exhibit with its poignant look at the final moments of the ill-fated luxury liner, and the Neon Museum with its bright-lights insight into Las Vegas's early casino scene.
I recommend spending a day or two soaking up the vibes in Las Vegas before heading north.
Valley Of Fire State Park
Before you get onto Highway 93, a short detour is in order to take in the Valley of Fire State Park — Nevada's oldest, largest, and arguably most scenic state park.
The park is less than an hour's drive from Las Vegas via Interstate 15 and the Valley of Fire Highway. It's best to get an early morning start to beat the heat and the crowds.
Once there, be sure to take in the 11-mile Scenic Byway as well as the Fire Wave Trail and the Elephant Rock formation. A rundown of the park's other scenic areas is available here. Plan to spend at least 3 to 4 hours exploring the Valley of Fire.
Pahranagat National Wildlife Refuge
After backtracking a bit to get onto Highway 93, you will soon arrive at the green, leafy oasis of the Pahranagat National Wildlife Refuge. If you're ready for a night of camping, the refuge has 15 primitive lakeside campsites that are available on a first-come, first-served basis.
The pretty lake also offers hiking, boating, fishing, and bird-watching opportunities, worthy of either a quick stop to stretch your legs or an overnight camping opportunity, depending on your interests.
Alamo, Ash Springs, And Crystal Springs
Over the next 30 miles or so, you will pass through several small communities that offer handy places to stock up on snacks and lunch supplies, as well as to fill up your gas tank.
Pro Tip: Because of the long distances and relatively remote roads, I recommend that you fill up whenever you can on Highway 93. In Alamo, a handy Sinclair gas station and well-stocked Great Basin Foods grocery store are conveniently located right along the highway. It's a great place to make sure you have plenty of water, ice, beverages, and fuel for the coming drive.
Extraterrestrial Highway
If you're up for an extraterrestrial experience, plan to take a detour west onto the Extraterrestrial Highway (Route 375), where you'll run adjacent to the Nevada Test and Training Range, which includes the notorious Area 51.
The Travel Nevada website cautions that although spots along the highway are great for photo opportunities, Area 51 is not a tourist attraction. "As a part of an active military base, it is patrolled and guarded by some of the heaviest security on Earth or anywhere else," says the description of Area 51. "Be sure to obey all posted signs and don't even think about trespassing."
Even if you don't plan to take the 150-mile detour from Crystal Springs to Tonopah, you can still stop at the E.T. Fresh Jerky shop along Highway 93 in Crystal Springs before continuing north.
Caliente
Upon driving into the small town of Caliente, your attention will immediately be drawn to the long white Spanish-style train depot that sits alongside the town's railroad switching yard. It is a beautiful retro building and a great place for your first stop in this resort town that boasts hot springs, a quaint downtown, and a burgeoning mountain-biking scene.
The train depot is considered Caliente's crown jewel, and the building once included a restaurant and 50-room hotel. Today, it serves as the town offices, and also features a Boxcar Museum.
Plan to spend a few hours exploring Caliente and lunching in a downtown eatery such as the cute Side Track restaurant and bar. If you are ready for an overnight stop, check out the Caliente Hot Springs Motel and Spa, which pipes 104-degree mineral water into the baths in six of the 18 rooms.
Cathedral Gorge State Park
Near the town of Panaca is a Nevada State Parks visitor center that features information about the five state parks located in close proximity. I suggest visiting at least one of the parks — my favorite was Cathedral Gorge State Park.
With its chalky-white hoodoos, cliffs, and slot canyons, the park offers an otherworldly sightseeing and hiking experience. Plan to spend a few hours wandering through the park. Check out the hike here.
Pioche
Known as "Nevada's liveliest ghost town," Pioche offers a look back at the wild mining days that helped give Nevada its reputation as the Silver State. Dating back to the 1870s, Pioche had a reputation as a lawless mining town, and at one time, it was one of the largest silver districts in the United States.
Today, visitors can delve into the mining culture at the Lincoln County Historical Museum, the "Million-Dollar Courthouse," and a row of rustic bars and restaurants. Pioche is a good stopping-off spot for lunch and a refreshing drink, as well as an hour or two of sightseeing.
Baker
With a population of fewer than 100 people, Baker is one of those blink-and-you'll-miss-it towns. Even so, it has a few wonderful features as the gateway to Great Basin National Park.
Not only will you find the informative national park visitor center in Baker, but the town also features a bustling little hotel/restaurant complex right on its main street. The town's Stargazer Inn features spacious rooms and a rustic setting complete with a beautiful garden and courtyard. And right next door is Kerouac's Restaurant, billed as a tribute to life on the American road. What could be a better stop on an epic road trip? I loved the Stargazer's comfortable rooms and the ability to order food in the restaurant and dine at a courtyard table right outside my room — a very convenient option after a day of hiking the trails of Great Basin.
Great Basin National Park
With its gorgeous snow-tipped peaks, crystalline alpine lakes, and gnarly old bristlecone trees, it's hard to understand why Great Basin National Park is one of the least-visited national parks in the country.
I can only chalk it up to the remote location — it's certainly a haul to get to the park, which lies along Nevada's eastern edge not far from the Utah border. The low visitation works in your favor, though, with relatively few crowds and traffic-jam-free driving.
Once you arrive at the park, the 12-mile Wheeler Peak Scenic Drive is a not-to-be-missed experience. The park website's poetic description of the road does not exaggerate: "A true mountain road, the scenic drive hugs the mountains of the South Snake Range, slowly winding you to a point above all others, where vistas reach the horizon, and one is met with a pristine view of the rugged, harsh, yet surprisingly beautiful Great Basin Desert." Note that the upper portion of the scenic drive is open only from about June through October.
Many hikes are available — the best of which can be found at the trailhead near the Wheeler Peak Campground. For a good taste of the park, consider hiking the Alpine Lakes Loop Trail, the Bristlecone Trail (both moderate, with routes in the 2- to 3- mile range), and the Wheeler Peak Summit Trail, which is a strenuous hike of 8.6 miles and a 2,900-foot elevation gain. Another feature to check out is the Lehman Caves Tours.
Pro Tip: Great Basin has been designated an International Dark-Sky Park and is considered one of the best spots around for stargazing. In the park, the Mather Overlook is a great place to look skyward. In lower elevations, head to the Baker Archaeological Site near Baker.