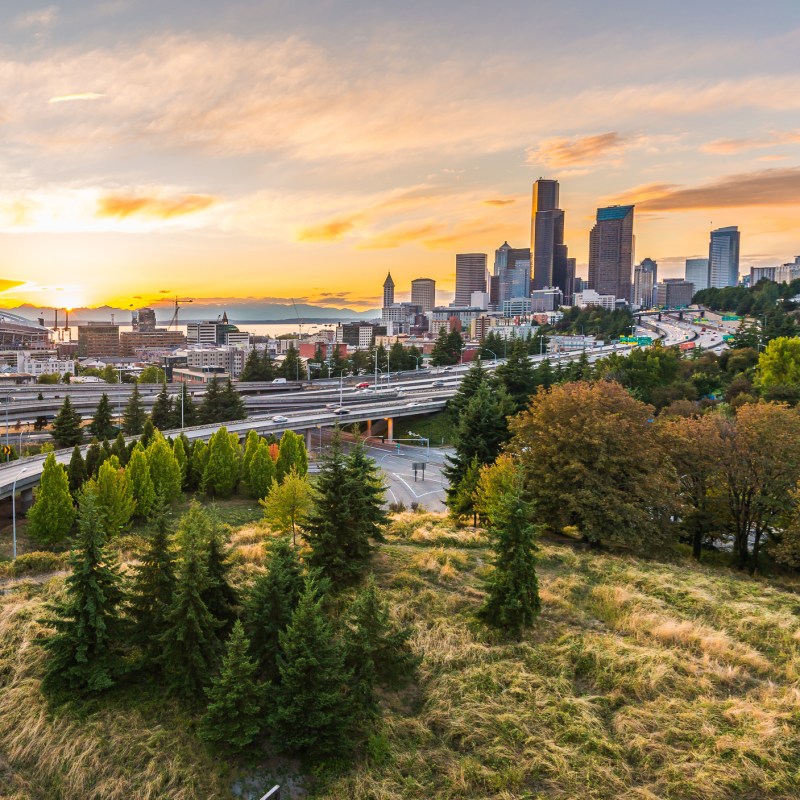 The Pacific Northwest is the perfect place to escape to at any time of year. It will shelter you from the summer's heat, and it stays temperate even in the middle of winter. Seattle is a booming metro area with a cosmopolitan flair, but to get away from the hustle and bustle, the picturesque San Juan Islands are easily accessible by car and ferry.
What's typically a 2-hour trek to the ferry in Anacortes can easily be extended to a coastal road trip you won't soon forget. Here are a few of our favorite stops along the way — spots you might want to check out if you opt to take your time getting to the San Juans.
Seattle
At the very least, Seattle is worth a long weekend to explore, shop, and play. Of course, there's the Space Needle with its incredible panoramic views of the city; the nearby Chihuly Garden and Glass Museum, with its riotous, colorful blown-glass displays and corresponding landscapes; and the Museum of Pop Culture, which pays homage to the artists who helped shape our country. There's also the downtown waterfront district along Elliott Bay, where any stroll should culminate with the world-famous Pike Place Market and maybe even a quick latte at the original Starbucks location. The nearby Seattle Art Museum has an impressive collection including Native American artifacts and masterpieces, and Pioneer Square, with its lively shopping options and historic center, is also worth a visit.
Get your fill of fresh seafood at any of the oyster houses along the waterfront, or for a bit more of a splurge, head to Rockcreek Seafood & Spirits in Fremont. For a luxe stay, consider the Four Seasons. Its rooftop pool looks out over the water and downtown Seattle. There's also an on-site spa if you need to relax after all your exploring! And if you're hitting the road in the morning, grab a to-go order from the Biscuit Bitch (the cafe's official name!), which offers some of Seattle's most over-the-top breakfast sandwiches.
Chateau Ste. Michelle Winery, Woodinville
Take a half-hour jaunt along Highway 520 east and Interstate 405 north to reach Chateau Ste. Michelle, the state's oldest and best-known winery, located in Woodinville. This gorgeous spot is set on more than 100 acres, so there's plenty of space to spread out. The estate, built by a Seattle lumber baron back in 1912, has been active in wine production for more than 50 years. While the original home was replaced with the current French-style chateau, you will still get a feel for the history of the place when you visit.
The whites are made here, while the winery's reds are produced in eastern Washington state, but you can sample them all in the tasting room. Visitors can also book VIP experiences at the chateau, including private tastings. Chateau Ste. Michelle is especially known for its riesling, chardonnay, and syrah.
Langley
Take Highway 525 north about an hour to reach the town of Mukilteo, and then purchase ferry tickets to Clinton on Whidbey Island, located in Puget Sound. The ferries run on the half hour, the trip takes about 15 minutes, and fares may be purchased online or on-site.
Whidbey is a picturesque, windswept spot that has long been popular with locals seeking an urban escape. One town here worth checking out is Langley. It's on the southern end of the island, overlooking the Saratoga Passage. Only about a thousand people live in this place the locals call "the Village by the Sea," and you'll be charmed by its downtown shops and restaurants, plus its robust schedule of festivals and special events. Arts and culture run deep here, with many artisan studios and shops displaying their work at the Friday street market. This is also the perfect spot to look out for orcas, which often swim through the passage.
Langley makes for a great overnight stop — there are many terrific cottages, inns, and other accommodations in and around town.
Fort Casey Historical State Park
From Langley, head back to Whidbey's main road, Highway 525. Turn west on Highway 20 for a stop at Fort Casey Historical State Park. One hundred years ago, this spot was crammed with soldiers stationed there to fortify Puget Sound. Today, you can explore the bunkers and batteries where they kept watch. The lighthouse, built in 1903, now houses a history center and gift shop. The views here are gorgeous, and the history runs deep. Fort Casey is the perfect place to pull off for an incredibly scenic — and informative — picnic lunch or snack break.
Coupeville
From Fort Casey, a quick jog up South Eagle Road will land you right in the middle of another Whidbey Island village. Coupeville, much like Langley, feels very much like a step back in time, with its historic homes and buildings constructed right along Penn Cove. The town is actually part of the Ebey's Landing National Historical Reserve. Coupeville knows how to throw a party, hosting Musselfest each March and an arts festival each August. Front Street is the place to find food, shops, and boutiques, and there are also great lodging options, from scenic camping sites to upscale inns and bed and breakfasts.
Oak Harbor
Meander up Highway 20, admiring the stunning views along the way, until you reach Oak Harbor. This is Whidbey's largest city, and it's home to the Pacific Northwest Naval Air Museum, which tells the story of the island's long military past. Oak Harbor's downtown area is well worth exploring, and for art lovers, the Garry Oak Gallery is a must-stop: The co-op displays the work of dozens of regional artists in a variety of media. Get your hiking and nature fix at Joseph Whidbey State Park, with its rolling fields and wide beaches.
Enjoy a lovely meal at Frasers Gourmet Hideaway, an upscale, romantic eatery with a focus on fresh seafood and produce with a regional wine list to match. When the day is done, hang your hat at Wildwood Farm Bed & Breakfast, located on a working equestrian facility. You can book a ride as part of your stay!
Deception Pass State Park
Just north of Oak Harbor is Washington's most-visited state park, Deception Pass. Coves, cliffs, and the stunning bridge over the pass are some of the park's top draws. Cranberry Lake is the perfect place for a swim, and the park contains miles of Puget Sound beach popular with shell-hunters. Look for whales or seals in the vast watery expanse, or hike through the surrounding forests. This spot is a jaw-dropper, and one you'll want to make a point of visiting.
Anacortes
Cross the bridge at Deception Pass. You're now on Fidalgo Island, and near the spot where you will board your second ferry of the trip. Continue on Highway 20 until you reach Anacortes. The city provides ferry service to the San Juan Islands. But first, take some time to look around! The historic downtown district is home to the Maritime Heritage Center and W.T. Preston, a museum on a steamboat that once served as a snagger, removing debris from Puget Sound. It's now a National Historic Landmark.
To the east of town, Cap Sante Park sits above Anacortes, and a climb up to the top will give you an incredible view. For an unexpected wildlife encounter, head to Predators of the Heart. This nonprofit sanctuary is dedicated to educating the general public about the wolves, cougars, and other animals found sick or injured in the area. Before your ferry, grab a bite at Adrift. This laid-back cafe serves up locally sourced breakfasts, burgers, and of course, seafood.
Ferries depart Anacortes bound for four different San Juan destinations: Lopez Island, Shaw Island, Orcas Island, and the chain's namesake, San Juan Island. You will need reservations, so be sure to book your tickets in advance. Depending on which location you choose, the trip will take 1 to 2 hours.
San Juan Island
We recommend ending your road trip in Friday Harbor. The ferry from Anacortes takes you straight to this quaint port city on San Juan Island.
Friday Harbor's favorite sea residents are on full display at the worthwhile Whale Museum; to get an even closer look at the magnificent orcas, book a whale-watching charter or tour. Consider a kayak rental to see the island in its full glory from the Salish Sea; Discovery Sea Kayaks offers a number of guided excursions.
You really don't need a car to explore all the best bits of the island. For a land-based adventure, rent a bike and head out. Keep in mind that there are a few hills, and there is motor vehicle traffic. However, the shoulders are wide, and the coastal views are incredible!
Back at Friday Harbor, peruse the galleries and shops, and refuel with the freshest fish (beer-battered halibut!) and chips you've ever had at Herb's Tavern.
While we adore Friday Harbor and the surrounding area, it's important to keep in mind that each island in the San Juans is different and has its own charm. Learn more about them here.
What To Know Before You Go
You are absolutely taking the long way to the San Juan Islands with this road trip, and the natural beauty you'll encounter is stunning. Enjoy the time on the road, and try not to stick to a strict schedule. That way, you'll have the flexibility to truly unwind, slow down, and explore one of our country's most beautiful regions.
Also, be sure to pack a waterproof layer, boots, and an umbrella. Washington state is prone to clouds, gray skies, and sudden rain all year round. You don't want to be caught unprepared.