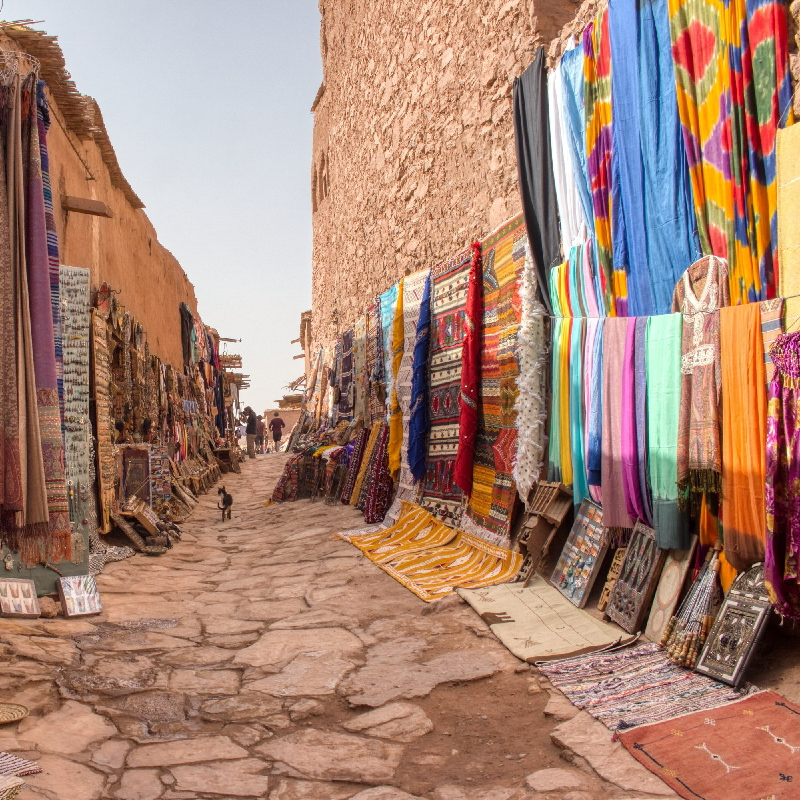 Capturing special images that transport you back to the moment long after your return home is possible, whether it involves snapping photographs with your phone, a point-and-shoot, or a sophisticated professional camera.
Morocco has to be one of the best places in the world to capture such memories. Rich in photographic subjects that are beautiful, interesting, and unique, Morocco tells a story about an ancient land and her people.
We were fortunate to spend a leisurely nine weeks touring Morocco by RV. Traveling in this manner meant we often stumbled across the best places for mind-blowing photos. A year later and we look back on those photographic albums marveling, scarcely believing that we were actually there.
Sharing the best places to take photos in Morocco, and treasured tips about how to capture that once-in-a-lifetime memory, is a joy. This photographic journey takes you down through ancient cities and up into the grandeur of the Atlas mountains, then, deep into the interior of Morocco, as we soak up the tranquility of the Sahara's dunes. From there, we traverse deep gorges, ancient townships, and stunning mountain scenery before arriving at the Atlantic coast and turning north to see more scenery and unexpected, extensive Roman ruins.
1. Chefchaouen
No photographic pilgrimage to Morocco is complete without a visit to the famous Blue City, renowned for the gorgeous blue-painted buildings of the medina (the name given to an African walled city). Visit in the offseason — November to March — or get up early if you want to avoid having throngs of tourists in your photos. Explore the outer reaches of the medina for shots with no one in sight.
2. Fes
The tangled maze of Fes, a World Heritage site, includes its medina, a magnet for tourists and photographers alike. I highly recommend hiring a guide to navigate you to the most intriguing sights. Be prepared to photograph the general hustle and bustle of people, donkeys, stores, mosques, and other buildings, and know that your SIM card will fill up quickly. Your guide will take you to a carpet shop, a cloth weaving factory, a local pharmacist, and at least one artifact store, to name but a few, all in the hope that he will earn some commission from your purchases. Embrace the experience, enjoy and photograph the demonstrations, then show your appreciation by buying something to remember the tour by. You won't want to miss photographing the historic leather tannery, but be prepared for the less-than-inviting smell.
3. Atlas Mountains
There are actually three main Atlas mountain ranges: the Middle Atlas in the north, the High Atlas in central Morocco, and the Anti-Atlas further to the south. All of the mountain ranges offer a host of locations that you will want to stop and capture. From the permanent snow of the High Atlas to the argan tree and prickly pear-studded slopes of the Anti Atlas, there are constantly changing scenic vistas.
4. Azrou
The ancient Cedre Gouraud Forest in the Middle Atlas Mountains near Azrou provides the opportunity to photograph the local Barbary macaque monkeys up close and personal. Buy peanuts from the local sellers to enjoy interactions with these cheeky monkeys.
5. The Sahara Desert
There are two prime locations in Morocco for experiencing the imposing dunes of the Sahara and capturing memorable images: Zagora and Erg Chebbi. Both areas offer safe access to a small finger of the Sahara that intrudes into southeastern Morocco. Reserve a camel tour to enjoy an overnight experience in a desert tent and discover stunning photographic opportunities. Trek into the dunes early to catch the sunrise, and photograph camel riders or walkers on distant dune peaks. This gives you perspective and a sense of the landscape's massive scale. Want more inspiration? Read up on nine hidden secrets we discovered in Morocco's Sahara Desert.
6. Todra And Dades Gorges
These gorges are relatively close together and both offer unique photo opportunities that include interesting villages, buildings, and rock formations.
The imposing red cliffs of Todra tower above the road, and driving further up the gorge reveals great scenes of palm trees and the craggy dry river bed. If you have a big zoom lens, you may be able to see the cave dwellers high on the canyon walls. Be prepared for a myriad of vendors selling scarves, fossils, and other wares.
Dades Gorge is best known for the awe-inspiring images of the switchback road zigzagging up the sheer rock wall. From the auberge (hotel) at the top, lean over the edge and snap the meandering engineering marvel.
7. Ait Benhaddou
The UNESCO-listed ancient fortified town of Ait Benhaddou lies on the original trans-Saharan trade route and has been part of numerous movie sets. Traditionally, Moroccan buildings outside the cities were made from rammed mud, earth, and straw and begin to degrade within a few decades. However, Ait Benhaddou has been repaired and restored using authentic materials and architectural features, providing many photo opportunities. Capture the town from across the stream, then scale the upper walls for a memorable panoramic.
8. Guelmim
Guelmim is well-known for its weekly camel souk and the gorgeous brightly colored clothing worn by the women of southern Morocco. Other interesting subjects include the pop-up petrol stations selling cheap gas brought over from the nearby Western Sahara region.
9. Mirleft
Although not as well known as Sidi Ifni, 20 miles to the south, Mirleft is a wonderful traditional Moroccan seaside town with a vibrant weekly souk. Of special feature is the ruined French fort overlooking the town. From the fort, you'll have panoramic views, and, if you are lucky, for a small donation, a local will show you around the ruins. Walk around quietly to see desert squirrels sunning themselves on the rocks.
Just 14 miles south of Mirleft lies Legzira Beach, well known for its imposing rock archways.
The many paragliders landing on the beach make great subjects or can add interest to your photos.
10. Tafraoute
During the drive to Tafraoute, the surrounding hills won't let you put your camera away for even a second. Early morning is a special time when the sun rises over the surrounding mountains, bathing the barren landscape with wonderful red and pink hues. The nearby Painted Rocks and Napoleon's Hat are other popular photo locations. Not far from Tafraoute, we came across a shepherd encouraging his goats to climb the argan trees to graze on the nuts and foliage: living proof of the incredible story of tree-climbing goats in Morocco.
11. R203 Road
Not for faint-hearted drivers (or passengers), the R203 road over the Anti-Atlas mountains between Taroudant and Marrakesh traverses some of the most stunning scenery — but is barely wide enough for a car in places, let alone our seven-foot-wide RV. If you dare to go, stay at the auberge at the top of the Tizi-n-Test pass to capture stunning evening and early morning photos.
12. Marrakech
Magical Marrakech is very touristy, and certainly photogenic. The UNESCO-listed main market square Jemaa el-Fna is a nonstop riot of snake charmers, fortune tellers, street hawkers, and locals throughout the day, transforming to a maze of street food stalls every evening. Be prepared to pay to take your photos here, or sit back at a distance with a zoom lens and search out interesting subjects from one of the overlooking cafes.
Marrakech is rich in historical buildings, gardens, and palaces such as Bahia Palace, which has architectural features and intricate wooden marquetry that leave you grasping for superlatives.
From Marrakech, it is less than a three-hour drive to the popular seaside town of Essaouira, where you can pay to get a guaranteed photo of tree-climbing goats. Explore the quieter historic UNESCO-listed fortified Portuguese town of El Jadida with its very photo-worthy forts and cistern.
13. Meknes
If you want to avoid most of the tourists while still photographing authentic markets, historic buildings, and palaces, then Meknes is the place for you. Once an imperial city, Meknes has many splendid structures of interest as well as a large and interesting walled medina. For photos of the medina with fewer people, visit late on a Friday; we were there around 8 p.m. and many parts of the city were virtually deserted.
14. Volubilis
Last on our list: the extensive UNESCO-listed ruins of Volubilis. Founded by the Berbers around the 3rd century B.C., Volubilis later became an important Roman city at the very edge of the Roman Empire. Unlike many ruins in Europe, you are free to wander the site here in search of photographic subjects such as the beautifully reconstructed Triumphal Arch or the many stunning floor mosaics depicting life and legends from Roman times. The lush surrounding countryside and the nearby town of Moulay Idriss provide interesting backgrounds for stunning photographs.
This is a popular tourist spot, so arrive early to avoid the crowds and catch the morning light before the harsh sun brings too much contrast into your photos.
Pro Tips
You will want to leave Morocco with memories of the landscapes, the people, and the architecture. Plan your travels through regions including the mountains, Sahara sand dunes, bustling medinas, and souks. We found the best scenery was in the central and southern regions and away from the usual tourist hotspots.
Be careful about taking photographs of people without their permission. They may refuse or ask for a small amount of money, or they may happily pose for you. Under no circumstances should you photograph the police or the military, and don't take a drone into Morocco as these are strictly illegal.
The magnificent sweeping views in Morocco can be hard to capture with just one photograph, so learn how to take several overlapping photos and stitch them together using panoramic stitching software — I used the free Image Composite Editor. If your camera and baggage allowance permits, take along a wide-angle lens for the landscape shots and a good zoom lens for capturing everyday life. A tripod is highly recommended. You can also check out these nine travel photography tips for amazing photos on your next trip.
We found many of our favorite photography locations by researching other travelers' blogs, and photography sites such as Flickr or Instagram. Often we just stumbled on them as we drove across the countryside or strolled through the medinas and weekly souks. As always, being up early for sunrise or staying out for sunset gave the best lighting, plus opportunities to experience the locations without the crowds. Having our own transport let us stop whenever we found a great photo opportunity.
When planning your visit to Morocco, avoid the scorching hot months of late May through mid-September. We were there in January, February, and March, and although it was sometimes chilly at night, the daytime temperatures were comfortable and the crowds small.