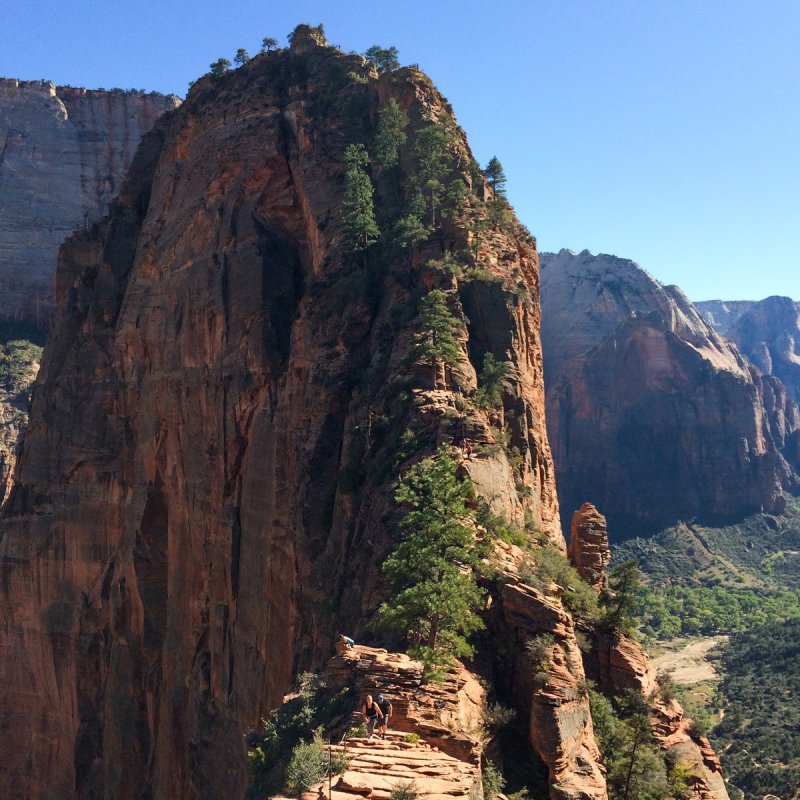 The spiny ridgeline, the enormous views, the chains bolted to rugged cliffs — Angels Landing is a YouTube and Instagram sensation for a reason.
The trail, located near Springdale in southern Utah's Zion National Park, really does have it all. Its aura of danger satisfies thrillseekers, while its stunning beauty delights photographers and sightseers alike. All of its attributes have combined to make Angels Landing a world-renowned bucket-list adventure.
On paper, Angels Landing's 5.4 miles (round trip) and 1,500 feet of elevation gain might sound comparable to many moderately difficult day hikes out there. At least that's what I thought before I got to the trail. But I soon realized that the trail has some unique qualities that have nothing to do with mileage and grade — namely its sheer drops, abrupt rises, and notorious chain section in the last half-mile. Its challenges combine for a strenuous hike, and most people take 3 to 5 hours to complete it.
Utah's state tourism website calls Angels Landing "a spectacular day trip for well-conditioned hikers who have no fear of heights." Even with those qualities, though, there are a few things that can help make the hike safer and more enjoyable when visiting Zion.
Here are 13 things to know before you go.
1. A Permit Is Needed
In an effort to reduce crowding on the popular trail and to address safety concerns, the National Park Service began requiring a permit for visiting Angels Landing in April of 2022.
The Zion NPS website notes that visitors can get Angels Landing permits in a seasonal lottery or in a different lottery the day before their planned hike. The lottery is a pilot program, and the park will adjust it as needed."Angels Landing is one of the most iconic destinations in Zion National Park, and issuing permits will make going there fair for everyone," park Superintendent Jeff Bradybaugh said in a December 2021 news release. Information about the permit process and the fees is available on Zion National Park's permits and hiking page.
2. It Might Be The Scariest Hike You Ever Try
I've done some moderately scary day hikes over the years, including up and down both the North and South Rims of the Grand Canyon, the slippery Mist Trail at Yosemite, and Arizona's highest peak, Mount Humphreys. Angels Landing may not be the most strenuous hike I've ever done, but there's no doubt it is the scariest.
For me, what set Angels Landing apart was what I call the "double drop" — areas where a chasm opens up on both sides of the trail, and you have a brief feeling of being on a tightrope. Usually, you'll have a chain to help you out in those areas, but sometimes you're on your own for a short distance.
Add in the crowds, the steep sandstone steps, and the volatile weather conditions, and Angels Landing makes for a precarious outing.
Still, you can do a few things to lessen the danger. For one thing, I recommend watching weather reports and avoiding times of snow, ice, and thunderstorms. This trail is risky enough on a clear, warm day; a snowy or rainy hike seems unnecessarily reckless to me.
Another factor to consider is the popularity of the trail. Zion National Park attracts about 5 million visitors a year, and many of those visitors have Angels Landing on their must-do list. That translates to throngs of hikers. I recommend timing your hike to avoid the crowds as much as possible.
3. An Early Start Is Crucial
With that in mind, perhaps the most important tip is to get an early start… That means getting to the shuttle bus as soon as possible in the morning to access the Angels Landing Trailhead.
The shuttle schedule changes depending on the season, so be sure to check on shuttle times on the park's Zion Canyon Shuttle System page. The website includes details on seasonal changes in shuttle times at the Zion Visitor Center parking lot, as well as the Springdale Line Shuttle schedule.
As with other busy national park attractions, it's best to try to time your Angels Landing hike for the middle of the week rather than the weekend.
4. Spring And Fall Are Optimal
Weather-wise, the best times of the year to visit are spring and fall, which typically feature warm, sunny days and cool nights. Along with cooler temperatures, the shoulder times of March, April, October, and November have lower visitation numbers.
Park visitation numbers show that June is the busiest month, with more than 675,00 visitors in 2021. It is also one of the hottest months, with average high temperatures reaching the high 80-degree Fahrenheit range. June and August attract nearly as many visitors, and they also register average highs in the 80s and low 90s.
Pro Tip: Regardless of the season, it's important to be prepared for the sun by wearing a hat and sunscreen.
5. The First Section Is Grueling
Although Angels Landing's last half-mile ascent gets much of the attention, remember that you have to climb about 1,000 feet in elevation over 2 miles to get to that point.
Don't underestimate the difficulty of the first part of Angels Landing. The first 1.5 miles involve a continuous climb over largely shadeless terrain before you reach Refrigerator Canyon, a short shady section. On a hot day, the first part of the trail can be a bit of a slog that can sap your energy. The upside is that the views along this section are stellar, often with the entire valley spread out below.
Next up is Walter's Wiggles, a section of 21 tight switchbacks that climb steeply toward Scout Lookout. I actually preferred Walter's Wiggles to the previous climb, because it offered shade, and I was able to gauge my progress along the switchbacks. And as you approach the top, you're treated to cool views of the twisting route below.
6. There's No Shame In Turning Back
After climbing Walter's Wiggles, you will soon emerge to views of the final segment — the massive rocky reef bisected by a thin trail. Scout Lookout ends the first portion and begins the second section up the spine to Angels Landing. A stop here is advisable, both to catch your breath and to soak up the sweeping views.
It is also the time to evaluate whether you want to continue on to the summit. Plenty of people decide that reaching Scout Lookout is enough of an achievement. Especially if you have a fear of heights, this might be the time to either turn back or find some shade and wait for your hiking companions to complete the summit. Also, if you're feeling drained or fatigued from the first section, it's best not to continue on. Know your limitations and proceed accordingly.
Pro Tip: Scout Lookout is also an opportunity to take a restroom break. The Zion website notes that there are restrooms at Scout Lookout and The Grotto Trailhead. In addition, there is a water filling station at The Grotto.
7. The Second Section Is Exhilarating But Frightening
If you do decide to head upward, Scout Lookout is where the hiking gets serious. After crossing a natural bridge-like walkway, you will begin the treacherous climb up. Here, you'll navigate steep steps, sheer drop-offs, and rocky crevices.
Because the narrow route allows for only one-way traffic, the upward-moving crowd must often wait for people heading back down, and vice versa. It sometimes seemed to me that there was nowhere safe to pause alongside the trail, and the oncoming hikers appeared endless.
My recommendation for this section: Go with the flow. And when traffic starts moving upward or downward again, be ready to join in.
8. The Chains Are Your Friends
This section is where the trail's infamous chains will be crucial. Do not hesitate to keep your hand firmly on those chains as you move forward. And be forewarned that along with the scary drop-offs, you will also encounter plenty of very steep sections where the chains will help you propel yourself upward.
This is the most thrilling part of the hike, so enjoy it. Still, it's not the time to be gawking side to side while you're climbing. I recommend that you take in the views while you're stopped, but keep your eyes straight ahead while you're moving.
Pro Tip: For photos, a GoPro or other action camera can come in handy here. I saw one woman hike the entire trail with a GoPro strapped to her shoulder.
9. Carry Hiking Gloves And Plenty Of Water
As I navigated the chains, I was happy that I had heeded the advice of a friend about the need for hiking gloves. The chains can be rough on your hands, and gloves will give you a bit more traction as you pull yourself upward. They will also give you more control on the treacherous downward hike.
For warm-weather hiking, I recommend fingerless gloves with a good grip in the palm.
Carrying plenty of water is also crucial on the Angels Landing hike, especially during hot weather. The Zion NPS website recommends carrying and drinking one gallon per person per day.
10. Opt For A Streamlined Pack
Just as important as hiking gloves is the right kind of daypack. I mistakenly used a waist pack with a large water bottle on each side. Through the narrow rock corridors of the final ascent, my pack repeatedly got stuck, and the bottles were not stable enough.
I recommend a streamlined CamelBak or narrow backpack for this hike.
11. Fitness Is Key
As is often the case with difficult hikes, age did not appear to be the main determining factor for people hiking Angels Landing. Much more important was the level of fitness. I encountered hikers of all ages struggling on the trail, while plenty of fit hikers, old and young, appeared to be holding their own. (Note that Angels Landing is not recommended for young children.)
Before attempting Angels Landing, I recommend training on trails that have intervals of super-steep climbs. Also, some experience with rock-hopping would be helpful.
For 50+ hikers, it's also important to get in some hot-weather conditioning. For me, it seems that hiking in the heat has become more and more difficult over the years. But working up to a big hike can help. Also, this is probably not the hike for people with knee issues.
12. Remember To Soak Up The Views At The Top
After that arduous climb up, you deserve a treat, and you're in for one at the top of Angels Landing. The Zion Canyon is spread out below you, and the park's Virgin River is a shiny ribbon in the distance. Take some time to wander from side to side on the rocky mesa, and be sure to sit down for a refreshing drink and a snack.
Pro Tips
At Zion, as with any National Park adventure, it's important to leave no trace of your visit and always pack out any garbage you have along the way.
You are likely to encounter a bevy of chipmunks while resting along the Angels Landing hike. You might be tempted to feed them, but the National Park Service cautions against it. "In spite of their 'cuteness' and tiny size, they can bite, and human food is harmful to them," says the Zion website.
13. The Downward Hike Can Be Challenging, Too
As you lounge at the top of Angels Landing, it is natural to indulge in a feeling of accomplishment. You did it! But it's also important to remember that you still have the perilous hike down to contend with, so don't let down your guard too much. In fact, it was during the downward hike that I experienced the most "What was I thinking?" moments.
My advice is to take the hike down as slowly as possible. And once you're back at Scout Lookout, take a moment to look back up at the ant-like hikers moving slowly up and down. This is the time for a long breath of relief and a high five.
Pro Tips
The mid-sized city of St. George, Utah is less than an hour's drive from Zion National Park and makes a convenient base for exploring the region. 
For the nearest lodging to Angels Landing, visitors can stay at the historic Zion Lodge, located in the heart of the park and offering stunning views of the famous sandstone cliffs. Several campgrounds are also available.
Visitors during peak times should remember that Zion's scenic drive is accessible only on shuttle buses from March through late November. "Private vehicles are allowed to access the scenic drive only when the shuttle system is not in operation," says the park's website.