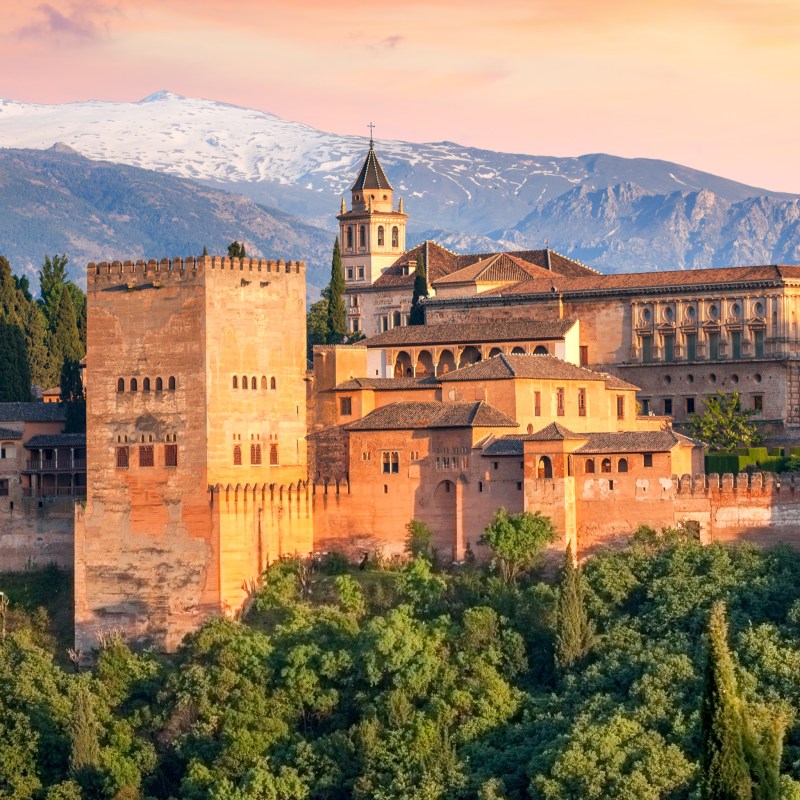 Maybe you have come to Spain for a beach holiday in one of the many splendid resorts on the famous Costa del Sol in Andalusia. Hopefully you can do so in spring or fall, which are the best seasons to visit as there are fewer tourists, it's cooler than it is in the summer months, and everything is in full bloom.
Swimming, sunbathing, and rubbing shoulders with the beautiful people in Marbella, for instance, is all very well, but you absolutely must reserve a weekend escape to one of the most iconic cities in all of Spain: Granada.
Located at the foot of the snow-covered (even in summer) Sierra Nevada, Granada spreads out on a plain and lies on the confluence of four rivers: Darro, Genil, Monachil, and Beiro. It is, however, most famous for the monuments dating from the times when Spain was under Muslim rule, a period that lasted well over 700 years — from 711 to 1492 to be precise.
Who hasn't heard or seen images of the majestic Alhambra and the splendid gardens of the Generalife? These may be the best-known Granada attractions, but there is a lot more to do and see in Granada, including the cathedral, the districts of Albaicin and Realejo, a romantic walk along the Darro, the artists on Plaza Nueva, and the gypsies of Sacromonte, not to mention indulging in the famous Spanish snacks called tapas, which were practically invented here.
Conveniently, Granada is only two to three hours away from any location on the Costa del Sol, so you can drive or arrive by coach or train from Malaga. From anywhere else in Spain, there are good connections, and Granada even has an airport called Federico Garcia Lorca.
Make the weekend a long one as there is so much to see and do. Visiting the Alhambra alone requires several hours if not half a day to enjoy everything properly. We'll tell you where it's best to spend the night, where to eat, and how to organize a weekend in one of Spain's most emblematic cities for a weekend you'll never forget.
Make The Alhambra Your First Stop
A UNESCO World Heritage Site, this enormous palace cum fortress has seen a long and colorful history. From being the summer retreat of the Moorish rulers to a court for the Catholic monarchs to falling into disarray and being inhabited by rats, bats, and thieves, it was finally restored to its former glory and even improved upon in 1870.
To get an idea of the many separate palaces, towers, and courtyards that form the entire complex and the time it takes to enjoy them all, look at this map. We strongly advise that you buy your ticket in advance and start your visit early in the morning. Bring water and wear comfortable shoes as you have a lot of walking to do. I prefer to visit on my own because I have done my homework and move in the opposite direction of the guided tours. There are plenty of those, though, if you wish to join one.
Best In Spring: Generalife
Whereas the palaces of the Alhambra are ornamental and lavishly decorated, the two groups of buildings that form the Generalife are much simpler. The reason is that the kings who built it in the 13th century wanted an escape from their courts and put the emphasis on the gardens, which are connected by the Patio de la Acequia. Ornamental trees and shrubs sculpted into figures and birds alternate with the colorful flowers of the south of Spain, predominantly hibiscus and bougainvilleas but also jasmine, honeysuckle, and roses. You can imagine the scent that permeates the air and why it's best to visit in spring when everything is in full bloom. Alhambra and Generalife are located next to each other on the same hill above the city, so combine a visit to both. Then, it's time to relax.
Relax In Plaza Nueva
Plaza Nueva is the pulsating heart of Granada life, and despite its name, it's the city's oldest square. Surrounded by historical buildings like the cathedral, the square was established in the Middle Ages and used as a bull ring for games and tournaments. The River Darro runs underneath, but you can't see it. After your Alhambra and Generalife exertion, you'll want to rest your feet and have a drink on the vast terraces of one of the many bars that ring the square, watch the world go by (Granada is a university city, so there are lots of young people around), and be entertained by some of the street performers.
Remember the location of the square because it's an ideal starting point for your sightseeing the next day. You can easily reach Albaicin and Sacromonte from here as well as start on the Carrera del Darro. If you feel like it, the Cathedral of Granada is only a few steps away. There, you can admire the gothic and renaissance architecture and visit the many chapels inside.
Watch Flamenco In Sacromonte
In the evening, you want to go out. Flamenco, the exciting dance and music with stamping feet, guitar riffs, swishing polka dot skirts, and clapping hands, was practically synonymous with the Roma people (sometimes called Gypsies), who came here in the 15th century and settled in Sacromonte on Valparaiso Hill opposite the Alhambra.
Apart from the picturesque cave homes where some Roma still live, and which you might want to visit during the day, go to Sacramonte at night and you'll get a stunning view of the illuminated Alhambra.
At night, Sacromonte is awash with visitors who have come to listen to Flamenco in one or more of the many taverns, called tablaos, some of which are actually in caves. You can easily amble from one to the next, sitting down on wooden chairs amidst the locals wherever you want to stay awhile, but if you prefer, you can also go on a guided tour.
Sacromonte can be reached on foot from Plaza Nueva, but it's a very steep climb. Take the 34 Bus instead. It's quite an exciting journey as the bus has to wind through very narrow streets and tight bends. Just stay on until the last stop. Or, you can opt for a taxi.
Carrera Del Darro, A Romantic Walk
The next morning, you can go on the most romantic walk in Granada. The River Darro is narrow and runs along the foot of the hill on which the Alhambra is located. It follows the route where the old city wall would have been. The path is narrow and cobblestoned. On one side, you have old Renaissance buildings, on the other, the lush, green vegetation of the woodlands at the foot of the hill. Again, Plaza Nueva is your starting point.
Stop to visit the Banuelos, the old Arab baths. From the outside, they don't look like much, but inside, they are amazing. At one point you come across an imposing Arab bridge, the arch of Puente del Cali.
This path takes you to a beautiful neighborhood of Granada, Albaicin.
Explore The Albaicin Neighborhood
During the last years of the Arab rule in Granada, Albaicin was a thriving district with many inhabitants. After the city's Arab rulers were defeated by the Catholic monarchs, Arabs who wanted to remain in Granada settled here and built their pretty white houses and many mosques. After the Arabs were expelled, Christians used their houses, the mosques were erased, and churches were built instead.
However, the overall Arab impression remains, more than anywhere else in Granada. Wander through the narrow winding streets, admire the houses adorned with flowers and blue tiles, and have a coffee in one of many cafes.
Then you can take one of several buses back to Plaza Nueva.
Best Places To Eat In Granada
Tapas are the most typical of Spanish snacks, small delicacies heaped onto a slice of French bread and kept in place with a toothpick. They can be anything: a piece of tortilla, a king prawn, sardines, a small helping of ensalada rusa (also known as Olivier salad), or few rings of octopus. They are consumed with a glass of beer or wine. These are the basics, but the construction of tapas has developed into a fine art, with increasingly elaborate concoctions, all of which you will want to sample.
Simply go from bar to bar, have a drink and, in many places in Granada, a tapa you choose from the menu is thrown in for free with your beverage. If you really want to get into tapas history and variety, consider joining a great Granada Tapas tour.
Granada is famous for rice dishes (including paella), lamb, and other roasts. For a sit-down meal in a pleasant funky restaurant, head for one of the best in Granada: La Autentica Carmela.
Best Places To Stay In Granada
Before traveling to Granada, do a bit of homework and read Tales of Alhambra by Washington Irving. It will give you great insights and a deeper understanding of the fabulous place you are about to see. Thanks to Irving, Granada and the Alhambra became know to a broader public. Although he managed to stay in an Alhambra Palace itself, my favorite hotel in Granada, the Eurostars Washinton Irving, is named in his honor. A chic and modern five-star hotel with a great touch of history, many stars and celebrities have also stayed here. This would be the crowning glory to a wonderful weekend.
If this exceeds your budget, never fear; Granada offers many accommodations in all price ranges. Other good hotels to stay in are Gar Anat, a boutique hotel inspired by literary greats of Andalusia, and Hotel Casa Morisca. Wherever you stay, there is no getting away from Granada's Moorish past. You will enjoy it in the architecture, decor, and beyond.
Best Places To Shop In Granada
With so much to see and do, shopping might not be your priority, but a little souvenir never comes amiss. Look out for the gorgeous blue, white, and green ceramics. The best places to buy are on Calle Recogidas and Calle Reyes Catolicos in the city center. Or there are little stores on Calle Elvira. If you like a shopping mall, head for Centro Comercial Nevada.
Granada is one of the most visited places in Spain. It's no fun if you have to stand in line for hours or fight your way through camera-wielding crowds. Therefore our advice is to go in spring or fall. In addition, it helps if you are an early bird. Not only is it cooler in the mornings, the light also lends a touch of magic to this fascinating city.