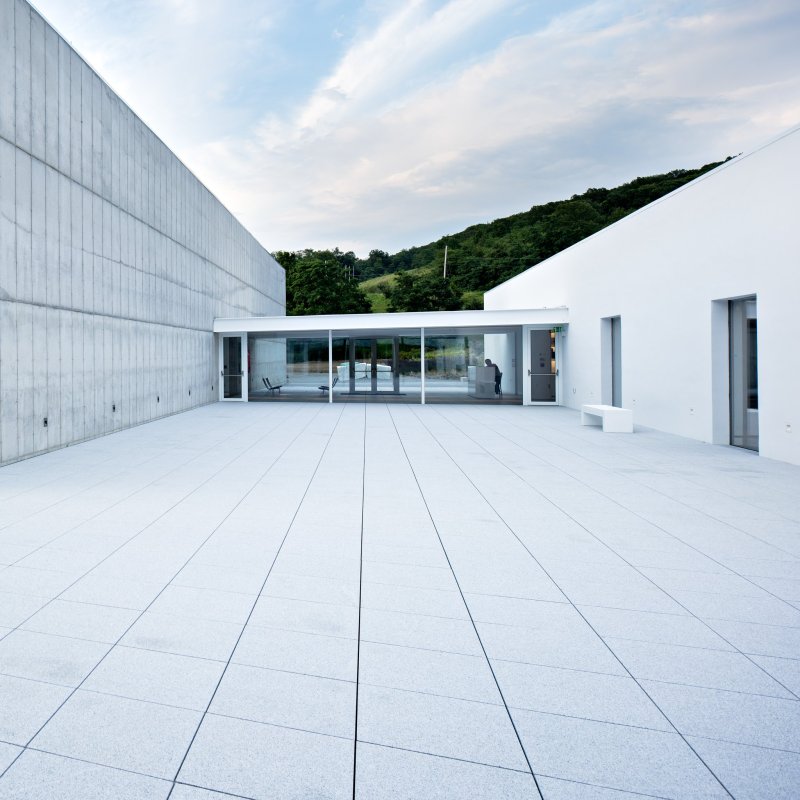 Have you found yourself sitting at home wondering how we're ever going to travel comfortably or enjoy public spaces again? I know I have.
Thanks to grocery delivery and the ability to write and edit from home, I've only been out a few times since mid-March. My adventures off property have ranged from uneventful (going to my in-laws to feed their cats, which doesn't involve interaction with other human beings) to very awkward (attempting to respect people's distance at the grocery store without instigating an avocado avalanche or taking out an entire bin of plantains).
Of course, I'm dreaming of other interactions and visiting new-to-me places, and Magazzino Italian Art, a museum in Cold Spring, New York, is one of them. I've spent time in Ithaca and New York City, but I've never been to Cold Spring, and I never would've known about this special place if I hadn't helped curate a list of tours and webcams you can enjoy from home any time back in March, as travel ground to a halt.
Seeing Magazzino's posts in my social media feeds has been a bright spot in my days. There's something absolutely captivating about its aesthetic, and just imagining being there is a pleasure.
When I saw a Magazzino post announcing that they're preparing to implement wearable social distancing technology when they welcome visitors back to the museum, I was intrigued. I wanted to know more. I was also struck by an unshakeable sense of The future is now.
Will wearable tracking devices help keep us safe when museums and other attractions reopen? Will people tolerate that? Am I the only one who hasn't heard about this? A school of thoughts went swimming through my head, none of which I could answer on my own.
I reached out to Magazzino. The staff proved to be extremely warm and responsive, and suddenly, I was having an engaging and evocative conversation with Magazzino's director, Vittorio Calabrese, about art, community, responsibility, and how the museum's connection to Italy has encouraged innovation as people in both countries prepare to heal.
Magazzino Means Warehouse
"Magazzino means warehouse," Vittorio told me, and this is interesting because the EGOpro Active Tag tracking devices the museum will distribute to all visitors are actually manufactured by Italian and American companies with warehouse and industrial workers (think folks operating or working around large machinery, like forklifts) in mind.
They leverage radio technology that measures the distance between tags. Per Magazzino's press release, "When the tags — and the people wearing them — are closer than the recommended safe distance, the tags will vibrate and flash a red LED light to alert the user and those around them that they have breached a minimum safe distance."
The tags, which Vittorio also referred to as tokens, could be worn like badges on lanyards or even as bracelets. The museum is still deciding exactly what's best and working with the manufacturer to design a custom solution, but however the tags are worn, they can be calibrated so approved groups can move through the museum together without sounding the proverbial alarm, which will make the experience more organic for couples, families, and travel companions.
Magazzino's press release also answered my question about whether I was the only one who hadn't heard about this new frontier in social distancing. I'm not. Magazzino is the first museum in the United States to adopt this technology.
Vittorio told me the endeavor began as he and Magazzino cofounder Giorgio Spanu discussed and imagined a system to maintain social distancing in the gallery. Spanu's background in printing work — in big warehouses — came into play.
"We wanted something easy that would work for those who are not technologically savvy," Vittorio told me, and they didn't want an app or anything that operates through individual visitors' cell phones or the Wi-Fi, which can be very invasive.
The tags, which are being adapted to exhibition spaces in Florence, including the Duomo, encourage safety and are easy to use, easy to sanitize, and effective.
Vittorio and Spanu started studying the option and are proud to be pioneering another collaboration between Italy and the U.S.
The Human Element
When we first hopped on our call, Vittorio told me, "The grounds are incredible now in late spring."
Then we launched into our discussion of the closures we're all experiencing, and people's eagerness to — and apprehension about — getting back out. "We decided to close before the State of New York" Vittorio told me, sharing that the museum has been closed since March 11.
Magazzino's program is based on Italian postwar and contemporary art, and its staff has a strong connection to the art world in Italy.
"We were actually one of the first institutions in the region to close," Vittorio said. He attributed being a little ahead of the curve to the fact that Italy was experiencing major issues that the museum staff was keenly aware of.
He attended The Armory Show the week before. "I got to the Saturday before the closing, the week of the 6th, and I was talking to my family," he said. "We felt right away that we wanted to close."
"Part of our demographic is really linked to Europe, and our most loyal demographic is over 50," he shared.
He and the rest of Magazzino's staff saw closing as a way to be very cautious, and to do what was right for its employees, visitors, and members of the most fragile communities. "We felt a moral obligation knowing the access to the information we had; we closed at least four days before everyone else."
Digital Frontiers
They started digital programming, including Magazzino Da Casa (which means Magazzino at Home), as a way to support and engage artists working at home that includes regular virtual meetings. They've also released films including the visually stunning Installing Magazzino, which documents the installation of the museum's first exhibition.
Vittorio said social media and the website have become part of their daily jobs, and it's thanks to these efforts that people around the country and the world, myself included, know what they're up to, though we never would have before.
We Can't Wait To Be There
Despite all the digital engagement, people keep telling Magazzino they can't wait to be there.
Vittorio said, "We feel that the level of engagement will be strong," and that "the more digital we go, the more people want to have these experiences" — experiences of being in the museum and on Magazzino's grounds, which are home to extensive gardens, walking paths, a tent, and, believe it or not, Sardinian donkeys.
For the rest of the year, Magazzino will continue complementing what's happening in the space with its digital program. "For every exhibition, we're trying to do digital tours and video productions," Vittorio said. He acknowledged that "it's great to speak to people in Nebraska or collaborate with a scholar in Houston. We've never done that before."
Still, Vittorio predicts "the future will be much more local and much smaller in scale." Tiny Cold Spring definitely fits the bill, and just looking at Magazzino's space, it's easy to understand why Vittorio said, "Sometimes the experience you have is so much more intimate" in a place like Magazzino than, say, clambering to see the Mona Lisa at the Louvre.
The Tag Is The Last Tool To Practice Social Distancing
Vittorio told me he feels very comfortable with the fact that New York State will open safely and said that the reason Magazzino is taking measures including implementing the EGOpro Active Tags is because of the fragility of certain populations.
When the museum, which is free to visit, reopens, it will stagger entry using a reservation system and run at a lower capacity. Vittorio said, "Visitors can enjoy the space in a less crowded environment," and hopefully in conditions where they don't "actually have to hear the beeping or see the lights" of the tags at all, which he calls "the last tool to practice social distancing."
There will be hand sanitizing stations around the gallery and Magazzino will ensure more cautious distancing around entrances and bathrooms using the tags and other measures. They will also have QR codes for visitors who want to download digital guides on their own devices.
You Come To A Museum To Experience Peace Of Mind
In addition to prioritizing visitors' physical well-being, Vittorio told me he's thinking about people's mental health, anxiety, and uncertainty during this time. He wants Magazzino's response and operations to be "understanding and compassionate."
He told me, "You come to a museum to experience peace of mind," and that really resonated with me. It's the same reason I'm longing to safely hit a hiking trail or make it to the beach.
"Florence" — where the EGOpro active tags are already being put to use — "is thinking about mass tourism in huge numbers," Vittorio said, but Magazzino eventually realized these devices are perfect for their needs, too.
"We really hope that people will not feel afraid." He says they're easy to wear and he hopes they will put people at ease because it does not involve the use of their data.
"That is a big conversation, when you're tracing people." This option, however, isn't too different from the buzzer or tracker you might hang onto while waiting for your Panera order or restaurant table to be ready. When you leave Magazzino, you'll leave the tag to be sanitized, and for someone else to use.
Vittorio said Magazzino will receive its batch of EGOpros in late May or early June. Then, it's the wait, sure to be filled with more gorgeous digital content, until the museum can reopen and put this internationally inspired technology to use.
Want to experience Magazzino in person and wondering how to get to Cold Spring? It's included in our tips for planning a multigenerational road trip through the Catskills, and it's less than two hours away from the most scenic hikes in the Deleware Water Gap, meaning, when it's time to travel again, you could get your fill of art and nature in a single day.