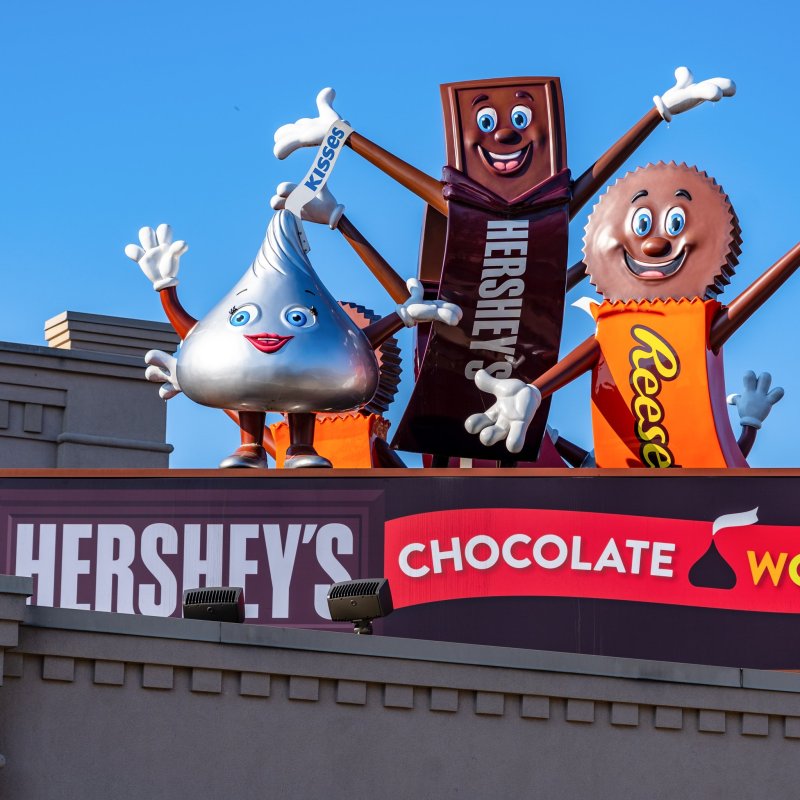 The faint scent of delicious chocolate fills the air, and street lamps in the shape of giant Hershey Kisses line the streets. Yes, you are visiting the so-called sweetest place on earth: Hershey, Pennsylvania. It is a wonderful weekend destination for adults, including the 50+ crowd.
Hershey is a small, central Pennsylvania town located about 20 miles east of Harrisburg, the state capital, and 95 miles west of Philadelphia. It is also a short two-and-a-half-hour drive from Washington, D.C., and about an hour-and-a-half drive from Baltimore, Maryland.
I love chocolate, and you can find chocolate everything in Hershey. You can also find beautiful flower gardens, cultural activities, and an award-winning spa (yes, the spa has chocolate treatments!).
Here are a few of the entertaining things adults can see and do during a sweet weekend getaway in Hershey, Pennsylvania.
Ride Through Town On A Trolley
Start your weekend with a relaxing 60-minute guided tour around Hershey with Hershey Trolley Works. See Milton S. Hershey's childhood home and the original Hershey's chocolate factory.
The tour includes chocolate samples and will give you an overview of the town. By the time the tour concludes, you will know how to find your other entertainment stops. The tour starts and ends at Hershey's Chocolate World.
Learn About Milton Hershey And The Hershey Story
The town of Hershey and the man behind the chocolate have a fascinating history. At the Hershey Story Museum, you will learn about Milton Hershey and the chocolate empire he created as well as the creation of the community for the workers at the chocolate factory over 100 years ago.
Some unique Hershey collectibles are also on display, and there's an interactive Chocolate Lab. The part of the museum I enjoy the most is the tastings room, where you get an entertaining geography lesson on the growth of cocoa beans and get a taste of drinking chocolate from a variety of different countries. There is also a cafe where you can grab lunch or a snack.
Visit The Hershey Gardens
Open year-round, seven days a week, the Hershey Gardens and the indoor butterfly house are located near Hersheypark. The 23-acre botanical garden is a lovely place to spend a few hours. Beautiful gardens, ponds, and over 5,000 rose bushes are along the walking paths.
Hit The Spa
If you desire a touch of luxury, make an appointment to visit the Chocolate Spa at the Hotel Hershey. Indulge in one or more of their chocolate-inspired treatments.
They provide traditional and chocolate-based services. Indulge in one or more of their chocolate-inspired treatments. Perhaps a Coca Massage sounds enticing. They combine chocolate-scented oil with classic Swedish massage.
You can also enjoy the sauna, complimentary chocolate chip muffins, and gorgeous views of the hotel grounds from the aromatherapy waiting room.
If possible, plan to spend most of a day at the spa.
Learn How Hershey's Chocolate Is Made
It isn't a real visit to Hershey without a stop at Hershey's Chocolate World.
Located right beside Hersheypark, you will find several fun chocolate-themed attractions. There is the free educational animatronic ride that takes you through the phases of creating chocolate. As you depart the ride, you get a small sample of Hershey's chocolate to enjoy. Also available for your enjoyment (for a fee): the 4-D movie and the Build Your Own Candy Bar experience.
The Hershey Chocolate store is in the same building, and you can purchase all kinds of chocolate and souvenirs to take back home.
Watch A Show At The Hershey Theatre
An elegant entertainment venue, the Hershey Theatre is a perfect place for a night out enjoying musical acts and touring Broadway productions.
Check online to see what is showing before your visit and plan an evening out. Plan dinner at any of the dozen restaurants within walking distance of the theater, and then enjoy a show.
Taste Some Wine
Enjoy a late afternoon treat at Cassel Vineyards. The family-operated vineyard serves estate wines grown and bottled on a 135-acre family farm. Their tasting room is open on weekends (Friday through Sunday) in the afternoons and early evenings. You can purchase wine by the glass or the bottle. Enjoy your wine while viewing the vineyard and farmlands from the vineyard's outdoor seating area.
Plan A Holiday Visit
If you happen to visit Hershey during the Holiday Season, be sure to take in the Hershey Sweet Lights.
From the comfort of your vehicle, you will view 600 animated displays illuminated as you drive along two miles of decorated trails. It is a winter wonderland you won't want to miss.
Hershey Park Christmas Candyland has Hersheypark decked out in 4 million lights for the holiday season. They provide a choreographed light show, live entertainment, and there will be hot chocolate, of course.
Eating And Drinking In Hershey
There are dozens of places to eat, from fast food and chain restaurants to unique specialty restaurants and gastropubs. Here are a few I recommend:
Troegs Brewing Co.
One of Pennsylvania's most well-known breweries, Troegs is a 5,000-square-foot space in Hershey. It has a fun, lively vibe, and the food and beers are affordable.
My recommendation is the charcuterie plate appetizer. It is a selection of three house-cured meats, snack bar pickles, and mustard cream. I love the pan-seared salmon drizzled with hot honey glaze and served with crispy Brussels sprouts and wild rice, topped with a lemon vinaigrette.
Harvest
Enjoy dinner at Harvest in Hotel Hershey, which features farm-to-table regional cuisine on a menu that changes every 12 weeks to highlight fresh seasonal ingredients. Be sure to try the Dessert Shooter Trio — you'll get to taste small bites of different Hershey flavors! Reservations are requested.
Hershey Grill
The Hershey Grill next door to Hershey Lodge features seasonal menus. Breakfast, lunch, and dinner are served. The menu has many healthy entrees, but be sure to try one of their delicious desserts and coffee, too. Attire is resort casual.
Revelry Chophouse Bar
Enjoy a Hershey's chocolate martini along with a delicious steak at Revelry Chophouse Bar and Patio inside Hershey Lodge.
Where To Stay In Hershey
Hershey has an abundance of places to stay. You will find budget motels, big-name chains, and Hershey-operated properties. Advantages of staying at the Hershey-operated properties include free admission to the Hershey Gardens and Butterfly Atrium, free admission to The Hershey Story Museum Experience, indoor and outdoor pools, and access to three award-winning golf courses.
Hershey Lodge
A full-service resort, the Hershey Lodge is vast and somewhat unique in that some rooms have doors that open from the inside hallway while other rooms open to the outdoors.
Just a word of warning: Some rooms are a long walk from the lobby and other common areas.
My favorite rooms are those in the Peppermint Pattie wing that are on the ground level and open out to the parking lot. I love these rooms because, although they're a bit of a drive to get to, they actually place you within a few steps of the lobby, the conference rooms, and the restaurants.
Hershey Hotel
The Hotel Hershey is a four-star historic hotel. Milton Hershey's travels inspired this Mediterranean-themed property, which is elegant and caters to the upscale adult crowd. The luxurious property boasts romantic rooms that are spacious and comfortable. Guests enjoy gardens, a pool complex, a spa, tennis courts, expansive terraces, and several restaurants on the hotel's 300 acres.
Each guest receives a complimentary Hershey bar at check-in and nightly Hershey Kisses.
Pro Tips For Visiting Hershey
Pace yourself with the chocolate. Chocolate is everywhere — cookies, cakes, candy bars, and other treats. It is easy to indulge and then regret having too much chocolate!
Purchase your chocolate last, just before leaving. Otherwise, it will melt if left sitting in a hot car. While melted Hershey Kisses sound scrumptious, they are a bit of a mess in the backseat of your car. (Ask me how I know!)
Hershey is a great place to visit year-round, but my favorite times to go are spring and fall. The flower gardens just seem to come alive during these seasons, and it is less crowded than in summer.
Enjoy your visit to the sweetest place on earth and eat a piece of that delicious creamy chocolate for me. Want more chocolate-inspired travel ideas? Here's why Oaxaca City is a chocolate lover's dream, plus five superb pastry chefs and chocolatiers in Paris.