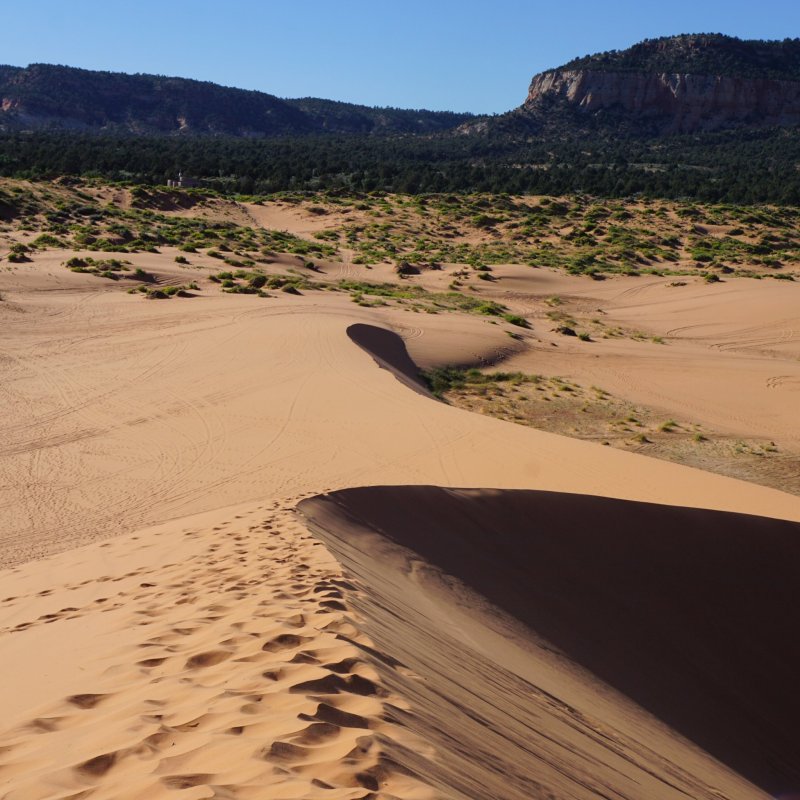 Call it the Lawrence of Arabia factor. Or maybe it's the allure of beach-like sand located hundreds of miles from the nearest coastline.
Regardless of the reason, sand dunes have always held a special fascination for me. I can't seem to get enough of the shifting sands, with their peaked summits and gentle rises.
I'm certainly not alone in my interest. Colorado's Great Sand Dunes National Park & Preserve gets about half a million visitors a year, and the United States National Park Service recently added New Mexico's stunning White Sands to its roster of parks. Other dunes are preserved as popular state parks and national monuments.
I trace my interest back to a childhood visit to the oceanside dunes of Coos Bay, Oregon, where my sisters and cousins and I reveled in the freedom of scrambling to the top of a dune only to discover there was another, and then another, to explore.
I have since learned that sand dunes exist all over the country, and I often make detours in my travels to take them in. From my home in Arizona, I especially appreciate the sands of the Southwest — those multicolored dunes that flourish in the desert and high-desert locales.
Even though the dunes of New Mexico, Arizona, Colorado, Utah, California, and Nevada share some basic features, they all have their own special charms.
Here are seven must-visit sand dunes of the Southwest.
1. Coral Pink Sand Dunes State Park, Utah
Tucked amidst the Navajo sandstone formations west of Kanab, Utah, is a delightful natural wonder: the shifting sea of red sand in the Coral Pink Sand Dunes State Park.
When I made an impromptu detour to the Coral Pink Sand Dunes recently, I was surprised to see not just pink-tinted dunes, but fields of gorgeous yellow rough mule's ear wildflowers as well. The flowers were everywhere along the route into the park, and they were sprinkled all over the dunes.
With few permanently designated trails, the coral dunes are generally open to hikers and ATVs. The park website states, "About 90 percent of the dunes are open for riding, but all of the dunes are open for hiking and just playing in the sand."
Note that the shifting sand makes for difficult hiking, but the payoff of getting to the top of a dune is amazing.
Pro Tip: Late spring/early summer is a great time to visit. During my June visit, wildflowers were blooming, and temperatures were still cool enough to comfortably walk in the sand. The park offers a campsite, which seemed to be filled mostly with ATV-ing families. Other accommodations are available about a half-hour away in Kanab.
2. White Sands National Park, New Mexico
After decades of being a national monument, White Sands was designated a national park in December of 2019. The dunes were finally given the recognition that they have long deserved.
For a unique setting, White Sands National Park is hard to beat. It consists of 275 square miles of snow-white gypsum sand. Drive into the park, and you will immediately be surrounded by glistening hills framed by a deep-blue New Mexico sky.
The park offers a number of hiking trails, ranging from the easy boardwalk of the Interdune Trail to the difficult Alkali Flat Trail.
Located in southern New Mexico not far from the U.S.-New Mexico border, White Sands is fairly remote — about 3.5 to 4 hours south of Albuquerque and 1.5 miles north of El Paso, Texas. Some accommodations are available in the nearby towns of Alamogordo and Las Cruces, New Mexico.
Pro Tip: Summers at White Sands can be brutally hot, with highs in the mid-to-high 90s throughout June, July, and August, so consider visiting in the fall, winter, or spring.
3. Imperial Sand Dunes, California And Arizona
Located in the southeast corner of California and spilling into Arizona, the Imperial Sand Dunes area is a haven for off-highway vehicles (OHVs). The dune system extends for 40 miles in a band that averages 5 miles wide, making it California's largest dune field.
Much of the California OHV activity is focused in Glamis, California, along Highway 78. Also, just an hour or so to the southeast near Yuma, Arizona, is the Imperial Sand Dunes National Recreation Area, which attracts more than a million visitors a year. A drive through either community is sure to offer glimpses of ATVs zipping through the sand and up and down the steep dune slopes. Many businesses offer rentals, including Jet Rent in Yuma.
Camping is permitted in many of the areas that are open to vehicles, and a range of hotel accommodations are available in both Yuma and Glamis.
Pro Tip: While OHV activities dominate much of the scene, the North Algodones Dunes Wilderness near Glamis offers a more tranquil setting for walkers and horseback riders.
4. Mesquite Flat Sand Dunes, Death Valley National Park, California
Death Valley National Park has a number of dune fields, but the most prominent and easiest to access are the Mesquite Flat Sand Dunes along Highway 190 near Stovepipe Wells, California.
While the dunes are fairly low, they are lovely, featuring rippled-sand patterns and dotted with gnarly old mesquite trees.
There are no marked trails through the dunes, and motorized traffic is not allowed. Although the parking lot for the dunes will likely be busy, it isn't difficult to get beyond the crowds by walking a bit into the dunes.
Pro Tip: Remember that Death Valley National Park is known as the hottest place on Earth, so plan your visit accordingly. Hardly anyone would enjoy a walk in the dunes during summer's scorching temperatures that can top 120 degrees. But from November through February, Death Valley posts average highs in the 60s and 70s.
5. Great Sand Dunes National Park & Preserve, Colorado
Not only does the Great Sand Dunes National Park & Preserve feature the tallest dunes in North America, but the park lies at the base of Colorado's lofty Rocky Mountains.
The park's website notes that the dunes are the "centerpiece in a diverse landscape of grasslands, wetlands, conifer and aspen forests, alpine lakes, and tundra." Visitors can explore any part of the 30-square-mile dune field, but there are no designated trails in the sand.
Central to a visit to Great Sand Dunes is the popular Medano Creek, a seasonal stream that begins in the snowfields high in the Sangre de Cristo Range and melts into Medano Lake before cascading through meadows and forests and flowing around the base of the dunes. During wet years, children and adults splash in the creek. Because it is fed by snowmelt, the creek often dries up by late summer.
The nearest town is Alamosa, Colorado, about a half-hour to the southwest.
Pro Tip: The peak of Medano Creek's annual flow typically occurs in May, when average high temperatures are in the 60s and 70s.
6. Little Sahara Recreation Area, Utah
A small taste of the Sahara is available less than 2 hours southwest of Salt Lake City at the Little Sahara Recreation Area. Visitors can venture into terrain reminiscent of the set of Lawrence of Arabia, climbing the 700-foot Sand Mountain and navigating the dirt trails around Black Mountain. Beginners can also check out the area's low-lying dunes and the White Sand Dune bowls.
Accommodations are available in nearby Eureka, Utah, or in Salt Lake City, about an hour and 45 minutes away.
Pro Tip: Aside from OHV activities and camping, the Little Sahara Recreation Area also offers fat-tire biking, sandboarding/skiing down Sand Mountain, and wildlife viewing.
7. Sand Mountain, Nevada
Punctuating the flat desert landscape in eastern Nevada is Sand Mountain, a 600-foot-high mountain that has been a haven for ATVs and off-roading enthusiasts for decades.
Unlike other sites that are spread out over a field of dunes, Sand Mountain consists of one giant mountain that is said to be ideal for jumps, trail riding, and technical riding for OHV users. Dirt biking and quad riding are also popular pursuits.
Accommodations are available in Fallon, Nevada, about 20 minutes to the west.
Pro Tip: Sand Mountain is considered a "singing mountain of sand" — a natural phenomenon that can reach 105 decibels and last as long as several minutes. The singing is said to be caused by grains of sand that vibrate because of wind and other environmental factors.